The Voigtlander 75mm f1.8 Heliar Classic Lens Review
by Johnny Ciotti
(from Steve: I will be reviewing this lens on the M 240 in the next 2 weeks. For now, here is a review from Johnny on the Sony A7! Thanks Johnny!)
With so many individuals moving on to the growing trend of the more sensible mirror less interchangeable lens camera bodies more than a few are finding a lacking in the tele range. Well, at least without destroying the smaller form factor by using larger SLR adapters and lenses or breaking the bank.
Voigtlander 75mm 1.8 Heliar Classic mounted on Sony a7 via Voigtlander VM-E close focus adapter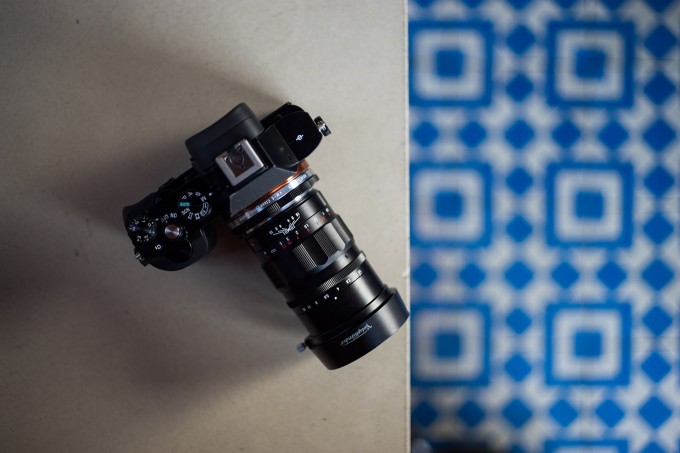 Enter the Voigtlander 75mm 1.8 Heliar Classic. Before getting into my thoughts I'd like to share with you a few tid bits of information in hopes of giving this some credibility and not just a "this guy bought the lens and rambled on about it" type of post. Being a photographer can mean many things to many people. A hobbyist, a professional, a collector, we all have different reasons for our purchases. So take what you will from this review but I've written it for the most decirning digital photographer who might enjoy premium quality at an affordable price. Myself being one of those that doesn't care to own more than a few pieces of glass in the effort of simplifying the way he shoots. My clients shouldn't have to pay for my gear acquisition syndrome when I can get the job done with a lot less.
As with most modern Voigtlander lenses, this 75mm is beautiful in a classic sense and refined to meet todays standards. No frills, no extras, just a clean black metal barrel and bright beautiful glass. Lens caps front and rear do as they should with my favored center pinch on the business end. Screw in metal hood feels wonderful and still allows for the front cap to be positioned properly when stored. All that needs to be visible is crisp and easy to read. No sloppy or unneeded branding to tarnish the over all aesthetic of this short tele focal lens.
Voigtlander 75mm Heliar Classic without lens hood attached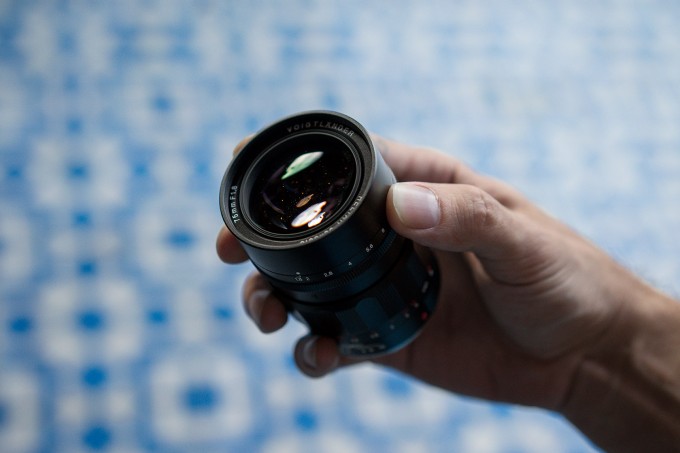 The feel is better than what would be expected from such a bargain. The aperture ring clicks smoothly and precise with little effort. As effortless as it is to hop up or down a stop I've had no issue bumping into the wrong setting even with "rough" use. The same characteristics are followed by the easy to use manual focusing ring, clean and well dampened are the best way to describe this short throw. People often toss around the term "cheap" when they mean inexpensive, this lens is not "cheap" even though it is beyond affordable with a meager asking of sub $700 new.
The barrel extends slightly when focusing adding some length to this long piece of glass.
Barrel fully retracted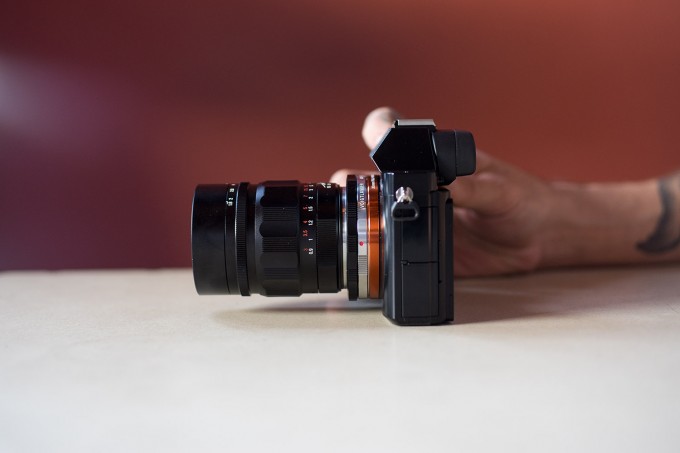 Barrel fully extended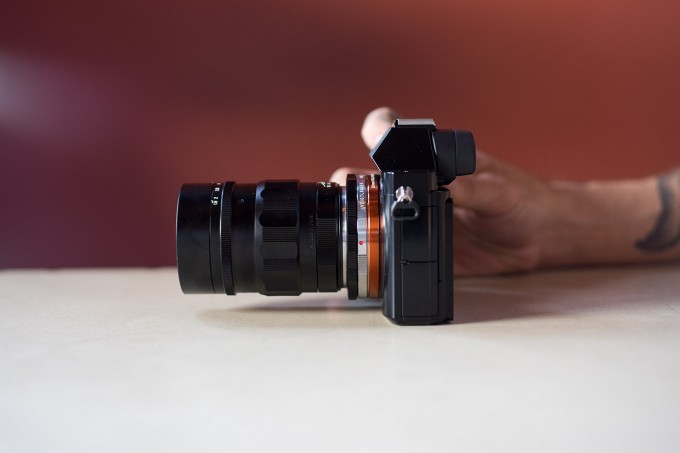 With having hit the ball out of the park in the presentation and tactile sensation department, I'd like to focus on the look the lens provides to the user while peering through it and not at it. Because this is what is important, right? You know, the images we make and not how awesome we look while making them. Voigtlander is not new to the lens manufacturing game. The company as a whole has been around since 1756, that's not exactly a short stint. The new lenses have been manufactured by Cosina since 1999, another reputable name in optics. I hate to think of any piece of glass with such heritage as second-rate.
The lens provides a wonderful rendering of depth, sharpness, and contrast in appropriate proportions for such a piece of kit. The colors are as accurate as you are at insuring the proper white balance is selected. Vignetting is mild at most for a lens like this.
Vignetting
From left to right f1.8, f2, f2.8, f4

From left to right f5.6, f8, f11, f16

Clarity being one of the stronger aspects, taking a back seat only to the fantastic out of focus qualities and subject separation. The lens is more than sharp enough at f.18 for anything that needs to be shot at f1.8. Stopping down quickly takes these 3 groups of 6 conventional spherical elements from above adequate to what would be considered ridiculously sharp.
Bokeh
From left to right f1.8, f2, f2.8, f4

From left to right f5.6, f8, f11, f16

The multi coated process allows for deep contrasting that compliments the in and out of focus portions of any well thought composition. The straight 10-bladed aperture creates a lovely organic display of bokeh that is typically only found in much pricier prime optics at this focal length.
Iris opened to f1.8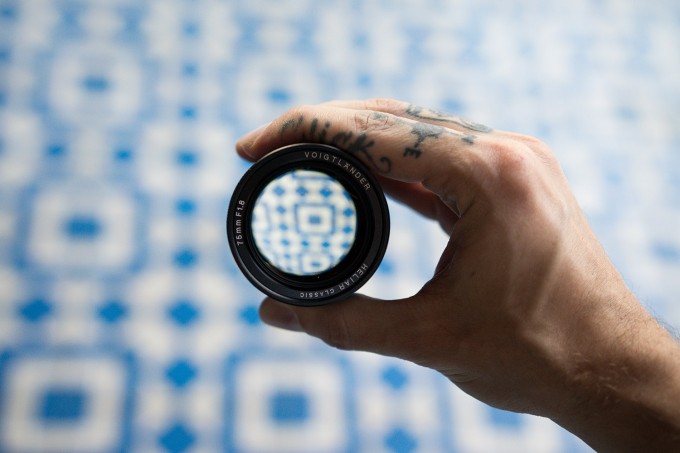 Having used this lens in many situations I have noticed flaring occasionally in the studio environment where a flag might have not been used with other more modern designs. This isn't necessarily crippling for a rather flawless lens as it is easily correctable in most situations. Outdoors I haven't noticed any flaring as long as the lens hood is implemented.
When possible I highly recommend shooting with a lens hood/shade, especially when it is this good, as it increases contrast by not allowing stray light to bounce around in your nifty chunk of glass. Often times sharpness is confused with lack of contrast and can plague the reputation of lenses from the miss informing improper user. The lens hood should be considered a part of the lens design for delivering optimal image quality. Why skimp when you've paid for the tools to be made available to you?
Raquelle Lawrence was gracious enough to model for this lens review.
High contrast outdoor location for recent head shots. Voigtlander 75mm f1.8 Heliar Classic & Sony a7 stopped down to f9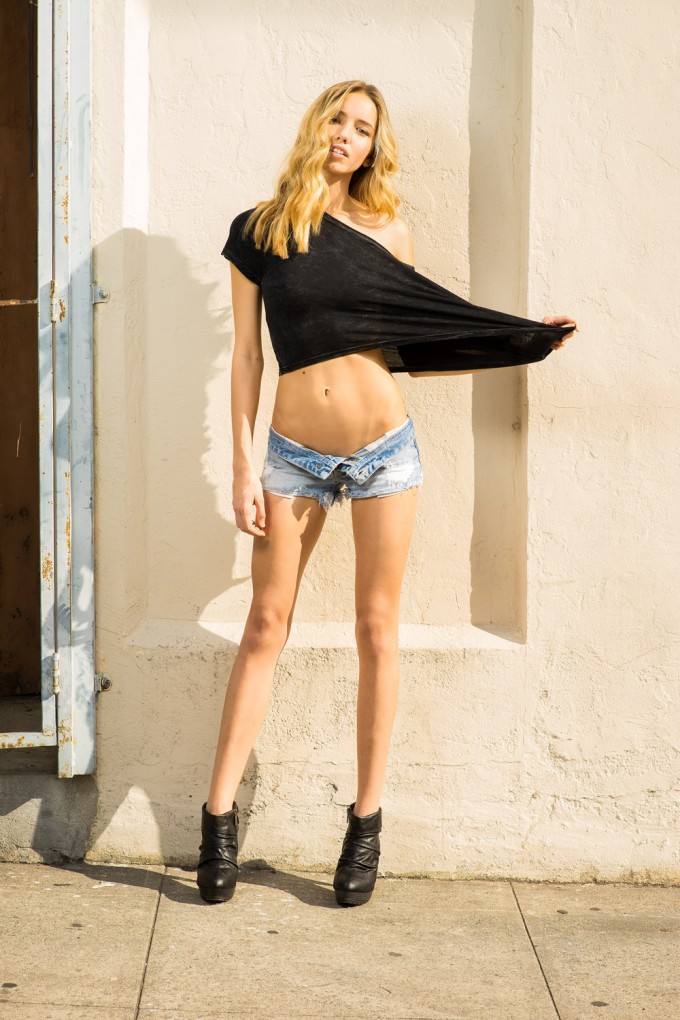 The compatibility of legacy glass has been often questioned with digital sensors and their performance together. I find in this particular combination between the Sony A7 and the Voigtlander 75mm f1.8 Heliar Classic that the two work together most desirably. User skill level and purpose for creating the image should be questioned as often as image quality. How sharp do you need the bottom right pixels to be if it's a faded off-white stucco wall?
Gate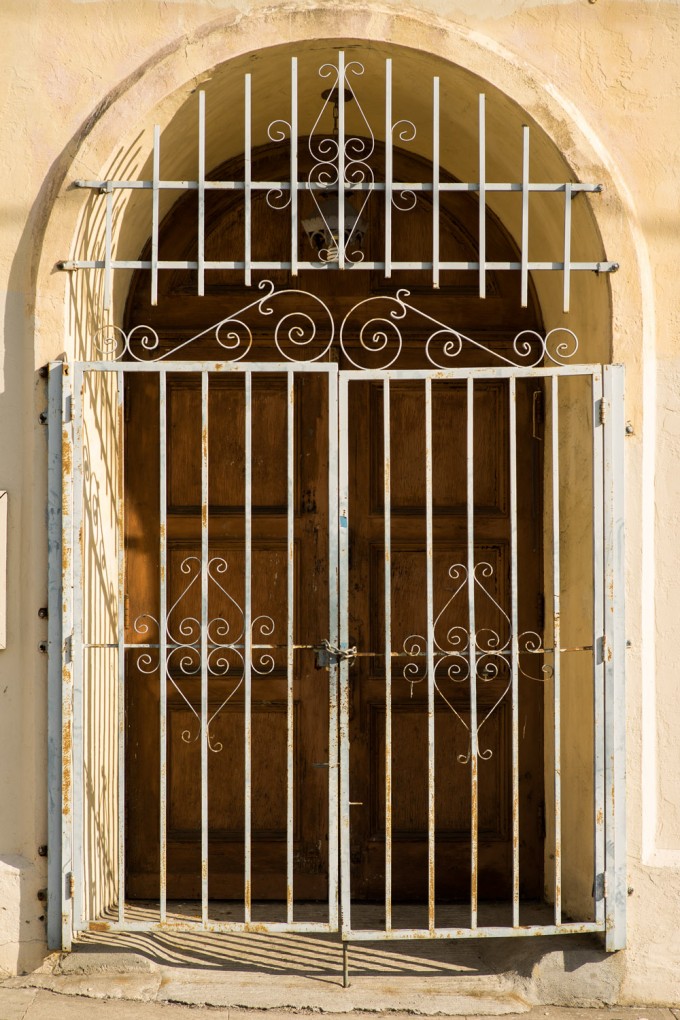 100% corner crop also showing minor color fringing.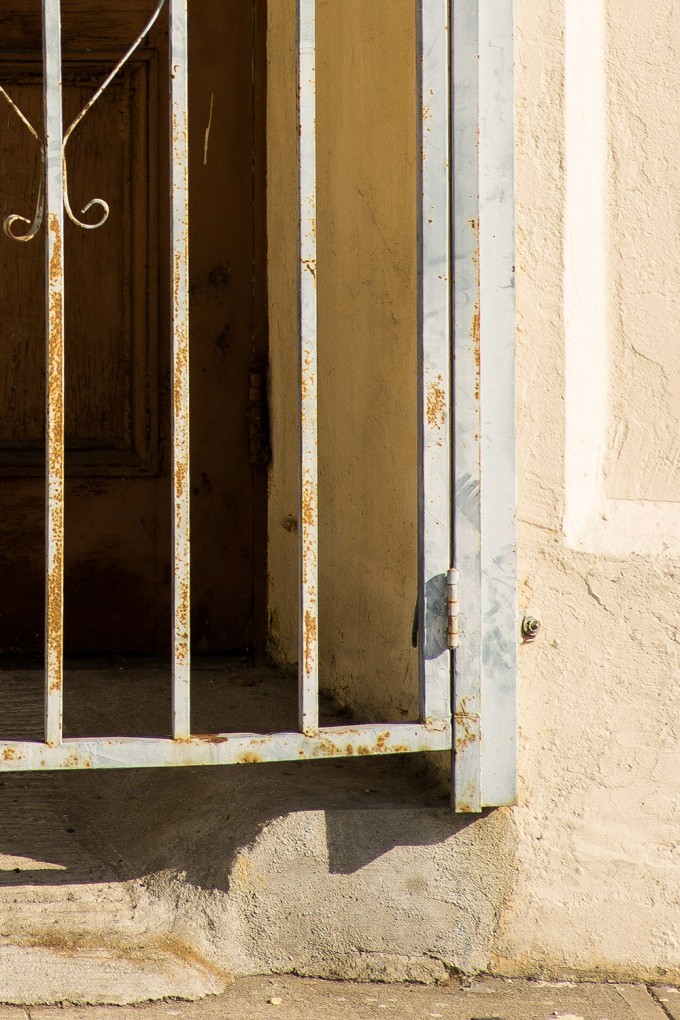 This lens really wouldn't be my first choice for something demanding critical corner to corner image quality. Use a tilt shift and/or stitch multiple frames if that is the case. Picking the proper technique and tool for the job will make things work much easier. Now what this lens does do well is allows for a no fuss operation in creating wonderful stories with heaps of character. This is really important for me as I'm a dedicated wedding and headshot photographer. My equipment needs to allow me to make connections with my subject in a natural way.
Are we really looking at corner sharpness?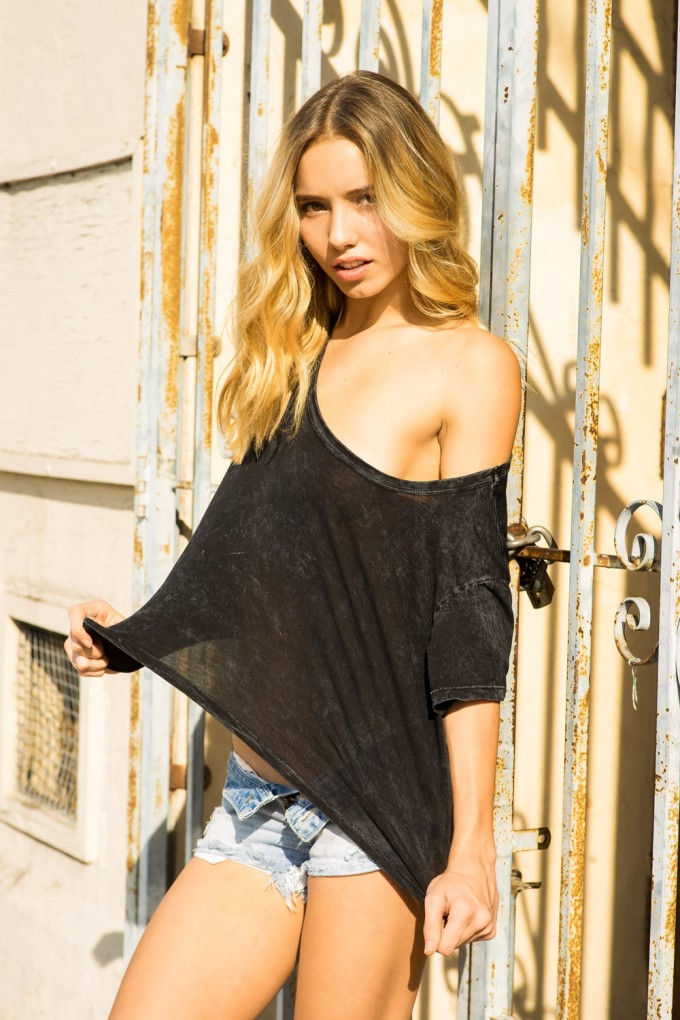 The biggest draw back of this lens is it having such a long minimum focusing distance. Common with rangefinder lenses, this can be problematic if you work in cramped conditions often. A false sense of breathing room can be created with the coupling of the Voigtlander VM-E Close Focus Adapter. The two increase the usability of the lens and open up a new world of creative options while giving the ability to increase subject separation in close foreground objects.
VM-E Close Focus Adapter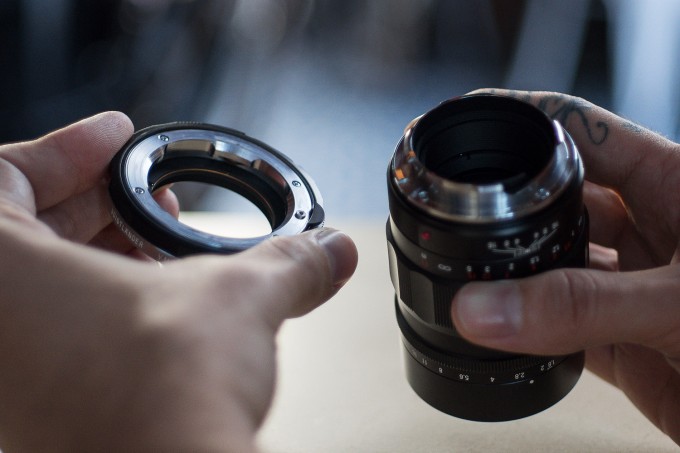 Now while I seem to praise this lens in high regard for its technical merits I cannot stress enough that the joy of using the lens as an artists tool can often help produce more meaningful images for yourself or clients. The way it feels and operates is ever as important as how many coatings the elements have. From day one it felt like an extension of my eye, something that if it cost even more could not be afforded.
You can buy this lens and the adapter from CameraQuest by clicking HERE.