Big and small: in the field with a D800/55mm Otus and an A7r/35mm Summilux
Andrew Paquette
My background is as a visual artist, not a photographer. I started out as an editorial artist in New York, then became a comic book artist, a 3D artist in the video game industry, a special effects artist in the feature film business, and then an art director in video games. Throughout my career I have made extensive use of cameras, but only in a utilitarian way. For an illustration I did for Travel & Leisure, I took reference photos with a Polaroid. For an issue of the comic Nightbreed, I used my Nikon 2020 to shoot some friends in my loft, again as reference. For the movie Spider-Man, I used photos taken by one of my colleagues to build part of the 3d New York City set. For my paintings, though I preferred to paint subjects "live", I sometimes took photos with my D70 for reference. On one painting in particular I had the nagging feeling that if only I'd had a better camera I could have skipped painting it. It turned into a fairly popular poster, but even today I think that a photo of the same scene would have done just as well or even better. Now that I have that better camera, I am fairly sure that is true.
I have read in many places that it doesn't matter what kind of camera you have if you have a good eye for a picture. I would say that if you don't have a decent eye for what makes a good picture, it won't matter as much what kind of equipment you use, but it will still make a difference. If you do have some experience making pictures, the equipment can make a huge difference.
At the moment, my two favorite camera/lens combinations are almost exact opposites. One is huge, the other is tiny. On the big end of the spectrum, I love my D800 when paired with the Zeiss 55mm Otus lens. On the small side of things, I am equally pleased with my Leica 35mm Summilux ASPH when mounted on an A7r. The difference between how these two kits handle cannot be understated. The D800 + Otus is so ponderously heavy that I literally injured my hand using it (and even had to go to the doctor as a result). The A7r + Summilux is so tiny that I can carry it in a hip pouch and forget it is there. At face value, one might think that the small setup is the way to go but I have found the images I get out of the D800 + Otus so compelling that I take it out for a walk just as often as I go out with the A7r. I have not put the Otus on the A7r as others have done because for me, the purpose of the A7r is to have something lightweight and discreet. If I'm going to use the Otus, it won't be discreet no matter what it's mounted on, so I may as well have the higher frame rate offered by the D800.
When I bought the A7r, I was planning on switching to an all Sony/Leica system so that I could travel more easily with my photography gear. At first, I thought that was how it would work out, but then the Otus was released and I got curious about it. The next thing I knew, I had the Otus and found that it was capable of a wonderful medium format look. The A7r/Summilux would have been a perfect combination to shoot the subject I painted that was mentioned earlier, but the D800 + Otus would have been better for another painting I made shortly thereafter. Despite the extra weight, I found that I wanted to keep the D800 (and all my Zeiss lenses) and the A7r. Now, I use the A7r whenever I travel by plane, have to stay in a hotel, or if my arm is not feeling up to walking around with the Otus. Otherwise, I almost always use the Otus. For special occasions, other lenses will get a ride on the D800, but these days I almost always use the Otus.
I should also give a plug for Zacuto viewfinders here. After using the Sony's vastly superior electronic viewfinder on the A7r, I was too spoiled to be satisfied with the optical viewfinder or live view on the D800. I use the Zacuto Z-finder pro 3x on both cameras now, and hardly ever misfocus as a result. As an added bonus, my exposure is much improved thanks to the Zacuto's ability to isolate the LCD from exterior light. For the D800, I leave the mounting plate attached to the camera body, then snap on the viewfinder when I need it. For the A7r, I do not attach the mounting plate, but wear the Zacuto on a lanyard around my neck instead, then hold it up to the live view panel when needed.
With all that preamble out-of-the-way, here are some photos. Most were taken in Amsterdam, but several were taken on a recent trip to Geneva with the A7r. See the captions for more detailed information.
–
1 The A7r+35mm Leica Summilux ASPH
Carnival ride, Amsterdam. There was a carnival in Dam square a couple weeks ago when I shot this image. The ride was moving so fast that I was amazed I could get any shots at all with the manual focus Summilux, but got several regardless. The real problem was that the seats on this ride spun from the arm they were attached to, meaning that I only occasionally had riders facing the camera.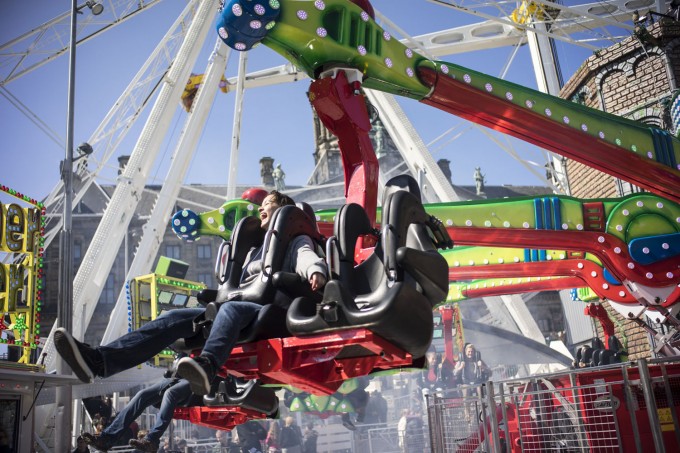 Breakdancing at Museumplein, Amsterdam. There is a troupe of breakdancers that I have now photographed three times at Museumplein. The first time I shot them on an overcast day with a Zeiss 15mm Distagon, then with a 55mm Zeiss Otus, and here with the 35mm Summilux. Like the carnival ride, I was worried about shooting fast action because of the A7r's comparatively slow shots per second, but it worked out fine. I didn't get as many shots as the D800 would have provided, but it was enough to get the exact shots I wanted.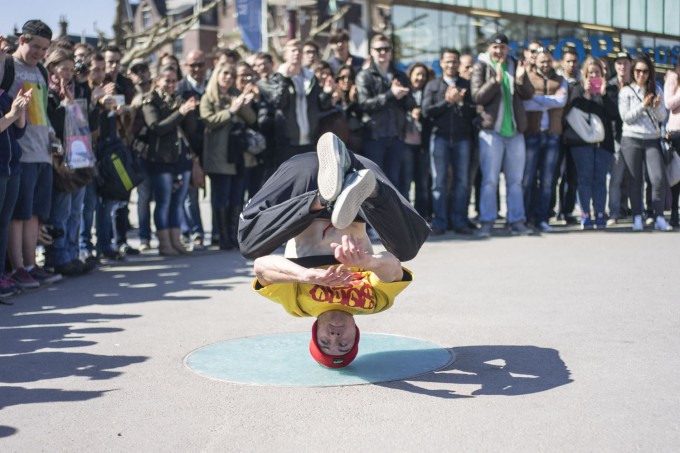 Indian magic trick at Leidseplein, Amsterdam. Although I avoid doing so with my other lenses, I love shooting backlit subjects with the A7r/Summilux combo. It isn't that I never get decent shots of this type with other lenses, but this combination yields terrific contrast in these situations.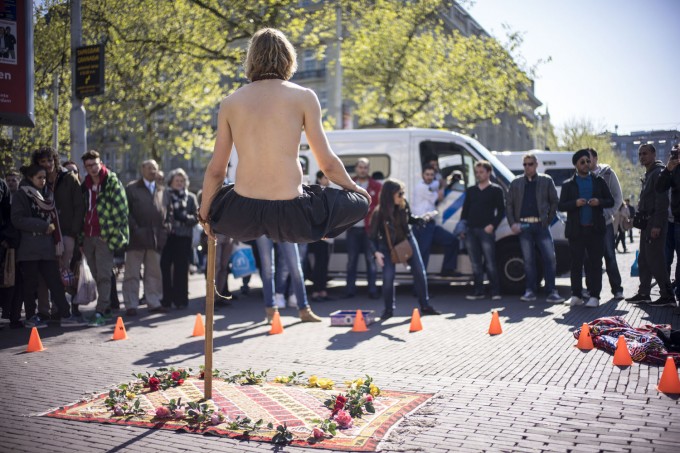 Horse-drawn coach, Amsterdam  I've tried several times to get a decent shot of this horse, and finally got it with the A7r. One thing I love about the 35mm Summilux is its ability to provide context to a subject, as in this case by showing the environment around the horse.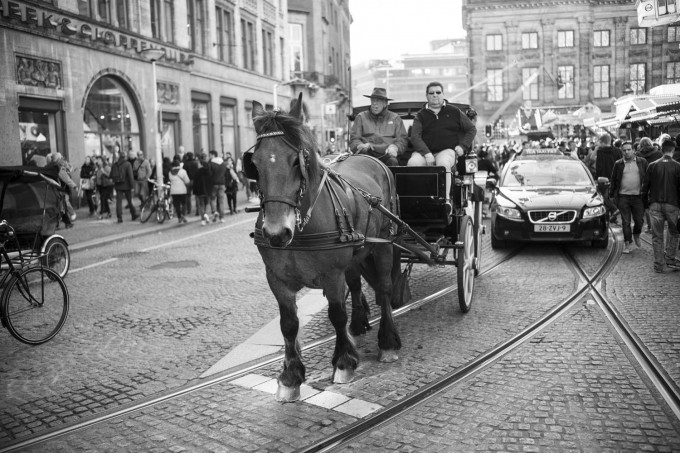 Particle beam casing and magnets, CERN, Geneva. My friend, Dr. Richard Breedon, has been associated with one of the experiments at CERN for as long as I've known him. Recently he offered me an opportunity to come to Geneva and take some photos. I think he gave me something like two days' notice, but I'd wanted to do it for quite a while, so I got the plane tickets right away and flew down. Taking pictures at CERN was made difficult by the poor lighting and the bizarre colors almost all the machinery was painted.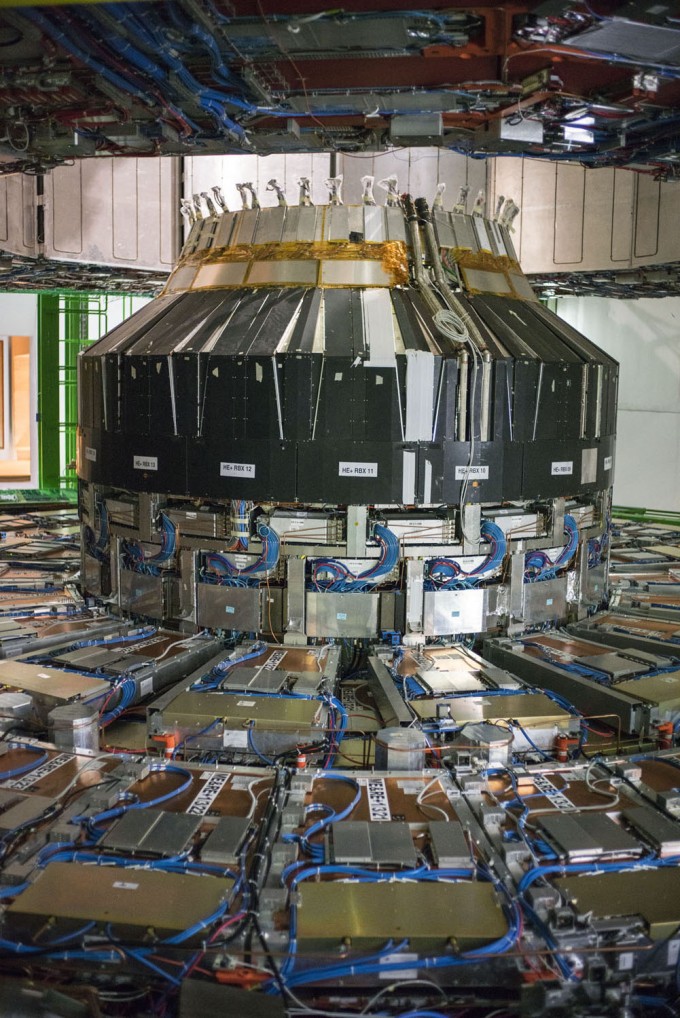 Scientist calibrating panel at CERN, Geneva. This was one of a small number of shots I took at CERN that has a human subject in the frame to give a sense of the scale of the beam magnets. This scientist is standing at the base of one of these things, which are about 30 meters in diameter. Like most of the shots taken in this area, I converted it to black and white to get rid of all the brilliant green, red, and yellow painted objects.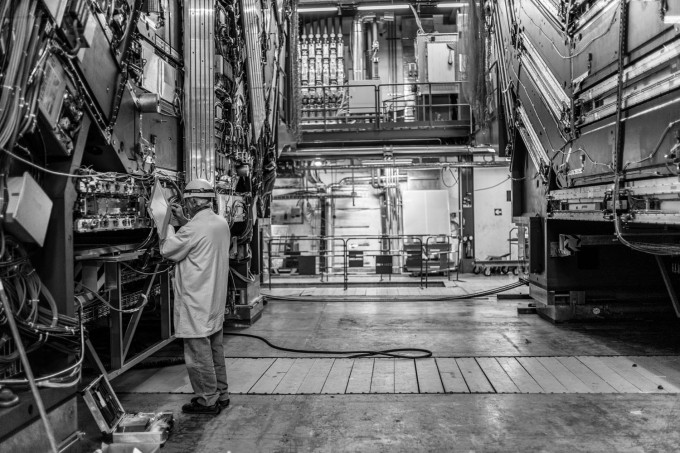 Skier at Chamonix. Richard and I drove down to Chamonix the day after photographing CERN, to have a look at the slopes near Mont Blanc. This shot was taken in an ice cave at the top of a perilous cable car ride. From here, it was all downhill. Most of the shots I took in Chamonix were taken with ISO 50, f 16, and 1/4000 shutter speed. This was one of maybe three shots that had more normal settings. I would post some of the others because I like them, but anyone who has ever been to this location will have very similar shots because there are only a few places to take pictures from unless you want to risk life and limb.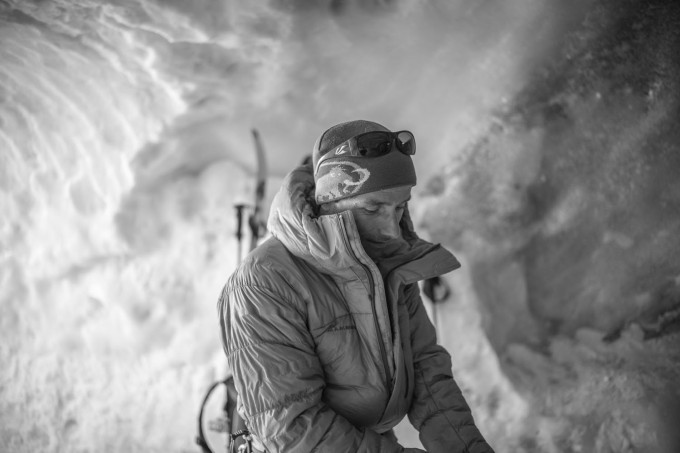 Geneva auto show, Geneva. This shot looks pretty bright, but it was an indoor space lit with artificial lights, so it wasn't that bright. This is where having a 1.4 aperture option comes in extremely handy. At ISO 400 I was able to shoot this at 1/400th of a second. One thing I should mention here is that I avoid shooting the A7r at less than 1/200th of a second to avoid shutter vibration, even if it means a higher ISO than I would normally use. In the 1/60-1/125 range, shutter vibration is noticeable, so I just don't use those settings at all.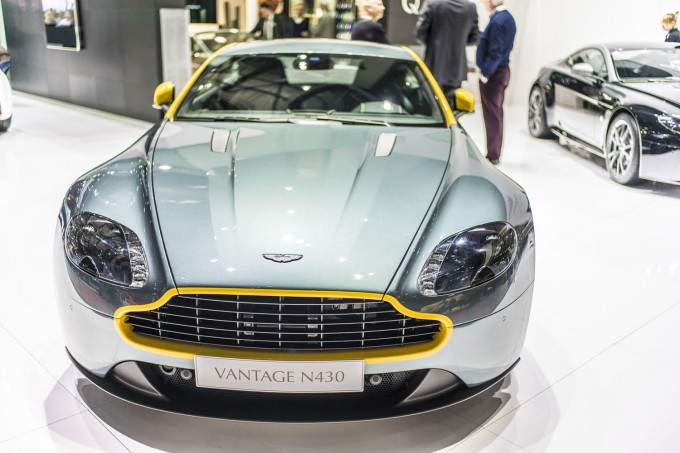 Swan on Lake Geneva. I took about 20 shots of these swans, all in attempt to get one shot of water dripping off their beaks. After thinking I'd missed the shot every time, I found that the first shot got exactly what I wanted.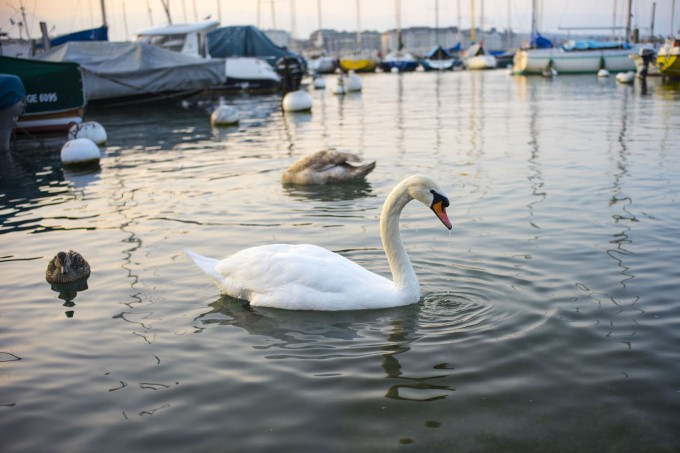 Pedestrian, Geneva. This was taken after sunset. Streetlights were just coming on and it was starting to get difficult to see. Despite the lack of light, the Summilux delivered a very nice tonal range.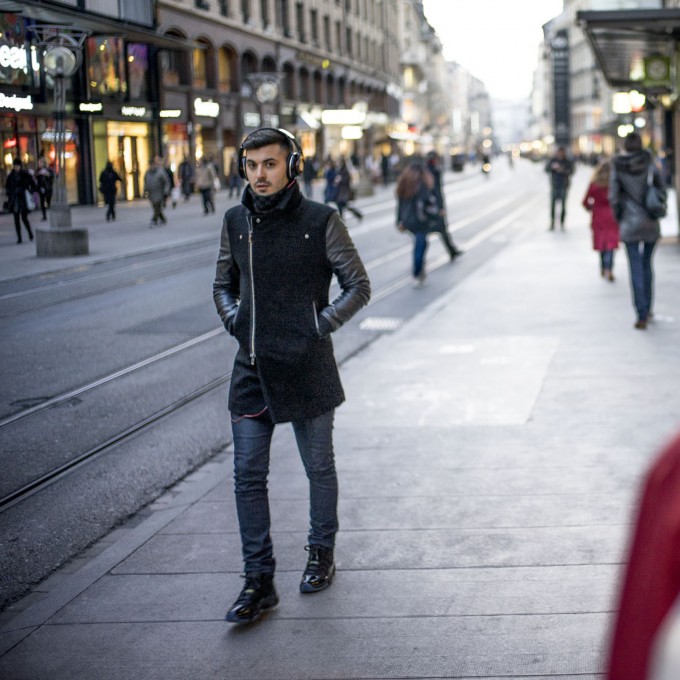 Missing the pocket, Amsterdam. When I spotted this couple walking down the street, I had to get a shot of them. I turned around and snapped about five or six shots before they disappeared into a crowd. I particularly like shooting with the Summilux slightly after sundown because of the rich blue violet shades that permeate images made at that time of night. The same evening I took some other nice shots of boats and lights reflected in the canals. Absolutely gorgeous light.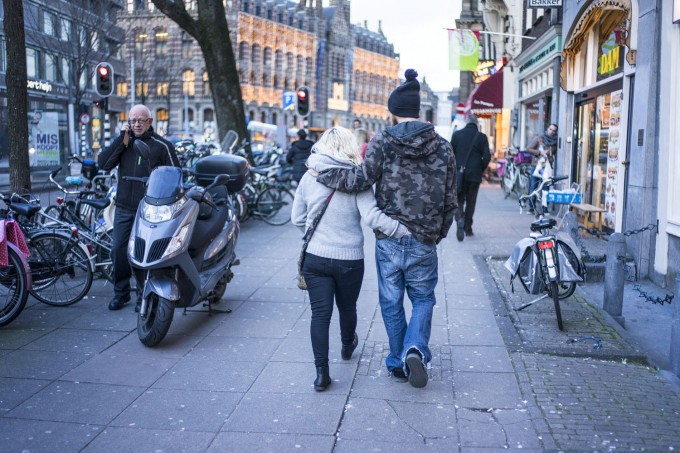 Roman Road golf course, Wales. I took this on the last day of a conference I attended in Wales. Until that morning, the region had been buried in deep fog that made it almost impossible to shot anything. I was grateful when the sky opened up a little to allow this image to be taken.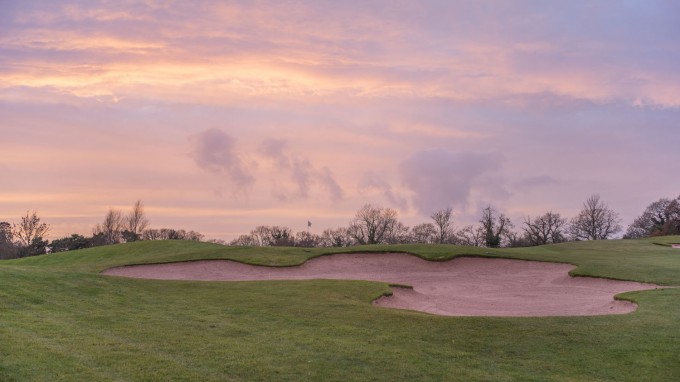 2 The D800+55mm Zeiss Otus
Parked cars, Bergen op Zoom. In the Netherlands, it is very common to see trees trimmed like the ones in this image. Coming from the U.S., I think this looks a bit strange, but interesting. In this shot, I like how the shallow depth of field blends all the twigs together in the background, creating a kind of smoky bramble above the cars.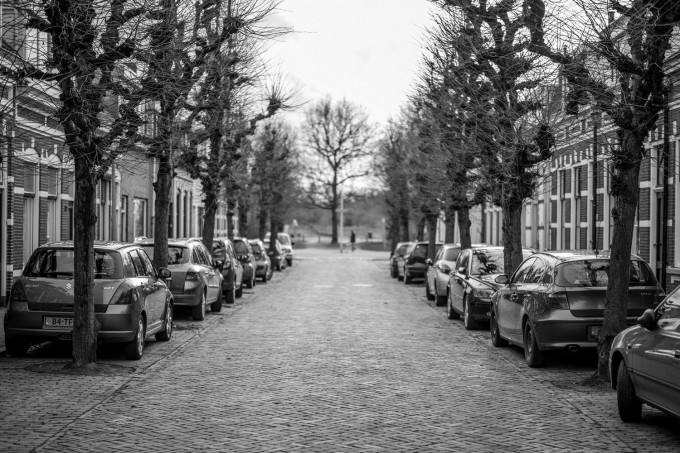 Looking and not looking, Amsterdam. To get this shot, I parked myself in front of the violet lamp-post, focused on it, then waited for people to walk by. When I got home, I was fascinated by how sharp the lamp post is. I'm still not used to this quality the Otus has. The Summilux has terrific color and contrast, but the neutral color and outstanding sharpness of the Otus are mesmerizing to look at.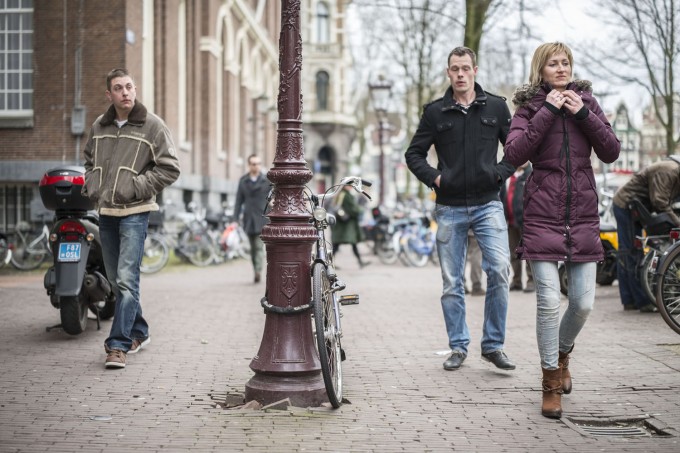 Artist, Spui, Amsterdam. This shot looks about as cold as Siberia, but it wasn't very cold at all, nor has it been all winter. We didn't even have snow this year. Normally I don't like to take pictures of paintings unless they are mine, but in this case I liked the large amount of white space interrupted by these couple of spots of intense color.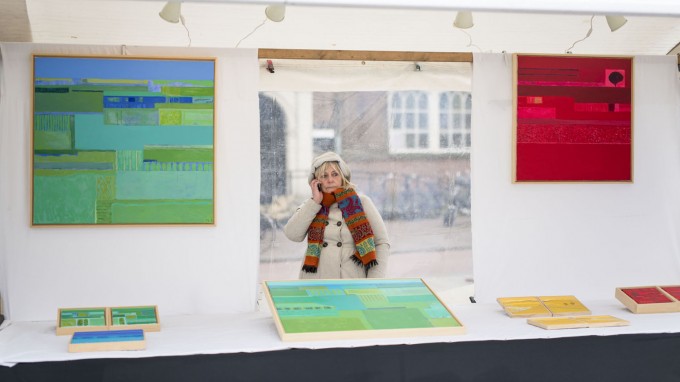 Couple, Museumplein, Amsterdam. This shot, like many other shots taken with the Otus, looks like medium format photography to me. It also reminds me of the colors one finds in color photography from the 1950's. The people in the Netherlands tend to be tall, and I like how this man looks like a giant in a tiny seat as he eyeballs my camera.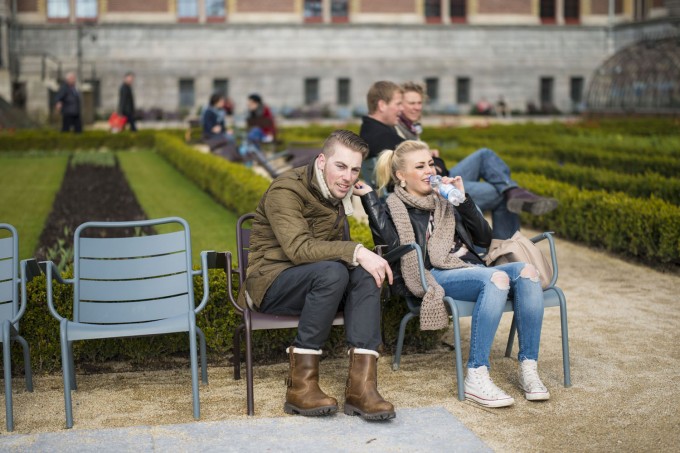 Girl with braid, Amsterdam. The primary reason I shot this is because of the colors in this little girl's clothing. While I think of the Summilux as being particularly good at dealing with blues and yellows, the Otus seems to like pinks and greens more. This may just be my imagination, but it has led me to shooting specific colors with this lens because I think they look better with it.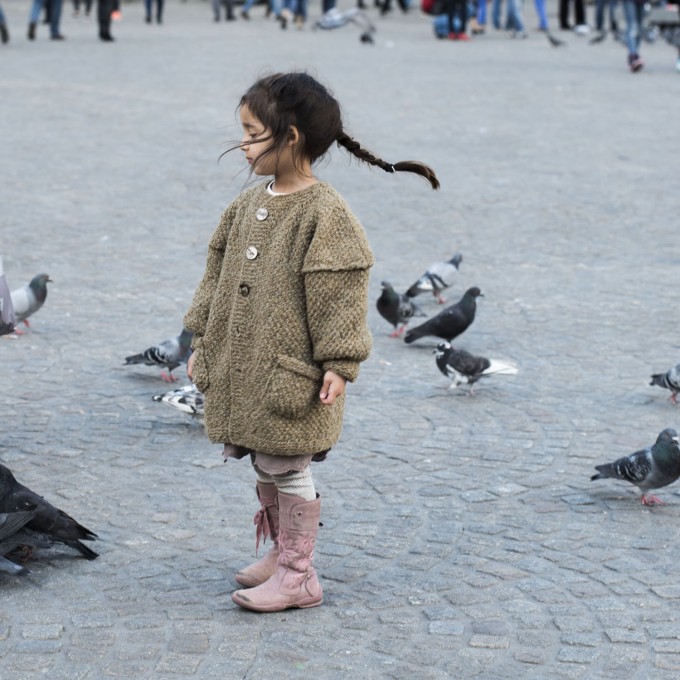 Hands with tiny camera, Amsterdam. Unlike the monster I shot this with, the camera in these hands is barely visible. I had wanted to get a picture of this man because of the complex pattern on his jacket, but he ducked into an alcove, took a picture of a building across the street, then went back the way he'd come. I took this in anticipation of him coming out of the alcove in a moment, but he didn't do it.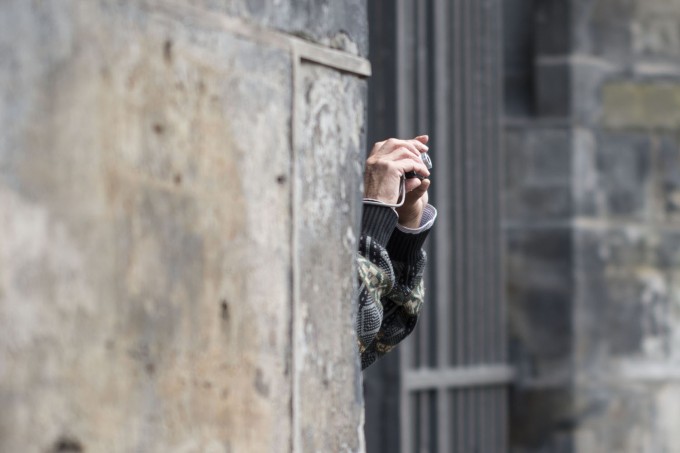 Green and red, Haagse Beemden, Netherlands. I may be the only person in the world that likes this photograph of practically nothing, but I really do like it because of the colors. It is just a garbage can and a big red cylindrical building on the edge of a manmade lake, but I like the combination of red and green.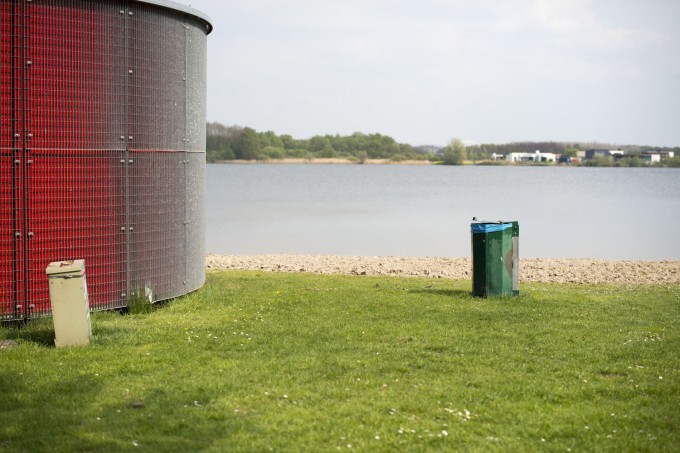 Organ, Amsterdam. I have taken a lot of photos of cathedrals, but not as many of the organs, which are usually so high above the ground that it isn't worth the trouble to shoot them with less than a 100mm lens. This one was lower than most and had great color.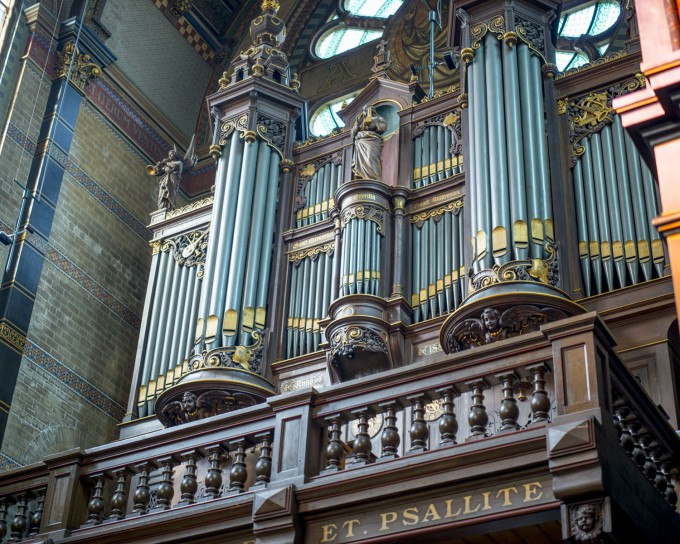 Breakdancer, Amsterdam. A problem had with the Zacuto is that the D800 live view screen will go black after the shutter is pressed until the image is finished saving. This meant that as I tried to follow the breakdancers with the camera, I could only frame the first shot by eye, and then the rest (if shot in continuous mode) I had to guess. For this reason, I have decided to use the Zacuto for initial focus when shooting action, but will remove it after it is focused so that I can track the action. For this type of shot, I thought the A7r was easier to use because I didn't have to deal with the Zacuto getting in the way of the EVF.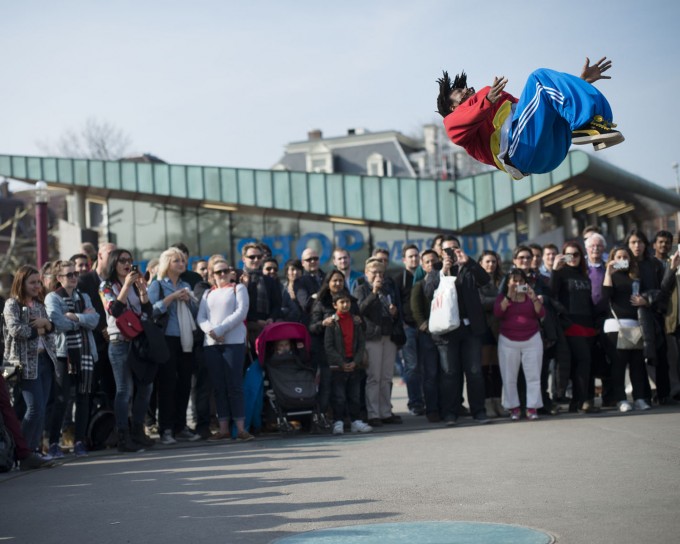 Skater, Amsterdam. To me, this skater looks almost like a superhero in this shot. I have at least a hundred shots of skaters in this park, but this is easily the most elegant of the group.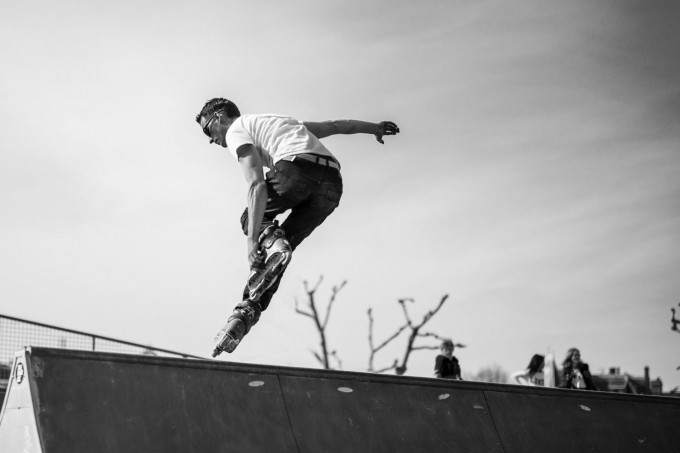 Intersection, Amsterdam. It almost seems criminal sometimes to turn some of these images to black and white, but in this case I felt it was worth it to enhance the effect of the light falling between buildings on the opposite side of the street, silhouetting the man on the near traffic island.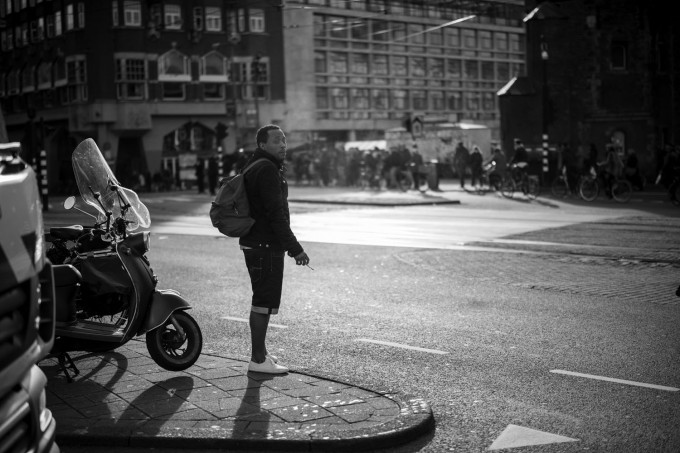 Bubbles, Carnaval celebration. This is another one of those shots that demonstrates how brilliant the Otus typically is. It's pictures like this that have me wanting to think up some decent staged shots, find some models, then do some deliberate shoots to get a specific composition instead of hoping to find something interesting while walking around town.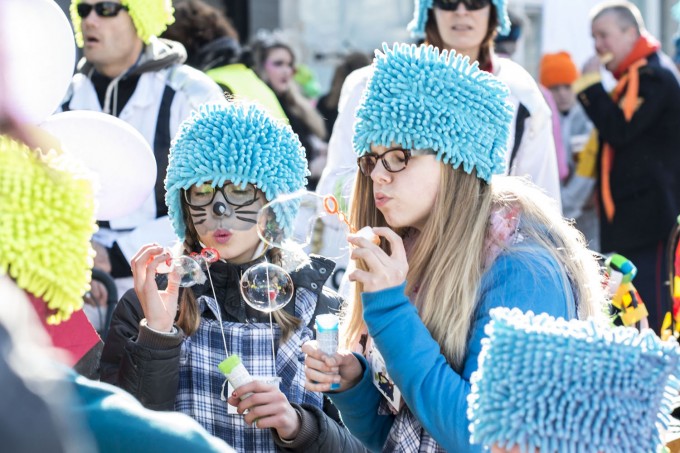 3 Conclusion
I have a hard time saying that I think either of these kits is better than the other because they are both clearly very capable systems. A funny thing about the handling of them is that while I wish the Otus didn't weigh so much and was less bulky, using it is in some ways more comfortable than using the A7r. The A7r is easier to carry and less obtrusive, but I feel less in control of making the image than when I am using the Otus. I think this is because of the long throw on the Otus, which allows more fine focusing. With the A7r, I always worry that I've tapped the little focusing knuckle ring a little too far or not enough when taking a photo. Since I can tell whether it is in focus or not by using the EVF or Zacuto viewfinder, it is a silly concern to have, but it doesn't stop me from feeling more confident when shooting the Otus. Having said all that, when selecting images for this article, I initially had almost twice as many Summilux shots as Otus shots as candidates. Is this because I unconsciously favor the Summilux? I wouldn't know.
AP