The Leica T Software Correction Conspiracy!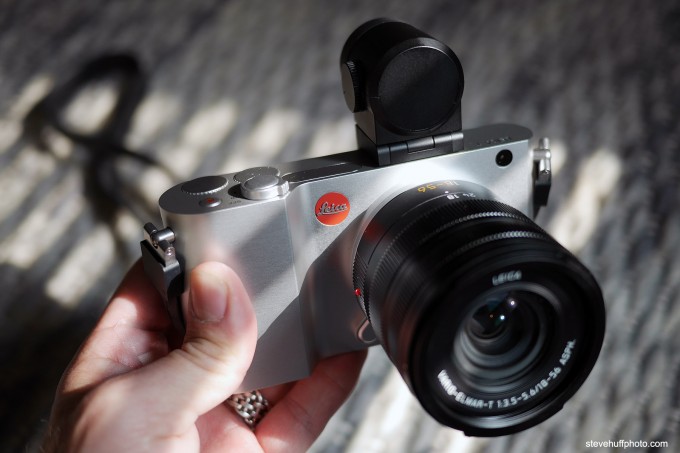 It appears that long running camera review mega-site DP review has found out that the Leica T applies software correction to the 18-56 zoom lens in JPEG output as well as when using ACR for processing the RAW. By reading some of the comments in that article it appears that the Leica haters are out yet again and acting surprised or shocked at the news..like it was some kind of conspiracy and Leica was trying to hide the fact that they apply corrections. But I am here to tell  you that there is No conspiracy!
But the truth is, this is not a big deal AT ALL..it is the norm. Why? Well, because just about every camera today provides software corrections to fix barrel distortion or vignetting in lenses. It is a fact of life in digital camera world today.
So what are just a teeny sampling of amazing cameras that apply corrections?
The Sony RX1 and RX1r for starters. When you turn off the correction in these cameras you will see massive barrel distortion. This does not take away from just how special and good the RX1 is. In fact, it is still, IMO, the best 35mm IQ you can get today and yes, at $2800, the RX1 applies software correction to their 35mm f/2 Zeiss lens. They have to as the lens is so close to the sensor. It takes nothing away from the IQ or experience or value. In fact, it helps to make it what it is.
The Leica M9 and M 240. The Leica M's apply correction to the M lenses to fix vignetting and corner color shifts. Again, it is a sensor/digital thing. Even the $11,000 Noctilux needs some correction in camera.
Various Sony, Fuji, Nikon, Canon, Panasonic, Olympus and DSLR's. They all apply some sort of in camera correction to many of the lenses. It is just how it is with digital and one reason why results today are better than they were many years ago when this digital thing was still new. This is no longer the old film days, we are high-tech in 2014.
So it should come as no surprise at all that the Leica T, just like the M and X-Vario and other brands of cameras apply software correction so the image quality comes out as we expect it to. To keep sizes small, and quality high software correction is needed, and they all use it. Yet by some of the reader comments over at DPreview you would think that Leica broke some law or rule by doing what all other cameras already do. Strange. Again, nothing new here at all.
When I viewed the camera and lens in NYC with Leica (before getting a review sample in a private meeting, just me and them) and questioned the high price of the zoom I was told "but these are real Leica lenses, superb performers". Leica never said to me that they did not apply software correction with the T, but they never said they did either. Then again, I did not ask! Why? Because it is to be expected as EVERYONE does it, even Leica with the other (much more expensive M and X) cameras. It is nothing new, or shocking or earth shattering. If the T did not use corrections it would be an incredible feat, even beating out what the M and the latest Sony tech can do.
Did they tell DP review that there were no software corrections? I do not know, I wasn't there. If they did, that was silly of them to say.
To me it is a non issue. All that matters is the final output and if that final output is superb and up there with the best, it is indeed a non issue. Now just how bad are the files without corrections? I am not sure… but again, not really an issue as I have not witnessed any distortion or problems with the shots I took for the review. Why? Because they were corrected automatically as they should be  🙂
I remember my 1st day reviewing the Sony RX1. I looked at the JPEGS and they were awful with barrel distortion that I did not expect. I approached Sony and asked what was going on. They said "Oh, you have to enable corrections". I asked "why are they not enabled out of the box"? Of course they had no answer but once I enabled the corrections there we no issues and I was rewarded with the best IQ I have ever seen from a 35mm camera. Again, a non issue! No one made an issue of that one yet the Leica haters are already starting the nonsense like silly children bickering on the playground. It is quite amusing.
Leica does not have a secret magical method to avoid what no one else can as it is a digital/sensor thing. What matters at the end of the day is the output and if the user is happy with it. if it takes corrections in camera or in RAW to do this then so be it! I'd rather have this then a lens 2X the size and 2X the cost.
Do I think the zoom is overpriced? Yes of course I do. Just as I said in my review I feel it is overpriced by $600 or so. Nothing has changed 🙂 Even so, many will buy it and many will love it to death as it delivers superb results, and that my friends is all that matters from any lens. It is the best 18-55 style lens I have had the pleasure of using when it comes to IQ and build but it should be for the cost. So again, no surprises. 
My T will be here at the end of the month and I am excited to test it with the 23 f/2 as that seems to be the jewel of the two for the look most Leica users are searching for.
For those that did not feel the need to read what I wrote and skimmed down to the bottom? MORAL of the story…
ALL cameras these days use software correction. Leica M, Leica M9, Sony RX1, A7, Leica X Vario, Fuji, Olympus, Panasonic, Nikon, Canon, etc etc. It is the reason why IQ is so good today and why cameras concentrate on the processing engine and software. It is one reason we enjoy such amazing quality from all cameras. Even the Canon 24-70 is corrected by some Canon bodies. That is a $2200 lens. Leica never said TO ME that they do not use software correction, they said the lenses are real Leica lenses and of high optical quality, which they are. Corrections on the 18-56 mean nothing just as it means nothing when the Sony RX1 is massively corrected or the Noctilux is corrected on the M. ALL that matters is the final output, period. With the T the final output is superb.
If Leica made the T zoom in Germany and it was optically corrected to the level of a Zeiss Otus and lets say they made it f/2.8..well, it would be HUGE, HEAVY and about $5,000 and people would be up in arms attacking them for it. Look at the cost of the WATE M lens that gives you 16-18-21mm. People just have crazy expectations and somehow think Leica would release Zeiss Otus quality glass for $1000. Leica will never be low priced, ever. If it is not for you it is not for you.
Anyway, Have a great weekend everyone! I will be traveling next week so will be on the road shooting the M, the Sony A6000, and a couple of other things 😉
The site will still be updated as always!