The Nikon V3 Arrives. 1st Impression report.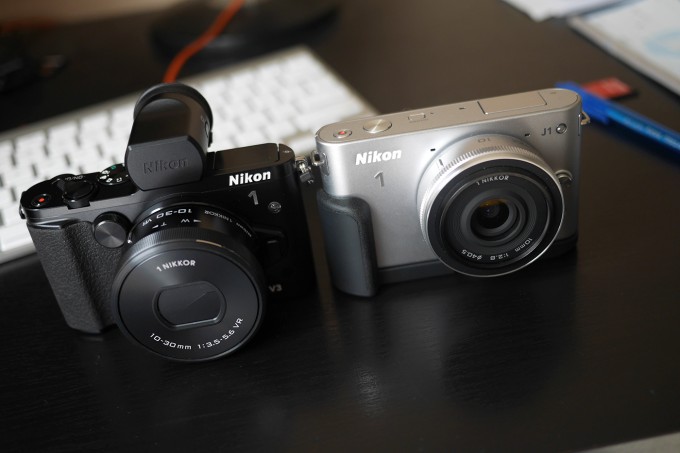 UPDATE: A quick super fast generic J1 vs V3 JPEG OOC test is HERE.
My V3 review sample arrived today and I was excited to test it. FINALLY, the V3 we have been waiting for! WooHoo! Many of you here know I was and am a huge Nikon 1 system fan and my fave was the original V1. 
Then I opened the box and took the camera out. Uh Oh. 1st impression is that Nikon dropped the ball. The V3 is TINY, feels cheap (The $200 J1 feels nicer and better made), the EVF is cheap without a swivel and is quite small..but the killer for me? The V3 now takes MICRO SD cards! YUCK! Gone is the SD card slot and it is replaced by an itsy bitsy teeny weeny Micro SD card slot. I am not a fan of using Micro SD cards in a camera, especially one that costs $1200 as the V3 Kit package does.
So yes, my 1st impression was not a good one. I decided to load up the battery and take it out in my yard to test the AF and all of the other good stuff such as the new 10-30 Kit Zoom. Maybe it would wow me with something cool and unique or its overall abilities when in use…
…AF is very fast but no faster than the new $700 Sony A6000. Shutter sounds pretty nice, but no nicer than the new $700 Sony A6000. IQ? Same as the V1 and V2 in my limited snaps out back (which I do love). The new kit zoom seems softer than the old one. For $1200 Nikon has delivered the cheapest feeling and smallest V body yet. In comparison, the failed AW1 felt like a tank in comparison. Not sure who is making the decisions at Nikon these days but they do not seem to care about the 1 system nor the users who fell in love with the nice V1 and V2.
With such disappointment out of the gate I may not even do a full review. It does nothing to inspire me or motivate me. It feels cheap, it is too small, has nothing special about it and is a step backwards from the V1 and V2 in build, feel and maybe even IQ. The Micro SD card was a bad move as well.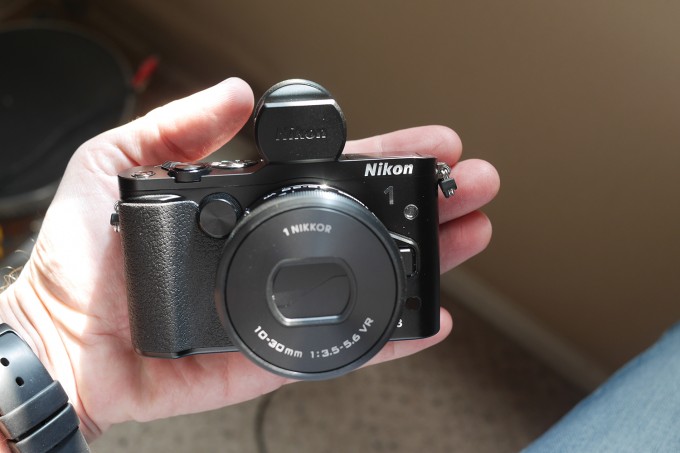 The new 10-30 zoom has pretty noticeable barrel distortion as well (looking at OOC JPEGS).
In the $1200 price range I would take many cameras over this V3, and even save some money while I was at it. I have been a huge Nikon 1 fan since the V1 but Nikon let us down with the V3, at least that is my opinion after an hour or so with it. Way too much competition with better cameras and lenses for less money. After messing with the V3 around the house for a while I would say that this camera should come in at around $399-$599 today simply because there is much better out there for less money (The Olympus E-M10 with lens for under $700 is a much better buy than the V3 and will outperform it in every way). This may be the nail in the coffin for the 1 system as what Nikon has delivered in a V3 falls really short of what was needed in todays market. I have some nice 1 system lenses so I may buy a V2 once it goes to fire sale clearance. I will be skipping the V3.
YOU CAN CHECK OUT THE V3 AT B&H PHOTO HERE. Maybe some of you will enjoy it 🙂 For me, it is too much of a letdown as it could have been so much more. While I look at the positive in everything, I really have very little to say about the V3 that is good…or positive besides the fast speed that we always have had with the 1 system but I get this with the V1 and J1 already. I mean, it is a good 1 series camera but why buy a V3 that feels cheaper, is smaller, uses an external EVF when you can get a V1 or V2 that has a better feel, built in EVF, etc for much less?
Just a few of the alternatives that are a much better buy IMO: Sony A6000, Fuji X100s, Olympus E-M10, Panasonic GX7, or a Nikon V2. Maybe even a Leica C.
My next reviews? Sony A6000, Sony A7s, Leica C, Voigtlander 75 1.8 on the Leica M