The new Sony RX100III may be the hit of the year!
The new Sony RX100III was announced a couple of days ago and it looks like the best of the series to date, by far. The original RX100 was a killer camera that offered best in class IQ and speed and performance for a great price. The RX100 was a special camera, unlike any other at the time. The only issue with it was that there was not an EVF or viewfinder. The RX100II changed this by allowing the use of the Sony external EVF. They also added a backlit sensor for increased performance. Overall though, it was more of a refresh (which I am not a fan of) than a full-blown new camera.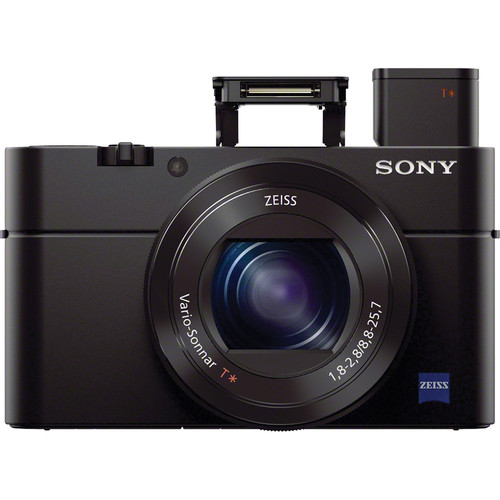 So now the RX100III is announced and it appears to be a stunner. What is super cool about this one is that Sony has added a POP UP EVF! Press a button and have an instant EVF of you want it. If you do not want it, keep it embedded in the body and used the LCD. Genius. They also kept the built-in flash that also hides in the camera when not in use. They also added a type of 3 Axis IS.
The camera looks the same, is still tiny and pocketable and has a Zeiss lens that will give you an f/1.8-2.8 aperture (a true 1.8 to 2.8 for light gathering) while zooming from 24-70 in 35mm equivalent terms. The sensor is a backlit 20.1 MP 1″ sized monster capable of ISO 12,800. It is said to have much better noise reduction techniques as well over the RX100II and I. The camera also has the Bionz X processor for fast operation and fast AF. The camera also has a built-in ND filter for those times you want to shoot in full sun while keeping the aperture wide open.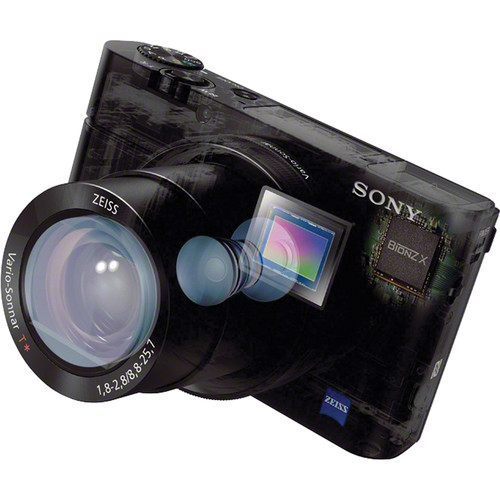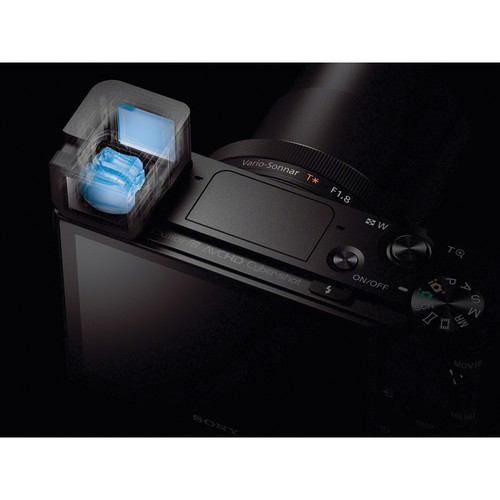 The RX100 was a HUGE hit for Sony. A massive seller. The RX100II was a big hit, but not as huge as the RX100 I. The new RX100III may be the runaway hit of the summer for its small size, fast performance, stellar IQ and cool features. For me, having that pop up EVF nails it. With the RX100 II you needed the $500 external which made the cost of a nice RX100II system well over $1200! The new RX100III is $798 and if it performs as well as the other two will be well worth it. With that said, I have yet to handle one so I hope it does indeed live up to the reputation of the previous two RX100 offerings. But this one is all about take anywhere, front pocket, and quality. I will be reviewing this one, so stay tuned.
You can pre-order the RX100III at B&H Photo HERE or Amazon HERE. Price is $798.
Details:
20.1MP 1″ Exmor R BSI CMOS Sensor and BIONZ X Image Processor
The large 20.1 megapixel 1″ Exmor R CMOS sensor features backside-illuminated technology to enhance its low-light capabilities to a native ISO 12800 while still retaining vivid clarity. Using Sony's Column A/D Conversion and area-specified noise reduction, images are rendered with impressive quality and smooth gradations between tones and colors due to the marked, intelligent reduction in apparent noise. Further enhancing imaging quality, detail reproduction technology works to increase the fine detail rendering capabilities for a more three-dimensional, realistic image quality while diffraction-reducing technology helps to enhance the optical qualities of the lens by suppressing diffraction that is common when working at smaller apertures. Additionally, aiding working in difficult lighting conditions, the sensitivity can be extended to an effective ISO 25600 when using Multi-Frame NR, which records and composites sequential images in order to attain high sensitivity with minimal noise.
Also benefitting the image quality, as well as overall camera performance, is the BIONZ X image processor, which provides continuous shooting up to 10 fps in Speed Priority Mode, 2.9 fps shooting with single-shot AF, a shutter lag time of just 0.008 sec., and a start-up time of 1.6 sec.
Zeiss Vario-Sonnar T* Lens
The built-in Zeiss Vario-Sonnar T* lens provides a 35mm-equivalent focal length range of 24-70mm, covering wide-angle to portrait length perspectives to suit working in a wide variety of shooting conditions. An f/1.8-2.8 maximum aperture benefits working in difficult lighting conditions throughout the entire zoom range and also enables greater control over focus placement for shallow depth of field imagery, which is further accentuated by a seven-blade diaphragm to produce a smooth out-of-focus quality. Nine aspherical elements, including two cemented AA (advanced aspherical) elements, are incorporated into the lens design to minimize chromatic aberrations throughout the zoom range to benefit creating sharp, clear imagery. The lens also features a Zeiss T* anti-reflective multi-layered coating to help minimize lens flare and ghosting in order to produce imagery with rich contrast and color neutrality.
Benefitting the 2.9x reach of this lens, as well as supporting working in difficult lighting conditions and with longer shutter speeds, is Optical SteadyShot image stabilization, which helps to offset the effects of camera shake. When recording movies, the image stabilization utilizes an Intelligent Active Mode, which also uses electronic image stabilization to compensate for both camera shake and rolling shutter effects.
Additionally, a neutral density 0.9 filter is incorporated into the camera's design, which provides a reduction of three stops in exposure to enable working in bright conditions with wider aperture settings and for greater control over how subject movement is rendered.
Camera Design
Within the compact design of the RX100 III is both a high-resolution electronic viewfinder and a large rear LCD monitor. The 0.39″ 1,440k-dot SVGA OLED Tru-Finder EVF provides a bright, clear means for eye-level monitoring, which is well-suited to critical compositions and working in bright conditions. It features 100% frame coverage, a unique pop-up mechanism, and a Zeiss T* coating on the optics to reduce surface reflections and flare for enhanced visibility. Alternatively, a 3.0″ 1,229k-dot Xtra Fine LCD screen is also available and features a tilting design (180° up, 45° down) to benefit working from high, low, and front-facing angles. WhiteMagic technology has been applied to the LCD's design, too, to increase effective brightness for easier viewing in bright lighting. When working with both viewing means, an integrated eye sensor automatically switches between both the EVF and LCD. Additionally, the camera can be turned on simply by popping the EVF into place.
For intuitive, SLR-like adjustments over a variety of camera settings, a manual control ring surrounds the lens and features a smooth, click-less design for quick and quiet changing of settings. The ring can be assigned to control a variety of features, at different values, such as zoom, aperture, and Picture Effects. A step-zoom feature can be utilized, too, to allow instant switching between commonly used focal lengths.
Full HD Video Recording
Full HD 1920 x 1080 movies can be recorded in the high-quality XAVC S format, which uses a Long GOP (Group of Pictures) structure, MPEG-4 AVC/H.264 video compression, and linear PCM audio compression, and saves within the MP4 container format. These compressed files permit recording times up to 29 minutes while allowing 50 Mbps video recording at 1080/60p, 1080/30p, 1080/24p, and 720/120p frame rates. Full-pixel readout helps to minimize any artifacts in recordings due to the ability to utilize data from the entire image sensor, which ultimately results in smooth, high-resolution recordings. Movies can also be recorded in the AVCHD format, which is ideal for HDTV playback and Blu-ray disc burning, and the MP4 format, which is ideal for uploading online. Additionally, when shooting for two purposes in mind, dual recording is possible in different formats-XAVC S and MP4 or AVCHD and MP4-for the ability to instantly share footage while also having a higher quality version for subsequent editing.
Benefitting advanced video applications, the RX100 III also supports clean HDMI output for recording uncompressed video via an optional external recorder and for real-time viewing on an accessory monitor. Recording frame rates include 24p, 60p, and 60i, and the shooting info display can be turned off during recording for a cleaner view when utilizing an external monitor.
Built-In Wi-Fi Connectivity with NFC
Built-in Wi-Fi connectivity enables instant transferring of imagery to mobile devices for direct sharing online to social networking, via email, and to cloud storage sites. NFC (Near Field Communication) is also supported, which allows for one-touch connection between the camera and compatible mobile devices, with no complex set-up required. Once connected, the linked mobile device can also display a live view image on its screen and, using Smart Remote Control, remotely control the camera's shutter release.
Additionally, PlayMemories Camera Apps are also supported via the built-in Wi-Fi connection, and allow you to personalize the camera's features depending on specific shooting styles. Apps are available to suit creating portraits, detailed close-ups, sports, time lapse, motion shot, and other specific types of imagery.
Other Camera Features
A contrast-detection autofocus system works to acquire precise focus using single-shot or continuous AF modes. When working with moving subjects, Lock-on AF, with wide, center, and flexible spots, adjusts the target frame size as the subject moves throughout the image frame. Face detection and face registration technologies can be used to base focus on recognized faces and Eye AF is also available, which is a detail-oriented focusing function that prioritizes and dedicates focusing performance on a subject's pupil for sharply-rendered portraits.
For manual focus control, DMF (Direct Manual Focus) and standard manual focus options are available. Benefitting precise manual focus, focus peaking can be used, which highlights edges of contrast within the frame for a more objective means of determining critical sharpness, or MF Assist is available, which enlarges the image for a better view of important details.
A zebra function can be used for easier detection of exposure clipping to prevent overexposure.
A dedicated Custom button permits assigning of one of 42 possible functions for instant, one-touch access to a chosen control.
A digital level gauge detects pitch and roll types of movement and helps to produce even, consistent horizons and plumb verticals.
Smile Shutter technology enables the camera to automatically release the shutter when a subject's smile is detected
Multi Frame NR records consecutive images at a reduced ISO sensitivity and then composites them into a single image to realize higher effective sensitivity (up to an equivalent ISO 25600) with minimal image noise. Standard image compositing is comprised of four exposures and High image compositing utilizes 12 distinct exposures.
Dynamic Range Optimizer (DRO) works to improve images featuring backlit subjects or scenes with high contrast where details can be lost in the shadows or highlights. This mode can be controlled automatically or fine-tuned using five settings.
Picture Effect modes allow you to apply creative settings and emphasize certain facets of individual images for a richer, more aesthetic picture quality. Posterization (Color/B&W), Pop Color, Retro Photo, Partial Color (R/G/B/Y), High Contrast Monochrome, Toy Camera, Soft High-Key, Soft Focus, HDR Painting, Rich-Tone Monochrome, Miniature, Watercolor, and Illustration modes are available.
Creative Style settings provide control over how the camera processes images based on different predetermined styles: Standard, Vivid, Neutral, Clear, Deep, Light, Portrait, Landscape, Sunset, Night Scene, Autumn Leaves, Black & White, Sepia, and Style Box. Within these settings, contrast, saturation, and sharpness can also be adjusted depending on personal preference.
To extend the effective reach of the optical zoom lens, Clear Image digital zoom can be used to intelligently magnify scenes up to 5.8x at full-resolution. This digital zoom technology uses an intelligent interpolation process to minimize the amount of image degradation in order to produce realistic, high-quality images.
In-camera creation of 4K slide shows is possible for rich playback to ultra high definition televisions. An HDMI port is incorporated into the camera's design, too, to enable direct connection to HDTVs.
TRILUMINOS Color support is supported to produce rich, natural colors when imagery is viewed on a TRILUMINOS Display.