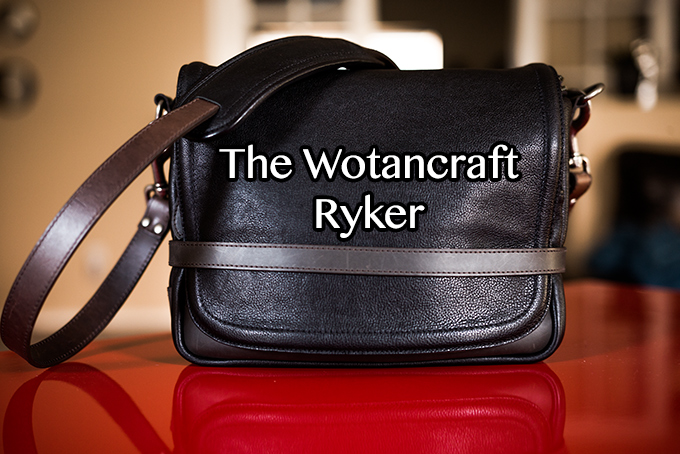 The Wotancraft Ryker Camera Bag Review
This is mainly a video review of the beautiful Wotancraft Ryker bag. I will add some words after the video below:
Not everyone is a camera bag kind of person. Many just prefer to take their camera and one lens out on the street with them and roll. Others like to have choices and bring a bag with a lens or two just in case they want to change it up while they are out. There are hundreds, if not thousands of bags manufactured in the camera world. Some are cheap but functional, some are mid priced and functional and some are high priced and built more for fashion then actual use. I have seen them all from Domke to Crumpler to Fogg to Billingham to Artisan and Artist. I have probably had 60 bags through my house in the past 5 years as many get sent to me for review. Many times they do not even get reviewed (if they stink) and they get thrown to the side and sent back.
Occasionally a bag comes along that I really like. For example, there have been bags from Tenba, Artisan & Artist, Think Tank, Fogg and Ona that I adored. I even enjoyed the Camslinger bag and still do from time to time. But never has a bag come through that spoke to me in the way this Wotancraft Ryker does. In fact, it is the most beautiful, well made, useful and overall nice bag I have ever come across in my life. I prefer it to the Fogg bag that I owned (that was more expensive), I prefer it to the ONA bags I have had (and still own) and I prefer it to just about ANY bag, ever. Why? Well, there are many reasons and I go over them in the video above. What it boils down to is that this is just about as perfect as a camera bag can get for those who want a nice looking, well made leather bag. It is stylish, it is durable and it is comfortable. It holds a Leica and 2-3 lenses as well as an iPad mini and accessories. It feels good across the shoulder and the inside is well padded and protective as well as being pretty snazzy with the purple microfiber lining. The leather is soft and pliable not hard and stiff.
Wotancraft has a reputation for making super high quality hand crafted bags and leather goods. They are not a cheap fly by night operation and this bag is my perfect bag, end of story. I even use it for a video rig I carry around sometimes with a digital recorder and other items. Makes me want a undone in brown, one for my camera and one for my video setup.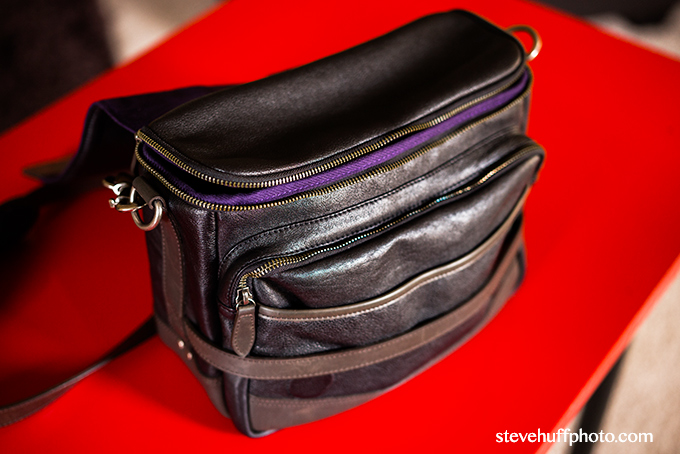 The leather is durable but soft as you can tell just by looking at the image above. The protective zipper leather flap protects your goods inside in the event of rain or snow. I have had this bag all over with me and even took it to New Orleans for the last Olympus media trip I went on. The bag still looks brand new. It has so far survived rain, water splashes and being set down on concrete several times. It looks and feels brand new. There was even one point when a beer was spilled on the bag (about 1/4 of a beer). No cloth to stain, no worry of water getting inside, no worry of your camera getting scratched up while inside. There really has not been anything left behind. The iPad pocket is inside and is nice and protected as well with a pocket and all.
The price of the Wotancraft quality does not come cheap. At $379 it is an expensive bag, but one that will last you a lifetime. Again, for me, it surpasses any bag I have owned or come across in quality, design, usefulness, size, weight, materials, and style. Some will say it looks purse (or murse) like, but so do 90% of camera bags. When on and walking around it looks like a shoulder bag. A nice shoulder bag.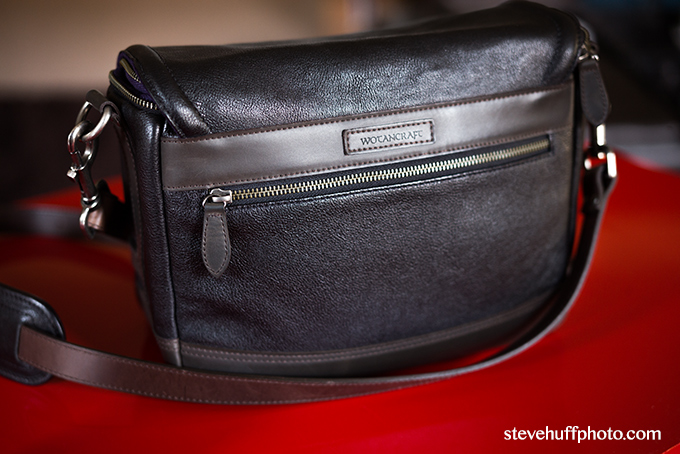 At $379 US it is well worth the cost, especially when a Fogg bag will set you back $600+ these days. This bag is perfect for a Leica system or Mirrorless system from Sony, Olympus or Fuji. All will be great for this bag. I have had compliments on it already while traveling. What people have liked is the soft luxurious feel of the bag and the features such as the purple lining and leather flap that protects the inside.
You can order the Wotancraft Ryker HERE.
It was out of stock for over a year and most thought it would not return. It is back, but I have no idea for how long. A brown one should be coming soon as well, but not sure how long away that is. This bag is in the Urban Classic line.
——-
PLEASE! I NEED YOUR HELP TO KEEP THIS WEBSITE RUNNING, IT IS SO EASY AND FREEE for you to HELP OUT!
Hello to all! For the past 5 years I have been running this website and it has grown to beyond my wildest dreams. Some days this very website has over 200,000 visitors and because of this I need and use superfast web servers to host the site. Running this site costs quite a bit of cash every single month and on top of that, I work full-time 60+ hours a week on it each and every single day of the week (I received 200-300 emails a DAY). Because of this, I need YOUR help to cover my costs for this free information that is provided on a daily basis.
To help out it is simple. 
If you ever decide to make a purchase from B&H Photo or Amazon
, for ANYTHING, even diapers..you can help me without spending a penny to do so. If you use my links to make your purchase (when you click a link here and it takes you to B&H or Amazon, that is using my links as once there you can buy anything and I will get a teeny small credit) you will in turn be helping this site to keep on going and keep on growing.
Not only do I spend money on fast hosting but I also spend it on cameras to buy to review, lenses to review, bags to review, gas and travel, and a slew of other things. You would be amazed at what it costs me just to maintain this website. Many times I give away these items in contests to help give back you all of YOU.
So all I ask is that if you find the free info on this website useful AND you ever need to make a purchase at B&H Photo or Amazon, just use the links below. You can even bookmark the Amazon link and use it anytime you buy something. It costs you nothing extra but will provide me and this site with a dollar or two to keep on trucking along.
AMAZON LINK (you can bookmark this one)
B&H PHOTO LINK – (not bookmark able) Can also use my search bar on the right side or links within reviews, anytime.
You can also follow me on Facebook, Twitter, Google + or YouTube. 😉
One other way to help is by donation. If you want to donate to this site, any amount you choose, even $5, you can do so using the paypal link HERE and enter in your donation amount. All donations help to keep this site going and growing!
 I do not charge any member fees so your donations go a long way to keeping this site loaded with useful content. Thank you!