Quick Test: Sony A7s and the Voigtlander 15 Heliar!
Well guys..I just found my next favorite camera, and one that is now up there with my fave of all times. In the same company for me as the Leica M and Olympus E-M1 and Sony RX1. In fact, the Sony A7s is one hell of a camera. I have been using it non stop since getting it in my hands and loving every moment of it. It is much more than just a video enthusiasts camera. It is much more than a low light shooters dream camera. It is actually both of those but much more because it is an amazingly capable and superb camera for ANY type of shooting. Even with its low 12MP output (same as the legendary Nikon D700) this Sony A7s has it all. Decent Speed, great build, a shutter that sounds quieter to me than the A7 and A7s and now, as I just found out, no real horrible issues with the Voigtlander 15 Heliar VM (Leica mount) lens. The camera also will AF in LOW light without the use of AF ASSIST. It is not blazing when no light is there but it does indeed AF and it does so accurately.
On the A7 and A7r this lens had some issues as it does on the Leica M. Magenta corners and edges. Most use it for B&W only because of this. On the A7s, after just a few quick test JPEG snaps in my backyard, I see no real issues and shooting this lens in color is now possible on a full frame digital without having to worry about colored edges. It is not perfect of course as it is a try 15mm lens. You will get some vignetting wide open and maybe some slight colored edges but nothing like it was on the previous cameras, or Leica M.
I have yet to try other wide angles on the A7s and I am aware that some have more issues than others but this is a good sign. The Voigtlander 15 is one of my all time fave lenses just for the fun factor and low-cost of $600. You can read about it here when I tested it on  a Leica M. My very old review on the M8 is here. Others have tested it on the A7, here is one of those articles. 
The test images below were shot about 10 minutes ago in my backyard and I haven't yet used the lens anywhere else but plan to all next week in some situations. So far so good! You can buy the 15 Voigtlander from Cameraquest HERE or B&H Photo HERE. It is a fantastic wide-angle that when used on an A7 will give you a true 15mm FOV. It is quite an amazing lens for the $599 retail price.
SO FAR, THE SONY A7S IS THE FULL FRAME MIRRORLESS TO BEAT for what it offers. My pick SO FAR for Camera of the Year 2014. Order it at Amazon or B&H Photo.
Images below with the Voigtlander 15 VM lens..click for larger. ALL OOC JPEGS! I will have some "real" images with this combo in my review coming within 2 weeks.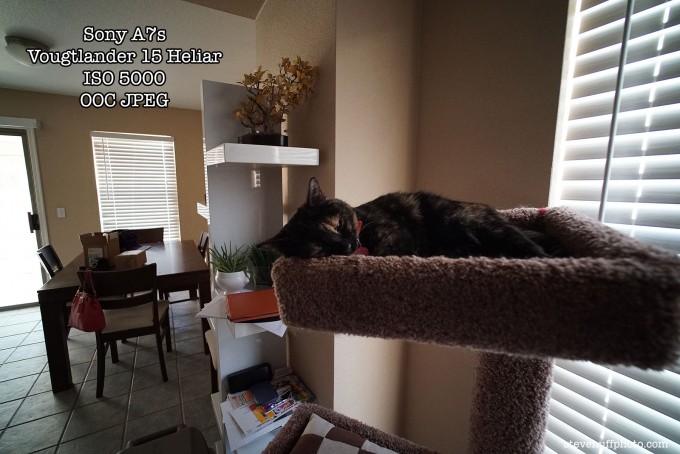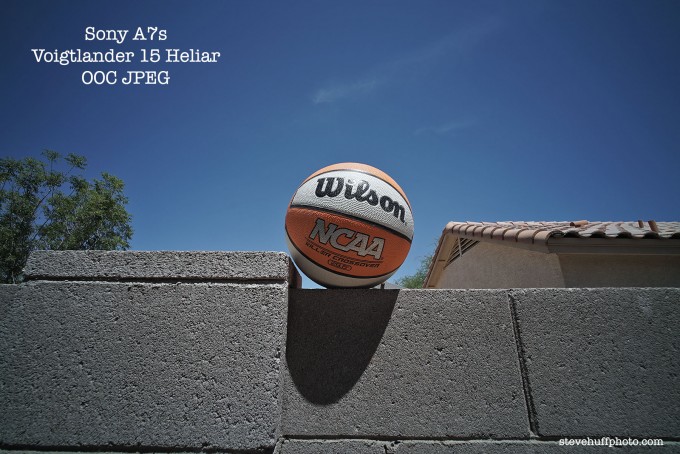 PLEASE! I NEED YOUR HELP TO KEEP THIS WEBSITE RUNNING, IT IS SO EASY AND FREEE for you to HELP OUT!
Hello to all! For the past 5 years I have been running this website and it has grown to beyond my wildest dreams. Some days this very website has over 200,000 visitors and because of this I need and use superfast web servers to host the site. Running this site costs quite a bit of cash every single month and on top of that, I work full-time 60+ hours a week on it each and every single day of the week (I received 200-300 emails a DAY). Because of this, I need YOUR help to cover my costs for this free information that is provided on a daily basis.
To help out it is simple. 
If you ever decide to make a purchase from B&H Photo or Amazon
, for ANYTHING, even diapers..you can help me without spending a penny to do so. If you use my links to make your purchase (when you click a link here and it takes you to B&H or Amazon, that is using my links as once there you can buy anything and I will get a teeny small credit) you will in turn be helping this site to keep on going and keep on growing.
Not only do I spend money on fast hosting but I also spend it on cameras to buy to review, lenses to review, bags to review, gas and travel, and a slew of other things. You would be amazed at what it costs me just to maintain this website. Many times I give away these items in contests to help give back you all of YOU.
So all I ask is that if you find the free info on this website useful AND you ever need to make a purchase at B&H Photo or Amazon, just use the links below. You can even bookmark the Amazon link and use it anytime you buy something. It costs you nothing extra but will provide me and this site with a dollar or two to keep on trucking along.
AMAZON LINK (you can bookmark this one)
B&H PHOTO LINK – (not bookmark able) Can also use my search bar on the right side or links within reviews, anytime.
You can also follow me on Facebook, Twitter, Google + or YouTube. 😉
One other way to help is by donation. If you want to donate to this site, any amount you choose, even $5, you can do so using the paypal link HERE and enter in your donation amount. All donations help to keep this site going and growing!
 I do not charge any member fees so your donations go a long way to keeping this site loaded with useful content. Thank you!