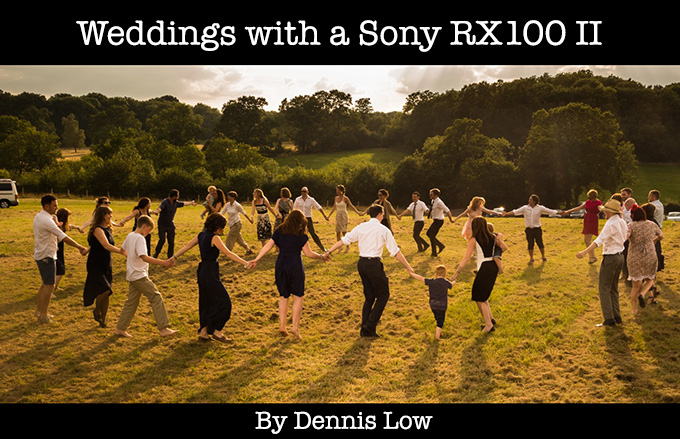 Wedding photography with a Sony RX100II
By Dennis Low
There are lots of contradictions when it comes to how photographers think about their equipment. Street photographers, for instance, often value small cameras and we all know the reasons why: when cameras are small, they're unobtrusive, discrete; unlike dSLRs, small cameras look 'friendly' and 'unthreatening' which puts people at ease, should they even spot them at all. The ever-ready small camera is perfect for shooting the world unawares, capturing the moment as it happens.
All of this makes perfect, logical sense – until, that is, someone asks you to photograph their wedding. Now, you'd think wedding photographers, with everyone wanting candid, documentary, fly-on-the-wall imagery, would have a lot in common with street photographers, and that small cameras would be absolutely central to the wedding photography industry. Nothing could be further from the truth. In fact, if you're looking for a wedding photographer, you'd be hard-pressed to find one who *isn't* wielding, say, a couple of Canon 5D MK III bodies, 24-70mm f2.8 and 70-200mm f2.8 zooms, maybe with a couple of fast aperture primes to boot, or an outfit that's very, very similar. With every guest at the wedding taking photographs already, the official photographer, it seems, needs to have equipment that's bigger, better, and more expensive than everyone else's – otherwise, what's the point of hiring a photographer at all?
But surely it's the photographer rather than the kit that matters, right? Yet, if that was the case, how come you never hear about wedding photographers using the pocket digicams favoured by many street photographers? and what would wedding photography look like if they did?
I spend most of my time developing my fine art practice and trying to find new ways of photographing animals but, last month, I was asked to photograph two weddings (consecutive weekends!). On both occasions, I was asked for candid, documentary-style shots, and instructed to 'blend in' and basically not get in the way.
That in mind, I had a think about how I was going to work: I wanted to be free to weave in and out between groups of guests, unencumbered by a huge, heavy bag; I wanted guests I'd never met to not even flinch when I stood next to them and took their picture. Visually, I wanted images that my clients could pore over in years to come, ones that reveal every detail of their wedding days rather than hide them in a gorgeous, creamy blur of expensive, full-frame bokeh at f1.4. (Those classy-looking, ambient light shots where nothing's in focus except the bride's left eye, or the groom's new wedding ring, are actually pretty easy to do, but they don't actually tell you a lot about the day, where they were taken, or when.) I wanted my photos to sidestep all those old wedding conventions and, instead, somehow tune into the language of the normal, everyday photography that everyone knows and understands, like the stuff you see all the time on Facebook or Instagram. But supercharged, obviously 🙂
It became increasingly apparent that the tiny size and huge depth of field of small sensor cameras were just what I needed. So, I took a deep breath, resisted all things dSLR, left my Leica M9 at home, and packed a little satchel with a Sony RX100II, together with a couple of flashes on remote triggers.
What does a digicam wedding look like? can it ever look professional, and is it something you'd ever try to do? Take a look and decide for yourself!
Dennis Low