My top 3 Lusted after Leica items from Photokina 2014
So for me it is the morning after. It is 8Am here in Sunny Phx, AZ and I was up late last night checking out all of the new Leica releases. In fact, Leica has released more than 40 new items and while many are accessories such as cases and bags, many of these were serious releases! Leica has been hard at work creating a range of cameras to fit almost everyone's tastes and yes, even budget. The stars of the newly announced Leica lineup for me are the new X Typ 113, the M-A, the D-Lux and the new Summarit lenses, which I think will be pretty sweet.
My #1 Lusted after Item announced for Leica?
The new Zeiss 35 1.4 Distagon Zm lens – More details HERE
Of course, my #1 most lusted after item that was announced FOR Leica M is the new Ziess 35 1.4 ZM lens. Zeiss is sort of hyping this guy as the best 35mm for the M system and at $2250, it is less than half the cost of the 35 Summilux FLE. I have always had a soft spot for the Zeiss ZM line and while they are not made in Germany, they are made in Japan and the quality of these lenses are of superb quality when it comes to IQ. In fact, I prefer the little 50 Zeiss ZM Planar to the classic 50 Summicron in image rendering, color, pop, bokeh and overall look/feel. The build of the Leica is better but at less than half the price, the Zeiss Zm 50 is so so so good. Many Zeiss ZM lenses are the "goto" for Leica shooters and this new 35 1.4 looks AMAZING. I will be buying one without question for use on my A7s and Leica camera bodies.
So yes, for me, this is the item I most want for my own personal use. You can pre-order the Zeiss Distagon 35 1.4 at B&H Photo in BLACK or SILVER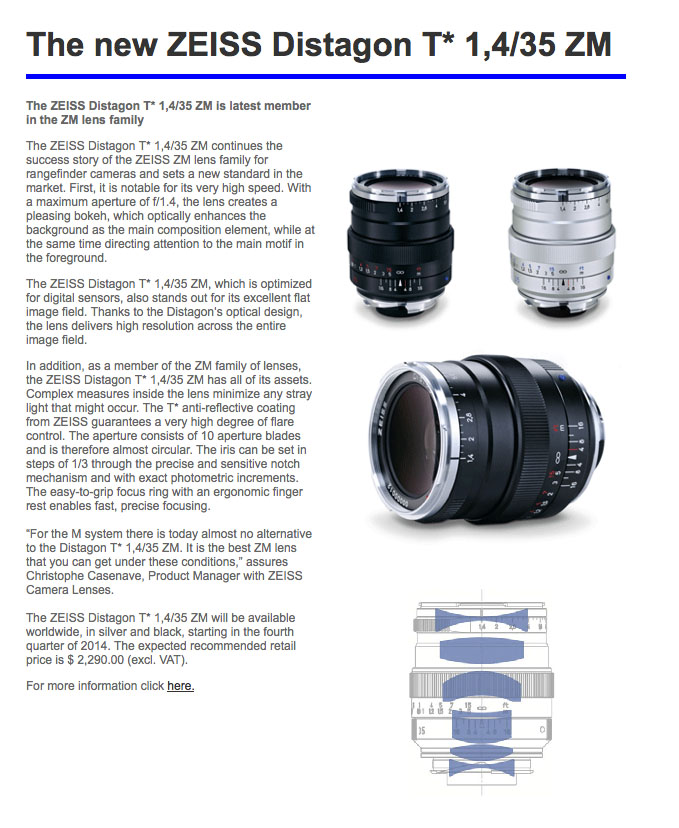 My #2 most Lusted after item announced FROM Leica?
The new X Typ 113 with 23 1.7 Summilux
I have to admit, I am not a film guy anymore due to costs, time, and all of that stuff we associate with film shooting. Today, for me, digital is just too convenient and too good. So while I LOVE the new M-A film release, and would own one in a heartbeat if it were 1979 or if it were $1500, for me it is just not feasible. It is a beauty for sure but just would not fit for my personal use. I am happy with my M, MM and A7s.
I am also extremely pleased that Leica released the M 60 Years edition. No LCD, and a cool Audi design. This is what Leica is all about. Simplicity, beauty, passion. Gone will be the chimping, the stress, the wondering "did I get the focus right". Nope, you will not know until you see your shots. God forbid your RF goes out, then you are screwed. In fact, without any EVF or LCD, this would be my #1 concern of the this new limited edition Leica. I have had quite a few RF's go out of whack over the years and without a way to check them while shooting, I am not sure I would want to do an important job with this one. Still, I LOVE THE CONCEPT and IDEA and would love to own one. At $18,500 it is out of my league but I hope to be able to see one someday 🙂 It's a beauty and I am sure will be sitting on the shelves of quite a few collectors. B&H has it listed here for $18,500 but you do get the stainless steel 35 Summilux lens, which is a collector in itself and will only go up in value. If one bought this set and kept it for 10 years it could probably be sold for $25k and up.
But even so, neither the MA or the M 60 are in my #2 spot.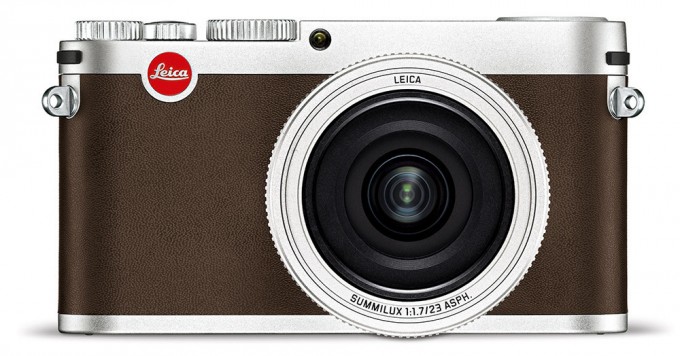 Instead it is the new X Type 113. With the new Summilux f 1.7 lens, this is finally the X that should have been from day one. While Leica is keeping the X2 (disguised as the new XE) the X 113 is where it is at. It is small, beautiful, and now with a fast 35mm equivalent lens it will bring you that Leica IQ and lens quality all in a sweet small gorgeous package. At $2295 it is not cheap but hey, it is a real Leica. Not a rebadged Panasonic. I can imagine my camera set as the Leica M-P, Leica MM, Sony A7s and the X 113. I would use them all on different days and occasions. Overkill? Sure, but it is my passion and for me you can never have too many cameras! The one drawback of the new X? NO EVF! It seems Leica will NEVER learn that putting a nice viewfinder in their smaller cameras is very beneficial. DROP this externals and go internal Leica. Even without the EVF, the camera is beautiful but the lens makes it for me.
You can pre-order the X Typ 113 in BLACK or  SILVER
–
My #3 most lusted after item announced from Leica?
Easy. The new line of Summarit lenses. These little guys look so gorgeous, especially in silver! They remind me of some of the classics in design and look and Leica also states that the lenses have been improved and rehauled giving nicer image quality and a SLIGHTLY faster aperture that creeps into Summicron territory. I mean, look how gorgeous and tiny the 50 Summarit looks!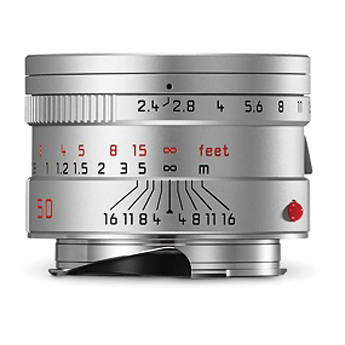 I have always been a fan of the Summarit line and in fact, the 35 Summarit is one of Leicas best 35's IMO! It has the most pleasing Bokeh and has a mix of classic and modern in its rendering. I hope the new version is just as good but it should be better. I may have to pick up the 50 and 90 in this line as the price is right (for Leica) and the size is small, and they just feel "right". As I get older I am starting to appreciate lenses like this more and more. I am moving away from the ultimate speed (except for the Zeiss 35 1.4 which will be amazing) and also enjoy lenses like this these days. I appreciate small size above all, as long as the quality is there. These lenses fit the bill and they come in at 35, 50, 75 and 90 so it covers quite a large range.
I am sure I will pick up one or two of these in Silver as I think they will do quite well on my silver Monochrom 🙂
You can pre-order at B&H photo HERE.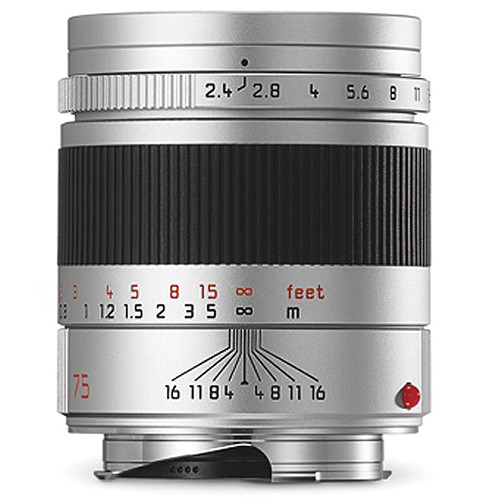 While many have written off Leica over the years, even as early as a few months ago, they appear to be going on full steam ahead. Strong, with a plan and on a mission to provide many options for those who want to get into the brand. Just a few years ago it was just the M8 or M9 with the Panasonic made D-Lux series. Then came the X1 when Leica wanted to expand out to a larger audience, and it worked. Then came the S2, then the floodgates opened and out poured the X2, X Vario, M 240, Monochrom. Now we have all kinds of offerings from Leica. The M, The MM, the D-Lux series, the V-Lux series, the X series and even the T series. Of course the special editions and the film offering as well.
Leica is growing and showing all of those who wrote them off years ago that they are here to stay for the long haul. They have been here for over 100 years and plan on being here for another 100.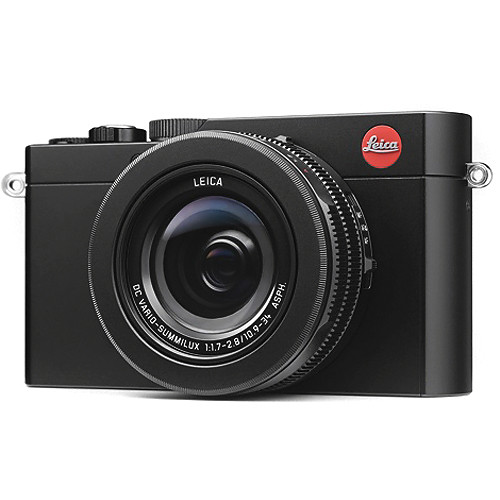 My #4 most lusted after Leica item is the new D-Lux. It is actually the same cameras as the Panasonic LX100 that I have already written about but the Leica version looks bad ass. Of course we get the Leica styling, the red dot, the Lightroom software and the longer warranty with the Leica, which comes in at $300 more than the Panasonic version. For me, well worth it for the better styling, the name/resale value, the software and the warranty. Actually, $300 more for the Leica is not bad at all and a no brainer for any enthusiast or hobbyist. It is not a made in Germany Leica but you do get the extras that make it worth it. It is the same camera, same lens and made in the same factory as the LX100 but it is the Leica version, so we all know how that goes as it has been going on for years and years now, ever since the original Digilux 1. and Digilux 2.
At $1195 this will make for a high end super quality P&S. Housing a 4/3 sensor it will provide images that are not possible with the smaller 1″ sensor cameras.
You can order the new D-Lux HERE. 
–
LEICA DEALERS I RECOMMEND:
Ken Hansen (E-Mail him at khpny19@aol.com)