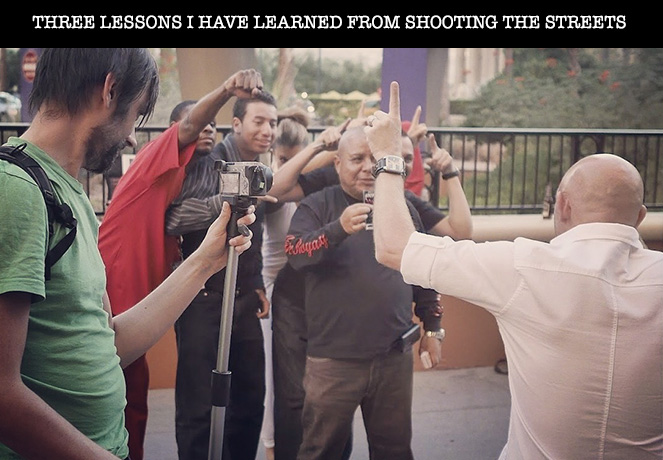 Three lessons I have learned from shooting the streets.
By Steve Huff
Street Photography has enjoyed a huge resergance in recent years. With the many blogs writing about it, workshops showing others how to do it, and the constant barrage of street shooter hobbyists sharing their photos, street shooting has seemed to meld into all sorts of things, much of the time having nothing to do with the old school style of which most everyone was inspired. My favorite street photographs of all time were shot by none other than Vivian Maier. Not only are her photographs very special, they bring back memories of a time before I was even born. The cool part for me is that her amazing street photos were all shot in my hometown of Chicago, giving me a glimpse of the people of the past. If you are not familiar with her story, I urge you to watch the documentary "Finding Vivian Maier".
I consider Vivian's work to be more than "street photography" as many know and practice it today. I see her work as something special, something magical and more along the lines of "street portraits" much of the time. She loved shooting people and she had a talent for it that many of us (including myself) do not. As I browse through the book of her work "Out of the Shadows" (which I HIGHLY recommend, amazon link HERE) I am over-run with emotion as I am taken back to the past, to slices of life that we will never see again. Because Vivian captured this fraction of a second on to film, a memory was made. A time capsule if you will. I have said many times that we already have a time machine here on earth, and it is called a camera. While we can not physically go back in time, looking at old photos will take us there in our hearts and minds. A camera is a powerful tool when used in the right way.
When I started shooting street images I was horrible at it (and still consider myself a street hobbyist with so much to learn). I was fearful to let anyone know or see that I was taking an image of them. I was afraid to lift it up and make eye contact with the subject, and I usually came away from a day of shooting with nothing to show for it. Eventually I told myself "you must never fear taking a photograph"! Fearing the actual act of taking a photo was killing my passion for photography and that was not good. If I wanted to get out on the street and snap those special moments, those slices of life, the people I meet and those time capsule memories…then I needed to just do it and NOT think about it.
*The 1st lesson I learned is to never fear shooting in public. Just do it, and act as if it is as natural as looking at someone and giving a smile. But also you must use your instincts as to WHEN and when NOT to shoot.*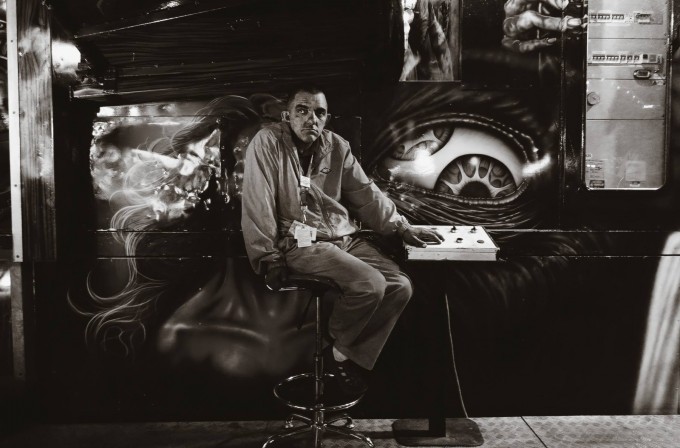 After a while I realized  there was absolutely nothing to fear when out shooting people out in public. 99% of the time I get a smile back, a nod or a grumpy face but never have I been attacked and I think that comes from my instinct. What I mean by this is that after a while you start to get an idea of whom to approach, who to raise your camera to and who NOT to do this with. I can sense if someone will have an issue with me taking their photo, and in these cases, I skip it. Many will say "take it anyway" but I believe in respect when shooting on the street in public. I also believe in some sort of acknowledgement if you want a "street portrait". Not setting up the scene but making sure the person is OK with you taking their portrait.
Rio Brazil: Saw this happy smiling man sitting on the street and sat down to chat with him for a while. He did not speak English but he wanted me to take his portrait after he saw my camera, so I did. For me, making a connection to strangers is one of the appeals of taking street portraits.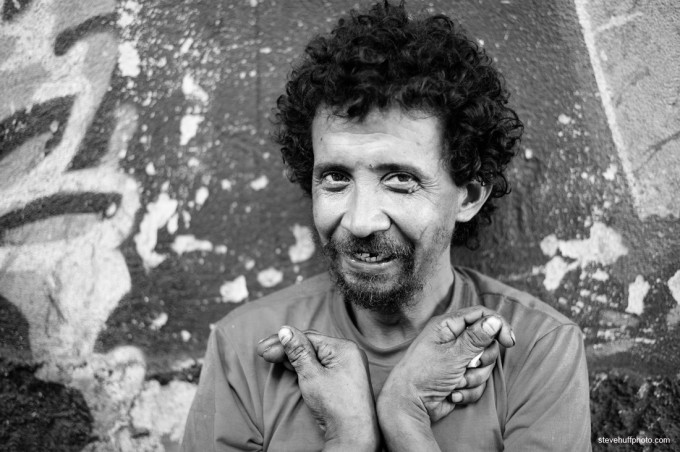 –
Las Vegas NV: I noticed a rowdy bunch of guys on the street selling nightclub tickets so I walked up and asked if I could grab a shot of them. When I approached I was calm, cool and confident as confidence usually gets your subject to feel comfortable. Below you can see the shot and below that shot is an image of me taking the shot 🙂 Shot using the Leica Monochrom.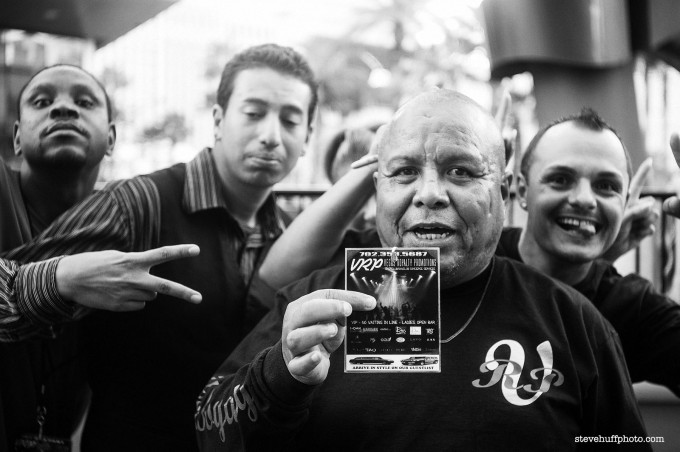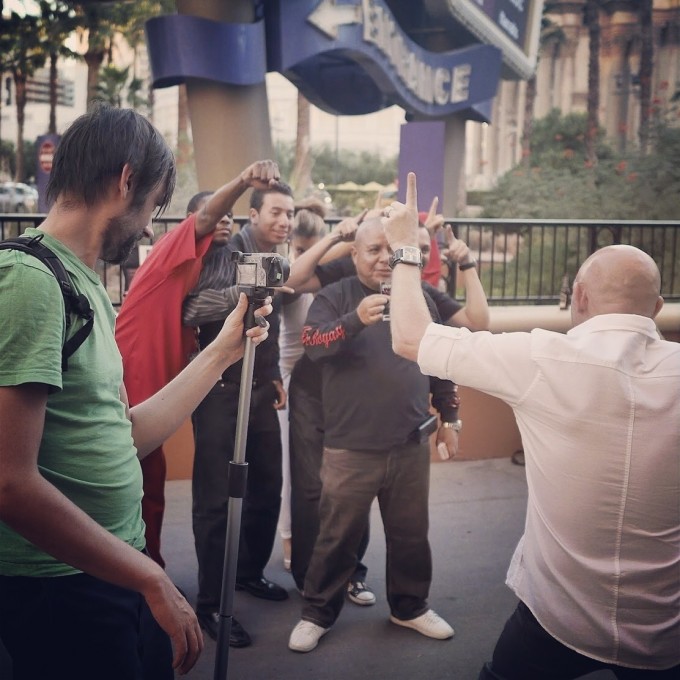 –
Walked by this Security guy who was directing traffic and people on the strip in Vegas. I passed him up then decided to walk back over to him. I made eye contact, nodded my head and snapped. It all happened so fast he said "you did not give me time to smile"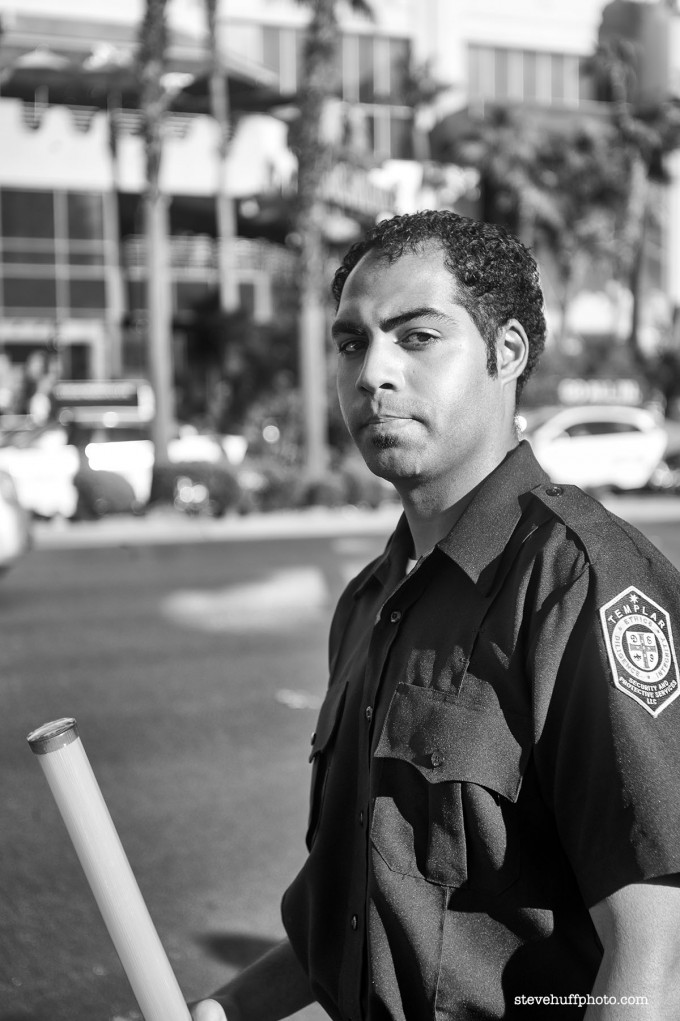 Many times I will sit down and chat with whoever I want to take a snap of. If they are OK with me shooting them after this, I will. If not, I thank them and wish them a great day.
*So the 2nd lesson I have learned for my style of street shooting is "be respectful to all and use your instincts". Usually when you do this, you will also be respected back instead of someone getting angry and wanting to tear your camera away and smash it.*
Not all street scenes are portraits of course..all depends on the scene. Many like to catch human interactions and be invisible to the subject. I have seen some astounding images shot in this fashion from others and it is also a style that is nice to take on, but it requires patience. Many street shooters I know who shoot in this fashion will stay in one spot for hours..waiting for the one moment where they will get a nice shot. While I prefer human interaction, I do not always have a chance to chat first, and when this happens I just shoot.
When shooting street it can take years to be able to develop your senses or how to "see" things worthy of a photo. I am no expert on this, not even close but I have learned over the years that you should always keep your eyes peeled as many things happen in a split second while other situations need to be observed for a while.
*The Third thing I have learned is learning how to "see" and "observe" as things usually move quick on the streets*
Rio, Brazil: Seeing this elderly man sit down on the bench I observed his actions for a while. He was just sitting there like a statue for 10-15 minutes, moving very little in this time. What I saw is a man, sitting like a statue next to a real statue. The three younger ladies behind him were enjoying the Ocean view in Rio while this man may have been looking back on his life while listening to the water.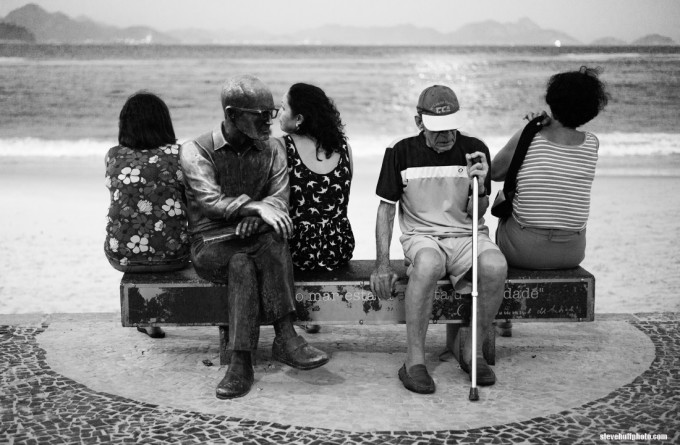 –
St. Petersburg Russia at Midnight (yes midnight) – Saw this couple ready to kiss with the midnight sun behind them and the boat chugging along..raised my Leica M9 and shot. For me this captures the romance of this city perfectly.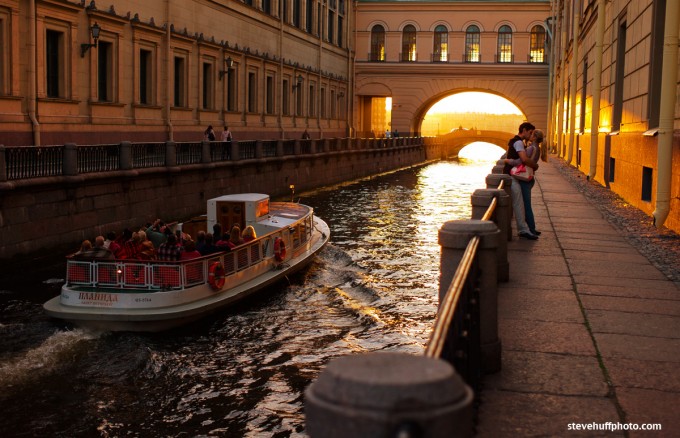 –
Recife Brazil: This woman was not the friendliest looking person but who knows, she may have been sweet as pie. The look on her face tells me she may punch me if I snap, but then again, maybe not. I wanted to get a profile but as I snapped she looked behind her. This is not a technically great photo but it is edgy. I was recently asked if I like "Beauty" or "Truth" and I always say "TRUTH" as that is reality. Beauty and fake beauty is everywhere but truth trumps all.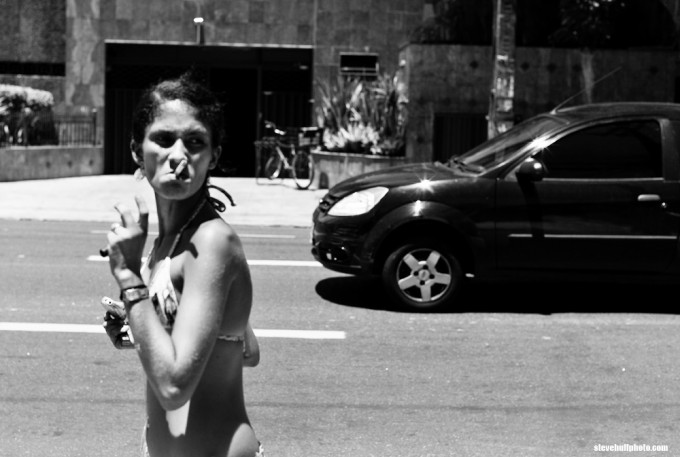 –
Seattle: Saw this girl having a great time on the beach. The sun was setting and the weather was amazing. Wanted to catch her laugh to show that in this one moment in time, this person was having a great time in their life. Happy and full of life.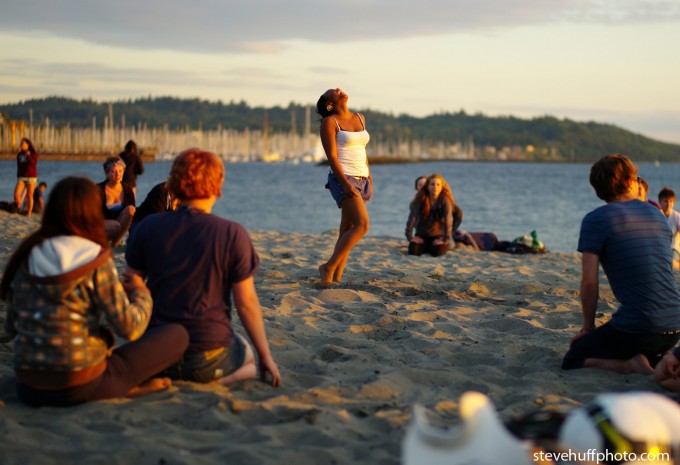 –
Inside of a truck stop somewhere in middle America: Was eating lunch when I saw a kid outside the window begging his grandmother for money so he could buy a toy he saw inside the shop. She refused at first, telling him NO NO NO! She then relaxed, pulled out a smoke and gave him her coin purse. Seems the cigarette gave her some peace 🙂 I was watching the interaction take place for a while before deciding to snap a shot.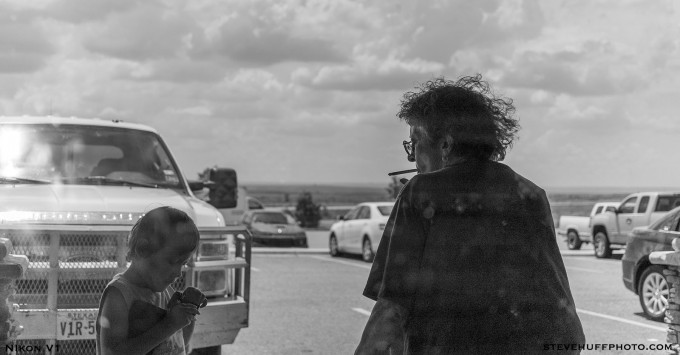 –
Berlin Germany: While in Berlin I saw this couple cuddling and holding hands so I followed them down the street for one minute. At a street crossing I saw her embrace him and right after I shot this she smiled at me as she knew I captured some love right there 🙂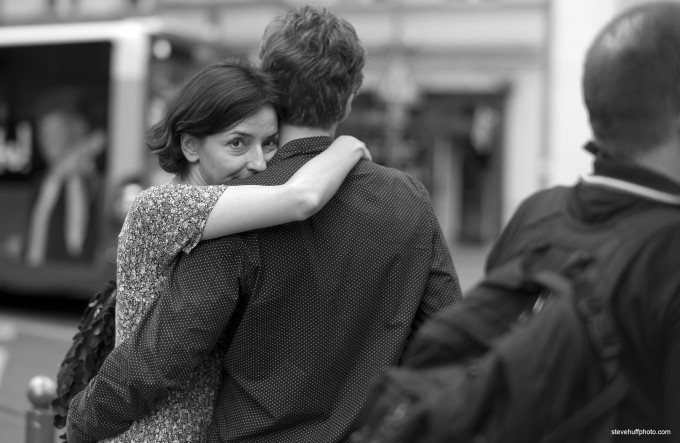 –
New York City: Hanging around NYC was a blast and it is a street shooters dream. I love this one that I caught of a man coming out Penn Station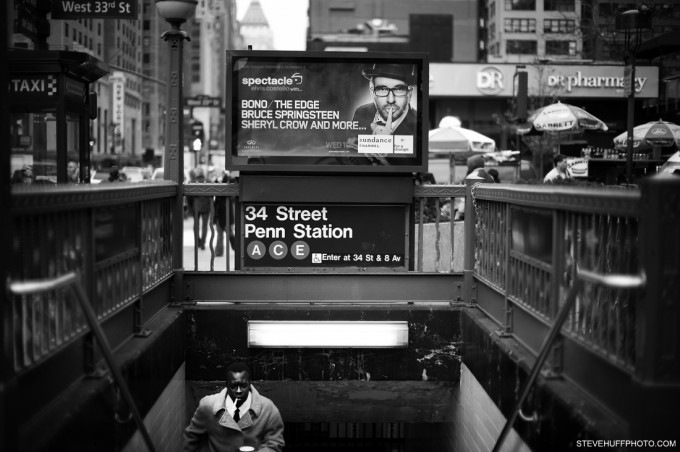 –
Rio Brazil: A woman massaging her man's neck and back as she whispered sweet nothings to him. They acted like they were all alone and oblivious to the surroundings. I squatted down, snapped the shot and afterwards the guy looked and gave me a  thumbs up. I was alone on this walk in Brazil with my Leica and never hesitated to shoot.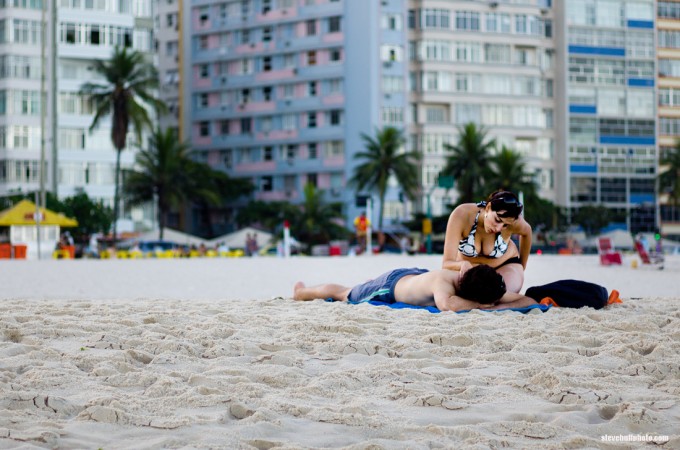 –
Scottsdale AZ: At a bar just before Christmas I was greeted by a dog at the bar. He was shaking everyone's hand who came in and was just like an old bartender, but friendlier. I had to snap this hand shaking dog so I could always remember the laughs we had that night.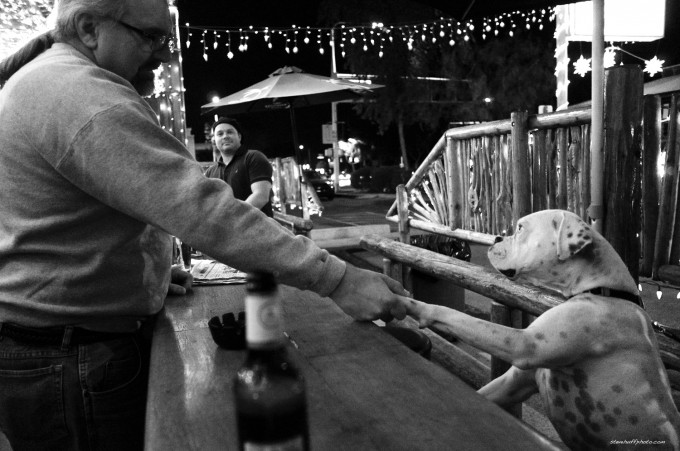 –
Berlin: Shooting people on a bus can be interesting. This woman looked deep in thought and I wondered what she was thinking about..of course I will never know that, or her, but I like the photo.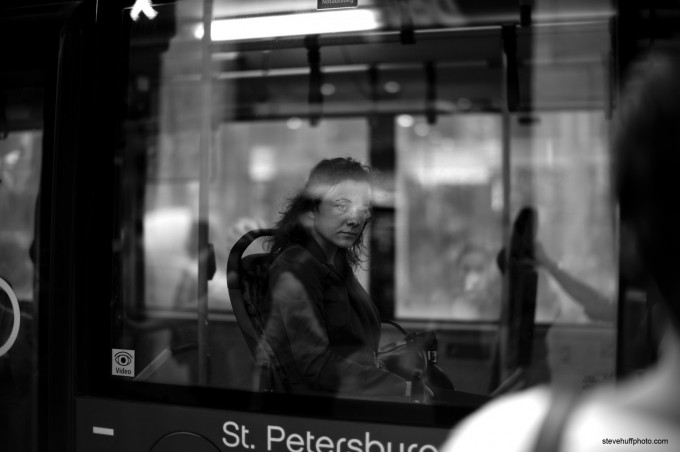 –
Somewhere in Brazil…another Bus shot.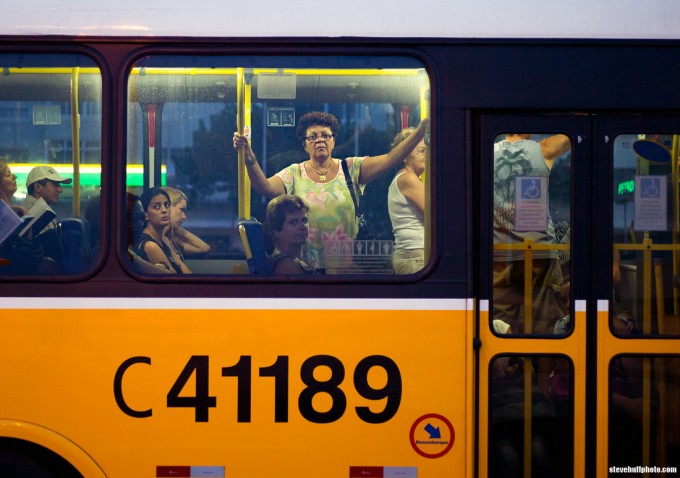 –
Rio: I was eating lunch at an outdoor cafe near the beach when I saw these two guys. I raised my camera, gave them a nod and they gave me a pose 🙂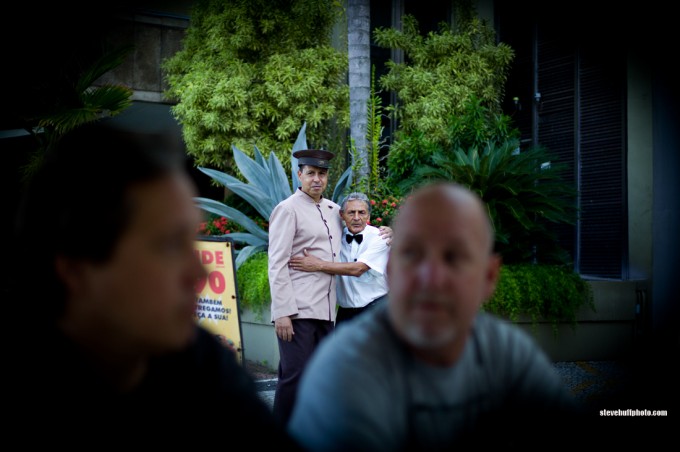 –
Seattle: A street performer who has been here for a long time singing to all of the tourists…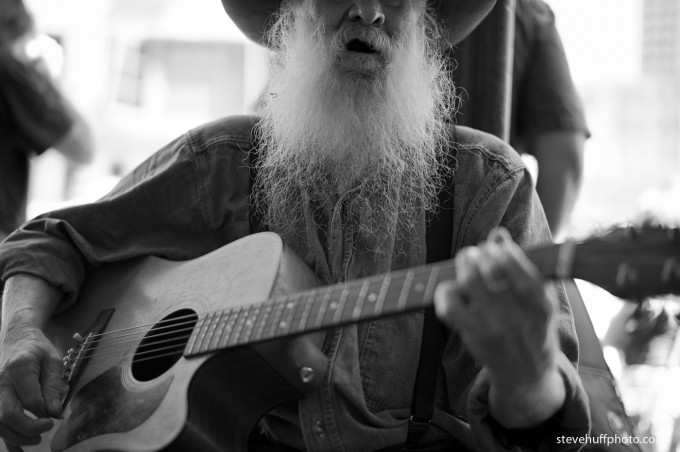 –
Berlin: I saw this man riding a bike with some pretty nifty socks.Had to get a shot.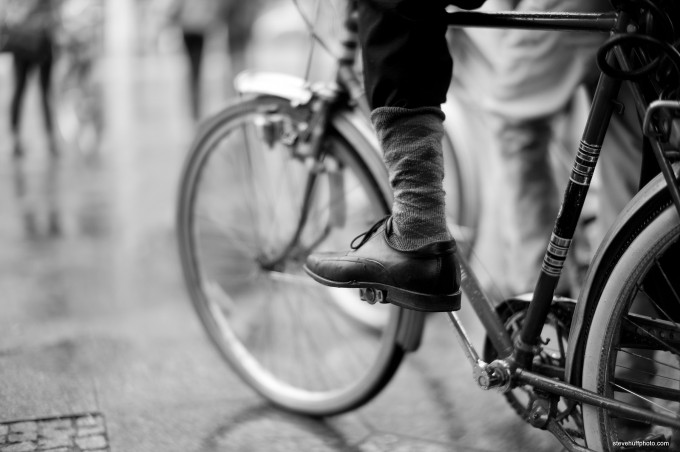 –
While walking down the street I saw  these two parking attendants arguing. Usually one would stay out-of-the-way of  two guys getting into an argument but I snapped without them knowing until AFTER I snapped the shot. They were cool with it and ended up laughing at themselves in the end.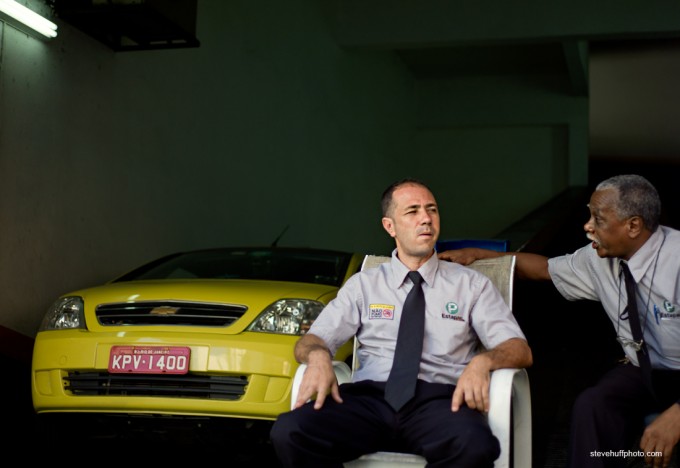 –
Seattle: Seeing this little boy skipping, dancing and enjoying an apple at the Gum Wall. I snapped when he looked over at me as he was taking a bite out of his apple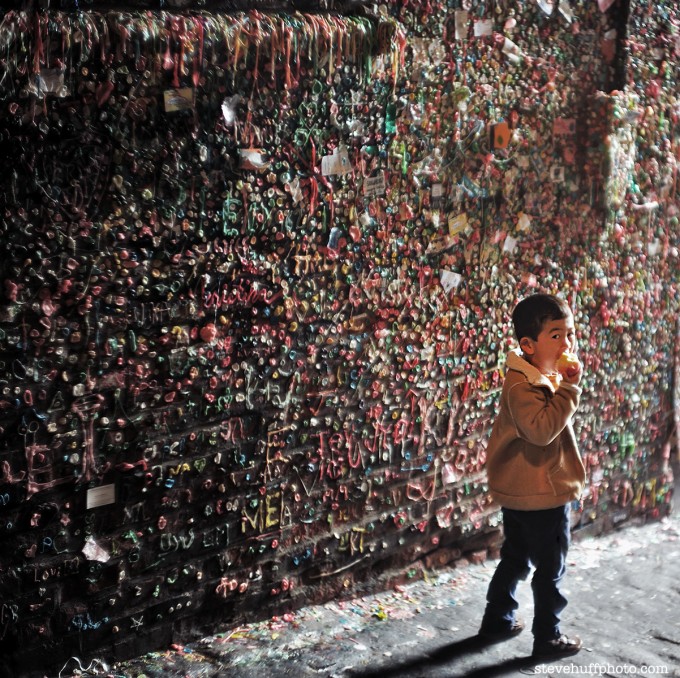 –
So basically the moral of MY story is when I dropped the fear of taking images of strangers, and when I learned to use my instincts of when and when not to shoot and when I learned how to "see" better it all added up to improve my street photography to a higher level than when I first started. While I have lots to learn, and I do not do too much street shooting these days, I always have fun with it, which to me is the most important! If you do not have fun with photography then it will get old..fast. So always shoot what YOU enjoy shooting, even if it is flowers, leaves or trees. Whatever makes YOU happy is all that matters!
OF COURSE there is much more to it than those three things but that is a good starting point. Also being comfortable with your camera and lens will help you along the way. 😉
Recife Brazil: Two girls on the beach. This was late night and I was out with my M9 and Noctilux. When they saw my camera they said "TAKE OUR PHOTO"!! To me, this is what it is all about..interaction with others, having a great time and nailing a nice photo to take you back to that moment.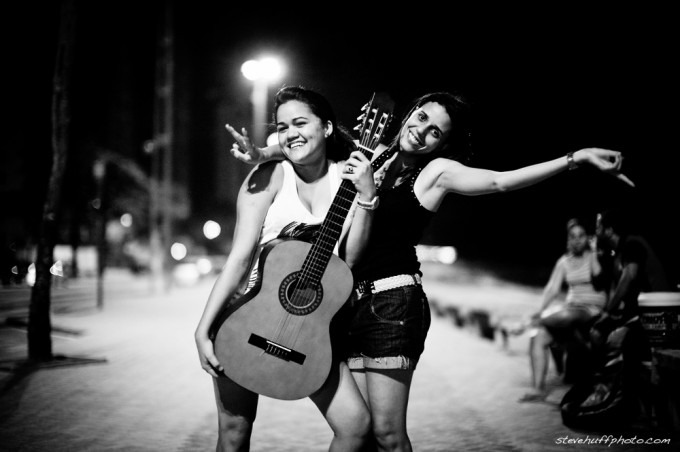 –
SMILE! This one was taken somewhere in Seattle and she loved having the attention and her photo taken 🙂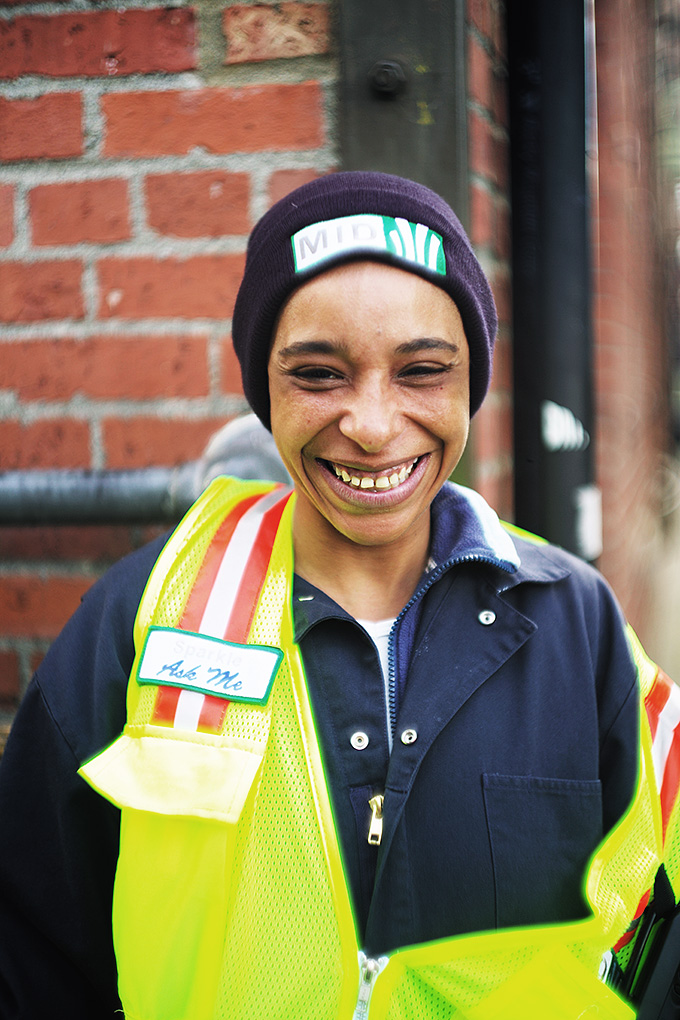 –
Talin Estonia: Shot this girl on the street during an early morning walk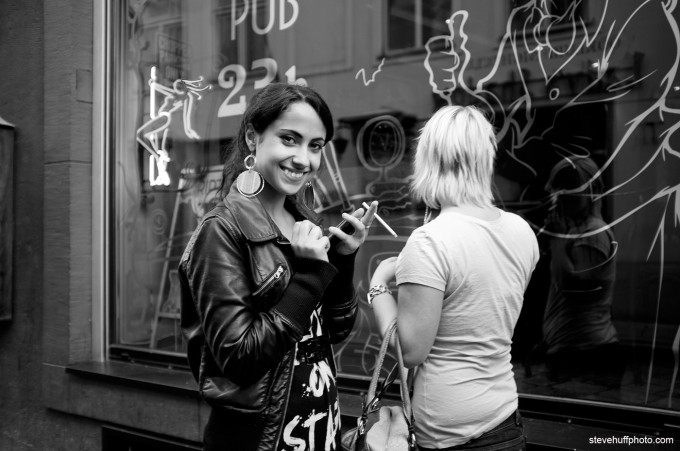 To those who want to get better at shooting images on the street can start with losing the fear of shooting strangers, learn to develop their eye and how to observe and also to be respectful to those we approach and want to photograph. Most of all, have fun.  While I will never be a master of the street. I have loads of fun doing it 🙂
Steve