Love my Sony A7II…it inspires me!
by Jens Niedzielski
Hello Steve!
I've been reading your website / blog quite a bit lately, as I have become an avid user – and fan – of the Sony A7 (Mark II). After following your experiences with the A7 and A7s, and trying the A7s myself during a shoot in the Maldives in March, I decided to get the A7ii, and I am using it extensively ever since (darn, they just announced the A7R Mark II…).
I'd say the Sony really makes me want to take photos so much more than any other camera before – one reason being the fact that I can throw an endless array of vintage MF lenses on it. Lately I shoot almost exclusively manually, even fast-moving objects (kids (haha), horses etc). And I got hold of really nice vintage glass, from Canon FD lenses, to old Nikkor lenses, Rokkor, Takumar, Zeiss Jena, Jupiter, Industar, MIR, to name a few.
Anyway – thanks for pointing me in the right direction 🙂 Attached please find 3 recent photos taken, and I hope they are somewhat inspiring… All taken with the A7II.
1. GO.RIDE – I am currently residing in Thailand, and some of my friends are some of the very few people in the country who are into horse trail riding. Outdoor, no strings attached. Most people who ride are staying in the safe and sound environment of horse riding clubs and rings – but these guys and girls are going out rinding in forests, farmland and so forth. The real deal, so to say. They often abuse me to take their pictures LOL, but I also feels it's quite a privilege as this is a really rewarding subject to photograph.
The photo was taken with the A7II x Sony E 50mm f/1.8 OSS Lens (Silver). That day I decided to challenge myself by shooting horse riding with a portrait lens, while keeping it under control otherwise thanks to AF (as the other day I shot arena / ring horse riding with an MF portrait lens, which despite the fact that they were waaaaay slower in there still was really difficult). The setting should be ISO100, f/2.8 which I chose as a sweet spot of shallow depth of field combined with 'getting something in focus'.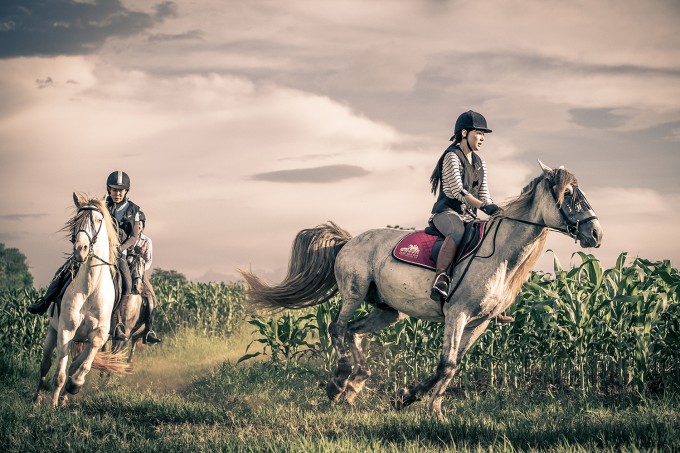 2. LAST LIGHT – this is an 'after sunset' / blue hour shot across Bangkok's high rises. This is one of the very few unobstructed views into sunset direction in Bangkok, and literally was shot during the last seconds of having noticeable light that day; it went dark after that even for the A7II (I guess the A7s would have had a fun time after that).
For this one, I had paired the A7II with a Tokina 17mm f/3.5 RMC. Taken at 50 ISO, f16, about 30sec exposure I believe.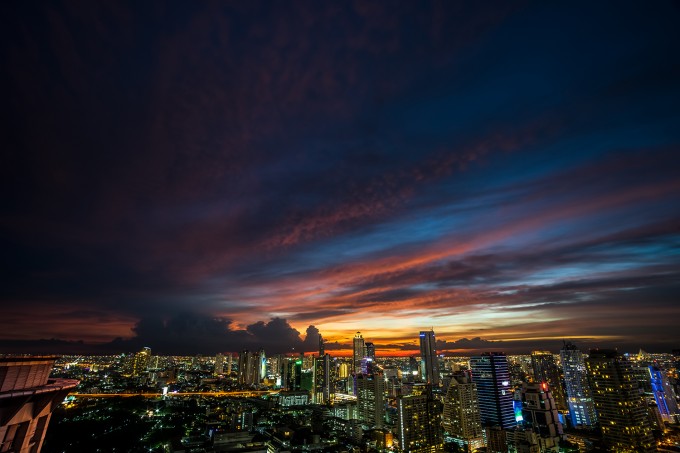 3. THE TRAIN HAS LEFT THE STATION – this shot was taken inside Bangkok's iconic Hua Lamphong train station. That day I went inside late at night to avoid people ruining my photos 🙂 It turned out that the station is very heavily and brightly lit inside making it difficult to show the vintage look and feel of the station due to cold, bright and clinical light.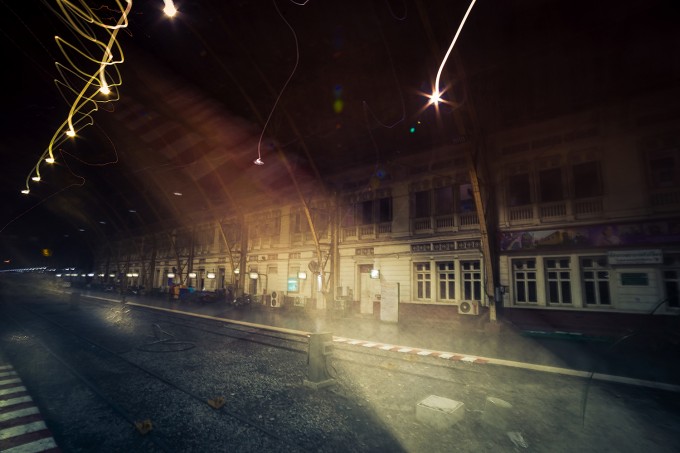 Apart from taking some great shots in b/w and of the old trains that night, I decided to try some creative shot around the empty tracks that would give me the feeling of an empty old train station, or a station late at night, without resorting to more common techniques like b/w.
This was once again shot with the A7II x Tokina 17mm f/3.5 RMC.
P.S. I am aware / really quite a bit into post-production of images, but I am not using 'filters'. All post processing is done only in LR and PS. Whenever I shoot, photos or VDOs, apart from trying to capture a really nice shot, fun for me starts when working the RAW files or VDO clips in post to see into what direction I can tweak them. Any photo, given the circumstance, inspires me to give them a certain treatment based on my perceived mood and tone of the moment. It may not be everyone's taste, but it's mine 🙂
Thanks a lot and best wishes,
Jens
INFO:
J (Jens Niedzielski)
Bangkok, Thailand