Mega Deal! $8,500 OFF this Hasselblad HV DSLE & Zeiss Lens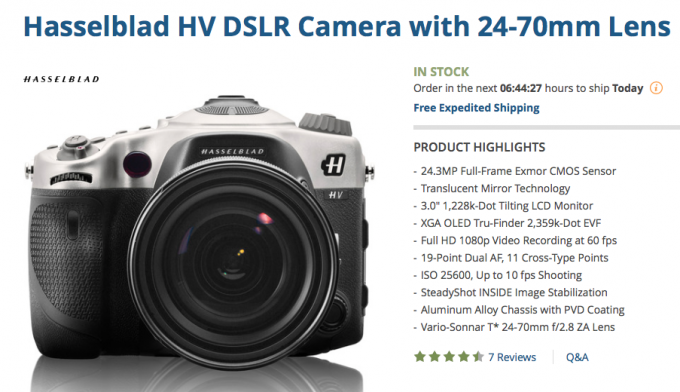 UPDATE! Supplies did not last too long after I posted this. Looks like they are now sold out but yea, this was actually a great buy!
Take a look at this! As we know, Hasselblad is clearing out the Stellar camera with gobs of cash off and have been for a while now. I even bought one a while back and wrote about it HERE. Well, now the Sony A99 version, the Hasselblad HV is being cleared out at $8500 off, yes, over EIGHT Grand off!
The normal price for this camera was $11,995.00 and while yes, it is a Sony A99 in a fancy Hasselblad shell, it does look quite nice and at the price of $3495 you now get a fantastic full frame DSLR, a great Zeiss 24-70 and the Haselblad version. In fact, the Sony A99 IS $1,998.00 on its own, body only. Add in the Zeiss lens and now this Hasselblad version comes in for LESS than the Sony Version. Not bad at all considering the HV is heralded as being "Tough as Nails".
Now you can get the HV body and 24-70 f/2.8 Zeiss ZA Lens (This is a $2k lens) for $3,495.00.  Less than the Sony A99 and Zeiss 24-70 ZA.
B&H is blowing out the HV set while supplies last HERE