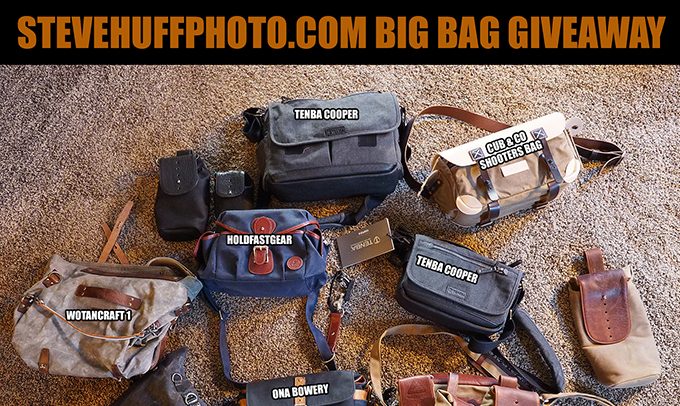 THE STEVEHUFFPHOTO BIG CAMERA BAG GIVEAWAY!! Win a premo bag! Here's how! EASY AS 1-2-3
So I have a boatload of camera bags sitting in one of my closets. Bags I have collected over the years, bags that I could not possibly use and bags from GREAT manufacturers! I decided that instead of selling these bags, I will GIVE THEM AWAY TO YOU in a fun contest!
THE BAGS I AM GIVING AWAY AND SPONSORS OF THIS GIVEAWAY:
These bags are mostly high end bags, and some are VERY high end. Bags from HOLDFASTGEAR  – TENBA – WOTANCRAFT – ONA – AND CUB & CO! So thanks to all of these great bag makers for making these bags! 
TENBA COOPER SMALL
TENBA COOPER LARGE
HOLDFAST GEAR STREETWISE BAG
HOLDFASTGEAR SIGHTSEER AND POUCHES
WOTANCRAFT X 2
CUB & COMPANY SHOOTERS BAG
ONA BOWERY with special surprise inside 😉 
HOW TO ENTER: 
Yep, this contest as easy as 1-2-3 and it is now ONLY open to the 1st 30 who enter for reasons stated below…so when 30 entries have come in, no more can be accepted!
To enter, just submit a daily inspiration set of three photos (no larger than 1800 pixels wide, no smaller than 680) with a description to stevehuff1@me.com between NOW and August 20th.
I will post the 1st 30 submissions between NOW and August 22nd.
After the 30 entries have been posted, the readers here will VOTE for the seven winners!
Entry is FREE, and no money to me from you is required. I will cover all shipping costs. 
Which bag do YOU want to win?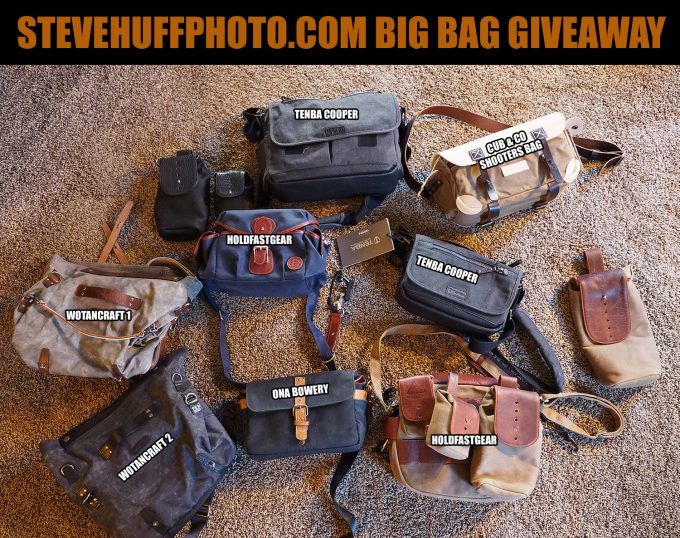 The Rules:
You must be over 18
This is worldwide! Anyone in the world can enter! 
You must enter starting now! After the 1st 30 entries have been received, that will be it for  the contest entries! We have just about 10 slots left (as of July 22nd) for entries!
Winners will be chosen by the readers here end of August!