The Jobo CPE-3 In Home FILM Processor. Check it out…
Now this is cool….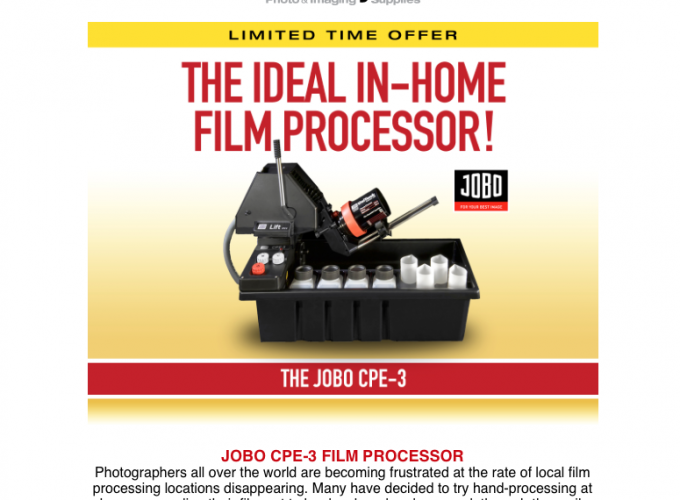 If you still shoot film, and want an easy way to process all of it, then here is something super cool that allows you to get perfect development of your film in house and easy. You can see more on this device HERE.  It comes in at $1749. More details below…
JOBO CPE-3 FILM PROCESSOR
Photographers all over the world are becoming frustrated at the rate of local film processing locations disappearing. Many have decided to try hand-processing at home or sending their film out to be developed and scanned, through the mail. With the new, compact JOBO CPE-3 PROCESSOR, you can start developing locally, again… in your own home! With a footprint of about two feet wide and one foot deep, the CPE-3 is perfect for small spaces. Experience the magic of processing your film, yourself, with a helping hand from Jobo! Fine-art and freelance photographers, as well as high schools and universities have been looking forward to the arrival of a small, affordable processor to help keep as much of their craft in-house, as possible; and, here it is…
THE PROCESSOR
The Jobo CPE-3 Processor is a motor-driven processor for all films from 35mm, 120 medium format, up to 4×5 sheet film, in Jobo tanks. On the Jobo CPE-3, tanks are attached to the processor and are automatically rotated in both directions for optimally accurate and even developing. Its accurate tempering bath assures precision processing every time.
ACCURATE TEMPERATURE CONTROL
The chemicals and film are all kept at the same controlled temperature, in a common, thermostatically controlled water-jacket. Temperature can continuously be set between 68 and 104 degrees Fahrenheit. A red indicator light signals when the heater is in operation. All graduates and bottles lock into place and are kept from floating, thus providing an even water level and optimal tempering.
SIMPLE HANDLING WITH INCLUDED LIFT
With the Jobo Lift, the attaching and removing of the tank for emptying and refilling is not necessary any more! No wet hands – chemicals are poured while the tank is rotating, and used chemicals are easily collected by pulling the lift lever. Processing times are maintained and films are soaked evenly. Chemistry is easily collected for reuse.
SECURE COUPLING
For rotary processing, each tank must be fitted with a magnet or cog. To use a tank on the processor, without the Jobo Lift attached, a magnet must be mounted on the bottom. However, your tank must have a cog installed on its lid to use with the Jobo Lift. Some tanks come with a magnet or cog already installed, some do not. Magnets and cogs can be purchase separately if your tank does not include them.
FEATURES
Processes 35mm, 120-size and larger (up to 4×5 sheet film)
Semi-automates processing for daylight operation
Automatic agitation
Automatic temperature control
One shot developing
Compatible with all Jobo tanks 1500 and 2500 series
For use with lift, tanks must have a cog (two cogs included)
Not for use with Jobo drums
ACCESSORIES
1 – Jobo Lift
1 – Jobo Cog Kit, contains 2 cogs and 4 washers
4 – bottles 600ml
4 – graduates 250ml
1 – Jobo 1520 tank
FILM CAPACITY
5 – 35mm x 36 exp.
6 – 120 films
12 – 4×5 sheet film
SPECIFICATIONS
H 10 in x W 25 in x D 12 in
(H 25.5 cm x W 65.5 cm x D 30 cm)
Weight: 6.6 lbs. (3 kg)
VOLTAGE / CAPACITY
110V/440W, designed for US 110 volt system.