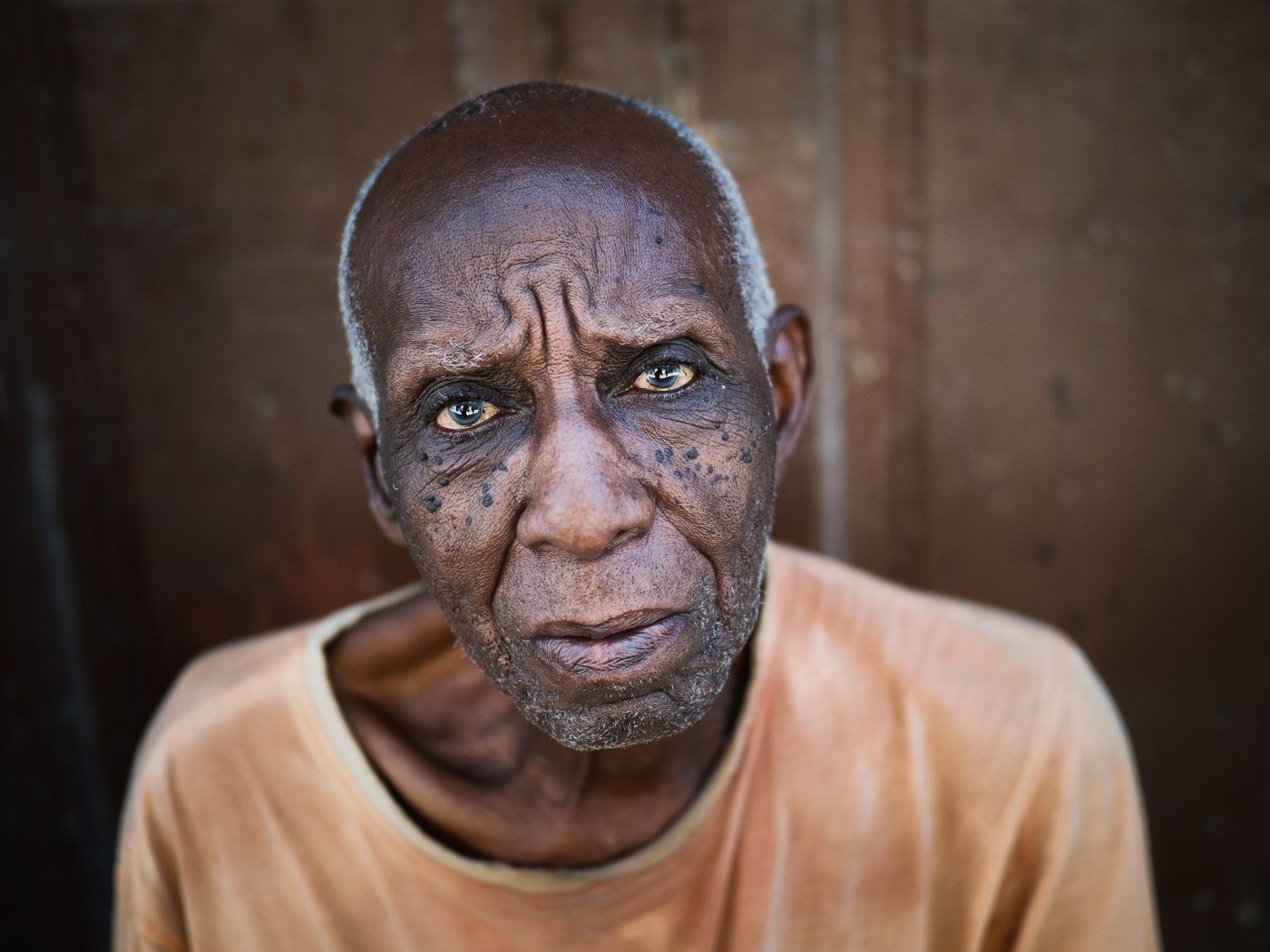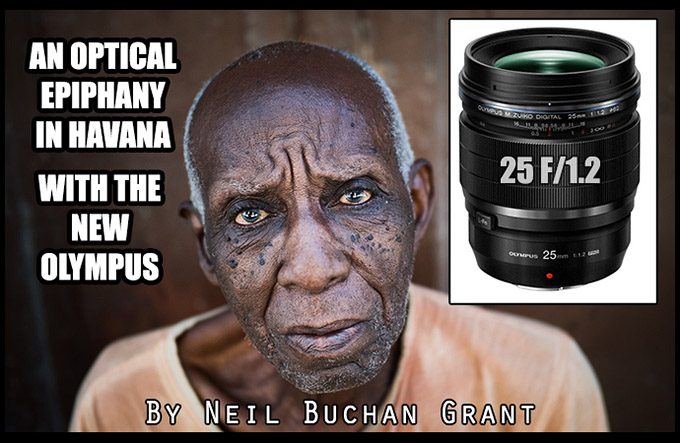 AN OPTICAL EPIPHANY IN HAVANA with the new Olympus 25 1.2 Pro Lens
By Neil Buchan Grant
At the start of August Olympus asked me to try out two new lenses which have just been anounced, the 25mm f1.2 PRO and the 12-100mm f4 PRO.
Months before, I had arranged a two-week trip to Cuba for the end of August where I intended to make a lot of portraits, not only of the locals on the street, I was bringing a model with me from London. Having visited Cuba 10 years before, I knew it was a visual goldmine, not only for street portraiture but for some of the most atmospheric travel images the Caribbean has to offer. I knew this trip held great potential, amazing light, a historic backdrop, charismatic people on every street corner and a Colombian model chosen partly because she could easily pass for a Cuban. But would these two new lenses be up to the task, would they do justice to the magic of Havana?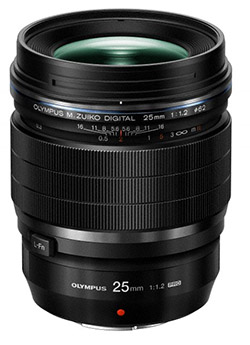 The Gear….
As an Olympus Ambassador I had of course been intending to shoot mostly with my OMD and PEN F cameras, using 2 of the earlier PRO zooms and a couple of primes. My portrait setup of choice recently, had been the Leica M 35mm f1.4 ASPH Summilux which equates to a 35mm format FOV of 70mm on the Olympus OMD EM1 body. Prior to that it had been the well-regarded Panasonic/Leica 25mm f1.4 lens. But for me, both options had always played second fiddle, bokeh-wise, to my full frame Leica M 50mm Summilux f1.4 when used on a full frame Leica body, (currently the SL). So I decided to take both Leica M lenses with the SL, the OMD and PEN F, the two new Oly lenses and my trusty 40-150mm 2.8 PRO zoom.
YOU MUST CLICK ON THE IMAGES TO SEE THEM IN THEIR BEST QUALITY!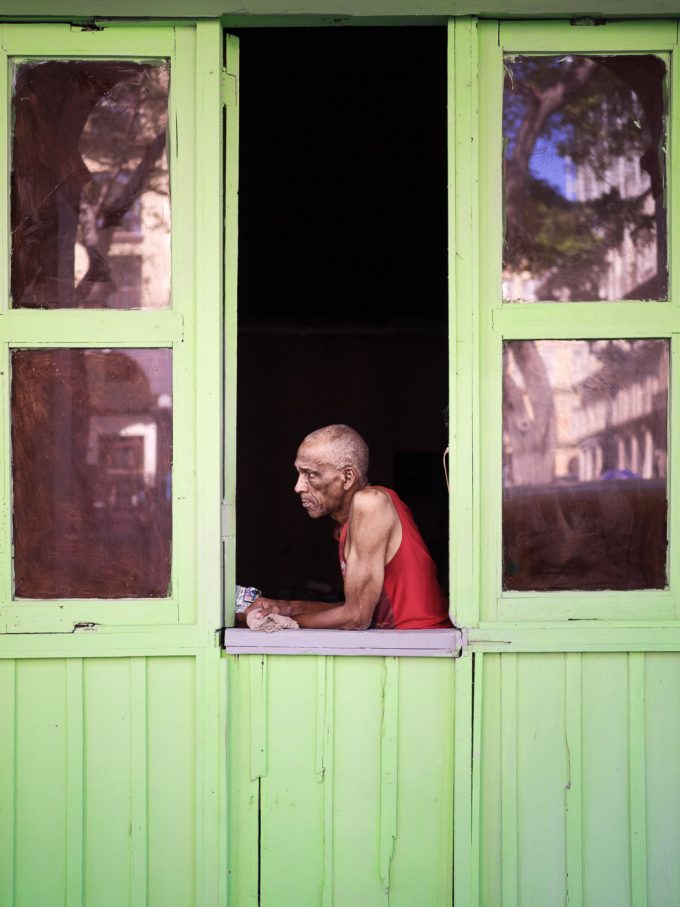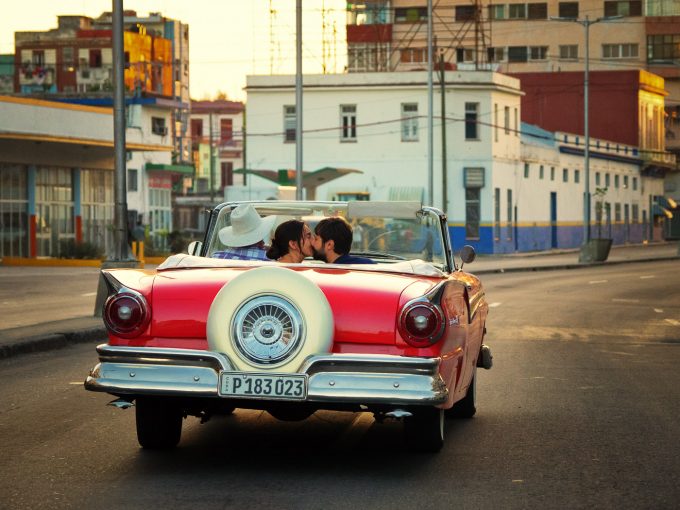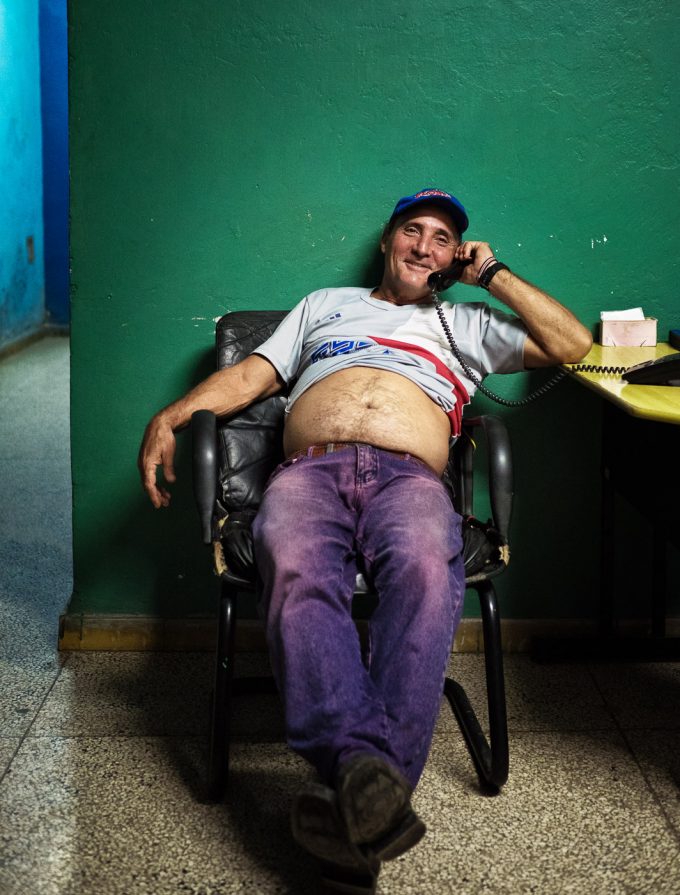 Havana…
Cuba capital was hot, very hot! 35 degrees in the shade hot, with humidity which fogged your lenses up for the first half hour of each morning, having come from my air-conditioned bedroom, which I kept so cold the staff soon nicknamed it 'the icebox'. We had rented a large colonial villa in the Vedado district of Havana, a plush, relatively upmarket area not far from the old town which hosts many embassies and fine buildings. The villa's spacious terrace and garden filled with tropical foliage was even better than the website suggested. I had brought my Elinchrom ELB400 and a 5ft Octabox for shooting the model around the house and I would shoot with the ample available light on the streets.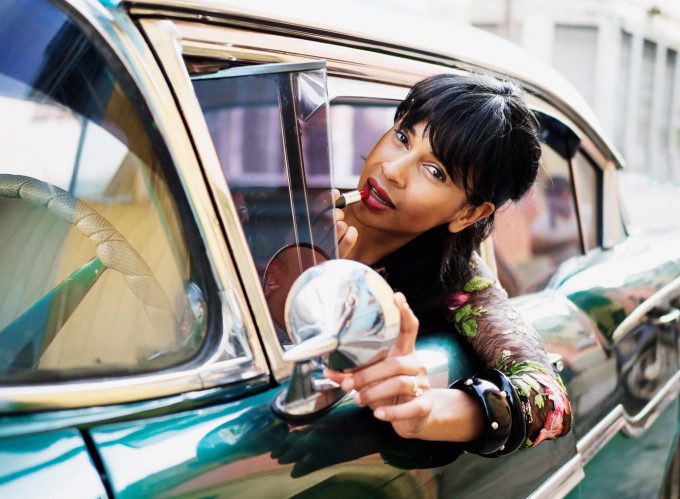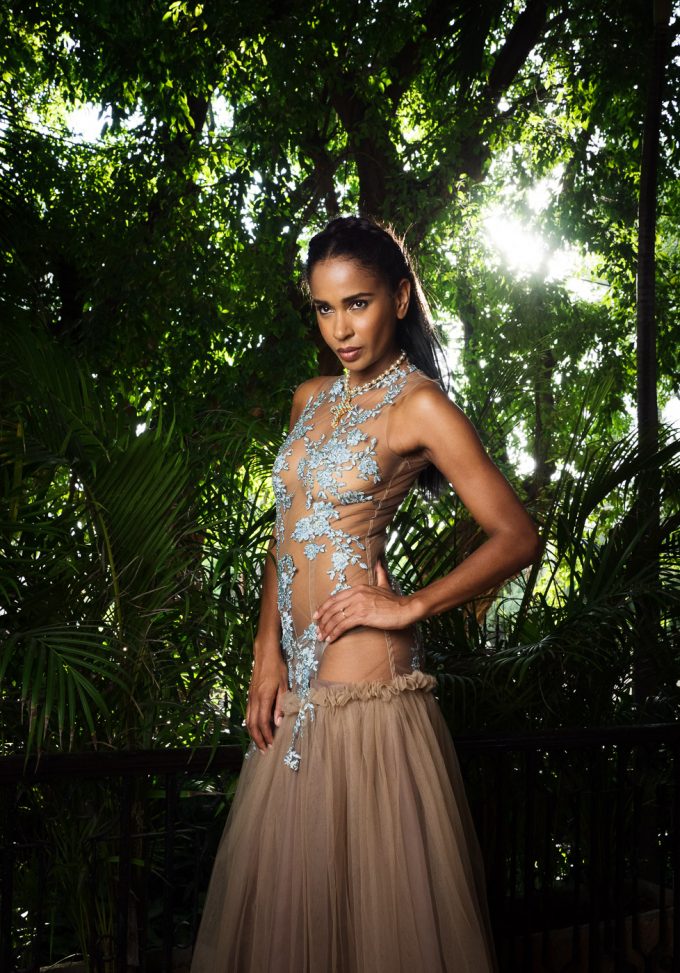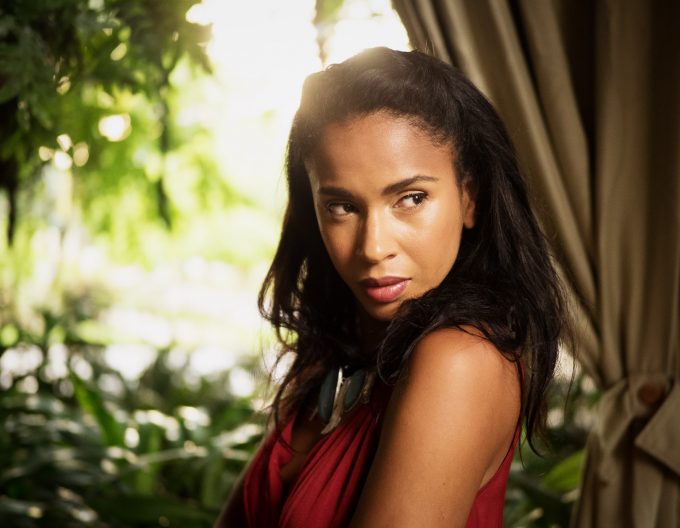 Shooting….
After a first day of getting reacquainted with the wonderful city of Havana, we set about shooting some location portraits in the back streets of the old town. Wherever we worked, we attracted a fair bit of attention from locals and often they would prove to be just as demanding of my interest as the model. After a week of shooting the model, street portraits and travel images, I decided to focus solely on the real Havana. I found the open air boxing club which featured in the original promotional shots for the Leica M9.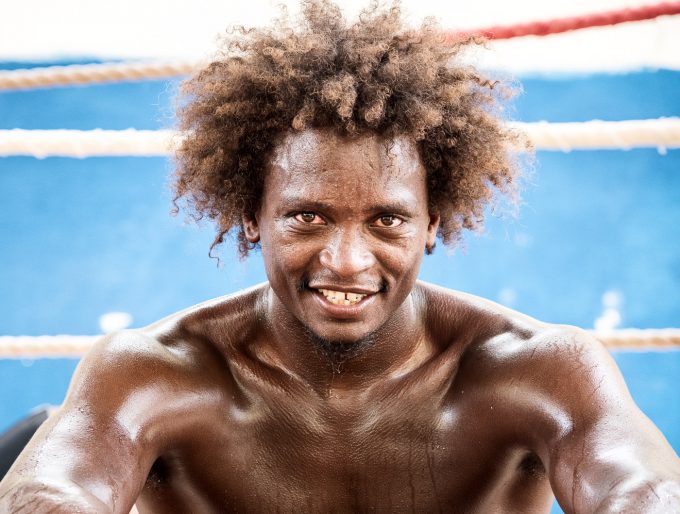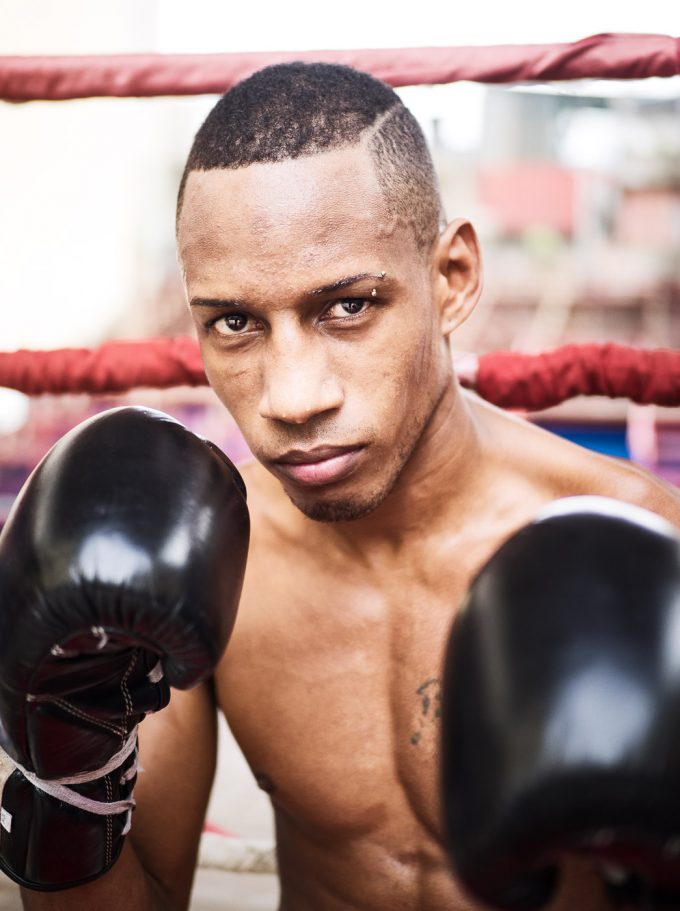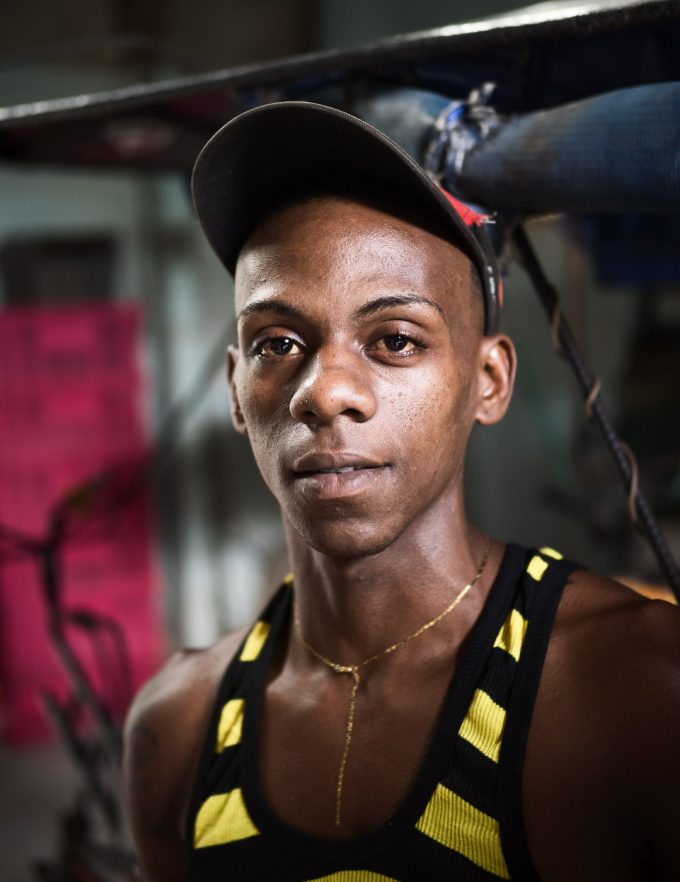 It proved to offer a wealth of interesting images of the training boxers, many of whom were women and one who had even flown from Manchester to train there. Further on, away from the main squares, I discovered a mission providing support for the elderly and the poor. To be fair, most of Havana's residents seemed to be just barely scraping by but I was treated with good humour and kindness wherever I shot. Only once or twice were my requests for pictures refused and always politely. Often people would ask for a peso and I always gave 10 or 20 local pesos in return (about 40p-80p in UK money) but often they would not ask, so it then seemed wrong to offer, and a handshake was given instead. One day we heard bongo drums and singing coming from a 1st floor window. I asked resident where the sound was coming from and he led me up a staircase. His neighbour was holding a birthday party and they welcomed us in, allowed us to take pictures and even offered us some cake. At first there seemed to be pictures everywhere in the old town, around every corner regardless of which direction was chosen. After a week or so I started to be a bit more selective. We had a good few days of monumental thunderstorms and flooding, unusual for August, but when the sun did come out, the light was magical.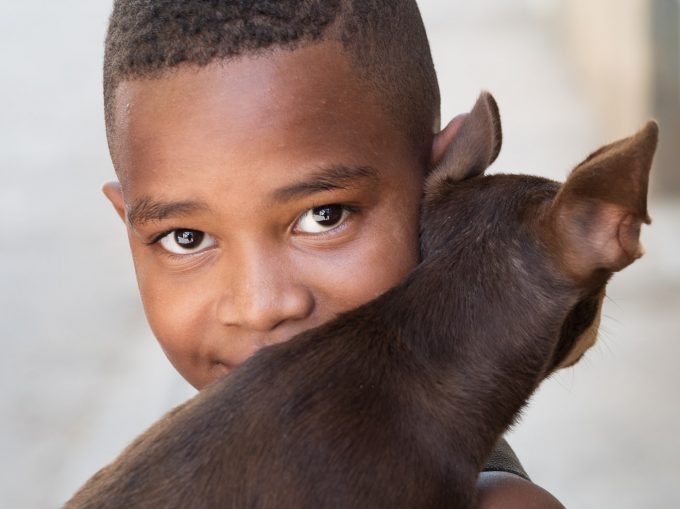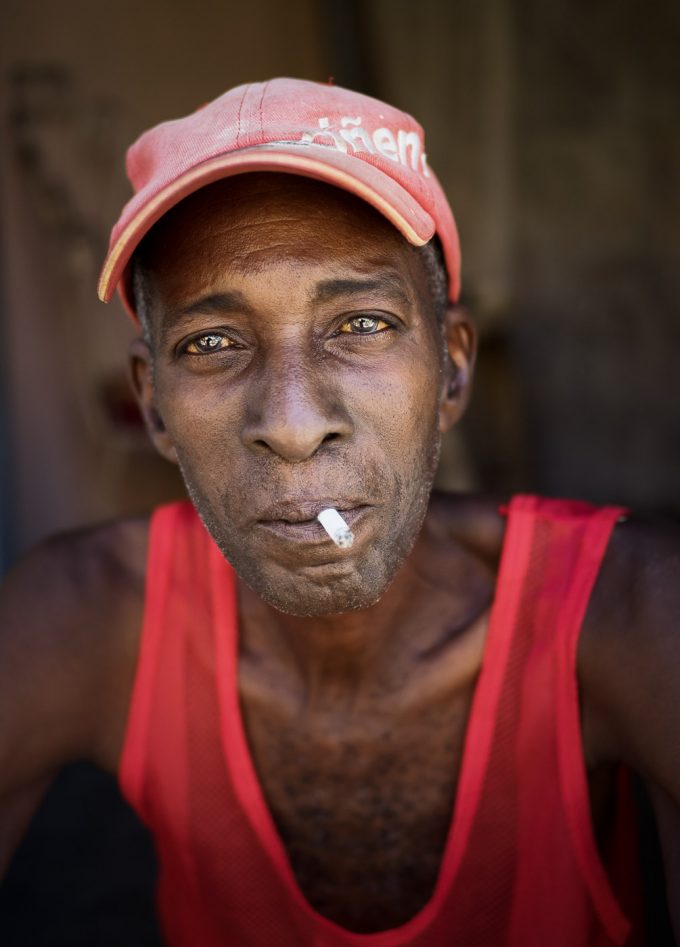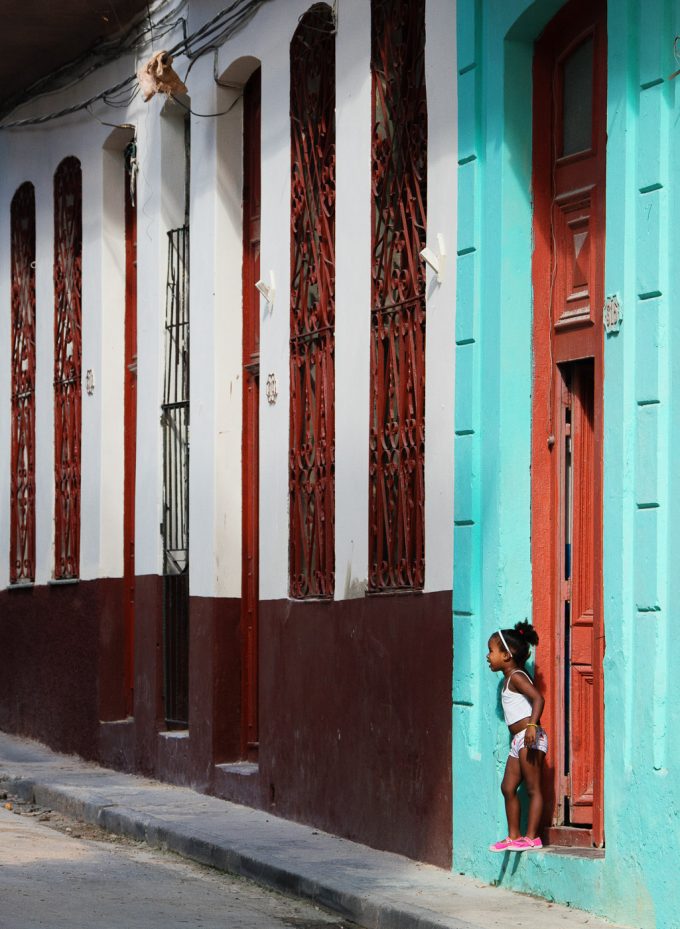 Lens performance…
I was in Cuba primarily to get some great shots for myself, but I was also there to put these new Olympus lenses through their paces. So I shot for the first week only with these 2 lenses……and I ended up shooting all of the second week with just them too. My 40-150 didn't get a look in and I used the Leica only for a few comparison shots at the villa. I took my laptop to select and edit images on the go and as I examined the results at the end of each day, I was seriously blown away by what I was seeing. Mostly, I shot portraits on the 25mm and travel shots on the zoom but occasionally they would both be used for either. Both lenses were giving me amazing levels of contrast and sharpness and as I zoomed in on the files, the level of detail both lenses were resolving was nothing short of astonishing. Both lenses seemed to focus as quickly as any I have used on the Olympus system. The 25mm gave me no issues with focussing at the lowest of light levels.
12-100mm f/4 Pro
The zoom in particular was a big surprise for me. I would not have expected it to be on a par with a more moderate zoom, given its wide equivalent focal length range of 24mm – 200mm. Rarely do such lenses perform as well as standard zooms. This zoom was giving me results I would put on a par with a very good prime lens. I constantly used it in situations where most lenses falter, shooting directly into the sun and with high contrast subjects like the chrome bumpers of those wonderful 1950's American cars. Normally you would expect to see some dodgy flare or some purple fringing but this zoom is incredibly good at handling both. I did some portraits with the zoom also, just to see how it handled them, I was amazed at the detail it produced and I shot with both lenses at their widest aperture on most occasions.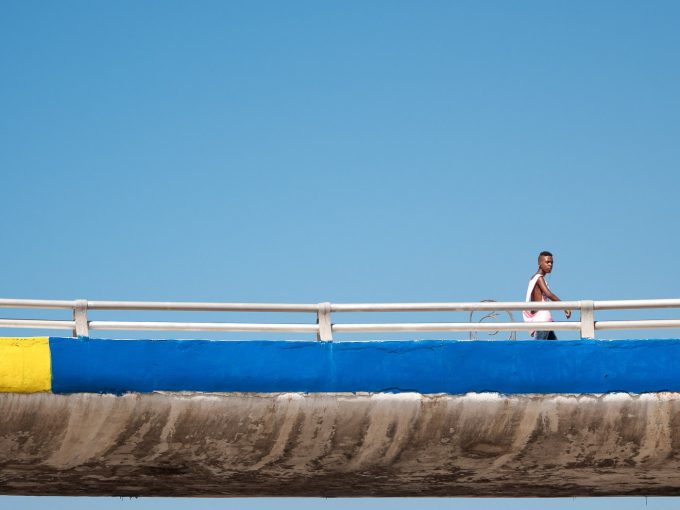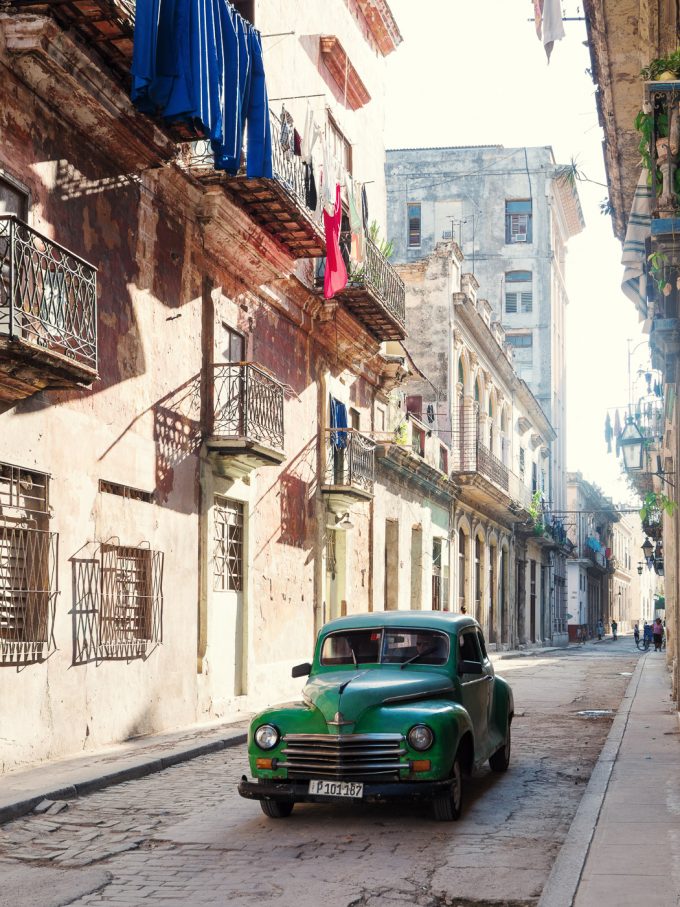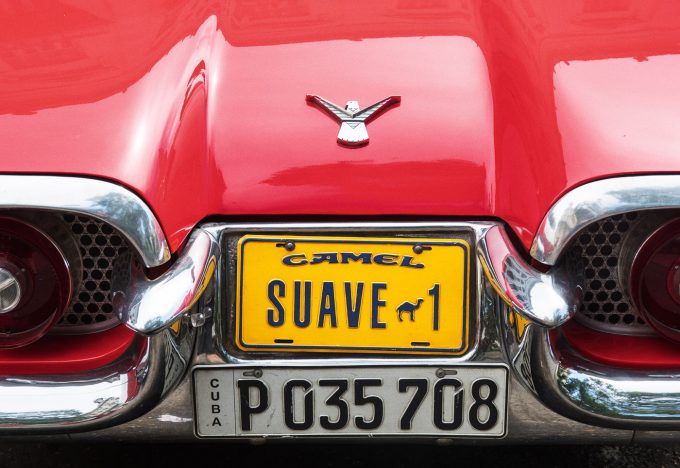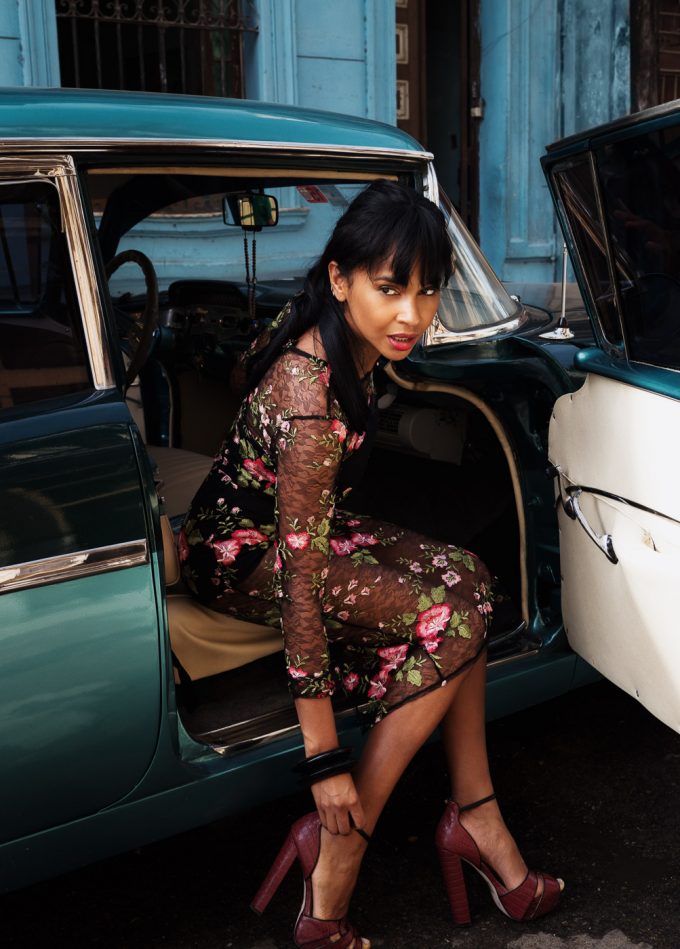 25mm f/1.2 Pro 
The 25mm f1.2 is built like a tank, similar in stature to the 75mm but feels a bit lighter. Its a solid lens though and came with a fairly chunky lens hood which did a great job keeping rays off that front element. Both hoods lock in place and are reversible which I thought was a nice touch. I used the 25mm for most of my street portraits and headshots and it was the lens I used most after the sun went down. Again, the results just blew me away. The images, even in the most stressful of conditions were rock solid! I shot so many street lamps at night and never had any issues with fringing or flare. The contrast levels, day or night from this lens were better than anything I've seen. The sharpness and resolution was phenomenal, but the reason the title of this article uses the word 'epiphany' is the bokeh this lens offers, its nothing short of sublime. Let me try to put into perspective how nice it is.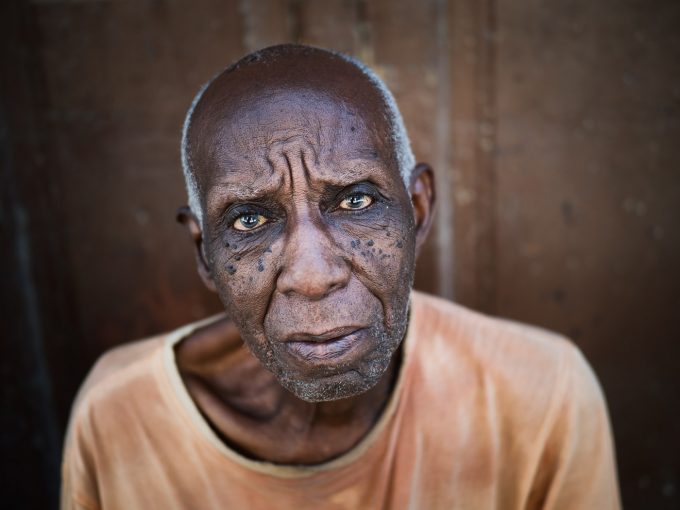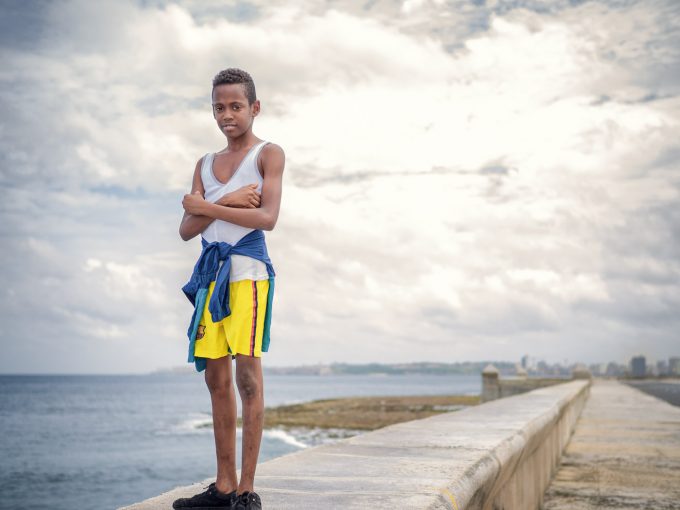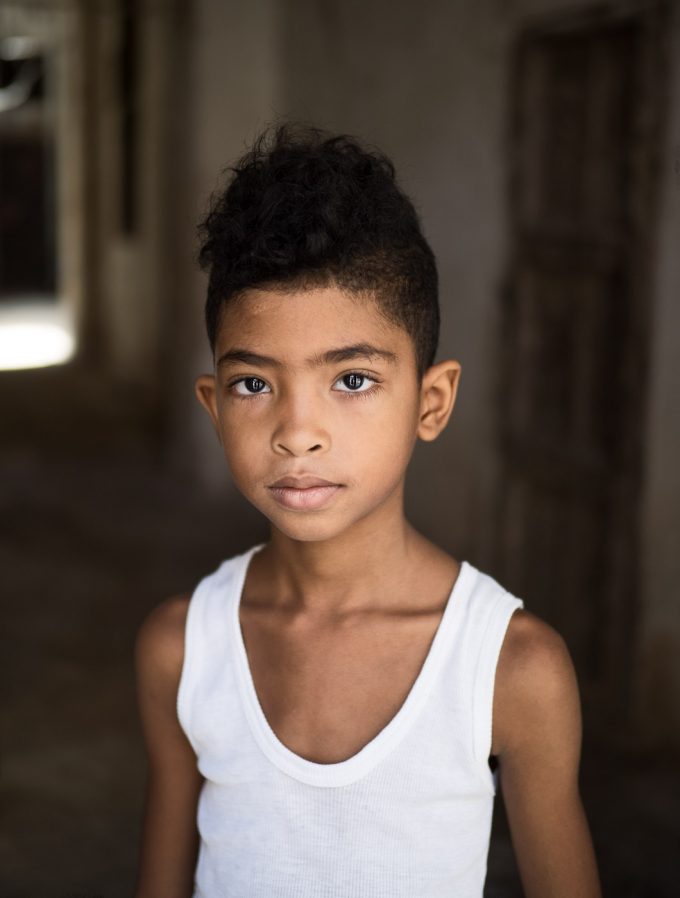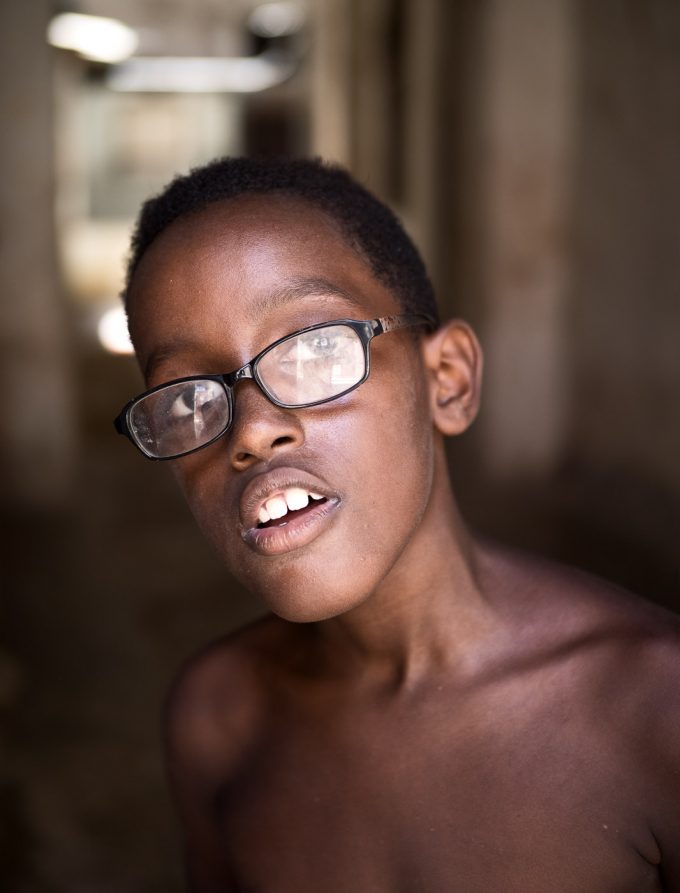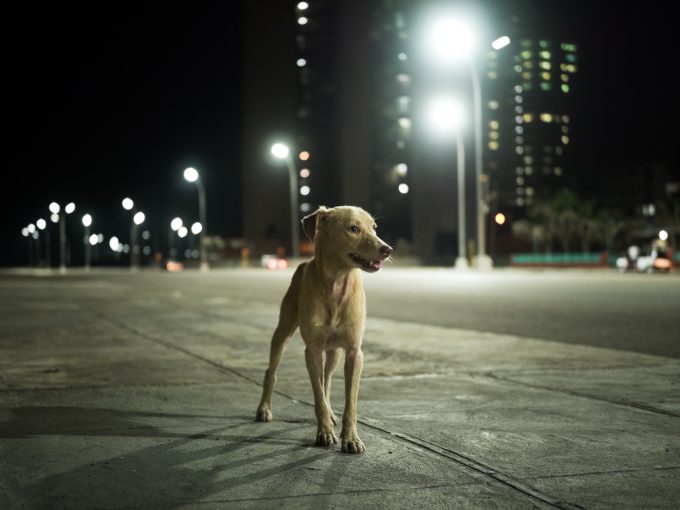 Its so good, I'm selling my Leica SL and all of my Leica lenses the second I can get one of these 25mm's to keep! Of course, its bokeh is not quite as diffuse as the 50mm Summilux on a full frame sensor, you can't change the laws of physics. I know this lens is optically the equivalent of a 50mm f2.4 lens on a full frame sensor. But I can tell you now, from my perspective the results are just as beautiful and expressive and they ooze quality in the same way the 50mm summilux does. When you further combine the fact that this is an autofocus lens which makes use of the Olympus eye recognition system and their in-body stabilisation system, you have a lens that is so much more useable, quick and accurate. I did some headshots at the house in dusky but decent light with My SL/50mm and my OMD/25mm to see how they compared. Over half of the SL shots had a slight shake apparent or were slightly off focus. All of my Olympus images were perfectly in focus and sharp. From then on every headshot and street portrait I took was made with the confidence it was probably going to be bang on. That gives you a sense of liberation to shoot intuitively and quickly when needed. The lens and the system also allowed me to make some impossible images at night shooting handheld as low as 1/4 of a second and getting sharp results. Almost any whisper of light would be sufficient to make a decent picture using this f1.2 lens with the IBIS system.
EASY DETAILS. SEE WHICH LENS SHOT WHAT IMAGE AT WHAT APERTURE: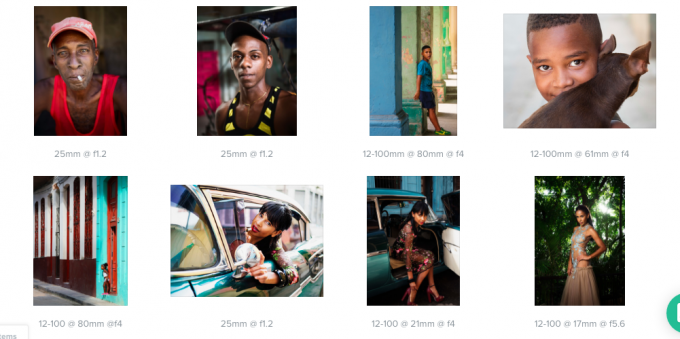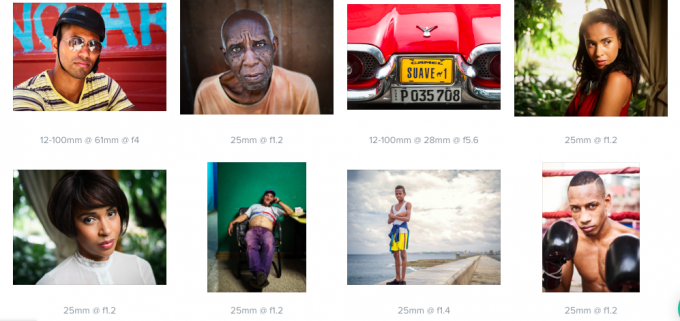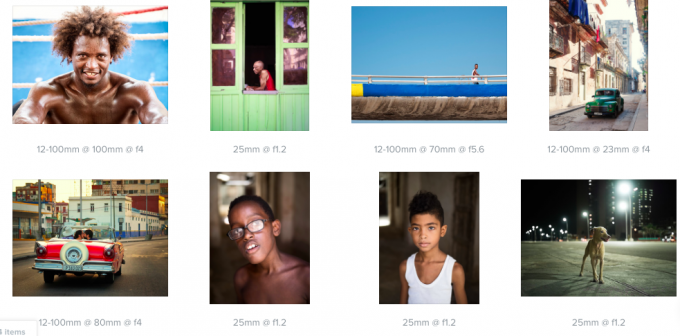 My verdict…
I've chased the 'Bokeh Dragon' for many years, long before I used Leica glass. That journey started with the Canon 50mm 1.4, then the 85mm 1.8, the 50mm 1.2 followed by the legendary Canon 85mm 1.2. These lenses offered increasing quantities of diffusion and subject isolation with a pleasing bokeh. It wasn't until I used the Leica 50mm Summilux that I realised it wasn't about the level of subject isolation for me, it was about the unique signature of a special lens. After using the Summilux, even the Leica Noctilux held no allure for me. In the same way, I think the new 25mm 1.2 PRO from Olympus has a unique rendering which combined with the system benefits of weight, size, speed and accuracy, gives me beautiful images and the fluency to capture special moments. I think this lens will become a classic for Olympus users in the years to come, especially as new sensors are developed. The zoom lens was a pleasant surprise. Its one thing having such a useful range of focal lengths easily at hand but when you know it packs such a punch in terms of sharpness and contrast, it makes a lens like this an essential tool.
From the perspective of a travel photographer who loves to shoot street portraits, these two lenses make my perfect travel kit. I would happily travel anywhere in the world to shoot for myself or on a commission, carrying just these two lenses. For me, the introduction of these new lenses, more than any other, represents the realisation of the micro four thirds ethos, namely, they give me all I need to make great pictures in one tiny little bag!
As a result of my highly enjoyable shoot in Cuba, I will be announcing a very special 5/6 day masterclass in Cuba for April 2017 with myself and the talented photographer Steve Gosling. Spaces will be extremely limited as the group size will be much smaller than normal (2-6 people) you can read more about it here – http://buchangrant.format.com/cu I will also be running a solo photo tour in Vietnam and Cambodia (for KUONI) in November 2017 and another joint 4 day workshop with Steve Gosling in Budapest in June 2017, checkout my workshop page for details to be published soon at http://buchangrant.format.com/workshops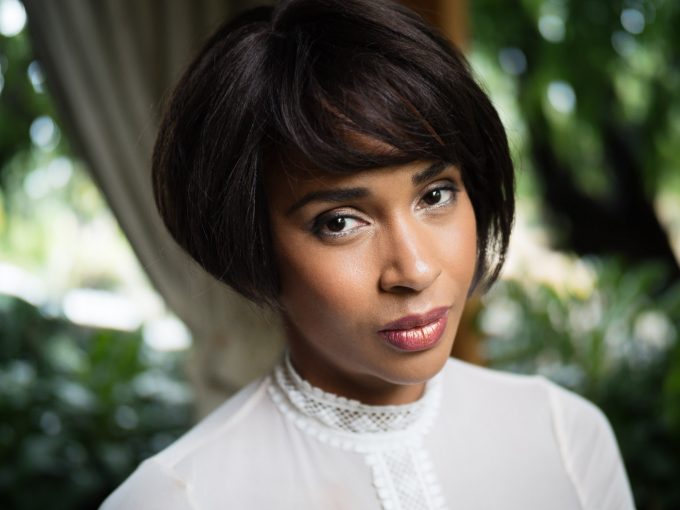 PRE ORDER LINKS FOR THE NEW OLYMPUS LENSES:
THE 25 1.2 IS GOING TO BE HUGE! The price is $1199, and you can see more or pre order here at B&H Photo. 
You can order the new 12-100 as well, HERE. 
———-
PLEASE! I NEED YOUR HELP TO KEEP THIS WEBSITE RUNNING, IT IS SO EASY AND FREEE for you to HELP OUT!
Hello to all! For the past 8 years I have been running this website and it has grown to beyond my wildest dreams. Some days this very website has over 200,000 visitors and because of this I need and use superfast dedicated web servers to host the site. Running this site costs quite a bit of cash every single month and on top of that, I work full-time 60+ hours a week on it each and every single day of the week (I receive 100-300 emails a DAY). Because of this, I could use YOUR help to cover my costs for this free information that is provided on a daily basis. 
To help out it is simple, and no, I am not asking you for a penny!!
If you ever decide to make a purchase from B&H Photo or Amazon
, for ANYTHING, even diapers..you can help me without spending a penny to do so. If you use my links to make your purchase (when you click a link here and it takes you to B&H or Amazon, that is using my links as once there you can buy anything and I will get a teeny small credit) you will in turn be helping this site to keep on going and keep on growing.
Not only do I spend money on fast hosting but I also spend it on cameras to buy to review, lenses to review, bags to review, gas and travel, and a slew of other things. You would be amazed at what it costs me just to maintain this website, in money and time (250 hours a month, and about $3000 per month).
So all I ask is that if you find the free info on this website useful AND you ever need to make a purchase at B&H Photo or Amazon, just use the links below. You can even bookmark the Amazon link (not the B&H) and use it anytime you buy something. It costs you nothing extra but will provide me and this site with a dollar or two to keep on trucking along.
AMAZON LINK (you can bookmark this one)
B&H PHOTO LINK – (not bookmark able) Can also use my search bar on the right side or links within reviews, anytime.
Outside of the USA? Use my worldwide Amazon links HERE!
You can also follow me on Facebook, Twitter, or YouTube. 😉
One other way to help is by donation. If you want to donate to this site, any amount you choose, even $5, you can do so using the paypal link HERE and enter in your donation amount. All donations help to keep this site going and growing!
 I do not charge any member fees nor do I (nor will I ever) charge for reviews, so your donations go a long way to keeping this site loaded with useful content. If you choose to help out, I thank you from the bottom of my heart.