QUICK SHOT: People Watching at 4.25pm
By Ibraar Hussain
Dear Steve, I'm not much of a 'Street shooter', but at times I do indulge in this oft confused type of photography.
I was out with the Missus one day, we went for a traipse down the South Bank – so named as it's the South bank of the River Thames! Very original I must say!
I'm not one for South London – anywhere South of the River, as we of the North side of the river don't consider the denizens of the Southern Boroughs real Londoners, I mean the river cuts them off from us, and they differ in culture, traditions and accent!
Anyway, the closest I'll usually go to their part of the world is along the South bank where there is much to see and much to do, this particular afternoon, at 4.25pm according to Big Ben opposites was by the Salvador Dali exhibition and I was lounging leaning against the building and people watching,
I had my trusty Contax G2 by my side, with perhaps the best ultra wide angle lens of any camera – the Carl Zeiss G Biogon 21mm attached, with a Red 25 Filter screwed on for maximum contrast and a roll of Fujifilm Neopan Across 100 loaded –
People were going to and fro enjoying the Summer and the light was superb – I saw this tourist with his camcorder doing what people usually do and lifting my camera with it set to f8 – composed, focussed and shot.
After developing and scanning I saw how good my shot actually was!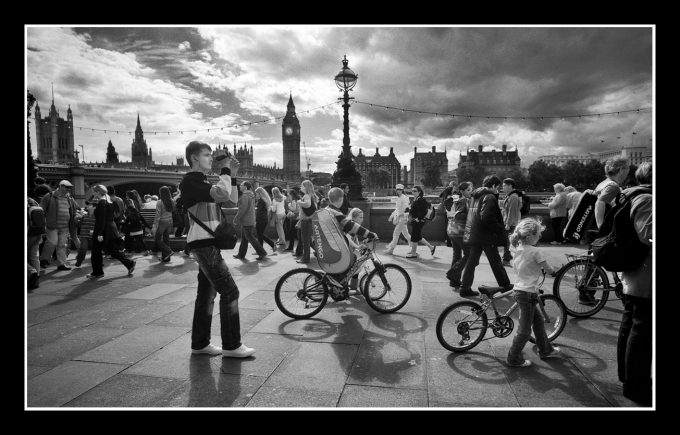 I was impressed to see how much of the activity of the people had actually been caught – wow I thought – the South bank frozen in Time. After some Digital darkroom work here's the result – shot in July 2007, Contax G2, 21mm Biogon T* @ f8. Fujifilm Neopan Acros 100. Developed in Ilfotec ID11 and possibly the best 'Street' photo I've personally ever shot.