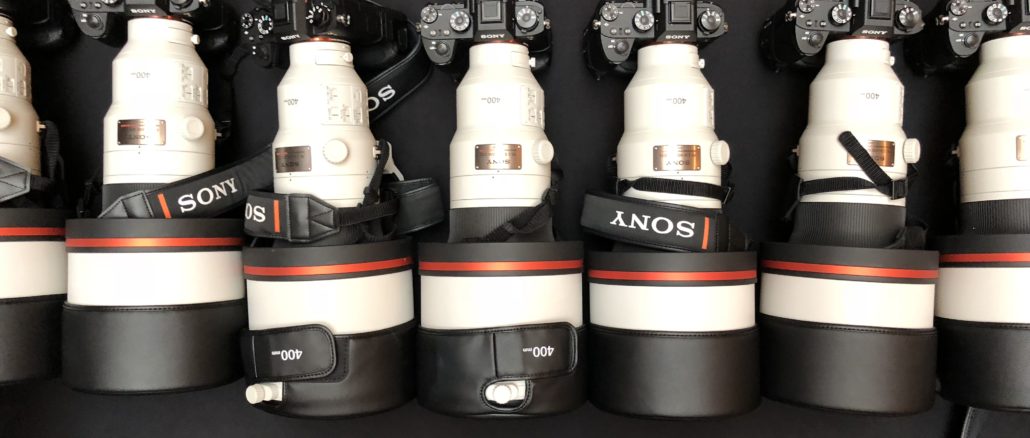 The Sony 400mm f/2.8 G Master IN HAND, IN USE. What a lens!
By Steve Huff – PREORDER THIS LENS AT B&H PHOTO HERE
Video overview…
–
When I was asked to fly out to New Jersey to take a look at the new Sony 400mm f/2.8 Pro G Master lens, and test it shooting a soccer game, I almost declined the invite. Why? Well, for starters, I am not a sports shooter. I am clueless about how to shoot sports, and figured that most here who read me would not be interested in reading about a guy who doesn't shoot sports who is shooting sports with a $12,000 specialty lens! Then I thought about it more…and decided to go as if I could get half way decent shots using a 400mmm f/2.8 lens while shooting a soccer game, then that would mean a sports pro could do jaw dropping things with said lens. Shooting this new lens would also allow me to try something I never have done before, and well, that is always fun.
So away I went to give it a go. I could at least test the speed, the bokeh, the color, the detail… and my hand at something that is VERY challenging. A fast paced soccer game.
Click for larger. This is a JPEG with the A9 and 400mm at f/2.8. Using a monopod.
This is a severe crop, ISO 2000, noise reduction off which is why you see some noise.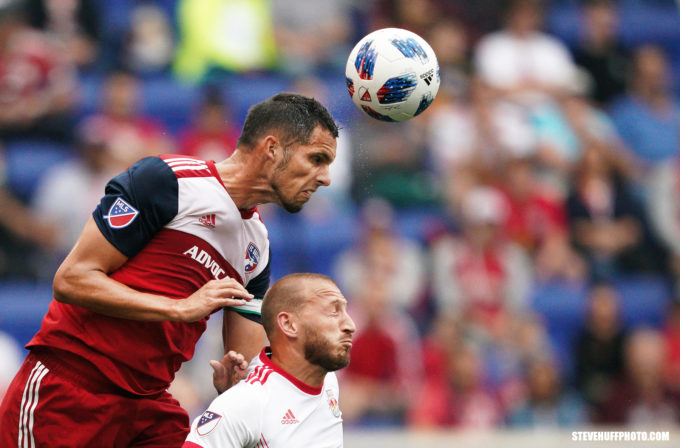 I will be up front here. I have never in life shot anything with a 400mm lens. I have shot with an Olympus 300mm Pro, which equals a 600mm equivalent focal length, and that lens is small, tiny in comparison to this Sony beast. But this Sony 400mm is a lens like I have never seen before, in quality, in use and in build and features. After shooting it for half a day at Red Bull Arena I was left very impressed. I was also able to handle and hold a Nikon with their 400mm and a Canon with their 400mm and what Sony have done here is quite astonishing. I will say up front (and my bet is almost every reviewer who used this lens with me at Red Bull will agree) that I believe, without question, Sony has beaten the pants off of the Nikon and Canon, and with the A9 this new G Master is not only 2 lbs lighter with body attached, but much lighter even without the bodies. The way this lens was designed is also very special, and being a G Master means it will have amazing sharpness, contrast, color, and Bokeh performance that is second to none.
All shot as JPEG, click 'em for larger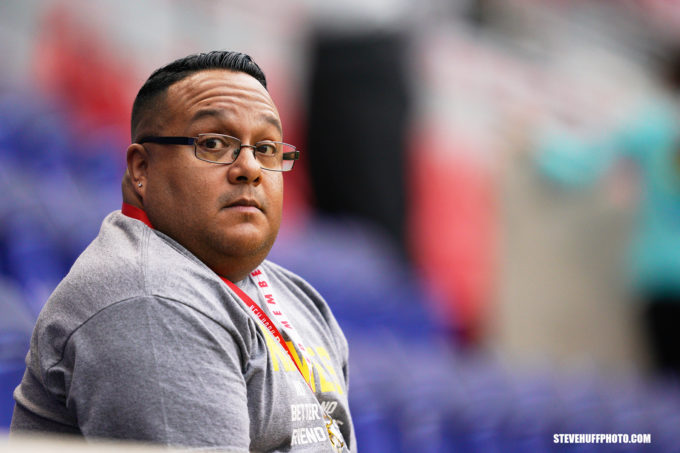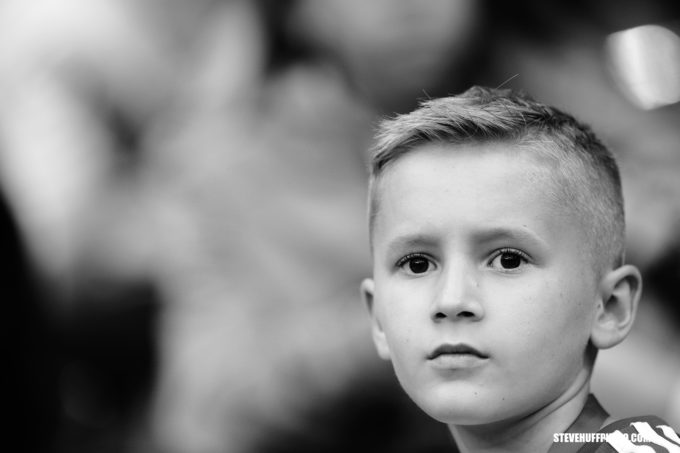 According to Sony, the 400mm GM Lens has unrivaled sharpness. After using the lens, I agree. The 400mm f/2.8 GM also has XD Lilnear Motors for incredible speed with 5X faster AF tracking. This lens is also the worlds lightest 400mm f/2.8 coming in at 102.2 ounces. This newly developed XD motor is blazing fast, silent, and supports the A9's 20FPS continuous shooting with AF/AE tracked. The lens is also much lighter than I would have expected. Coming in at over 1800 grams lighter than a Nikon or Canon equivalent setup.
Snapped this on my iPhone. We had 15 or so of these on hand for various reviewers, journalists and press to try out.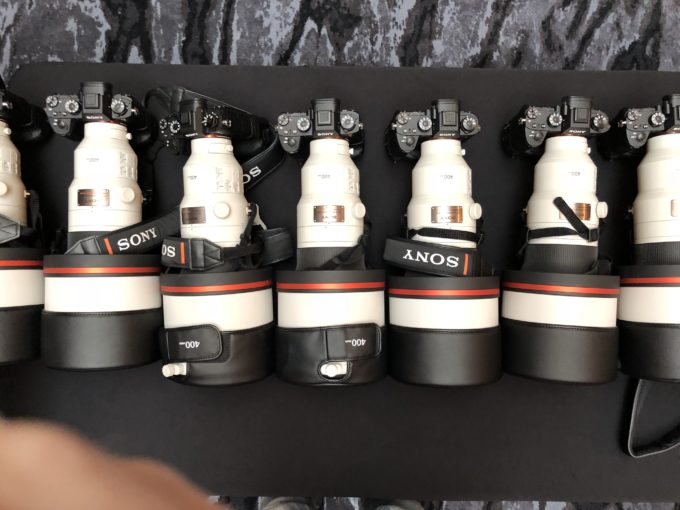 Knowing I would probably never shoot a 400mm lens ever again in my life I went about the day trying to use the lens not only for sports as intended, but in my own style. So I started scanning the crowds at the game, and wow, 400MM is LONG. Even with the crisp A9 EVF, I was not sure what to expect when I opened the files on my computer. When I did, I was blown away, especially since I was shooting in JPEG only and had my ISO cranked up a bit (as I was in 10FPS mode, and did not want to fill my card before the game was over, and wanted to keep shutter speeds high)
Yes, shooting JPEG at the mid speed setting on the A9, electronic shutter, no black out…it was an amazing experience and I forgot how lovely that A9 experience was and is, especially with action. Made the A7RIII I have been using for the last few months feel limited in some ways (though it isn't). The A9 is a powerhouse, and wether you shoot photo or video, there is something about the out of camera files of the A9 that I prefer over the A7III or RIII. With this lens (and the A9, IMO, is a must for this lens) the 400mm is lightning fast, and I mean INSTANT. Using C-Af (continuous) with this lens on the A9 is truly something to experience. I have never seen or experienced anything like it. The tracking locks on and sticks like glue to whatever you want it to lock on to. Eye AF works amazing even with sports, though I was not using it, just testing it here and there.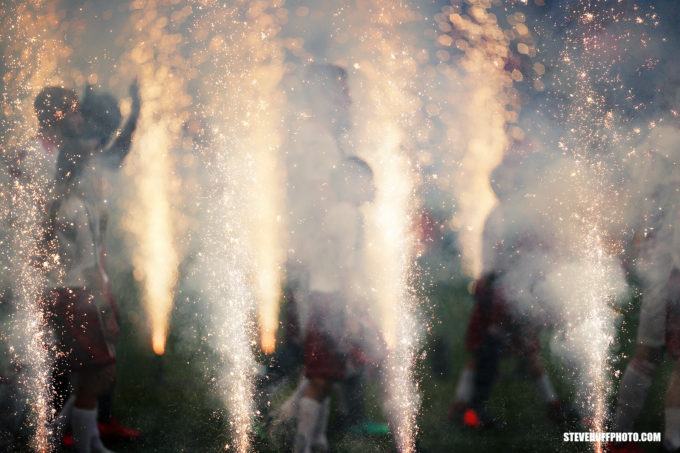 Shooting in Manual mode was the way to go, and while I did not expect to get any shots I liked, I was able to see the quality of this lens and combo, and I was liking what I saw. If I were a sports pro, or wildlife guy…THIS would be my combo without question. Period. I would not even consider Nikon or Canon as they can not focus as fast, as accurate, be as silent, have no blackout or be as light as this combo. NOR CAN THEY GIVE ME THE EVF WITH ITS "WHAT YOU SEE IS WHAT YOU GET" experience. The A9 houses Sony's best EVF, and it's pretty damn good. If there are any sports shooters reading this, try to find a way to test or try this lens with an A9. I guarantee that you will be impressed much more than you may think. I mean, the A9 and this lens for sports is a game changer, and after speaking with a pro sports shooter after he used this lens, he was preaching it loud and clear. THIS combo of the a9 and 400 will give him an edge over any other shooter NOT shooting the A9. (Due to 20 FPS, tracking that works like glue, EVF with no blackout, etc).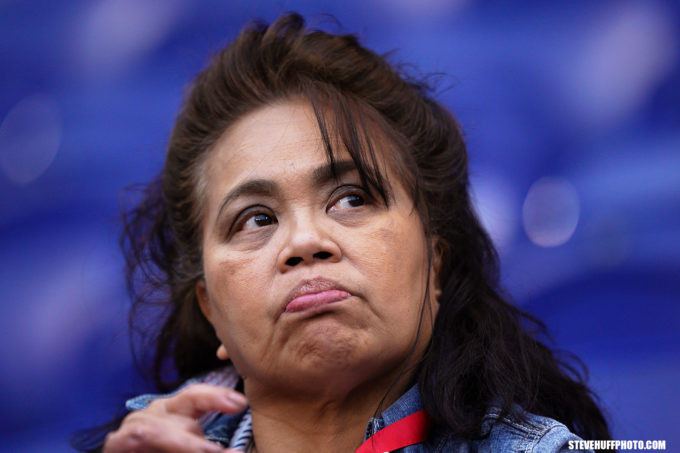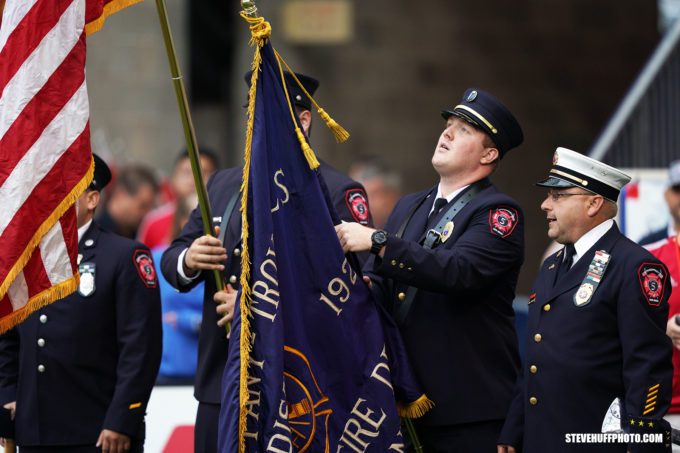 So as I shot more and more I was having a blast with the a9 and lens. I used a monopod for 95% of my shots, and tried handheld a few times as well (with no issues). The lens is large, but all 400mm f/2.8's are huge. The lens is also built to a high standard. It is a G Master lens, and G Master lenses are the creme of the crop in Sony land. Made for professionals the G master line offers moo comprises in sharpness, detail, color or Bokeh.
This lens should be up for pre order anytime now and comes in at $12,000 US dollars. $16,500 Canadian. Ships this September so it is no longer just a "proof of concept", this is the real deal, and shooters will have this lens in hand in just 2-3 months from now. I can see this lens being a wildlife dream lens as well. I would love to go on a Safari and give this lens a workout as it can deliver beautiful quality. Maybe one day…
One thing I know for sure, there is still nothing like the Sony a9 out there from any other manufacturer. It's one hell of a camera for ANY situation but truly kills it with action. Mega battery life, high res no blackout EVF, 20 FPS (up to), sturdy feel and build, weather sealed, dual card slots, insane AF tracking, amazing low light abilities (bests a7RIII here), and great out of camera color and pop which can be set to however you want it from muted to intense. The dynamic range suffers over the A7rIII but it's still packs a DR whollop compared to cameras of just a few years ago.
The a9 has also come down in price from $4500 to $3999. You can check that out HERE. 
Read more on the lens or pre order at B&H Photo HERE. 
SHIPS SEPETEMBER!