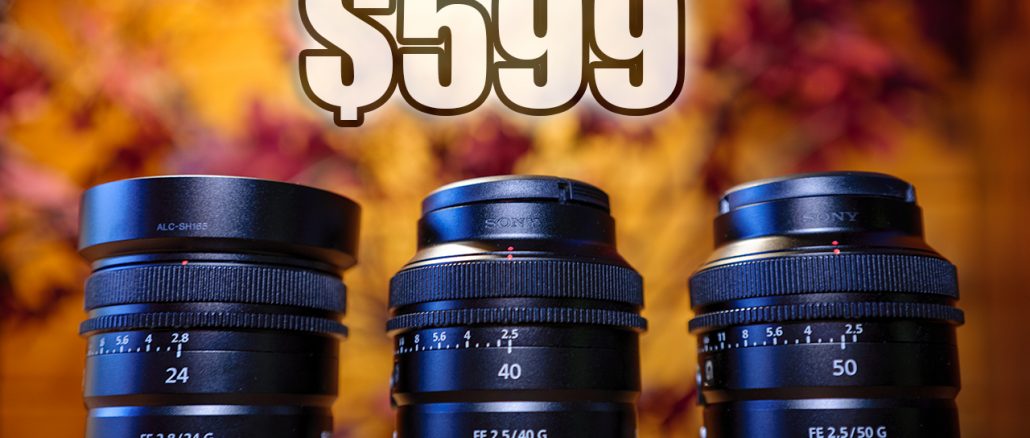 New Sony 24 2.8, 40 2.5 and 50 2.5 Lenses! Under $600 w/ Metal Build and Silent Focus.
Sony has announced three new lenses that give a tremendous bang for the buck.
The new Sony 24 2.8, 40 2.5 and 50 2.6 are all small prime lenses that hav an all metal build, manual aperture ring and dual focus motors that provide fast silent AF. They are also dust and moisture resistant. I made a quick first look video below on the new lenses. I have only had them available to shoot for a few days but they appear to be a superb buy. I would go with the 24 and 50mm personally.
A quick video look at these new lenses from Sony.
I feel these lenses are made for those getting into Sony full frame, as these ARE full frame lenses. If you bought an A7C and are looking for a seat of small well made primes, these are the ones. On the other hand, even if you own an A7SIII and want a small prime for video work, these can fit that bill as well. These are great all around lenses and while they do no use exotic glass, they bring huge performance at a low $599 price tag.
The 24 is a great all around wide angle and ideal for photos, video or even vlogs. The 40 2.5 is the odd one as it is not the usual 35mm but we get that little bit of extra reach here. Usable for everyday shots or video. The 50 2.5 is the classic well loved focal length that is perfect as an everyday lens, portrait lens or all around video shooter.
You can pre order the lenses below at B&H Photo HERE