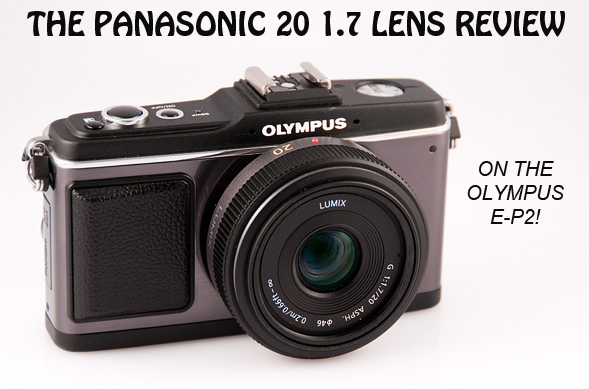 The Panasonic 20 1.7 Lens Review for Micro 4/3 – I am back again with another lens review and this time it is one that I have had some real fun shooting for the past 3+ weeks on a daily basis. This review should be simple, right? Possibly the simplest I have ever written. Why you ask? Well, mainly because this lens is just a 20 mm 1.7 prime lens with a fast aperture. Nothing fancy, no features, and what I am going to write about is my time shooting with it on a daily basis. I am also going to share the images I snapped along the way. No scientific testing to be found here besides a crop or two.
You will notice I shot this lens on the Olympus E-P2 and not the Panasonic GF1 which is where this lens is usually mounted. The Panasonic 20 1.7 comes in kit form with the Panny GF1 and damn, it sure is a hell of a kit lens. That is one of the areas where Panasonic has Olympus beat. The kit lens. Both their 20 1.7 and 14-45 beat Olympus's 17 2.8 and 14-42 Kit lenses but it is pretty cool that you can mount the Panny lenses on the Oly bodies and vice versa.
When I saw this lens come in stock at B&H Photo a few weeks ago I snagged one before they sold out (and they sold out within a few hours). At $399 it seems like a screaming bargain (to me) but then again, that is probably because I am used to Leica prices where $399 will not even get you close to a lens. I actually had low expectations for the 20 1.7's build quality but I had HIGH expectations for the image quality.
Olympus E-P2 – ISO 200 – 20 1.7 at F2.5
What I wasn't prepared for was that the image quality of this little E-P2 and 20 1.7 would surpass a Nikon D3s with a Nikon 50 1.8 (more on this later). I guess that right there is proof that a lens can make all of the difference in the world. When the lens arrived from B&H I opened the box and was pleased to see a lens pouch was included. Not that I ever use them really, but it's a nice touch.
When I held the lens it felt light and not even close to my Leica glass for build and luxury feel but hey, this was $399 not $3999 🙂 I mounted it to my wife's E-P2 (which has somehow been "mine" since we bought it) and I shot a few frames of my cat. Ahhhhhhhhh. So much nicer than the kit zoom! The Olympus Kit Zoom is a good lens for what it is, but it is not a GREAT lens. Yes it is sharp, but it is slow (as in aperture) and it is slow to focus with its constant in/out hunt routine.
The Panasonic 20 1.7 lens and E-P2 camera sure is a handsome combo!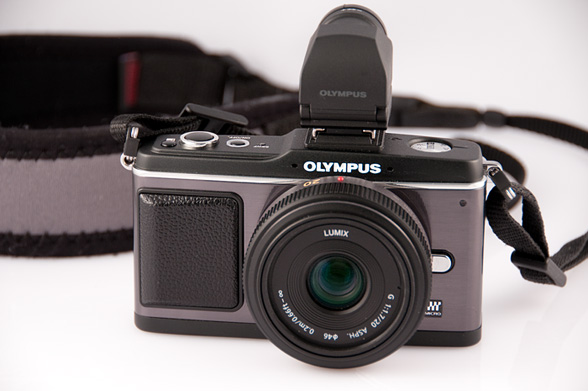 I am happy to say that the 20 1.7 mounted to the E-P2 is pretty snappy when you compare it to the kit zoom. It's still no speed demon but it is perfectly acceptable and locks on fairly quick, even in low light. The image below of the dirty sneaker is not an action shot of course, but it is pretty impressive considering the specs of 1.7 and ISO 2500.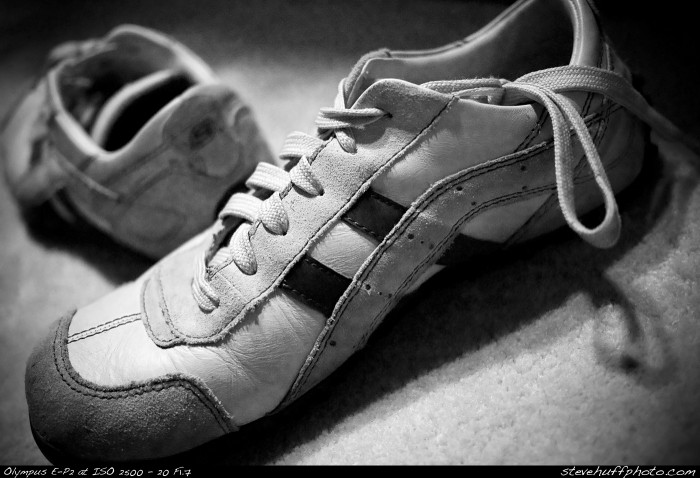 Yes, that is ISO 2500 on the E-P2 with only the in cam NR (yes, its a JPEG). Like the Leica M9, I found if you get the exposure just right (usually, its pure luck) then you can get great high ISO results. But usually this is not the norm with the m4/3 cams. This was focused as close as I could go and wide open in my dark living room. I had one lamp on in the room and that was it. Goes to show that this combo of the E-P2 and 20 1.7 can do low light.
The little brick like look is pretty cool and reminiscent of a rangefinder and small prime.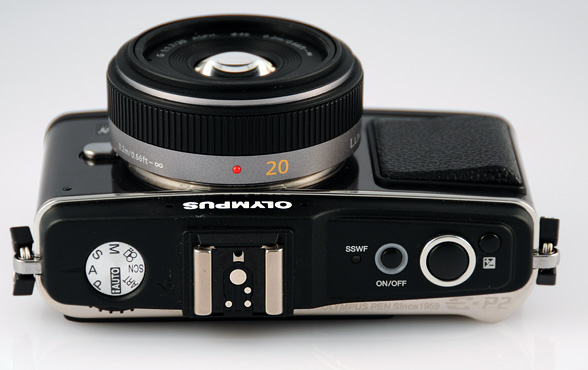 The one thing I really enjoyed about this lens and body combo is the size. I mean, here I am with a pretty small setup that is also a high quality kit. I realized this one day when I brought out this m4/3 conbo along with the Nikon D3s (see my review here) and at the end of the day the E-P2 images were, umm, dare I say…better? How can this be?? Just like I said in a previous D3s post, I blame it on the Nikon 50 1.8 which is kind of a dog of a lens up to F5.6. Once you stop down to that aperture its decent.
While I walked and braved the zero degree temps and wind I snapped this scene with the E-P2/20 1.7 combo at F2.8 and also the D3s with the 50 1.8 combo at 2.5. Since the 20 on the E-P2 equals a 40mm equivalent, the 50 on the full frame $5200 D3s was pretty close. I thought I had the E-p2 at 2.5 but my glove hit the wheel and knocked it to 2.8, so its not 100% fair really. Still, you can get an idea. After looking at both of these, I was a bit surprised:
Olympus E-P2 – 20 1.7 at F2.8 – ISO 200 (base ISO of E-P2) – RAW converted in ACR 5.6 w/defaults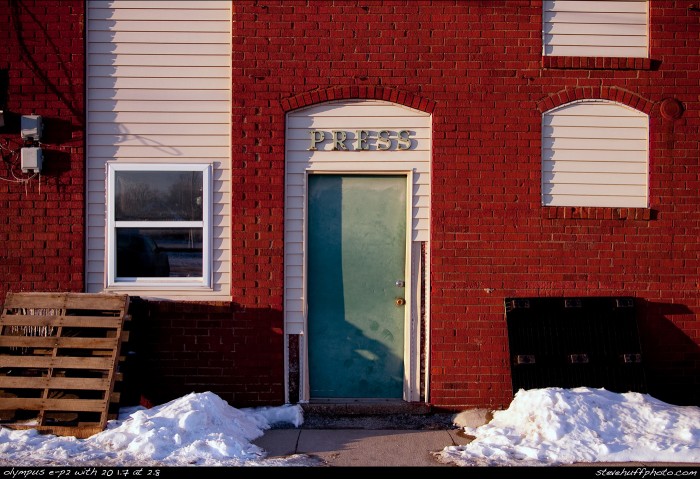 below…Nikon D3s – 50 1.8 at 2.5 – ISO 200 (base ISO of D3s) – RAW converted in AVCR 5.6 w/defaults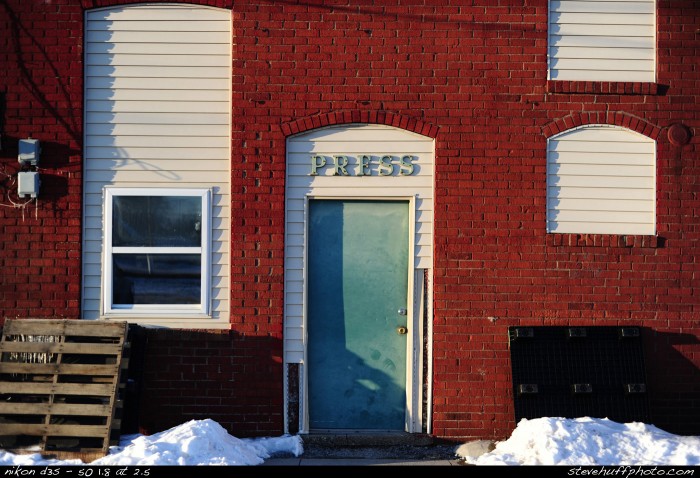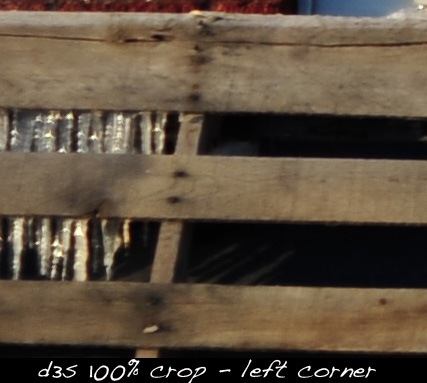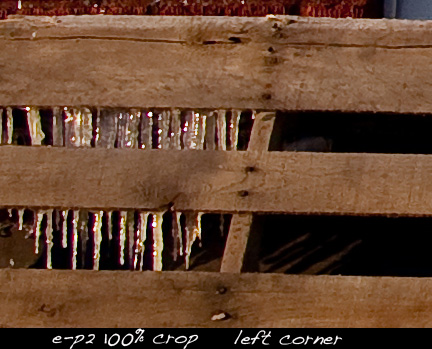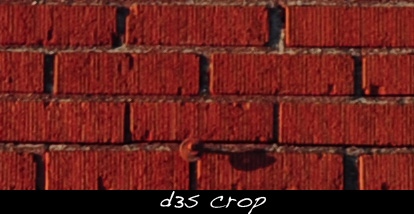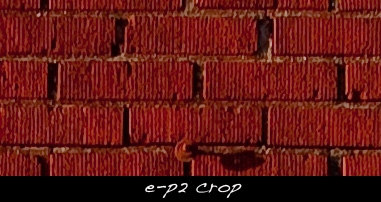 Now, of course the D3s is a massive professional camera that puts the E-P2 to shame in almost every area but for IQ at base ISO the E-P2 and 20 1.7 did amazingly well.Yes, the D3s is full frame. Yes, I was using a $150 lens on the D3s. BUT the D3s/50 combo runs about $5350. The E-P2 combo runs about $1400. Look at these crops. Which looks better to you? I processed both in ACR 5.6. In any case, I know the D3s can do better, it has to. It must be the lens. Even the dynamic range in the E-P2 shot is fine and dandy. Looking at the snow they both look equal with MAYBE the E-P2 edging out the D3s.
As you can see from the crops the 20 1.7 is bitingly sharp at F2.5.
As I shot the lens more and more I was very surprised at how capable of a lens it really is. But let's not get too crazy. One thing I did notice next to my Leica M9 setup is the lens does not give me that Leica quality  I love so much. Of course I do not and would never expect it to either. I do see some guys online trying to claim the m4/3 cameras are equal to the M9. That is BS hogwash right there. I am now a big fan and love the M4/3 cameras, plus I have been shooting the hell out of the E-P2 and 20 1.7 and yes, it's insanely fun. But my M9 gives me those files that make my jaw drop sometimes, and it should for the insane amounts of money I have spent on it!
Even with that pro M9 rant I would also like to say that these m4/3 cameras really got me to thinking. I touched on it in my GF1 review at my old site (see that here). While they are not the same quality as my M9, they are not really that far behind in their ability to provide you with a great image. Yes, they look more digital. Yes, they give me more shadow noise at anything over 400 ISO. Yes, my M9 gives me better color, better depth and more WOW factor. BUT!! Do I need that? Not really. I shoot paid jobs a few times a year and I bet my clients would be just as happy with files from this little E-P2/20 1.7 combo. Most non-photo nuts do not notice the "bokeh" or sharpness like we do, ha ha.
Olympus E-P2 – Grainy Film Art Filter – ISO 1600 – F1.7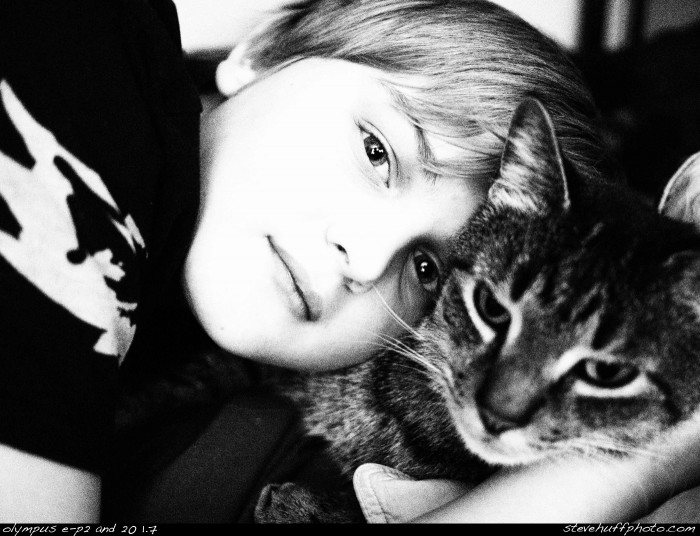 But it is not as easy as that for us camera addicted crazies. See, I do appreciate the extra quality my M9 gives me not only in its feel, build, and lenses but in the way I shoot with it. It's a rangefinder and I love the viewfinder, the manual focus, and the feel of those lenses in my hand. The image quality is stellar. To me, it is worth that extra money to have something I can really enjoy shooting. The M9 is a camera I could be buried with. That does not take away the capabilities of this E-P2/20 1.7 kit though. For the money it is simply superb!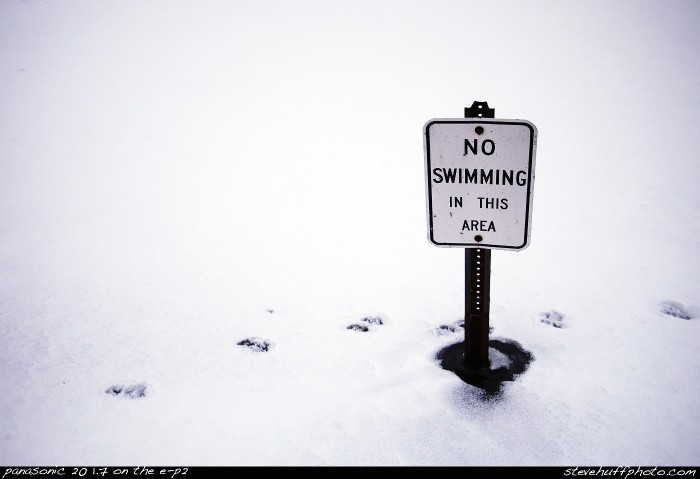 Here is another image I shot along with a crop. Just a plain old roll of paper towels but with a little processing to give it some depth…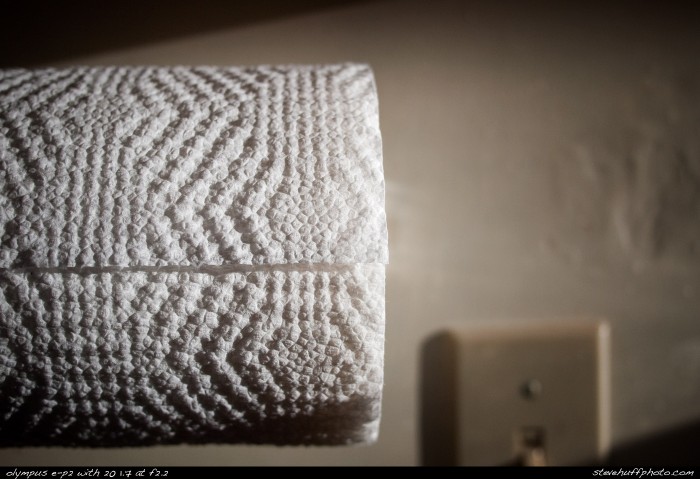 and since it was so sharp, a crop from the RAW file: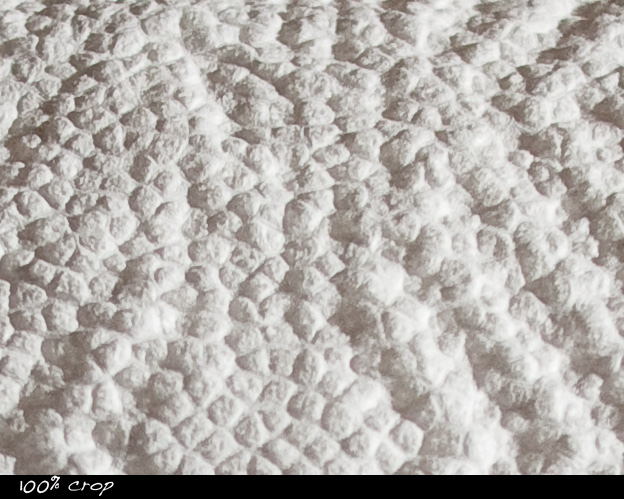 LETS GET REAL
Let me be 100% honest here. I have been shooting the Nikon D300s and Canon 7D DSLR's along with this E-P2/20 1.7 combo (and the D3s) and during this time the most fun I have had taking pictures was with the E-P2 and 20 1.7. The D3s, forget it! It's for sports/action/wildlife guys and pros. While it is the best there is for that type of shooting, it snot the best solution for an everyday camera.
The D300s is great but I actually prefer the color from the E-P2/20 1.7! The Canon 7D… Well, it's a nice DSLR no question and gives superior ISO, DR and color. But for all out fun when you go out for a day of shooting? I go with the E-P2 combo. If you do not need the fast FPS, improved high ISO or BULK the m4/3 cams are ideal.
One of the reasons why this m4/3 system is taking off, and also why many big DSLR shooters are selling their entire kits for a Leica M9 is all about weight and size. In the past, small cameras were, well, CRAP! They had excessive noise, bad color, and the images were flat and awful. Today we are just about at that point where we can buy a smaller camera and get big DSLR quality out of it. In the case of the Leica M9, we surpass that big DSLR quality and approach medium format.
Yes, the days of everyone and their neighbor owning a big DSLR may soon be over. We are finally getting smaller cameras with the quality of the big guys. All we need is some minor improvements and some better glass (for m4/3). Today we have the m4/3 cameras, the fabulous Leica X1 and M9 and even the new Samsung NX10 that is about to hit the streets. It's awesome to have these choices, and for those who are like me and tired of lugging around 20 lbs of gear, well you now have quality choices!
Wide Open at F1.7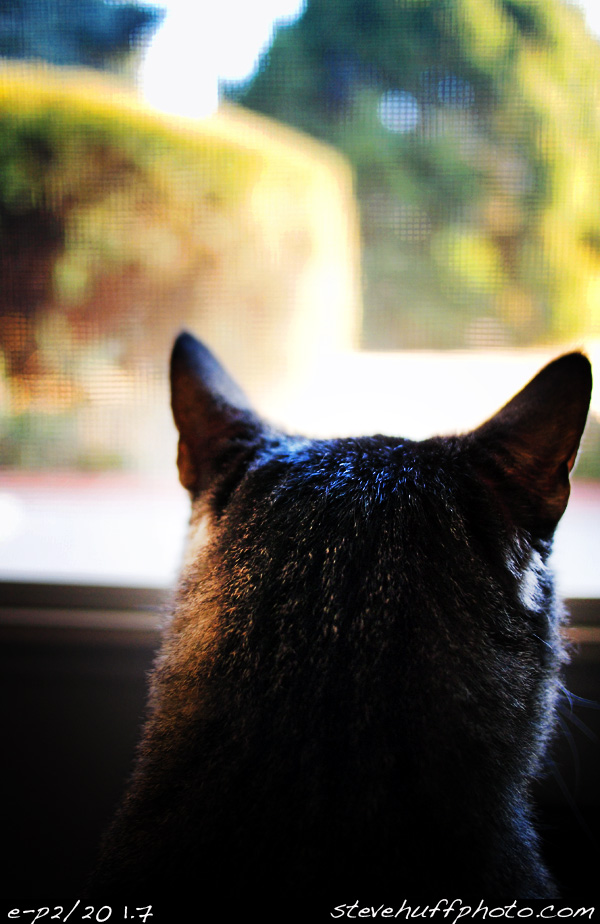 BOTTOM LINE. With this little Panasonic 20 1.7 lens you have a high quality lens THAT WILL NOT BREAK THE BANK. You can do low light, shallow depth of field, and get great results. I say this as a hobbyist, not a pro. For 90% of what I shoot if I had to choose between the E-P2 and 20 1.7, D300s or Canon 7D then it would be the E-P2. Throw in the Leica X1 and I would have to take the X1 as I feel the IQ of the X1 beats all of the mentioned DSLR's and the E-P2/20 combo, and its even smaller and sleeker. But I think I am done with all of those big DSLR's for good. I really have no need for 8FPS shooting or 999 focus points.
There still is and always be a market for a DSLR for those who need those capabilities but I am speaking to those who want a carry around camera. In the recent past we did not have much choice for quality and today we do! There I go..ranting again!
I got off track so let me get back ON! The Panasonic 20 1.7 lens is one of those "must own" lenses if you have a m4/3 camera like the E-P1, E-P2, GF1, GH1, etc. Its light, fairly quick, small, has a fast 1.7 maximum aperture and is sharp as you could ask for. At $399 it is a bargain in my opinion.
shallow DOF example – closest focus -E-P2, 20 1.7 at 1.7- ISO 800 – 4/3 format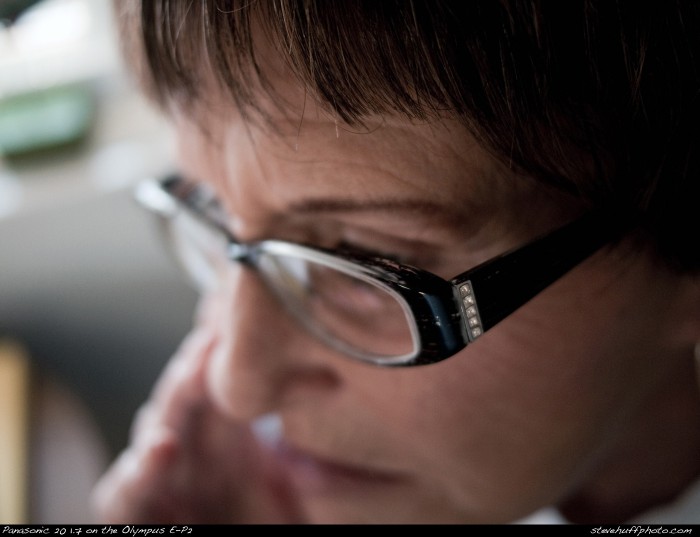 So far all I have talked about is how great this lens is. Frankly, there is not much more to say. The proof is in the pics. Wide open your focus point is sharp and while you will get some bokeh you do not get crazy shallow depth of field like you would with a 50 or longer lens. The 20 1.7 is great for everyday use as 40mm is in between the two great classic focal lengths, the 35 and 50.
PROS AND CONS OF THE PANASONIC 20 1.7:
PROS:
Small and Light!
Fast aperture. Finally a fast lens for m4/3.
Sharp wide open and sharp stopped down. No issues.
In my real world shooting I did not notice any distortion in any of my shots.
Price is not CHEAP but its not expensive either for a small fast prime.
Works great on the E-P2 or GF series by Panasonic.
Comes with a nifty lens pouch!
CONS:
Build is not up there with the high quality lenses from Leica, Nikon or Canon.
Hard to find, always out of stock (at the time of this writing).
Makes noise while focusing so not good for video using AF.
On the E-P2 you hear the aperture clicking as it opens and closes while its on the camera (with camera on). Does not affect performance and the Leica X1 does this as well.
Would have been better of it were a 1.4 lens!
20 1.7 at 1.7 with Grainy Art Filter of the E-P2

So as I wrap up this review let me say that Panasonic is leading the race in quality lenses for the m4/3 system. Their top class 7-14, 45 Macro, 14-150 and even the "budget" 55-200 are great lenses. The Olympus lenses like the kit zoom and 17 2.8 are very good lenses but not "great lenses". I can see myself buying the Panny lenses for "my wife's" E-P2 in the future unless Olympus raises the stakes and puts out some higher quality lenses. I would like to see small & solid high performing primes in the future. If this happens, and the M4/3 sensors get better with their noise and overall quality then there may be a new revolution in the camera world. Its tough to beat the size and fun factor with these m4/3 kits.
The Panasonic 20 1.7 is a lens I can easily recommend. I do not see anyone not liking it. This may be old news as this lens has been out for a while and there are probably a million reviews out there for it already. I just wanted to throw my take in to the mix in a "real world" kind of way. After all, the lens was made to take photos not be analyzed in a lab 🙂
I hope you have enjoyed this review. If you want to buy this lens you can buy it through my links to B&H or Amazon but GOOD LUCK! It can be hard to find in stock. If you see it, and want it I would suggest snagging it! Here is the direct link to the Panasonic 20 1.7 at B&H Photo and Amazon
.
HELP SUPPORT THIS SITE TO KEEP IT GOING AND GROWING!
Remember, anytime you follow my links here and buy from B&H or AMAZON,
this helps to keep my site going. If it was not for these links, there would be no way to fund this site, so I thank you in advance if you visit these links. I thank you more if you make a purchase! I have nifty search bars at the upper right of each page so you easily search for something at either store!
If you enjoyed this article/review, feel free to leave a comment at the bottom of this page and also be sure to join me on twitter or facebook! Also, you can subscribe to my feed at my subscribe page HERE and read these posts in your browser or news reader!  Thanks so much for visiting my site!
Here are a few more images from the E-P2 and 20 1.7 combo! I am all about real world experience and I take my time shooting the gear I review. Hope you enjoy the images. Click any image for a larger view and to see the shooting info 🙂