The Sony A290 and A390 Digital SLR first look quick review!
Thanks to B&H Photo I was able to get a hold of two new Sony cameras, the A-290 and the A-390 to try them out and see how they may stack up against other cameras I have tried like the Nikon D3000 (Now its the D3100 which looks awesome and w/HD video), D90, Pentax Kx, etc. Many of you know I am not a huge fan of bulky cameras but these two Sony's are not too large, but then again, they are not really that small either!
I am making this a quick review as I have not shot with these Sony's for weeks and weeks, only days… and honestly, they do not get my blood boiling like the smaller high quality cameras do. Sony has come out with these two cameras in the mid price range. They are not super cheap but a little more up the chain at about $500. When shooting and seeing the results, they appear to be in the same league as something like a Nikon D3000 in regards to image quality. They do feel a little fat and cheap though, but I guess all $500 DSLR's do.
Here is a youtube video I put together of the A290 and A390 to show you what it looks like, its features, its menu system and a few images taken with it:
The Sony A290 is a 14 Megapixel camera with in body "SteadyShot" and the usual features found in a camera of this class. No video though. It comes in at $499 where its sibling, the A390 comes in at $549. Yes, a measly $50 more that buys you a tilt-able LCD screen, and a handy switch to go from viewfinder to live view. Lets look at the features and specs of these cameras:
THE FEATURES OF THE A-390
14.2 Megapixel CCD Sensor
A 14.2 (effective) megapixel APS-C format CCD imaging sensor captures sharp images capable of producing detailed, poster-size prints
BIONZ Image Processor
The advanced BIONZ image processor uses hardware-based Large Scale Integrated (LSI) circuitry to enhance images with rich tonal reproduction, reduced noise, and improved white balance and exposure control, for clear, sharp photos even at high sensitivity settings.
Tiltable 2.7″ TFT Photo Clear LCD with Live View
A large 2.7″ clear photo LCD plus display features Live View with Quick Auto Focus, which lets you compose and shoot pictures in real-time using the LCD just as you would with a point-and-shoot camera. In addition, the LCD display tilts up or down for low or high-angle shooting situations, such as capturing a child's first steps or shooting over a crowd.
Fast 9-Point AF System
9-Point Center Cross AF Sensor with improved focus control to help bring images into sharp definition more quickly, and predictive focus control automatically calculates the position of fast-moving subjects.
Eye-start Autofocus
Eye-Start Autofocus System begins precision autofocus adjustments the moment you raise the camera to your eye, so the camera is ready to catch the perfect moment.
High Sensitivity (ISO 3200)
A broad sensitivity range from ISO 100 to ISO 3200 enables you to capture beautiful color images even in very dim light — with High ISO Noise Reduction technology that reduces picture noise artifacts at high-sensitivity ISO 1600 and ISO 3200 settings by eliminating noise from RAW data after analog-to-digital conversion.
Dynamic Range Optimizer
Dynamic Range Optimizer provides two levels – Standard/Plus to improve results with backlit subjects and recover details hidden in shadows or lost in glare. Normal DRO improves detail using standard gamma curves for fast shot-to-shot response time, while Advanced DRO adjusts dynamic range area-by-area for greater accuracy.
2.5 fps Continuous Shooting
Continuous Shooting lets you shoot at up to 2.5 fps while viewing your subject through the optical viewfinder so you never lose track of the action.
SteadyShot INSIDE In-camera Image Stabilization
SteadyShot INSIDE in-camera image stabilization is built into each camera body, so every A-mount lens benefits from the ability to minimize blur due to camera shake.
Creative Style Settings
Creative Style settings give you control over how the camera processes your images. Choose from 8 finishing styles, including Standard, Vivid, Portrait, Landscape, Night View, Sunset, B&W, and Adobe RGB, and fine tune them to your personal taste with the ability to adjust contrast, saturation, and sharpness settings.
Scene Selection Modes
Scene Selection Modes optimize camera settings for different shooting situations. Just turn the Mode Dial to select from Portrait, Landscape, Macro, Sports, Sunset, and Night View modes.
Dual Slot Compatiblity for Memory
The camera is compatible with high-capacity Memory Stick PRO Duo, Memory Stick PRO-HG Duo and SD/SDHC media (sold separately) for convenient storage and sharing of your images.
Smart Teleconverter 2X Digital Zoom
Smart Teleconverter 2X Digital Zoom lets you zoom in electronically on your subject and it reproduces pixels on a 1:1 basis so there's no degradation in picture quality. One touch zooms in at 1.4X, while the second touch advances to 2X zoom — creating the 35mm equivalent of a telephoto effect with the camera's standard 18-55mm optical zoom lens.
Anti-Dust Technology
Anti-Dust Technology helps keep the CCD imager clean, resulting in consistently better pictures, by utilizing a static-free anti-dust coating on the CCD filter as well as an anti-dust vibration that automatically shakes the CCD to help dislodge dust each time the camera is shut off.
Integrated On-screen Help Guide
Integrated on-screen Help Guide and Graphic Display help take the complexity out of DSLR photography. The Help Guide offers clear, concise explanations of various modes and settings, while the graphic display helps you understand the relationship between aperture and shutter speed, as well as the effect each has on photographic results.
Function Guide Display
Function Guide Display provides intuitive and easy to use on-screen menus that can be activated and operated with one hand using the Fn (Function) button and controller button to adjust Flash mode, Autofocus mode, White Balance, Metering mode, AF area and D-Range Optimizer.
Built-in Pop-Up Flash
The Auto Pop-Up Flash automatically pops up and fires as needed when the camera is set to certain scene selection modes, helping first-time DSLR photographers shoot more effectively. In addition, the a380 features an integrated hot shoe, which lets you expand your lighting options with a range of accessory flashes (sold separately).
Lightweight and Stylish Body
The DSLR-A390 features a stylish, modern design with an intuitive button layout for easier operation. In addition, the lightweight body and revised grip make the camera more comfortable to hold and carry.
Stamina Battery Power
Stamina Battery power allows you to take up to 500 shots on a fully charged NP-FM50 InfoLITHIUM battery when using the optical viewfinder mode, and you'll be able to see how much power remains in percentage increments, so you can keep shooting with confidence.
Index and Slide Show Display
Index and Slide Show Display enable you to quickly review your photos using 4, 9 or 25-frame index views, or as an automatic slide show with fade-in/fade-out effect.
PhotoTV HD Compatibility
PhotoTV HD compatibility lets you automatically create high-resolution thumbnails optimized for viewing on a compatible Sony BRAVIA HDTV.
HDMI Terminal and BRAVIA Sync Compatibility
An HDMI terminal gives you the option of connecting your camera to a compatible HDTV and playing back your images in stunning high definition quality (HDMI cable required, sold separately). In addition, BRAVIA Sync works with compatible Sony BRAVIA HDTVs to let you control camera playback using the television's remote (HDMI cable and BRAVIA Sync capable HDTV required, sold separately).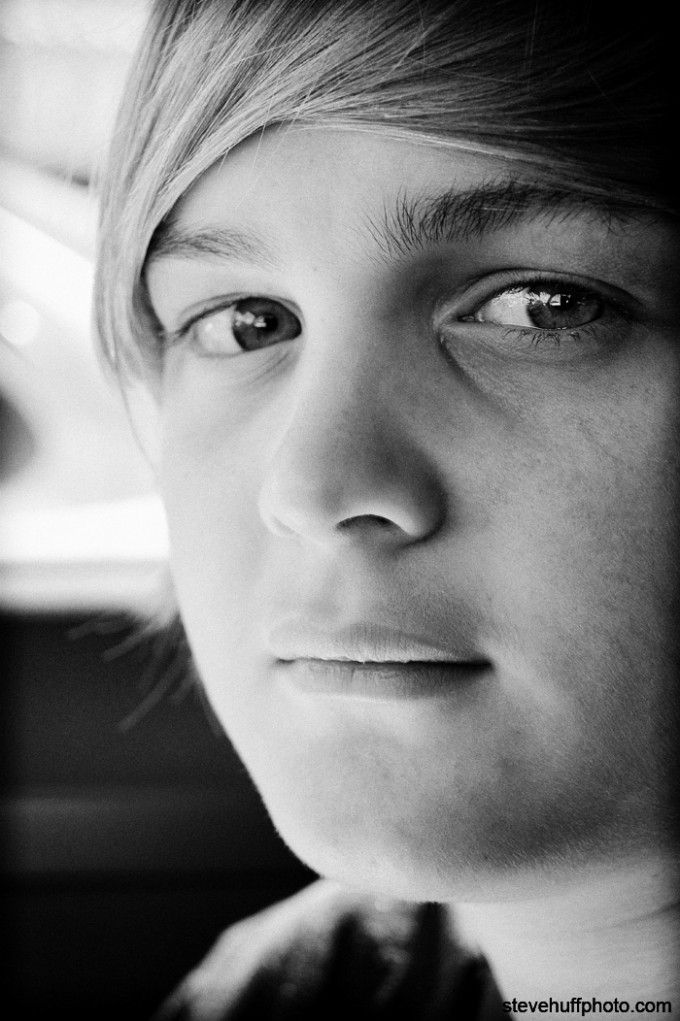 Brandon with the Sony A-390 and kit zoom lens. No photoshop, just a B&W conversion using the wonderful Silver Efex Pro.
What do I think after shooting with these cameras?
They are a bit bulky feeling…
The viewfinders are small and not the most comfortable to use. They do not sit flush against the eye and light leaks in, which is distracting.
High ISO is not the best. I started seeing noise after ISO 400.
The A290…why bother? Spend the $50 more for the tilt LCD and live view of the A-390.
Image quality is good, color is good but JPEGs are soft. Shoot RAW with these cameras.
No video, no HD. The Sony NEX cameras have HD video and are much smaller in just about the same price range.
AF is fairly quick, also the EYE AF is interesting. Put your eye up to the VF and the AF starts focusing automatically.
Battery life is fantastic from what I have seen. I never had to recharge the battery.
Kit lens seems decent and much better than the Sony NEX kit lenses in regards to distortion and quality.
Overall, Id go with a Sony NEX but if you must have a camera with a real viewfinder, and have Sony lenses, then the A390 would be a great little camera to go for. If I had a Sony lens or two, the A390 would be my pick in this price range. I'd skip the A290 and shell out the extra $50 for the 390. No doubt.
Who would buy this camera?
If you are a DSLR newbie, or new  to photography and want a DSLR, the A390 could be the camera you have been looking for. It's light on features but the image quality very good, especially when you shoot in RAW mode (which admittedly many newbies may not know much about). This is a pretty straightforward and easy to use camera that would feel right at home with anyone looking to get into photography. Are there better choices in the $500 price range? Well,  I would probably go with the Pentax Kx over the Sony but either one will do the job. You can buy  the A290 or the A390 at B&H Photo. But keep in mind that the Nikon D3100 is now available and I think it will be safe to assume that the new Nikons will offer more bang for the buck than these Sony cameras. The D3100 has HD video, 1080P and an even better kit zoom. I hope to do a full review soon of the D3100. Whichever you choose remember, you are the one who gets the shots and makes the art, not the camera. If a camera does it for you, it is the one to get. 🙂