ONLY ONE SPOT LEFT! GET IN NOW!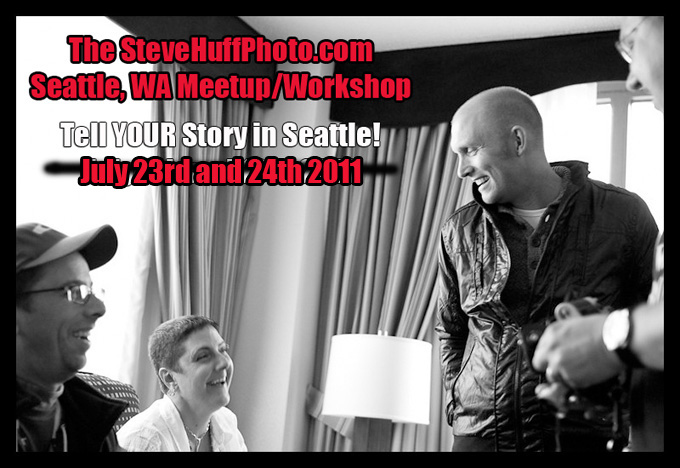 UPDATE!!! THERE HAS BEEN A CHANGE TO THE DATE OF THIS EVENT! THE SEATTLE WORKSHOP WILL NOW TAKE PLACE ON JULY 23rd and 24th!
**14 OF 15 SEATS HAVE BEEN SOLD AS OF MARCH 09th 2011! Only 1 REMAIN!**
We are also adding to the itinerary for the weekend with new guests, photo strolls and other cool surprises!
The Seattle, WA SteveHuffPhoto.com Workshop/Meetup – July 23rd & 24th 2011!
"Tell your Story!"
Here we go! The next SteveHuffPhoto.com workshop/meetup will be in Seattle, WA July 23rd and 24th 2011 in the Fremont Neighborhood which is super close to downtown and all kinds of beauty, culture, and photo opportunities!. This will be a TWO day meetup/workshop and it will be filled with all kinds of fun and exciting photo fun, people, places, food and things!  This one will be bigger & better than the NYC workshop from October. Full of spirit, passion, and splendid photography opportunities! I guarantee a great time will be had by all. Ashwin Rao and I are organizing this event to be one to remember with special guest additions, evening photo strolls, Leica demos, and a surprise or two thrown in as well. Don't miss out on what will become an amazing photo passion filled weekend!
But first, A History – My very 1st Meetup/Workshop in NYC – 2010
NYC Workshop – 2010 – Steve Huff

Last October 2010 I met 21 of you at the first official meetup in NYC and we had a blast. The weather was cold and nasty but we pushed through and came away with some new friends, new skills, and the opportunity to shoot in the hustle and bustle of NYC to create some memorable images! Some of us even had a great time at the pub after the event! I was thrilled to see so many passionate people attending the NYC event and also thrilled to meet everyone who attended. It was a great time but being the 1st of it's kind for this site, it was a more laid back, take it as we go kind of approach. With that said, I have huge plans for #2!
Here are a few fun images from the last time around …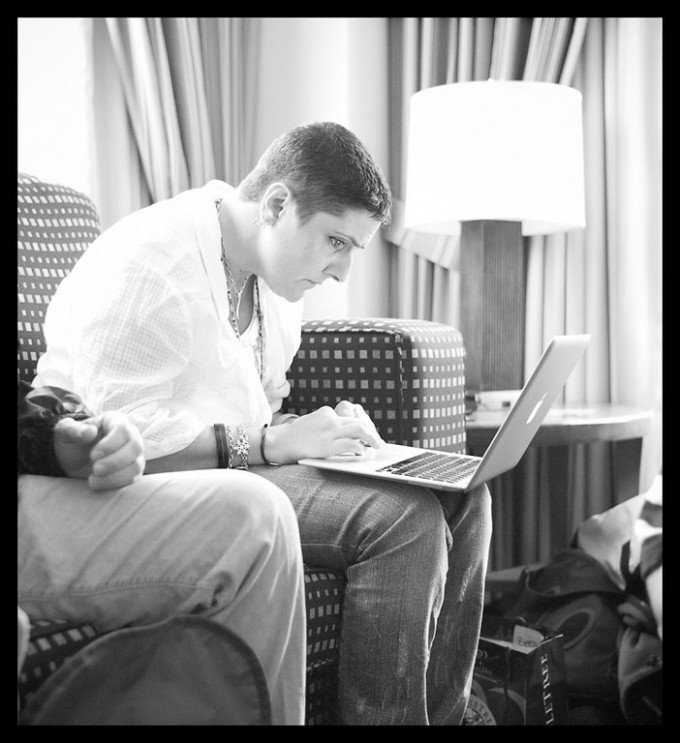 –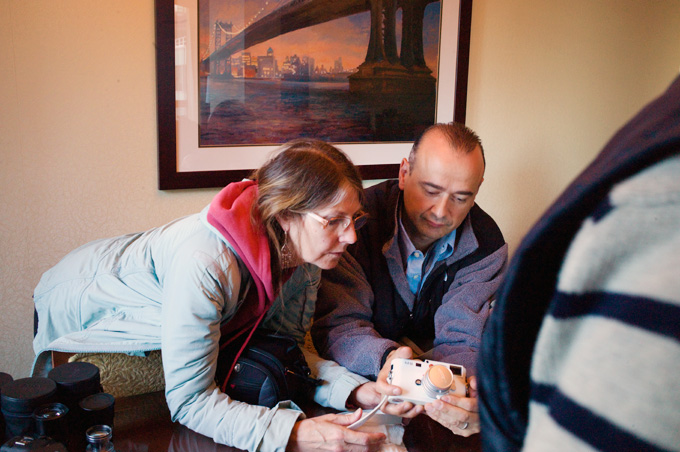 –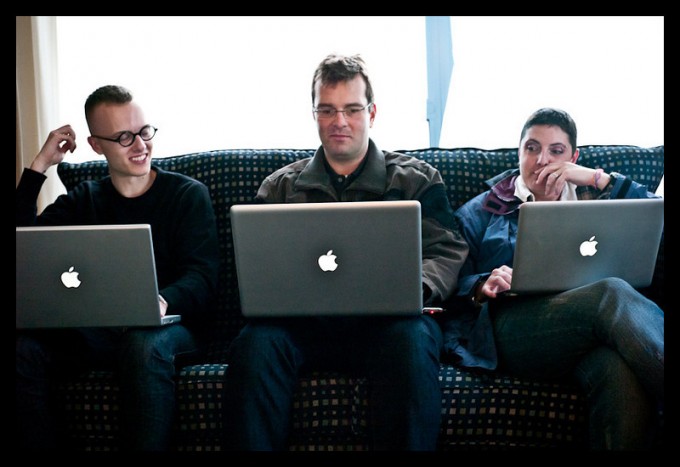 –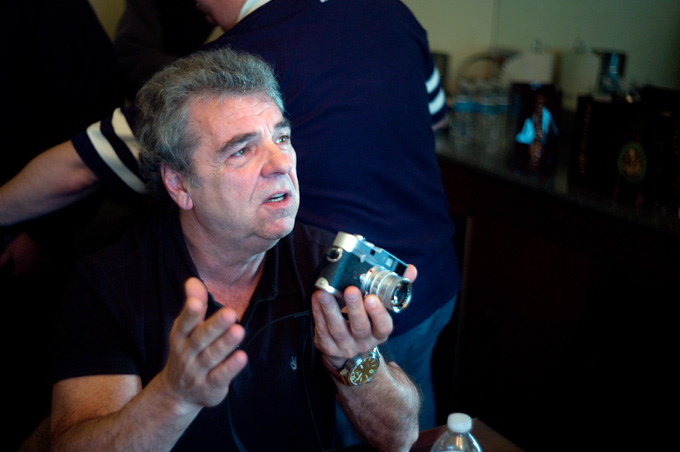 –
–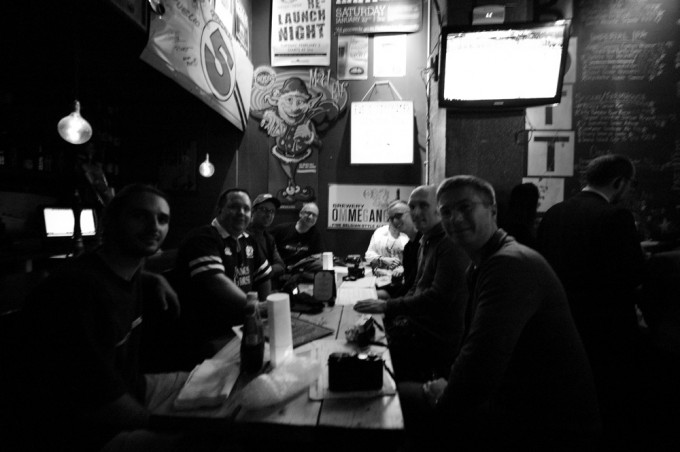 Mark Your Calendars! July 23rd and 24th 2011!
This time around Ashwin Rao, (who writes for this site quite often and is an fantastic Leica photographer) will be hosting the event at his home during the day and evening hours of the 23rd and 24th of July, 2011. This will be a weekend, and the weather should be nice so I am looking forward to a GREAT time. High Speed Wi-Fi will be available at the house as well, thanks to Ashwin!
UPDATE: Tim Isaac, the man behind the "Thumbs Up" most of us use on our M8 and M9 will also be in attendance showing off his products and to chat with everyone. Tim is also a passionate M shooter so it is AWESOME  that he will be attending the event! I own a thumbs up and soft release myself. Great products!
UPDATE: Just added! Seattle pro, Roger Paperno will also be there to speak!
UPDATE: Added guest speaker and presenter CHARLES PETERSON!
Riccis Valladares looking over images shot by Sori Gottdenker at the NYC workshop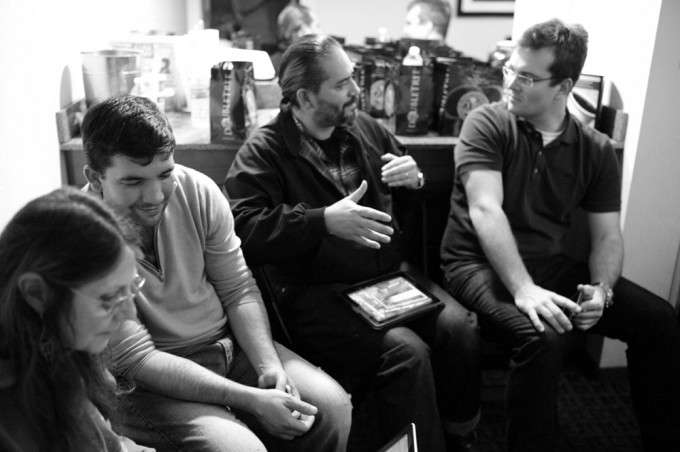 No need to own a Leica to attend! ANYONE who has a passion for photography can attend this event so no matter what camera you shoot with, you can come and benefit from the days events! There will be presentations, street shooting, an assignment for all, critiquing, Q & A session with myself and Ashwin Rao, one on one shooting time with myself as well as a great lunch on both days fully included where we will visit some local eateries with great food.
We will even visit Glazers Camera in Seattle where a Leica rep will give us a Demo of the current Leica cameras. I may even be able to get a Leica S2 for the day as well and Ashwin and I both have a  50 Noctilux ASPH in case anyone wants to check them out on their own M. I will also have a Fuji X100 on hand as well as a few other cameras!
UPDATE: Also, there will be a special prize give away of a special camera and loads of accessories to one lucky attendee (random prize drawing)!
THE FINAL SCHEDULE OF EVENTS! It will be a busy weekend for us all!.
Saturday, July 23rd
9:00 AM: Workshop attendees arrive at Ashwin's home
– Top Pot Donuts (on of Seattle's most famous donut spots) with coffee for breakfast
9:15ish: Steve's intro & welcome
9:15-10:30: Introductions of each of the conference attendees (5 min per person)
10:30-10:45 : Ashwin Rao's welcome, introduction, & brief portfolio slideshow
10:45 – 11:15:  Guest speaker introductions: Tim Isaac, Roger Paperno
11:30- 1:30: Morning stroll at Pike's Place Market – An introduction to Seattle's "street" of memories. Pike's Place offers the most street photography of any place in Seattle, with a wide variety of photo making opportunities
1:30-2:30 Lunch at Pikes Place Chowder (sourdough bread bowl and chowdah!)
2:30-3:00 travel to & arrive at Glazers Camera for a Leica Demo; Meet with Mark Vercammen, Glazers' Leica guru extraordinaire.
3:00- 4:00 pm: Glazers Camera –  Leica Demo with Brad Weeks, Leica's Pacific Northwest camera representative.
4-4:30: Walk over to Glazers Rentals for Rao/Tanabe Photography Exhibit & talk on "How to exhibit and promote your work"
4:30-7  pm Return to Ashwin's for photo editing, critique, and sharing; concurrent "Thumbs Up"/Match Technical display & gear demo at Ashwin's
– Snacks and food on hand
7:15– 8:15: Evening sunset "postcard" photo stroll at Kerry Park
8:30- 9:30 pm Group Dinner and evening cap at Rays Boathouse near Golden Gardens
9:30-11 pm (time and attendee desire permitting): Optional later night, low light photo stroll for any interested. Likely location will be Belltown nightlife (downtown)
Sunday, July 24th
9:00- Breakfast: Mighty O Donuts and Coffee
9:15-9:45: Steve's presentation of photos (Seal tour  & Street photography around the world)
9:45-10: 15: Introduction & Discussion Lead by Charles Peterson
10:15-11:00 Recap of the day – Lessons learned
11:00 AM – 1 PM: Photo Telling stroll – Space Needle/ Seattle Center
–  Optional ride up the needle. It's a fun place to photograph from above as well, both the people and the city!
1:30-3 PM: Lunch at Eastlake Bar & Grill
3:30-5:15 pm: PM stroll at Discovery Park, Seattle's "nature preserve"
5:30- 7:30 pm: Return for critique and discussion of story telling
7:30-8 pm: Prize giveaway ( a complete kick butt camera system with all accessories )
8:00 pm: Group Wrap-Up Dinner at Tutta Bella Pizzeria
Workshop Host: Steve Huff
Workshop Local Host & Organizer: Ashwin Rao
Honored attendees and contributors
Tim Isaac of MatchTechnical, creator of the ThumbsUp Grip for Leica M cameras
Charles Peterson, Rock & Documentary Photography
Roger Paperno: Pro Photographer and local co-host
Brad Weeks, Leica Northwest Representative
Mark Vercammen, Glazers Camera Leica Guru
Dinner is not included, but attendance is encouraged
Itinerary is subject to change, pending weather and happenstance
You know you want to go! Here is how to Register!
As of May 26th 2011 there is ONE spot available.
The total cost for the two day workshop will be $525 per person which includes both days of the workshop, lunch provided both days at a local restaurant (food and beverage, no alcohol as we can head to a pub later for that), all presentations and critiques, assignments,  as well as the Leica demos and use of an M9 if requested (I should have at least two for use by those who would like to try them out). I am limiting this once again to 20 people and even possibly 15. The last event sold out quick and I had many others wanting to get in but they were too late! I will also be giving away a great prize to one lucky attendee!
It will be a weekend of meeting like minded passionate people with every hour of each day packed with something fun and exciting. Lots of Leica but again, even if you shoot with an Olympus you can attend this event! It is about photography, passion and getting out there and shooting! No stuffy "know it all" attitudes, just learning, sharing, and shooting! The way it should be!
I hope to see you there in July!
I can accept payment via credit card using google checkout or personal check/money order. Either way, if you want to attend this memorable event E-MAIL me HERE when you are ready to commit and I will e-mail you an invoice that you can pay. Once you do this you will be locked in!
–
Hotels
For those flying in to Seattle for the weekend there are many hotels in the nearby area. The area we will be in is a neighborhood called Fremont and is just a mile or two from downtown. We will be super close by all of the cool areas to shoot, that is for certain! Clicking here will bring up a page filled with info on the area as well as hotels. This page will be updated as we fine tune the weekend events so check back often!