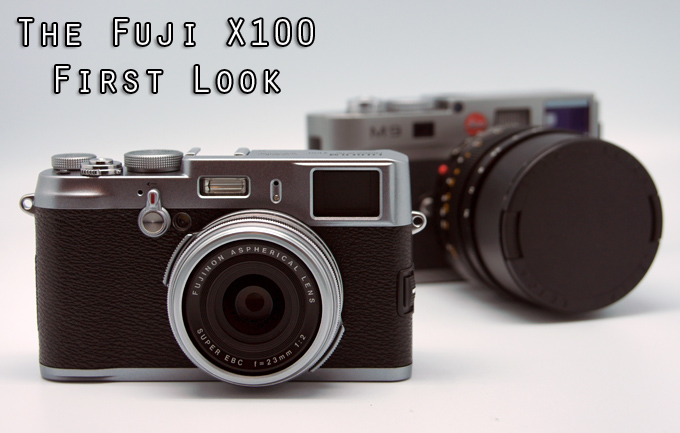 ATTN: THIS IS NOT MY REVIEW! Review is coming in 1-2 weeks! More shots posted HERE.
It's Saturday, the last day of April 2011 and UPS just dropped off a package weighing in at 4lbs. Inside this box is the long awaited, much anticipated, shiny new Fuji X100 shipped to me from Precision Camera, which was one of two places where I pre-ordered the camera! Precision came through first and they were top class all the way. Even shipped it for Saturday delivery when I asked about it. Awesome! Here is their X100 page if you want to check them out.
A short video I made the day I received the X100…a quick first look
–
The X100 cometh…
I remember when this camera was first announced and we all freaked out that FINALLY, a company was GETTING IT. A small rangefinder design, great build, manual aperture control on a fast F2 lens…it sounded like everything that the Leica X1 should have been! On paper at least.
Over the past few weeks, a few websites out there posted reviews with pre-production copies. Fuji refused to send me one after several attempts. They kept telling me mid March, and then just ignored me all together. Maybe they were worried about a Leica guy reviewing the X100, not sure. But I was genuinely excited about this camera as it was right up my alley in all aspects. The style of the Leica in a MUCH cheaper package. In no way did I ever think it could or would compete with the M9, (Though many thought it would) but it's not about that. For me it was about having a high quality, small size camera to take with me everywhere while reserving my M for those special times.
That's how I envisioned the X100 would integrate in to my life and daily routine, as a daily shooter. The M9 is a $7000 machine and I probably should not be shooting everything in sight with it because there is no way I could afford a 2nd M9 body if something were to happen to it. But still, the M9 is still my camera of choice, no doubt about it.
I've had many others…the Sony NEX-5, the Olympus PEN series, the Leica X1, and loads of others. The Fuji X100 is the one camera that excited me more than any of the other APS-C cameras. Is this THE ONE? I guess I am about to find out, and as I find out, you will hear about it all right here!
There have been loads of complaints about this camera as well as equal amounts of praise. So which is it? Most say the image quality is not up to the X1 and that the manual focus is not the best (I agree) but what about everything else? For me, the handling, controls, and feel are equally as important. I did do some digging and while I did not find any photos from the X100 that truly wowed me like those from the M9 do, we have to remember that this is not an M9, nor was it designed to compete with an M9. What I havse found were a few people with really nice shots from the Fuji and some with not so nice shots from the Fuji. Maybe it all comes down to the person using it, like all cameras 🙂
I have seen some fantastic shots from ~6 with the X100 so I know it can indeed take a great quality photograph. My job is to find out if it is worth the $1200 and worth more than double of competing APS-C cameras like the NEX-5 or something like $300 cheaper GXR and 28 2.5 combo.
So to be clear, I put this camera in the class of a Sony NEX, Ricoh GXR, and Leica X1 and NOT the M9. Does that mean I will not compare it to my M9? NO WAY! I love crazy comparisons so I will be shooting the X100 side by side with my M9 and 35 cron just for giggles.
This just may be the camera that stays in my bag next to the M9. I look forward to shooting with it, and plan on doing several reports on it as I will be shooting it on a road trip or two, and if all goes well with it, I will be taking it to Europe this summer for the next Seal tour along with the M9. Look for my 1st report/review really soon. I'll post pics and my thoughts as I gather them and eventually will have a full detailed review, in my typical style, on the X100.
My 1st impressions out of the box? Nice build, great feel, very compact, and yes, it has that Fuji color that you will see in the greens for sure. It's VERY quiet and the lens seems more like a classic Leica in the way it renders. Not as sharp or brilliant as the X1 files but not bad, more of a pleasing smooth quality. I am not writing any more until the full review 🙂
For now, here are a few of the very 1st shots out of the camera itself! More to come…much more! Maybe even an X100 daily diary page 🙂
Keep in mind: These are just the very 1st QUICK snapshots with the X100 in my house and backyard – will have better photos in the review 🙂
UPDATE: Posted a few more shots HERE
The 1st shot – click for 1600 pixel wide version. This was converted from RAW in Lightroom
As you can see, my son Brandon is as happy as ever when I take his picture!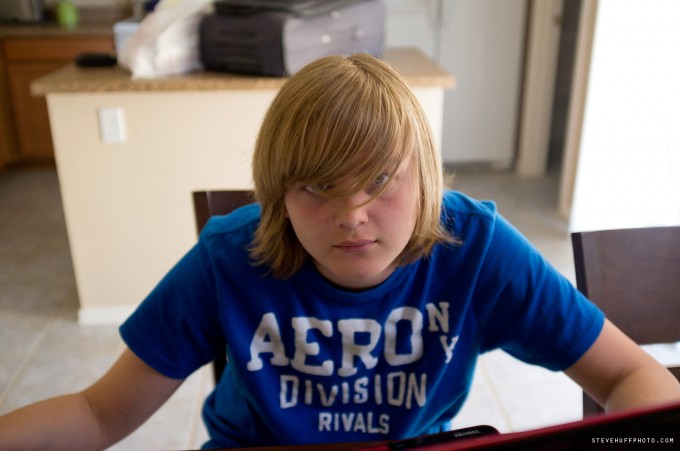 –
Went outside in the light…click image for larger and more accurate view – f2, iso 200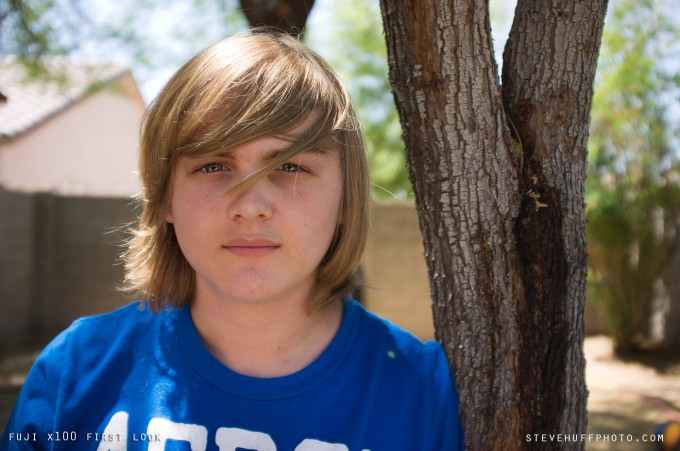 –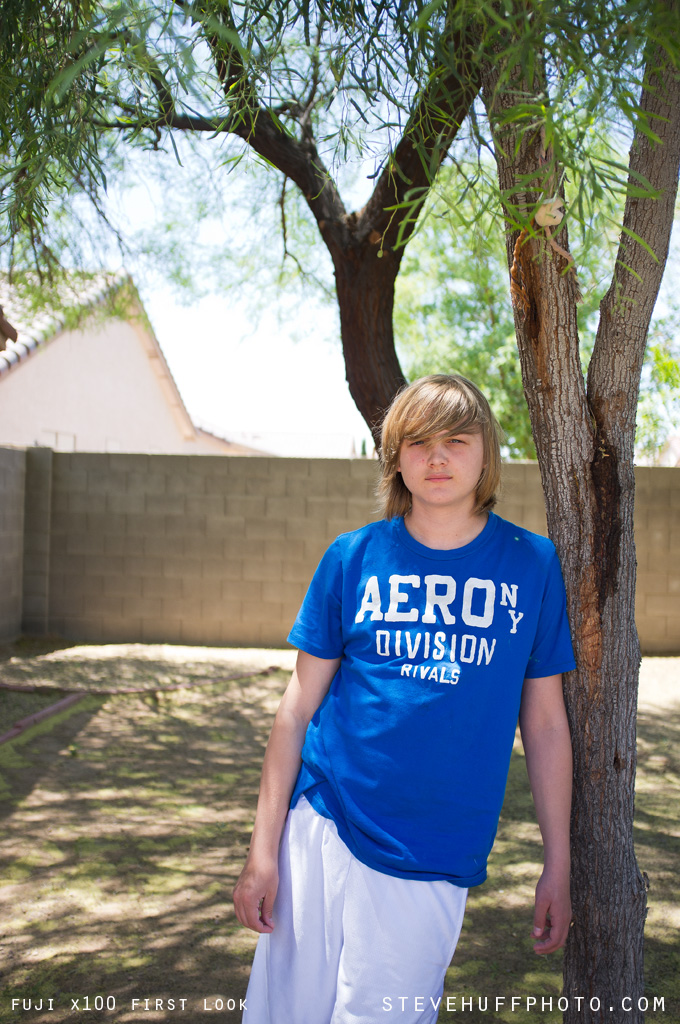 again, f2 – iso 200 – click for better version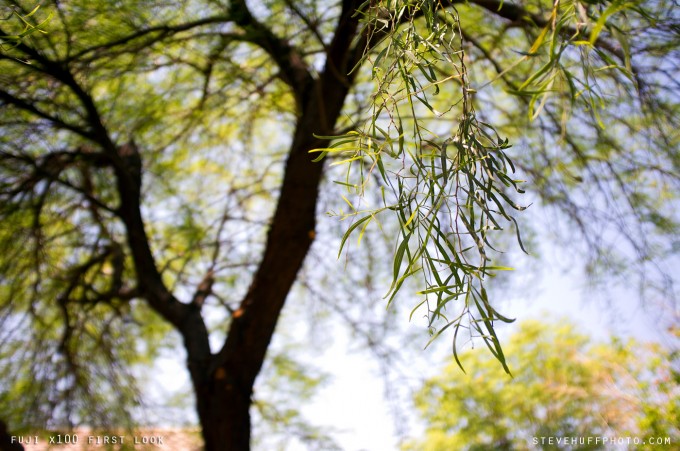 –
BELOW: FULL SIZE OUT OF CAMERA JPEG FILE AT F2 – ISO 200 –  – CLICK IMAGE TO GET IT! Not bad huh?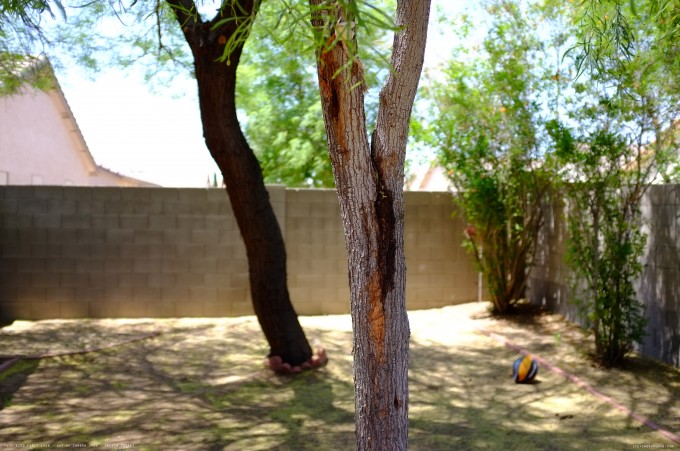 –
Click to see the vivid fuji color and a 100% crop – wide open!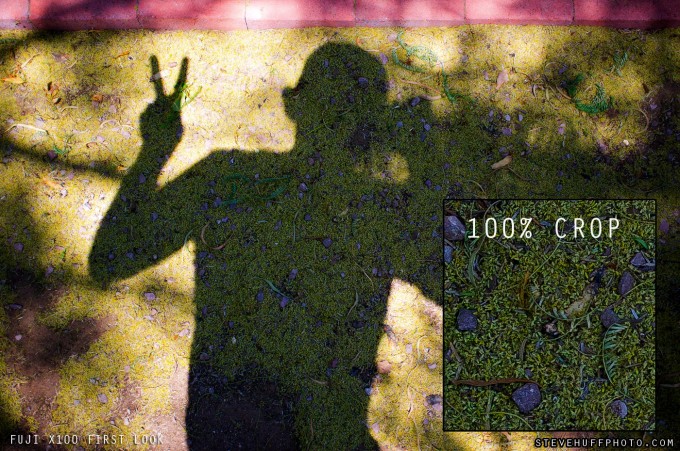 –
and a quick B&W…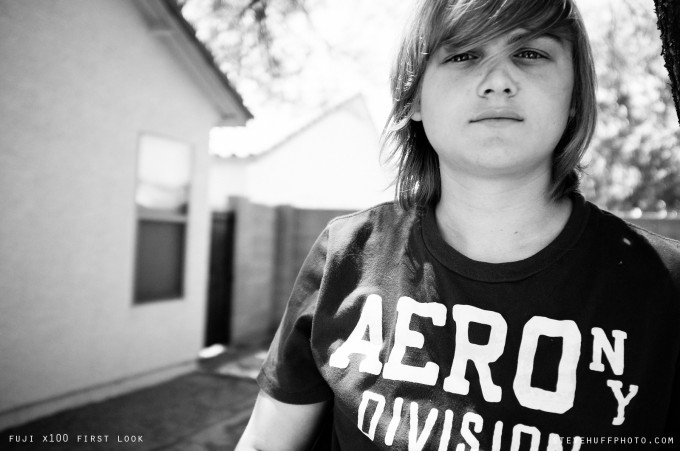 –
and a 100% out of camera JPEG – in camera B&W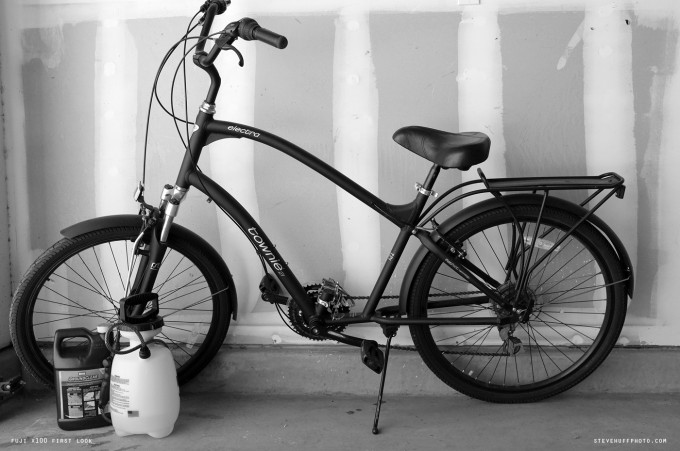 –
and Scrubby! Macro mode, F2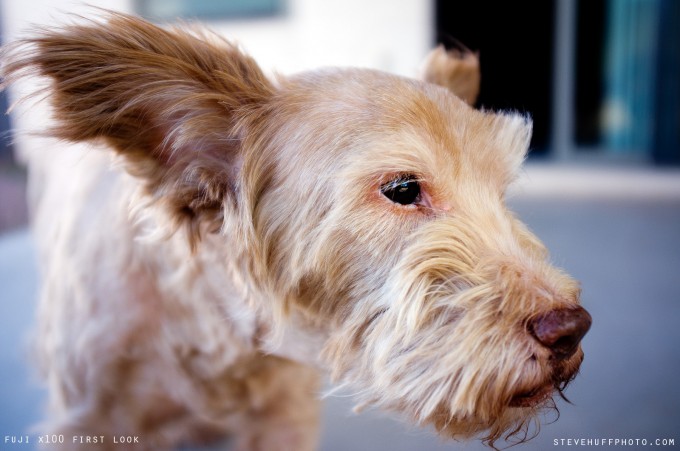 –
Macro mode is not really "Macro" but it does allow you to get in closer.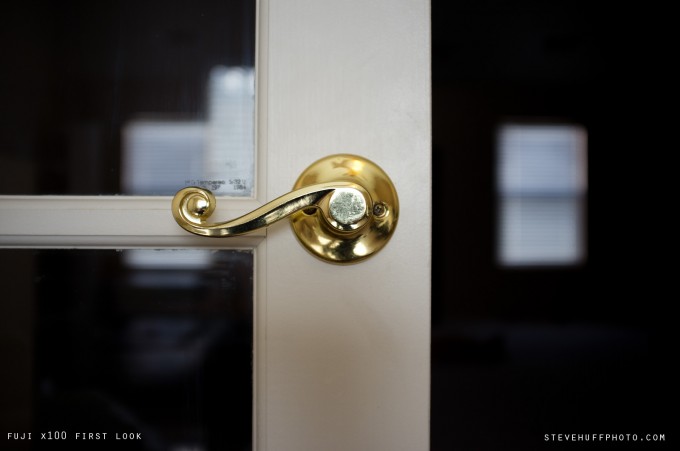 [ad#Adsense Blog Sq Embed Image]