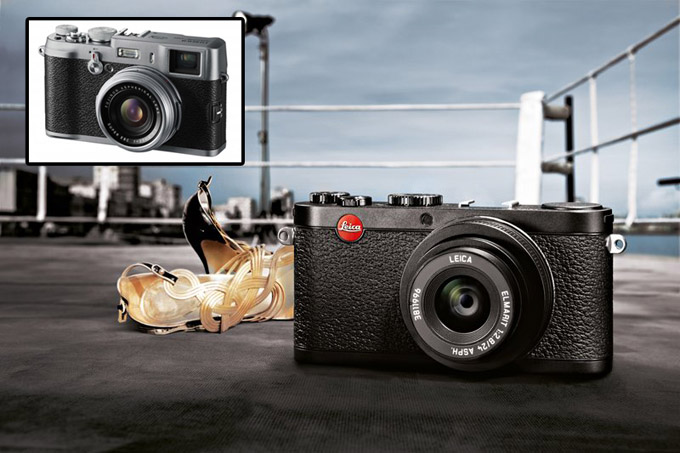 Ok guys…all of this Fuji X100 craziness is driving ME crazy! Lol. My e-mail inbox has been flooded in the last week asking me the question "What should I buy" – The X1 or X100? First of all, I can't tell you WHAT to buy as I have no idea what fits your style, your needs, or your wants. I love both the X1 and X100. Both are capable of taking beautiful photos. One is made in Germany by Leica, one in Japan by Fuji. One is $1995, one is $1200. One has a viewfinder, the other is smaller and sleeker. One has a fast F2 lens, the other a slower 2.8 lens. When I reviewed the X100 I did NOT have a Leica X1 on hand to properly compare it to, but one is now on the way!
Leica dealer Ken Hansen (email: khpny19@aol.com) is sending me an X1 which will arrive Monday and I will finally be able to compare the two, side by side to showcase the differences in the way each camera operates and renders the image. I will shoot RAW and JPEG and will be taking a trip for this one so I have some fresh photographic opportunities. Maybe I will still do my Showdown in Tombstone..maybe I will take a trip up to Sedona AZ to photograph the red rocks..maybe both.
I will shoot both cameras equally. Same settings, same ISO, same everything. After my trip I will report back here with my experiences of shooting BOTH and which I preferred. There will also be plenty of images as well as discussion about  the usability of each. This way you guys can read it and then decide what will work best for YOU, if any of them!
I am looking forward to this. I am ready for a photo road trip! As for the cameras,  The X1 is almost 2 years old but still packs a punch even though the X100 is newer. I will also be reviewing the new firmware 2.0 of the X1. I am also still enjoying the X100 almost daily and am finding it to be a fantastic camera. I am ok with just a 35mm lens, and could easily live with just that focal length if I were just an everyday hobbyist.
So be on the lookout NEXT WEEK for this comparison. I am not going to get overly technical or worry about ultimate sharpness as there is MUCH more to a photo than that. I do know that each camera renders differently, that is fact! I will also be publishing my Olympus XZ-1 review next week as well as talk about a few other cameras that I had here for the last two weeks that just didn't do it for me.
As always, thanks for visiting the site!
Steve