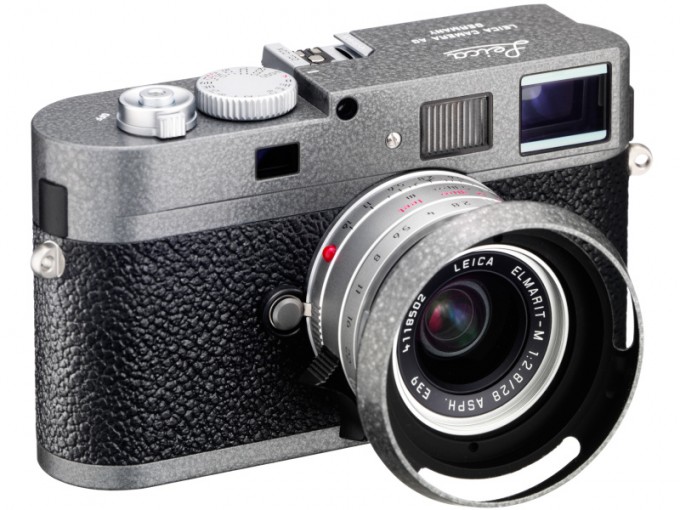 The Leica M9 Hammertone Special Edition?
This has been a week of new cameras leaking out on to the internet and some new camera announcements. So what's new? How about more Leica M9-P stuff? Well, the image above is a shot of a supposed M9 Hammertone special edition that will come with a 28 2.8 Elmarit in chrome with a hammertone lens hood. This is supposedly going on sale for $15,000 in a strict limited edition of  100 sets, in Japan. It will sell out no problem with that number. As for the M9-P…my guess is that it will look just like this, but in chrome and black paint finishes 🙂 The M9-P of course would not be a limited edition and supposedly will come in $700 more expensive than the standard M9, sapphire glass included. 🙂
–
The Sony NEX-C3 – It's official!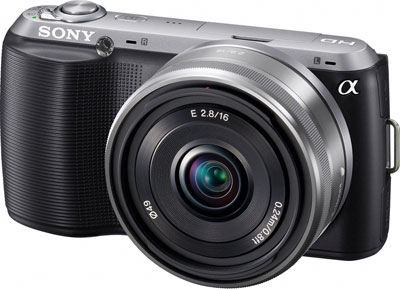 It's small, it's cute and it does everything the NEX-3 did and more. The only problem is that Sony made it even smaller, and this may make it harder to hold comfortably. I have not seen or held one yet and I do like the silver top and black body combo but it's starting to look more and more like a point and shoot. I really do not see anything in the C3 that would make me want it over the NEX-3 or 5 because there will be a new firmware update soon that will allow the 3 and 5 to use the same special effect filters as the new C3. Sony has a way of making a statement product like a NEX-5 and then sort of killing it with future releases. They did this in the Audio world years ago with their high end line (anyone remember the SCD-1)?
The NEX-C3 has higher megapixel count (which is not always a good thing) of 16.2 and Sony can once again claim they have the smallest interchangeable APS-C size sensor camera in the world. Maybe that was their goal.
"Building on the success of last year's α NEX launch, the new NEX-C3 model takes the idea of 'small camera body, SLR-quality photos' to a whole new level," said Kristen Elder, director of the alpha digital imaging business at Sony.  "This camera's brand new, large CMOS sensor and user-friendly interface will allow all photographers, regardless of experience level, to produce unique, custom-styled photographs. The NEX-C3 is a perfect combination of design, performance and creativity that fits a wide range of activities and shooting styles."
also seems like the NEX line is getting more consumer friendly…
"The intuitive new Photo Creativity interface on the NEX-C3 camera puts sophisticated controls within easy reach, whether users are shooting stills or HD Video.   Technical terms like 'aperture', 'exposure value' and 'white balance' are replaced with the friendlier and more intuitive 'background defocus', 'brightness' and 'color', allowing users to easily create custom-styled photographs. A traditional interface with Aperture/Shutter Priority, Manual and custom functions is always available for experienced users, along with highly customizable soft-keys for programming direct access to important controls."
Again, the new firmware will basically give the same functionality to your 3 or 5, so I wouldn't run out and sell your 3 or 5 to buy a 3C, unless the photo quality ends up being better, which is possible (but unlikely). Sony is also releasing a 30 3.5 macro lens around the same time as the camera.
–
A new Ricoh digital hits the Internets!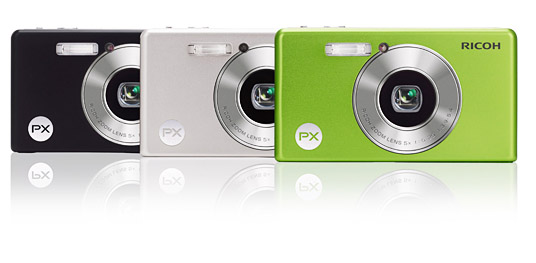 Ricoh Introduces the PX Series,
Water- and Dust-Resistant Digital Cameras
for Day-to-Day Photography, Outdoor Use, and Everything in Between
June 9, 2011?TOKYO, Japan?Ricoh Co., Ltd. (helmed by president and CEO
Shiro Kondo) today announced the release of the new PX compact digital
camera. The new design offers 5.0×, wide-angle (28 mm) and telephoto (140
mm) optical zoom in a water- and shock-resistant package that can safely be
used for hassle-free photography in a wide variety of locations and
situations.
Designed for hassle-free operation, the new RICOH PX lets users take
photographs anytime, anywhere with fast startup and settings that adapt to
subjects for optimal results. Its high-resolution, 16-million?pixel CCD
sensor and Smooth Imaging Engine IV image processing engine combine for
high-resolution, high-quality photographs.
The new, fully flat design give the new RICOH PX, ease-of-use and
portability, results in a camera that is easy to carry, while the optional
protective jacket appeals to users with a choice of color schemes that can
be matched to the camera body.
While it exhibits the traditional dedication to image quality that has been
the foundation of all RI-COH digital camera designs to date, the newly
released RICOH PX is also a compact digital camera that promises fun,
hassle-free photography. It is also dedicated to image quality that has
been the foundation of all RICOH digital camera designs to date.
Principal Features of the New RICOH PX Compact Digital Camera
1.    Designed for peace of mind and hassle-free use, anywhere, anytime;
fully dust-, water-, and shock-resistant
The RICOH PX has a JIS/IEC protection rating equivalent to IP68. It
can be used underwater for 60 minutes at a depth of 3 meters. Dirt
can be washed off, allowing users to safely take pictures anywhere
without worrying about rain, splashes from the kitchen, or dirt or
soil from the garden. Enjoy the peace of mind that comes with being
able to use your camera anytime, anywhere, including for shots of
water sports, hiking, and other outdoor scenes.
Thanks to its impact-resistant design, the camera can withstand
being dropped from heights of 1.5 meters.
The camera features a 2.7-inch, 230k-dot high-contrast LCD monitor
with a wide viewing an-gle. It also boasts an anti-fingerprint
protection coating that protects from scratches, and an
anti-reflective coating which ensures that the monitor can still be
viewed under bright outdoor lighting.
2.    Never miss another shot?whip out the RICOH PX and snap a photo
anytime, hassle-free
Whether it's a spur-of-the-moment snapshot or a carefully framed
picture, the RICOH PX can automatically optimize settings to suit
the subject, allowing even users who are unfamiliar with the camera
to take photos quickly and easily.
A fast startup time of about 1.4 seconds ensures you'll never miss
another shot.
Subject-tracking AF" is standard on all models for shots that are
always in focus even if the subject is in motion.
The fully-flat design eliminates projections to emphasize
portability for a camera that can be slipped into a pocket and used
almost anywhere. By placing the lens in the center of the camera
body, RICOH has ensured that shots won't be blocked by stray
fingers even when the camera is held in both hands.
The intuitive controls include a lever-style flash dial that allows
user to determine whether the flash is on or off, and a movie
button that starts movie recording directly with a single press.
3.    A 16-million?pixel, high-resolution CCD sensor for high-resolution
images
The 16-million?pixel, high-resolution CCD sensor ensures
high-quality results not only when pictures are enlarged, but also
when they are cropped or resized for digital zoom.
The Smooth Imaging Engine IV image processing engine produces
noise-free images even in shots taken at high sensitivities under
low light.
Image-sensor?shift image stabilization reduces blur at high zoom
ratios and in pictures taken at night or indoors under low light.
4.    28?140 mm, 5× optical zoom with super resolution (SR) zoom equivalent
to 10× optical zoom
The RICOH PX offers 5× optical zoom for focal lengths of 28 mm
(wide) to 140 mm (tele-photo).
With super resolution technology, the camera supports SR zoom
equivalent to a focal length of 280 mm with almost no drop in image
quality. Telephoto photography at zoom ratios equivalent to up to
1,344 mm (280 mm × 4.8) are available with digital zoom.
5.    Premium shot modes enhance the photographic experience
Settings can be optimized for even the most difficult subjects
simply by choosing the scene with the premium button.
A display with easy-to-understand explanations guides users to the
scene they want.
Premium shot modes and custom modes are available for up to 28
scenes (including custom modes).
A wide selection of premium shot modes is available, including
"Cooking" and "Sweets" for delicious looking shots of food, an
"Auction" mode for shots of objects being sold at auction, "Beach"
and "Snow" modes that utilize the camera's water resistance,
"Party", "Hand-held night scene", and "Miniaturize", "Toy camera",
and "Soft focus" filter effects.
Photographers can select up to five of their favorite premium modes
for easy recall.
6.    Playback options for easy viewing
By using the camera's "Favorites" feature users can rate picture
with the camera's choice of three rating levels.
The "privacy" option can be used to hide selected pictures during
playback.
Use "calendar playback" to find pictures by date.
7.    A full range of convenient options to enhance the user experience
The RICOH PX comes with a slip-proof protective jacket(available in
five colors to match the camera body ) to protect it from shocks
and scratches.
The "Two-way" straps that function as both hand- or neck-straps are
also available in five colors.
8.    Many other features add fun to your photos
The RICOH PX supports X2-series Eye-Fi SD memory cards with a
built-in wireless LAN feature that can be used to automatically
upload photos to a computer or photo-sharing ser-vice.
Users can shoot HD movies with a frame size of 1280 × 720 pixels.
An HDMI cable (avail-able separately) can be used to connect the
camera to an HDTV for high-quality display of movies and photos.
The RICOH PX comes with rechargeable battery that uses a USB
connection. The USB power adapter can be plugged into a household
power outlet or the battery can be recharged when the camera is
connected to a computer via the supplied USB cable.