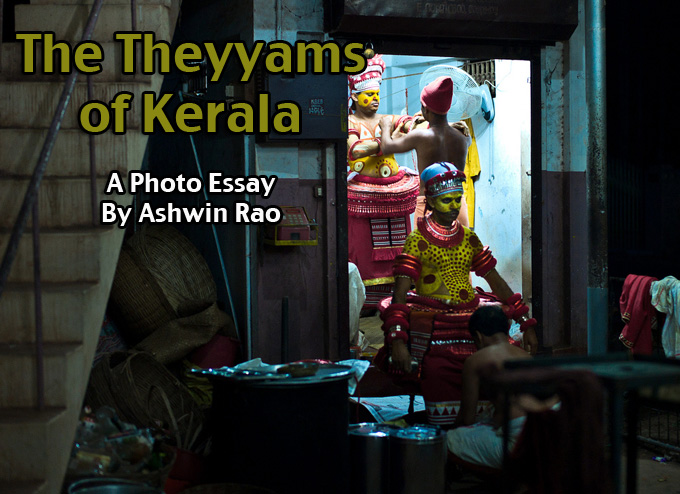 The Theyyams of Kerala – A Photo Essay
By Ashwin Rao
Hi, my friends. It's Ashwin, here with another article with a bit of a different spin. Many of my articles have centered on travel, and painted pictures of countries in broad sweeps. In the recent months, we have all seen what Steve's been able to observe and capture at Seal's wonderful concerts along the European and South American legs of his tour, and what's he's captured are stories of each concert, told intimately through the images captured behind the scenes, during the show, featuring the musician himself and the crowd reacting to Seal's art. In essence, Steve's been able to tell stories of each of these concerts, and now tell short vignettes of each of the cities he's seeing along the way…little vignettes, told through images, so to speak. In his most recent tour stop, Steve decided to tell his story through a series of black and white images, and the result is a cohesive, unique, compelling take on concert. All of this got me to thinking about telling stories, and how I might be able to tell one, and in effect, how you all may be able to tell your own stories…
And so it begins…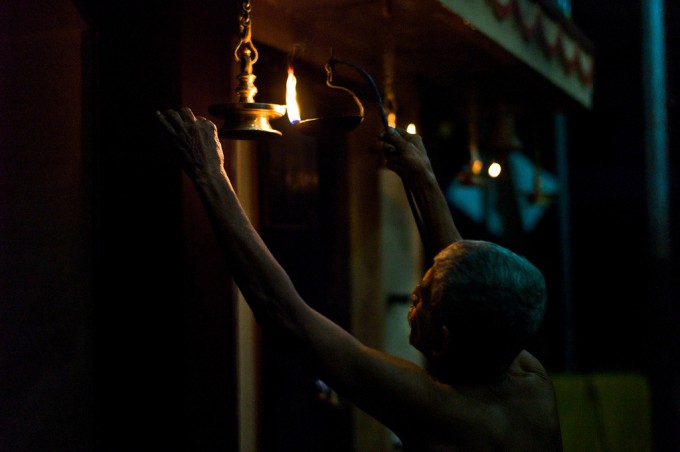 Preparation…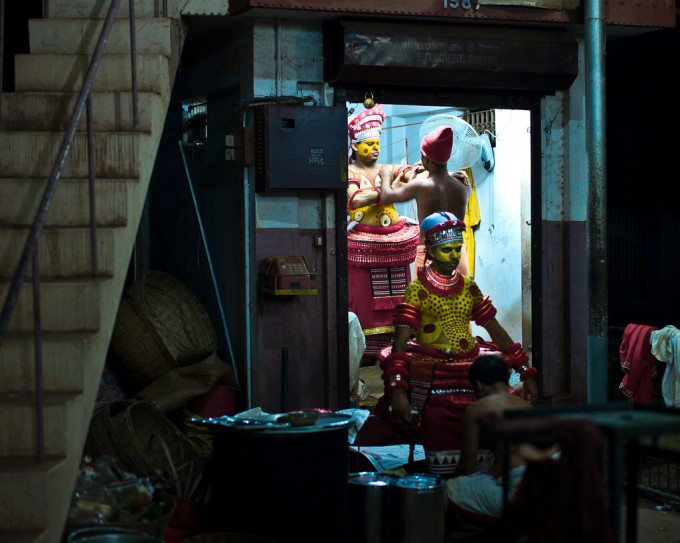 Observing the Onlooker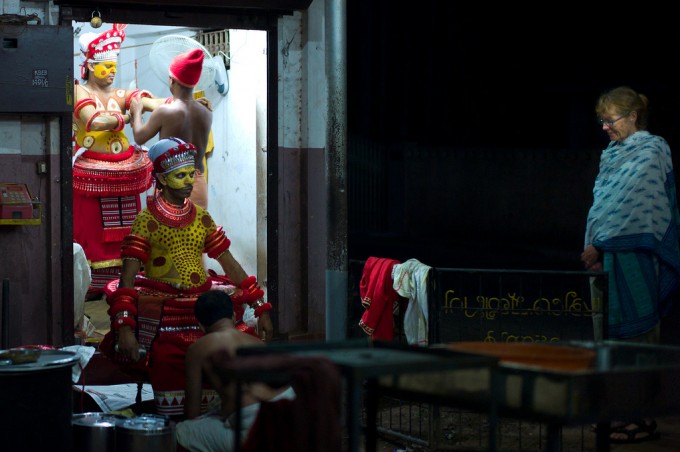 First Steps as a God…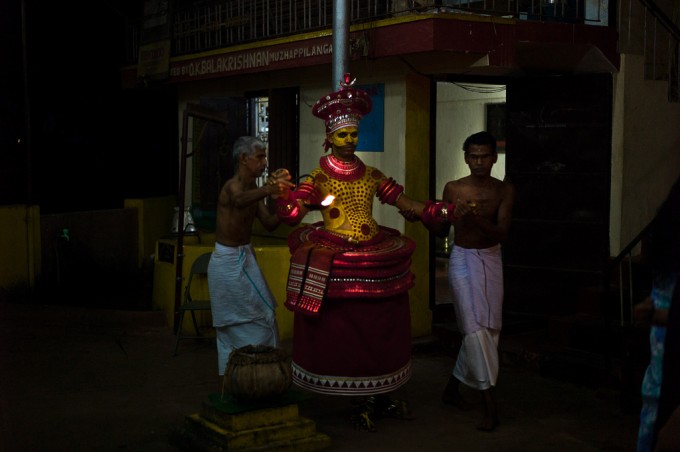 There are so many ways to imagine and capture a story. In my frequent re-visits to photos captured on my trip to India, one particular early morning adventure kept calling to me to tell it's story. The events that I aim to discuss took place in mid January, shortly after my travels took me to the coastal southwest of India, to the state of Kerala. Kerala is well known for it's beautiful people, placid beaches, and strong religious presence. Here in Kerala, Hinduism, Christianity, and Buddhism co-exist in thrive. If you ever get a chance to go to India, please put Kerala high on the list of "must-sees"…it's far away from the hustle and bustle of the large northern cities. It's a quieter, peaceful place of tranquil beauty.
The Finer Details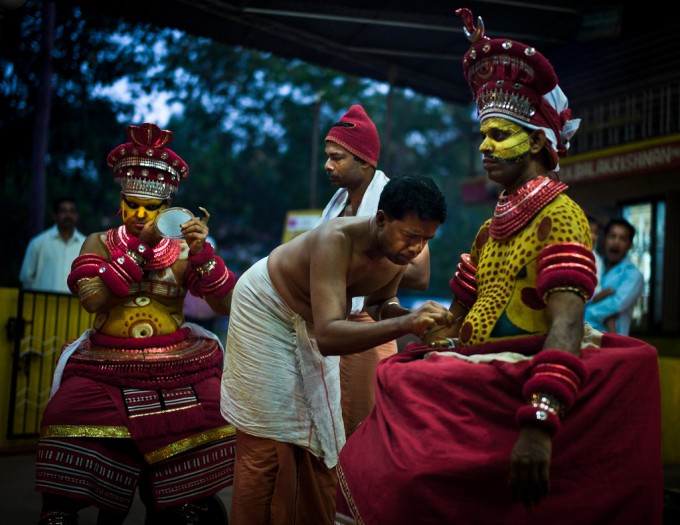 The Calm Before…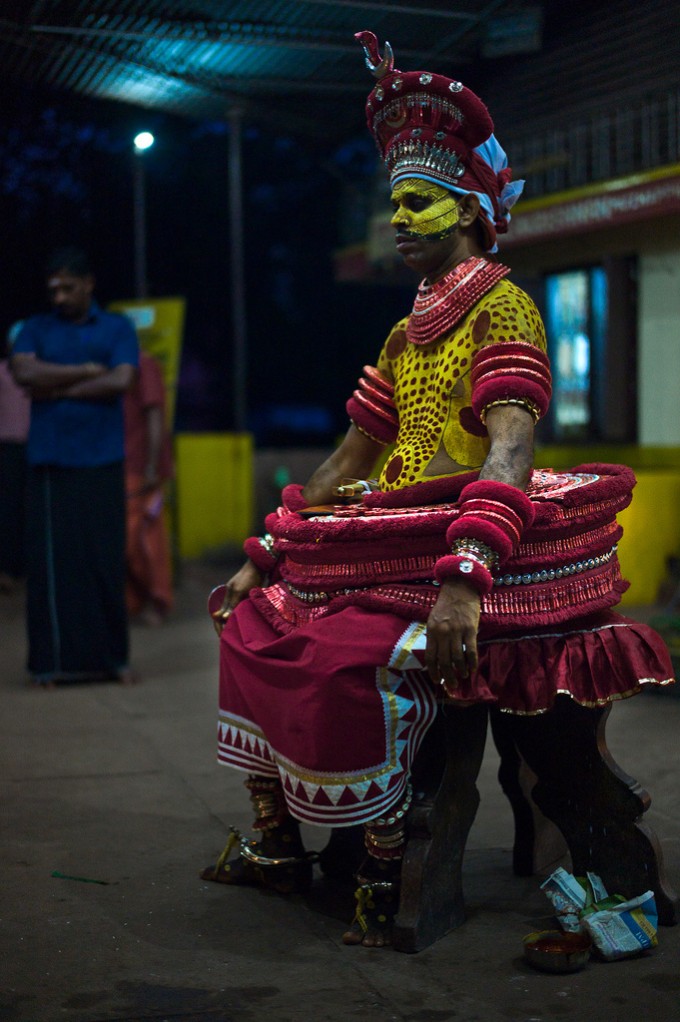 Applying the Headpiece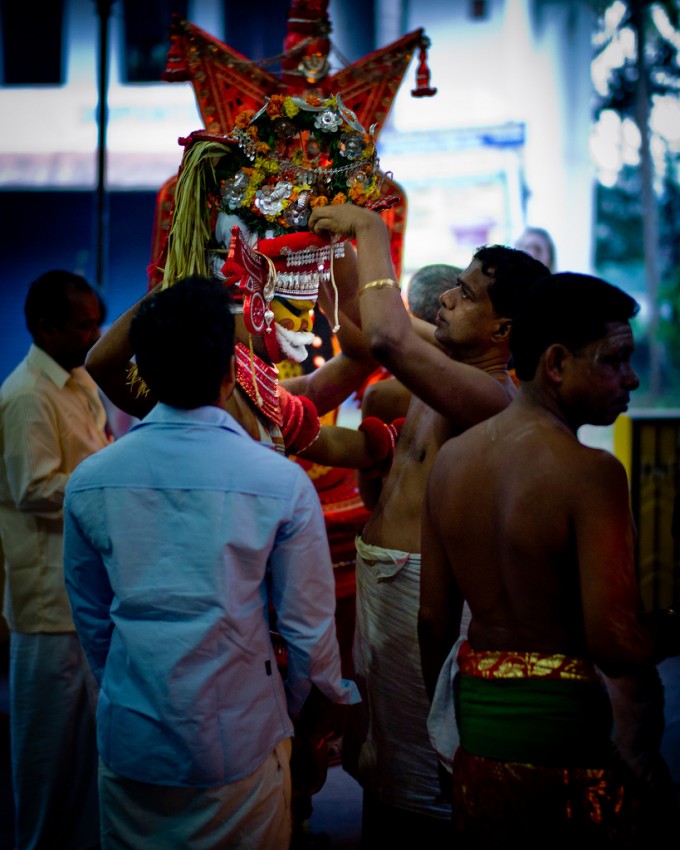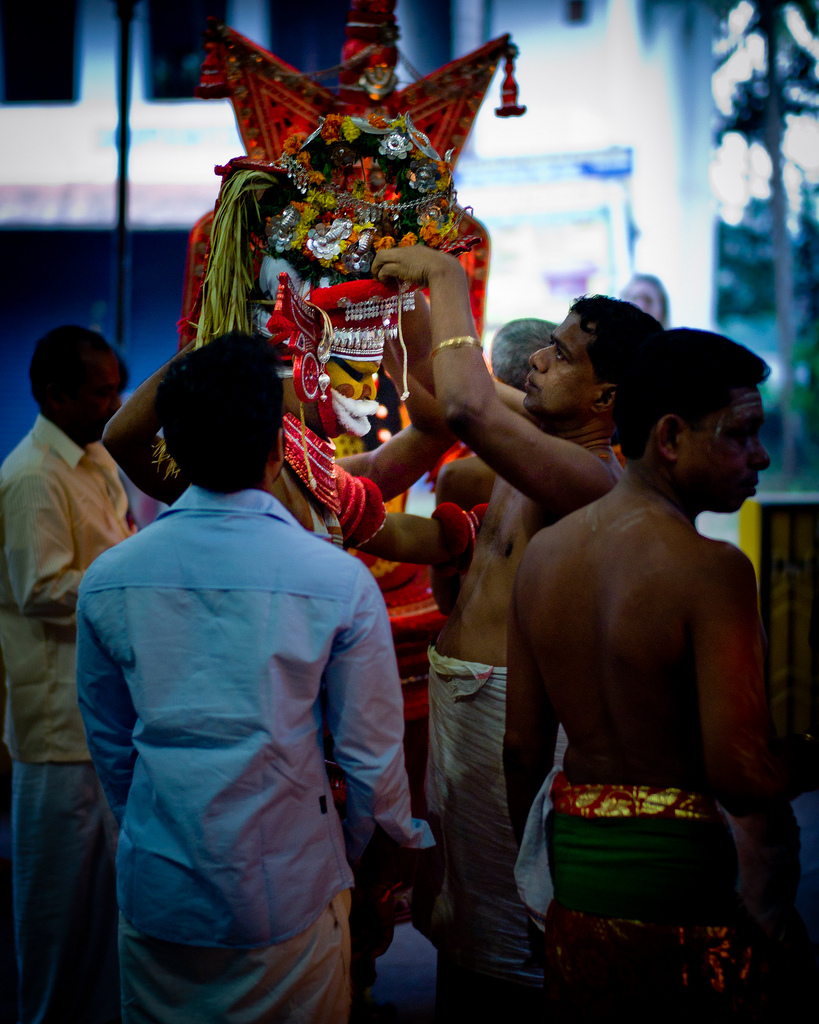 One of the most famous ceremonies that is unique to Kerala is the Theyyam, essentially a Hindu "possession" ceremony. In this performance/ritual, an individual becomes possessed and assumes the personality of a revered deity. Some Theyyams are large gatherings featuring "major deities", full of lavishly dressed figures performing elaborate dances. Other Theyyams are far more intimate affairs, occurring in roadside churches, which only are meant to be seen by local townspeople. In both cases, these ceremonies allow its attendees to have a closer bond to the gods that they worship, to seek advice, have questions answered, and dilemmas solved. The Theyyam tradition dates back several thousand years, and to this day, many Hindus seek blessings from these ceremonies.
The Ceremony Begins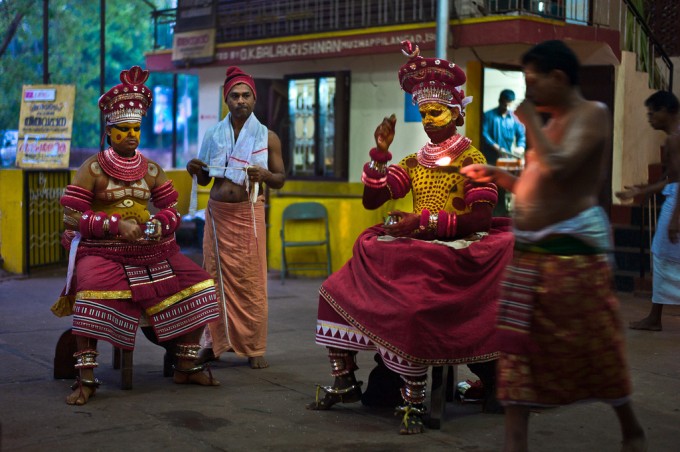 Possession….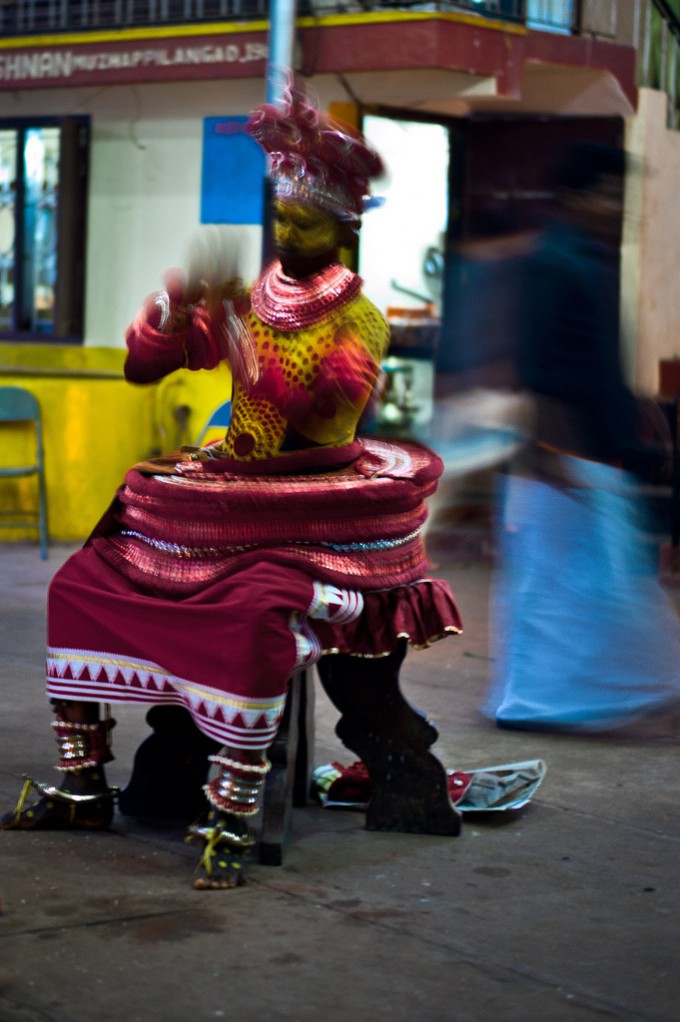 Assuming a Pose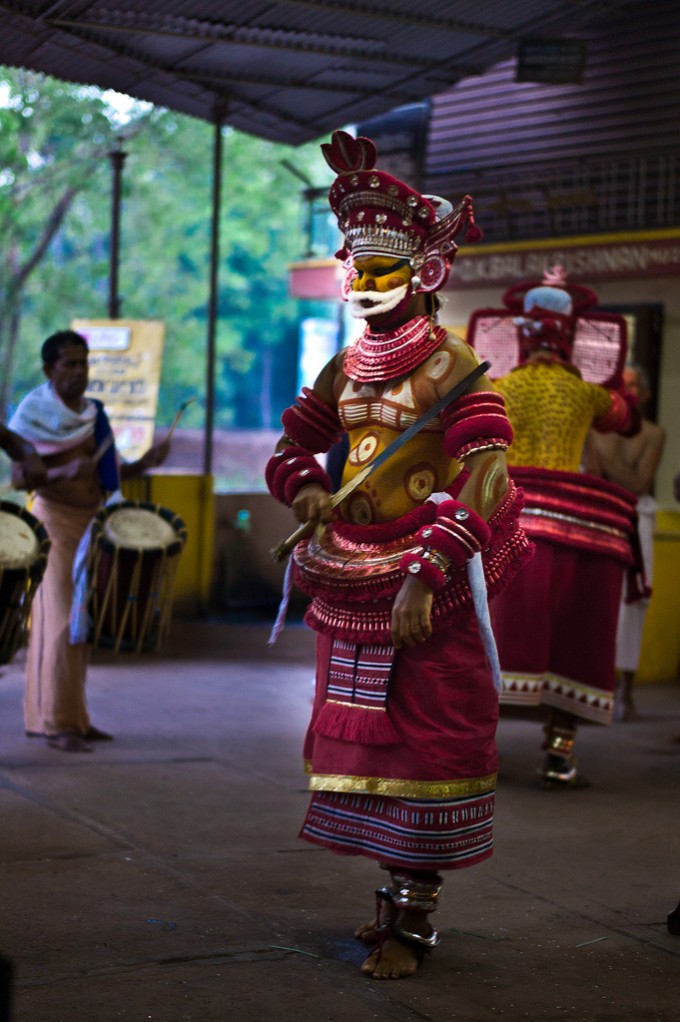 The actual performance of the Theyyam is very much similar to an elaborate dance. The anointed figures are painted elaborately, often for hours prior to the ceremony's formal beginning. There is typically no stage, nor curtain to separate the audience from the performance. In essence, the Theyyam takes place in the open space of the temple. Performances, once begun, may take several hours to carry through completion. Drumming and music often accompanies the dance and ritual songs, and many myths and legends are told as part of the performance. Throughout Kerala, there are approximately 400 different types of Theyyam, in essence 400 different ceremonies. While I travelled to the region, I had the privilege of seeing one such ceremony, which I share with you through these images and words.
Fully Adorned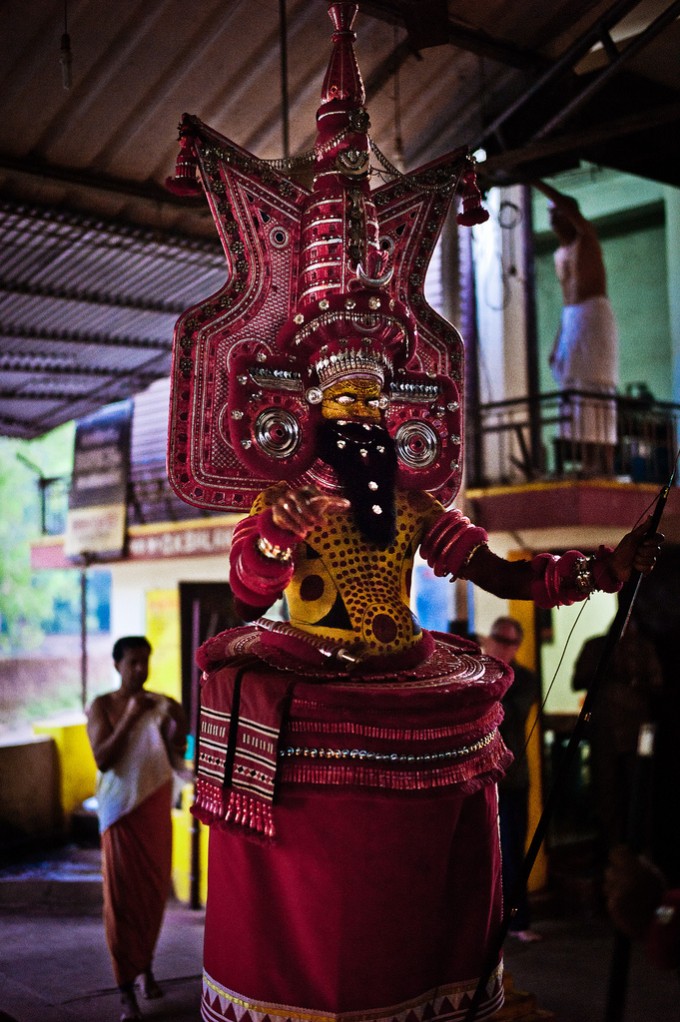 The Possession Dance Follows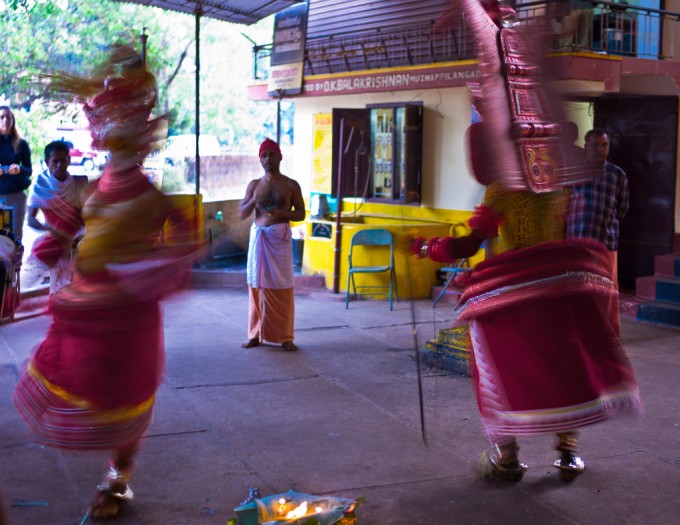 Our group left our home-stay around 4 AM to attend the ceremony. Theyyam preparation is often elaborate, and worth watching. Thus, bleary eyed and all, I hauled out my Leica M9, 35 mm f/1.4 Summilux ASPH FLE and 50 Summilux Asph, both must-haves for early morning, low light shooting. I dialed up my ISO to 800, and in some cases, 1250, in order to capture images in the low light fluorescent-lit temples and early dawn light….
The Theyyam that I attended was a smaller, more intimate affair. Other than I am my group of 5, there were approximately 10-15 local attendees who attended the ceremony, in addition to 5 or so attendants who actively participated in the ceremony.
Seeking Advice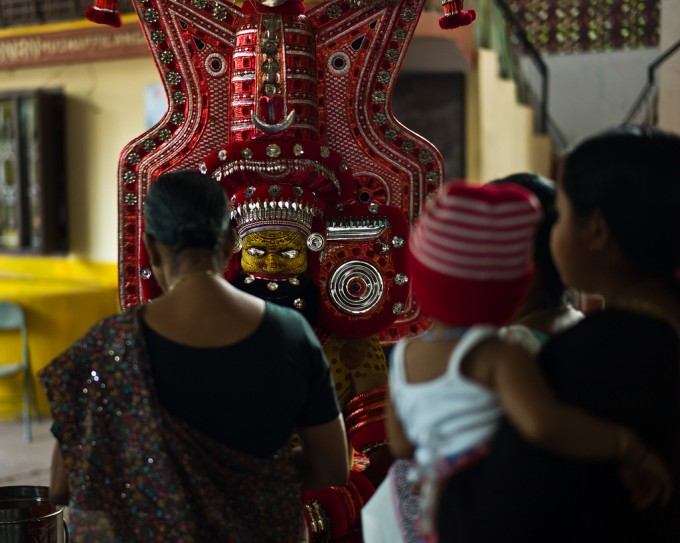 –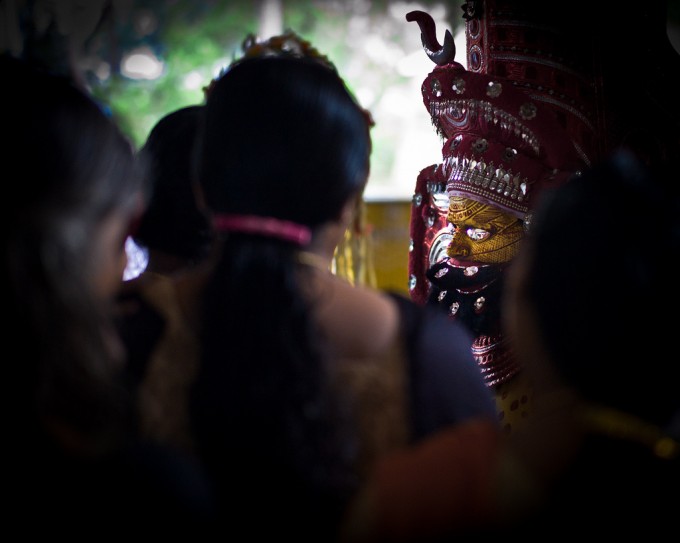 –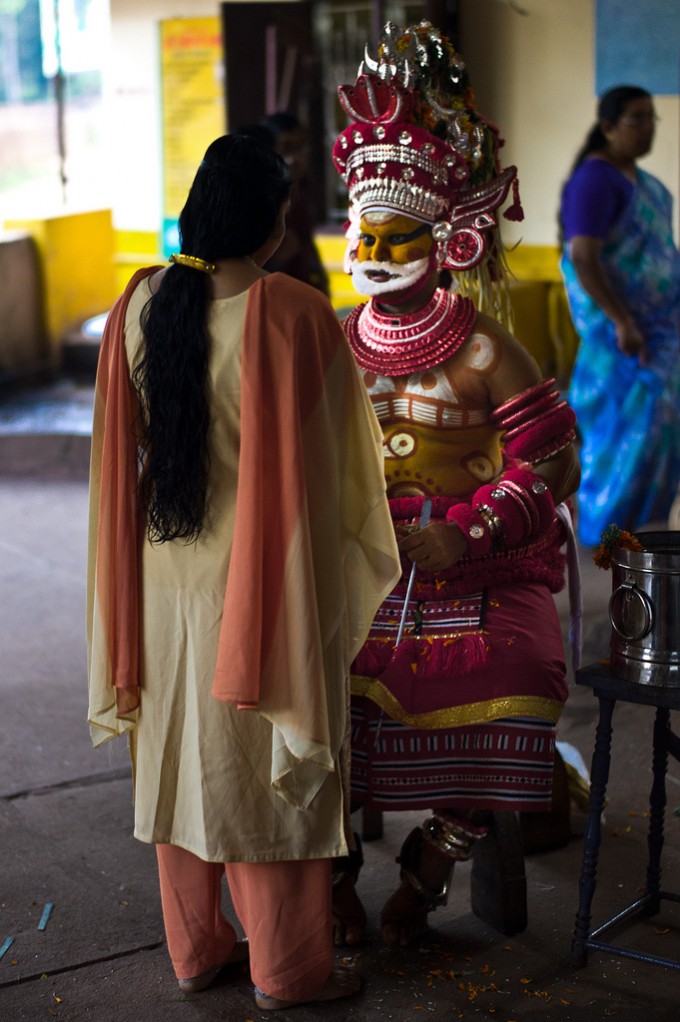 Wish Granted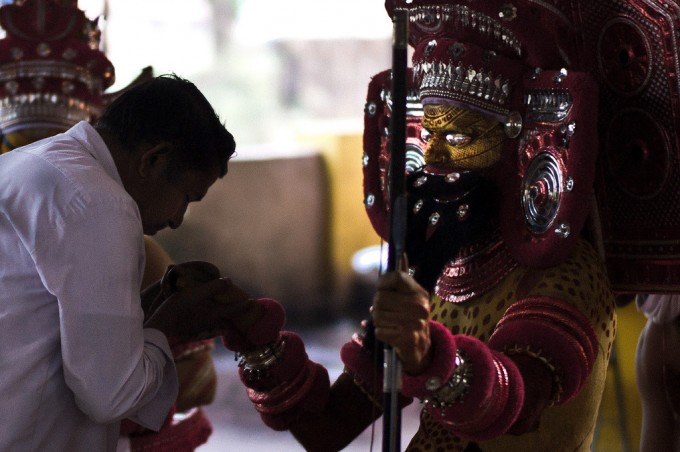 As for telling the rest of the story, I employed a strategy of processing my images consistently to attempt to achieve consistent tonality to my images. I also only employed 2 lenses to capture all of the action. Both the 35 mm and 50 mm aspherical Summilux lenses possess that critically sharp, nearly 3D Leica "aspherical" look….let's call it the "Peter Karbe" look in honor of Leica's genius lens designer….Images were all uploaded to Lightroom 3, processed using Kodachrome pre-sets, with adjustments made to insure a consistent look of slight underexposure. I did this to achieve the darkened mood and look of actually attending the ceremony.
The images walk you through the early, middle and later portions of the ceremony. In the first images, the deities of this ceremony are prepared and begin their transformation through painted form and color. Slowly, but surely, through a series of actions, they assume the identities, becoming possessed. Here, we witness the motions and gyrations that take these individuals from human to god-form, through their possession. Finally, once fully assuming the role and completing the ceremony, each deity is freed to answer the questions of the townspeople, who line up, in time honored fashion, and ask many questions…
The Line Up…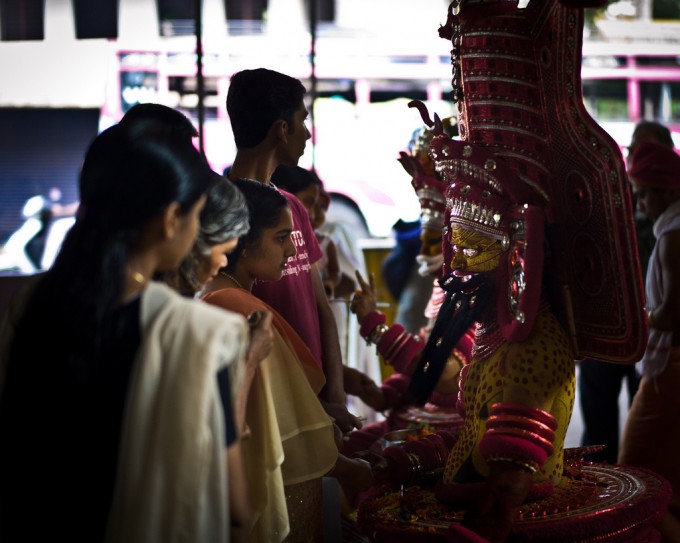 I will let the images tell the rest of the story. Hopefully, the images transport you to a place, standing next to me, where you feel that you are a small part of the action. I hope that this story, told through history, images, and recollections, inspires you to seek your own stories, in lands close to home and far away.
Thanks, as usual for reading, and I hope to see you down the road!
Best,
Ashwin