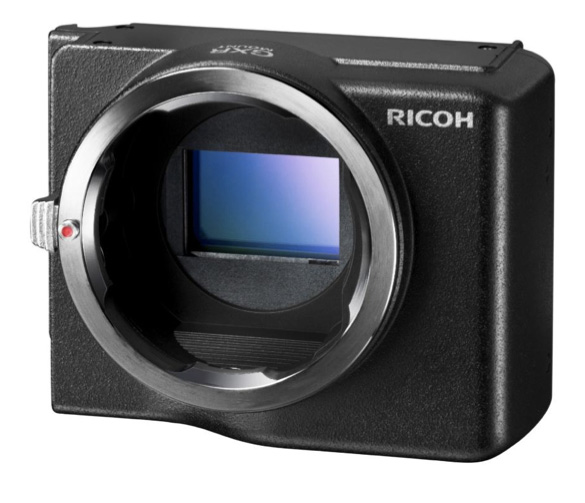 News Release
August 5, 2011
Ricoh announces GXR MOUNT A12
A GXR lens mount unit featuring an APS-C size CMOS sensor
Tokyo, Japan, August 5, 2011—Ricoh Co., Ltd. (president and CEO: Shiro Kondo) announced today the development of the new GXR MOUNT A12, a lens mount unit exclusively for the GXR interchangeable unit camera system. With a scheduled release date of September 9, 2011, the unit will be produced only in black, and with a planned monthly production volume of 3,000 units.
The GXR is a revolutionary interchangeable unit camera system in which lenses can be changed by mounting different camera units each with an integrated lens, image sensor, and image processing engine in a single unit. With its unique ability to accommodate the interchangeable units of other camera units, the system can be expanded to include a variety of devices.
The new GXR MOUNT A12 is a lens mount unit made especially for the GXR. Featuring an APS-C size CMOS sensor and a newly developed focal plane shutter, this unit provides various types of compensation and correction functions and also makes it possible to mount lenses such as Leica M lenses..
<Main features of GXR MOUNT A12>
1.The newly adopted APS-C size CMOS sensor expands possibilities for high resolution and imaging power.
・The adoption of a CMOS sensor with an optimized micro lens layout makes it possible to secure sufficient brightness levels even in the peripheral areas of the image.
・The CMOS sensor used is 23.6mm × 15.7mm (APS-C size). It enables the shooting of high-quality images with smooth tone gradations as well as high definition and low noise.
2.Compatibility with a wide variety of lenses, including Leica M mount lenses.
・Compatible with the Leica M mount, GXR MOUNT A12 can, of course, handle M-mount lenses, and if a conversion adapter is used many more types of mounts can also be
accommodated.
・A checking device is included for use in confirming whether or not your lenses are
physically compatible.
3.Diverse new functions maximize the potential of the lens itself
・In order to accommodate the photographer's own preferences by adjusting for the
distinctive characteristics of many different lenses, GXR MOUNT A12 can independently
1
correct coloring at the corners. Color shading correction is possible in a -4 to +4 range for
both R and B.
・Peripheral illumination correction is possible in a -3 to +3 range.
・A distortion correction function is provided to correct for the distortion that tends to occur in the lens periphery. The photographer can select barrel and pincushion distortion and specify ―strong,‖ ―medium,‖ or ―weak‖ for each.
・A glass optical filter was adopted and made as thin as possible. It increases periphery image quality and suppresses field curvature.
4.High-precision focusing
・A focus-assist function has been included in an effort to raise the accuracy of manual
focusing. The photographer can select from two modes and check the focus by
strengthening outlines and contrast.
・Magnifying the screen image while shooting is an effective technique for focusing. The magnification can be done not only in the center but throughout the image. In addition, the image quality for 4x and 8x magnification has been further enhanced. The area to be magnified can be moved using the directional pad.
5.Two shutter methods are featured: newly developed focal plane shutter and electronic shutter
・With the focal plane shutter, settings of 1/4000 sec. to 180 sec. are possible. ・With the electronic shutter, settings of 1/8000 sec. to 1 sec. are possible, and the
photographer can shoot without worrying about shutter noise and vibration. 6.The wide range of functionality that characterizes the GXR series
・My Settings enables a wide range of shooting functions to be specified in an instant. For the setting information storage, six patterns can now be stored in the body's My Settings Box and six patterns can be stored in the SD card. This, along with the ability to change shooting conditions, further expands the photographer's world of photo expression.
・In manual exposure mode, the shutter speeds B (bulb) and T (time) can be selected. With B, the exposure continues while the shutter release button is pressed, and with T, the shutter release button is pressed to start and end the exposure. For both B and T, the exposure is automatically ended when 180 seconds have elapsed.
・Information on the lens used can be put in the EXIF information. In the editing of My Settings information, lens name, focal length, and F value can be entered.
・New scene mode options have been added for the easy enjoyment of a wide range of photo expression. The five new options are soft focus, cross process, toy camera, miniaturize, and high contrast B&W. The photographer can create a unique image by just pressing the shutter release button.
・An electronic level utilizing an acceleration sensor.
・An image flag function to enable the quick display of specific images from among those in
the camera. Up to 20 images can be flagged.
・For the exterior, we utilized die cast magnesium, which has a strong track record in the
GR series, and we covered the surface with a corrosion-resistant "pear-skin" coating. The end result is a body with durability, light weight, and a superior feel in hand.
・It is possible to shoot 1280 × 720 pixel HD movies.
2
* Note: When shooting movies of 1280×720 size, the use of an SD/SDHC memory card with an SD speed class of Class 6 or higher is recommended.
7.New options added
・ We have created the new soft cases SC-75B and SC-75T, which are easy to open and
close. With SC-75B, it is possible to shoot with the case attached to the GXR body. <GR MOUNT A12 options>
Product
Soft Case B (lower portion and strap) Soft Case T (upper portion only)
Model SC-75B SC-75T
*All of the focal lengths in this release are converted to the equivalent values for a 35 mm film camera. *SC-75T cannot be used as a case by itself. It must be used together with SC-75B.
*SC-75B and SC-75T are new options being introduced at this time.
*Functions when the GXR body is attached.
3
Effective pixels:
Approximately 12.30 million
Image sensor:
<GXR MOUNT A12 Major Specifications>
23.6 mm × 15.7 mm CMOS sensor (total pixels: approx. 12.90 million pixels)
Zoom:
Digital zoom: 4.0x (3.6x for movies) Auto resize zoom: Approx. 5.9x (VGA)
Focus Mode:
Manual focus
Shutter speed:
Photographs: 1/4000 – 180 s, bulb, time (upper and lower limits vary according to shooting and flash modes)
Maximum flash sync shutter speed: 1/180 s
Movies: 1/2000 – 1/30 s
Exposure control:
Metering: TTL metering in multi (256-segment), center-weighted, and spot metering (TTL metering with auto exposure lock)
Mode: Aperture priority AE, manual exposure
Exposure compensation: Manual (+4.0 to -4.0 EV in increments of 1/3 EV or 1/2 EV), auto bracketing (-2 EV to +2 EV in increments of 1/3 EV or 1/2 EV)
Exposure range (auto mode, center-weighted metering):
Using standard lens (F2.5): 1.2 EV to 13.2 EV
(Exposure range for auto ISO calculated using values for ISO 100.)
ISO sensitivity (standard output sensitivity):
Auto, Auto-Hi, ISO-Lo, ISO 200, ISO 250, ISO 320, ISO 400, ISO 500, ISO 640, ISO 800, ISO 1000, ISO 1250, ISO 1600, ISO 2000, ISO 2500, ISO 3200
White balance:
Auto / Multi-P AUTO / Outdoors / Cloudy / Incandescent Lamp 1 / Incandescent Lamp 2 / Fluorescent Lamp / Manual Settings / Detail; white balance bracketing
Flash:
Method: TTL, manual, external auto (external flash GF-1 function)
Flash mode: Auto, Anti Red-eye, Flash On, Flash Synchro, Manual, Flash Off Guide number: 9.6 (ISO 200 equivalent), 6.8 (ISO 100 equivalent) Illumination angle: 24 mm (35 mm film camera equivalent)
Firing timing: 1st/2nd curtain sync
Other: External flash GF-1 compatibility
Shooting mode:
Auto / Program Shift / Aperture Priority / Shutter Priority / Manual / Scene (Movie, Portrait, Sports, Landscape, Nightscape, Skew Correction, Miniaturize, High Contrast B&W, Soft Focus, Cross Process, Toy Camera, Electronic Shutter) / My Settings
4
Continuous mode:
Number of pictures shot in Continuous (Picture Size: RAW): Noise Reduction on weak or off: 4 pictures
Noise Reduction on strong: 3 pictures
Noise Reduction on MAX: 3 pictures
Number of pictures shot in M-Cont Plus (1 set): HI (1280 × 856): 30 pictures (24 frames/sec.) LO (4288 × 2848): 15 pictures (2.2 frames/sec.)
Compression ratio *1:
FINE, NORMAL, RAW (DNG) *2
Image size (pixels):
Photographs:
16:9 4288×2416, 3456×1944
4:3 3776×2832, 3072×2304, 2592×1944, 2048×1536, 1280×960, 640×480 3:2 4288×2848, 3456×2304
1:1 2848×2848, 2304×2304
Movies:
1280×720, 640×480, 320×240
File size (approx.):
RAW:
16:9 NORMAL: 17,800 KB/frame, FINE: 19,515 KB/frame, VGA: 15,587 KB/frame
4:3 NORMAL: 18,387 KB/frame, FINE: 20,157 KB/frame, VGA: 16,124 KB/frame 3:2 NORMAL: 20,946 KB/frame, FINE: 22,967 KB/frame, VGA: 18,337 KB/frame 1:1 NORMAL: 13,991 KB/frame, FINE: 15,333 KB/frame, VGA: 12,273 KB/frame
L:
16:9 NORMAL: 2,222 KB/frame, FINE: 3,816 KB/frame
4:3 NORMAL: 2,315 KB/frame, FINE: 3,960 KB/frame 3:2 NORMAL: 2,615 KB/frame, FINE: 4,493 KB/frame 1:1 NORMAL: 1,761 KB/frame, FINE: 3,009 KB/frame M:
16:9 NORMAL: 1,475 KB/frame, FINE: 2,509 KB/frame 4:3 NORMAL: 1,574 KB/frame, FINE: 2,662 KB/frame 3:2 NORMAL: 1,744 KB/frame, FINE: 2,968 KB/frame 1:1 NORMAL: 1,186 KB/frame, FINE: 2,003 KB/frame
5M:
4:3 FINE: 2,287 KB/frame
5
3M:
4:3 FINE: 1,474 KB/frame
1M:
4:3 FINE: 812 KB/frame
VGA:
4:3 FINE: 197 KB/frame
Battery life:
Based on CIPA standard DB-90: approx. 330 shots*3
Dimensions (W × H × D):
Lens mount unit only: 79.1 mm × 60.9 mm × 40.5 mm
(according to CIPA guidelines)
When mounted on the GXR body: 120.0 mm × 70.2 mm × 45.7 mm (according to CIPA guidelines)
Flange back: 27.8 mm
Weight (approx.):
Lens mount unit only: Approx. 170 g
When mounted on camera body: Approx. 370 g (battery and SD memory card included)
Operating temperature:
0 °C to 40 °C
Operating humidity:
90% or less
Storage temperature:
–20 °C to 60 °C
*1 The compression ratios which can be set vary depending on the image size.
*2 A JPEG file is also recorded (the JPEG file may be a FINE- or NORMAL-quality file with the same dimensions as the RAW file or a VGA file 640 × 480 pixels in size). RAW files
use the standard DNG format promoted by Adobe Systems Incorporated.
*3 For reference only; actual number of shots varies greatly according to how camera is used.
We recommend that you carry spare batteries when in use for extended periods.