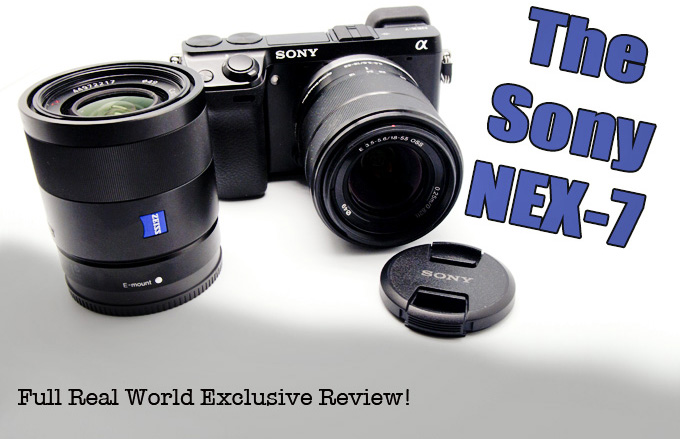 Sony NEX-7 Digital Camera Review
By Steve Huff  
follow me on Facebook, Twitter, and now Google +
Buy the NEX-7 at B&H Photo HERE!

I will start off this review of the long awaited Sony NEX-7 by saying that this is probably the hottest and most anticipated "Enthusiast" camera to be announced in a long time. No scratch that… IT IS the most anticipated camera to come along to us camera and gear nuts… well, probably EVER and for so many reasons. As I said before in a much viewed post, SONY GREW SOME BALLS and produced a camera that so many of us wanted to be made! Yes, the NEX-7 is HOT. Even more so than the super hot and hyped Fuji X100 (which I am still in love with by the way). So lucky me…I have been fortunate enough to have been shooting with the final production version of the NEX-7 for the last two weeks and have learned its ins and outs as well as its strengths and weaknesses. I've been studying it, shooting with it, and even waking up at night from nightmares of a NEX-7 floating above my bed. No joke! Guess I really get into my job and my passion huh?
I know many have been waiting for this and I am going to say it like it is in this real world use write up/review. I also want to say thanks to Sony for flying to my home to hand deliver this review unit to me along with the Zeiss 24 1.8 and Sony 50 1.8 lenses! THANK YOU SONY!
(NOTE – Due to the devastating floods in Thailand, this camera MAY be delayed in the USA but also MAY NOT BE. I spoke with Sony and they said they are still investigating if there will be a USA delay, so there might not be one. Still,  a camera release means nothing in comparison to what so many have lost in Thailand. My heart goes out to all who were affected by the flood.)
Me with the Sony NEX-7 and Zeiss 24 1.8 in my hotel in Chicago – White balance was way off in the original and still a bit off here. To be fair, the X100 had the same issue with AWB in this room.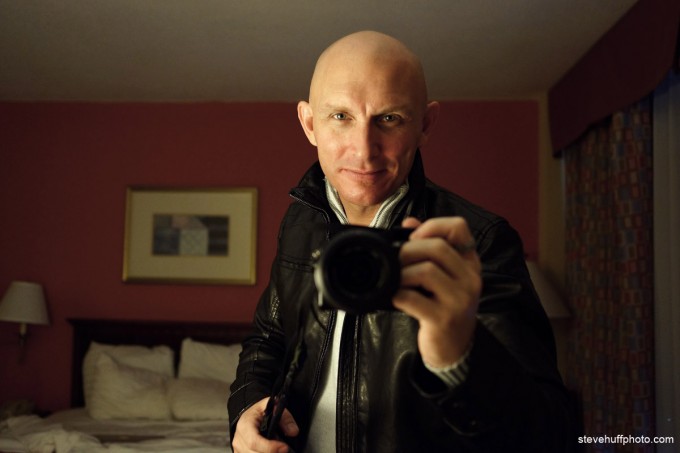 The Myth, The Hype..the NEX-7!
There has been a lot of suspense about this camera and wether it is even possible to live up to the hype that has been spread like wildfire online. Of course on paper it looks amazing. The build, the design, the features, the video capability, the new sensor, the built in OLED EVF (which is super duper uber FANTASTIC), and the tri-navi controls are everything the enthusiast market has ever wanted in a small take anywhere camera. Hell, I suspect the NEX-7 may even create more of us crazy gear heads because even when Uncle Joe sees this camera he is going to want one. It has a way of making people wonder what the hell you are shooting with, and when they learn about it they seem to want to own one for themselves. This has happened to me three times while out and about shooting with the NEX-7. BUT the real question for me while shooting was to determine if it did indeed live up to the hype and was worth shelling out $1200 for the body alone, which to be fair is $6800 less than a Leica M9-P and you can still mount your favorite Leica, Zeiss ZM and Voigtlander M mount glass on to! Hell, you can mount just about any glass to this NEX-7, which makes it pretty damn special right there.
So sit back, relax, and enjoy reading my flowing thoughts on this camera in 9,000 words. As I write I am just basically talking and spewing my thoughts about what I feel and what I have experienced while using the camera and lenses. My reviews (as most of you know) are non technical and always have been. I just write about the real world use of the camera. Its feel, its usability factor, its image quality, ease of use and speed. Also its versatility. I test what I can with what I have so what you see in this review is the result of my passion, my excitement, and my love for photography. I also am a HUGE believer in actually showing REAL photos in my reviews. It's not always easy to go out an find new things to shoot when I am always reviewing gear but I do my best. I feel seeing real photos instead of photos of walls and newspaper is a much better test of a camera.
The mirror less camera market has been interesting recently and most releases to date have been really good but lacking in one way or another. Could the NEX-7 be the "One"? Hmmmm, you never know.
Keep in mind that I will be adding to this review over the next 1-2 weeks as I shoot more with the camera. This review should be final by the end of October or 1st week of November. BTW, this camera is scheduled to ship by mid November.
Also keep in mind that most images in this review were shot as JPEGS because RAW processing is not available in lightroom, aperture, or photoshop yet. I did get a copy of the Sony software but found it painfully slow and lethargic on my iMac so I ended up using Capture One on a few samples. Capture One is supporting the NEX-7 in its latest release and it did great, even better than Sonys own software. Go figure.

First things first – A Video Overview
Below is a video showing the menu system, build, and controls. It is 18 minutes but goes over many of the features of the camera. Yes, you should watch it!
 –
So as you can see, the NEX-7 is jam packed with all kinds of goodies and features that just over a year ago would have had most of us drooling. The only thing lacking in this camera body in my opinion is IN BODY image stabilization. If it had included that, from a design, control and functional standpoint it would be perfect. As it stands now, in those three areas it is just about perfect. No complaints. So far so good, so let's get deeper into this camera.
Below:  Shot with the Sony 50 1.8 AT 1.8!! I dialed in -1 Exposure Comp using the easy Tri Navi dial system and brought out the richness of the scene. I shot this from my car on the road (was not moving). This was converted from RAW using the Sony Software (which is PAINFULLY SLOW)! But when you click on the image to see the larger version you can see some nice detail and again, this was shot at f/1.8 with the new Sony $299 50mm.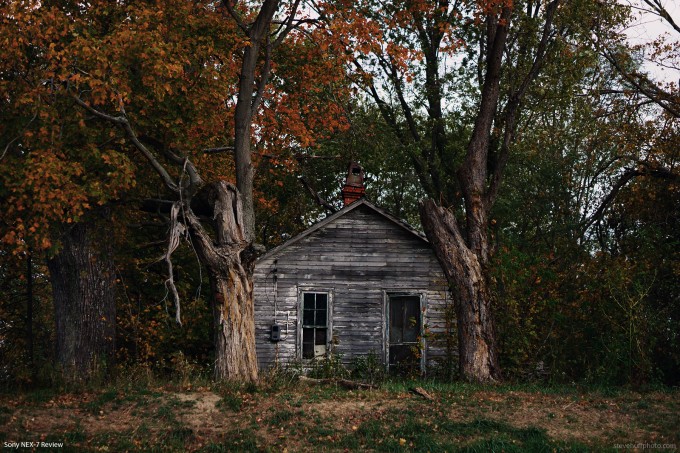 –
Below: NEX-7 with the 24 1.8 at f/2, ISO 100, JPEG. This lady called herself  "Mrs. State Fair".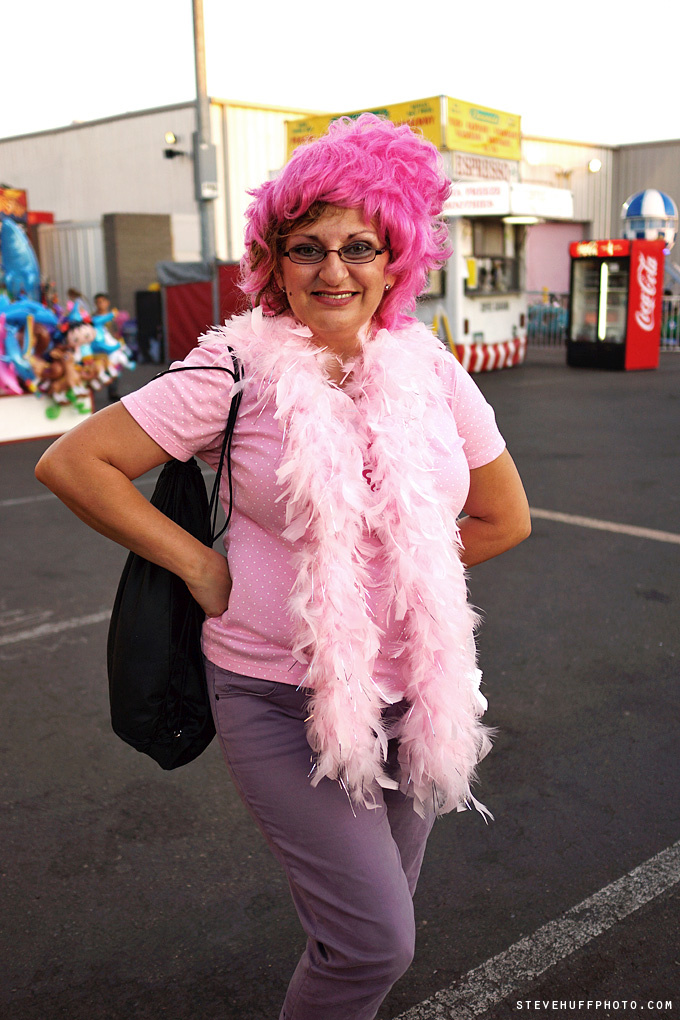 A QUICK HISTORY OF THE NEX SYSTEM
For those who may not be aware, the NEX-7 evolved from a line of cameras Sony introduced just over a year ago. The NEX series of cameras were brought out to market to compete with cameras like the Olympus E-P2/E-P3 and the Panasonic series of micro 4/3 cameras. Also, cameras like the Fuji X100 and Leica X1 are in the same kind of category due to the larger sensor and small bodies.But the Fuji and Leica, while being FANTASTIC picture taking machines do not have the ability to change lenses, and they are sort of slow with the auto focus so shooting your moving kids will be pretty tough, especially for the Leica X1. The Sony NEX line all had pretty fast AF and interchangeable lens capability, which is what MANY of the photographer hobbyists want.
Son one day, Sony decided to design and create the worlds smallest interchangeable lens camera system with a larger APS-C size sensor. They did this with the original  NEX-3 and NEX-5, I remember reading about them and then seeing them in a Sony Store in Las Vegas. I immediately bought a NEX-3 and 5.
These were pretty amazing cameras in many ways but mainly because they were the 1st TINY bodies with large sensors that also had incredible high ISO capability. Problem was… I had a love-hate relationship with the original NEX-5 due to the fact that the only lenses out for it were the 16mm pancake and the 18-55 Kit zoom. The 16mm was good but nothing to rave about and the 18-55 was large and had quite a bit of distortion. So early on with the NEX system, while super cool suffered from lack of lenses, a bad control system, and an odd menu system. The potential was there but it would take Sony a while to straighten out all of the quirks, which they soon did with firmware updates that added button customization, focus peaking, and eventually by releasing the Sony NEX-5n. The 5n brought us one step closer to an enthusiast camera but for us crazy camera nuts it wasn't enough. Good for most but for someone like me..I still wanted more control and a built in EVF. But the NEX-5n is a fantastic little MONSTER OF A CAMERA!
The NEX-7 at F/4 from outside my car window. OOC JPEG, ISO 100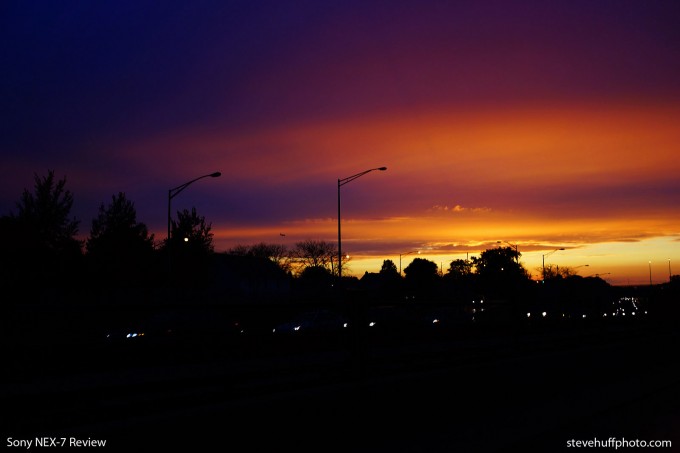 The Zeiss 24 makes for great up close portraits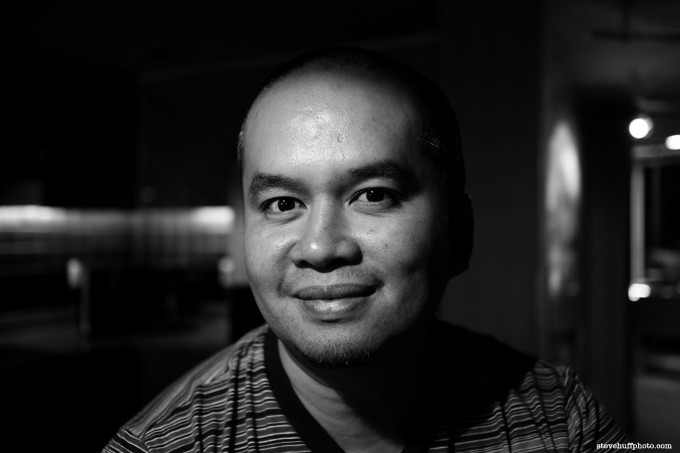 Below – ISO 160 at 1.8 with the 24 to show Bokeh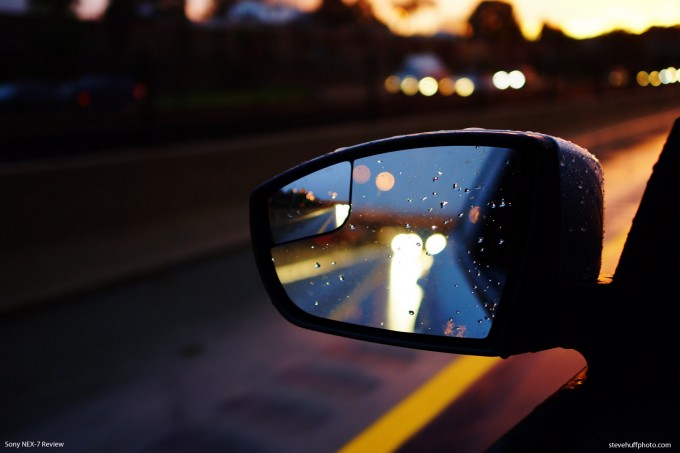 Below – 24 1.8 at F/2 and ISO 100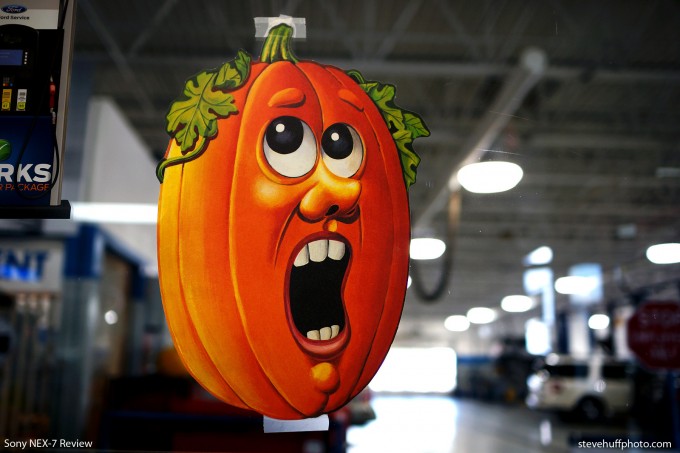 –
When the NEX-5n was made available I reviewed it immediately and that review became one of my most popular reviews ever with almost 100,000 views on its first day. This told me that not only enthusiasts are interested in these small "do it all" cameras but everyday consumers are as well. The NEX line is coming into its own and with these latest updates Sony has taken one step closer to creating the "Perfect" walk around camera system. The 5n is superb with amazing high ISO capability and a TINY body that can take great photos AND video. The only negative with that camera is the size may be a but TOO small, and the controls are not the best due to the lack of buttons. There are also the lenses, which are huge when compared to the size of the body and this seems to be a big complaint among many readers here. On the 5/5n the lenses do seem large.
So Sony decided to listen to photographers who wanted a solid body with manual control dials and a built in EVF. When Sony designed the "7" they designed it for you, me and all of us who enjoy not only photography but also quality and capable equipment. We are "The Enthusiast" and the NEX-7 is sort of like the "Bionic NEX" – they made  the 5n better, faster and stronger 🙂
After just over a year of pumping out the NEX line, Sony now has announced the NEX-7 and there are currently 7 lenses available for the system. They now have the 16 2.8, 18-55 Zoom, Zeiss 24 1.8, 30 Macro, 50 1.8, 18-200 and 55-210 zoom lens. With past complaints about lack of lenses, I think those worries can start to fade because the new 24 1.8 and 50 1.8 are REALLY REALLY good lenses. Also, this camera can mount almost any lens via adapters and when using old manual glass the focus peaking feature kicks some serious booty! The lens size issue has not been addressed but I was told by Sony they are WELL AWARE of this and also told me it is not really possible to create small tiny lenses for a sensor of this size, but they are working on it and trying. Not sure how Fuji did it with the X100, but to be fair, the X100 lens is a bit soft wide open so maybe the Zeiss 24 1.8 is better? Also, Fuji only had to concentrate on ONE Lens for the X100 as it did not need to be compatible with other lenses and to be fair, the X100 lens is just as fat as the Zeiss 24 but the Zeiss is longer, and also a little faster at 1.8 vs 2.
The Zeiss 24 1.8 QUICKLY became my favorite lens on the NEX-7. While it is not clinicaly  sharp, it has character… and to me, that is way more important that hyper sharpness. Remember, click images for larger and better versions. The Zeiss Sonnar has a "smooth" character.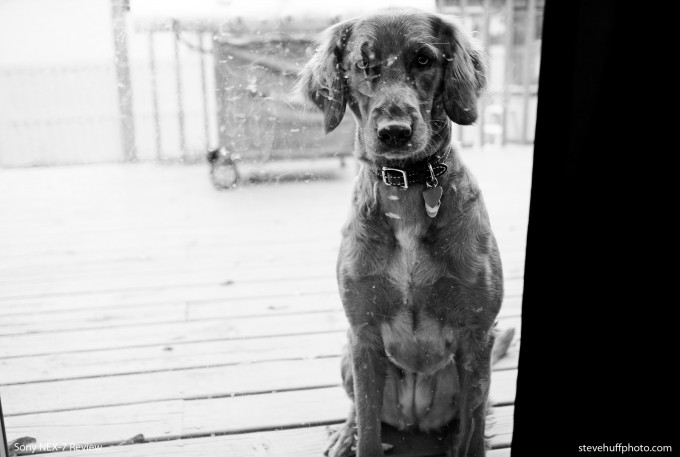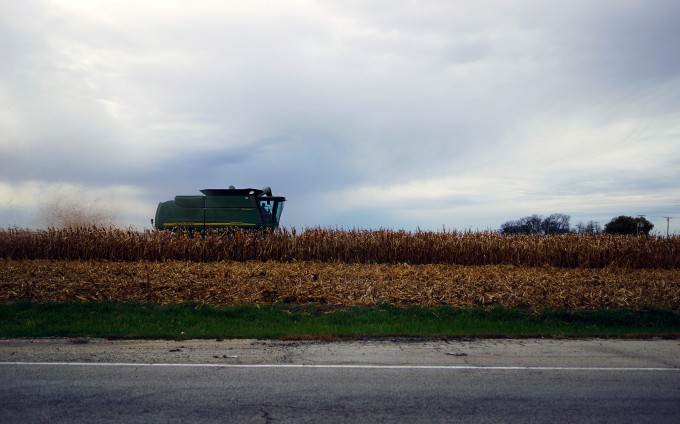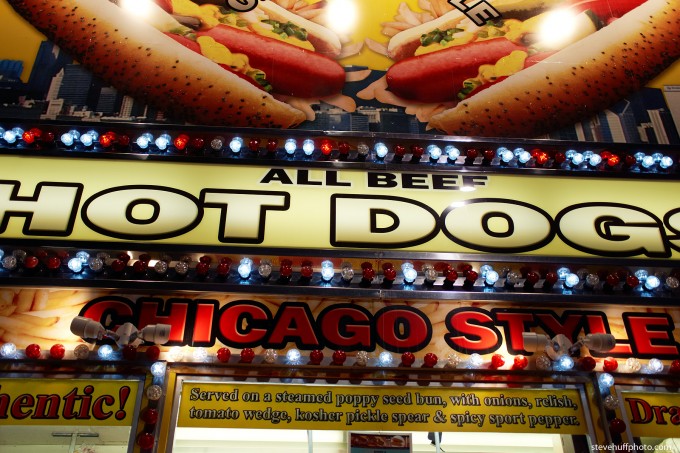 So what are the main features of the NEX-7?
The "7" is jam packed full of features and no one in their right mind could complain about everything Sony packs in this little body. Take a look at all of the good stuff below:
DSLR Quality in Your Pocket

(It would NOT fit in your pocket with a lens attached)

Here's the same APS-C sensor size as a DSLR, with higher resolution than most DSLRs and the interchangeable lenses that make DSLRs so attractive. Yet the camera is about half the size and weight of a typical DSLR camera. Removing the conventional mirror box and viewfinder makes it possible
24.3Mp Resolution

You get incredible detail and gorgeous enlargements thanks to a 24.3 megapixel sensor. It's the highest resolution among pocket cameras as of August 2011
World's First OLED Viewfinder

There's never been anything quite like the Tru-Finder OLED electronic viewfinder. For size, speed and brightness even after sunset, this is a gem. This eye-level, through-the-lens, viewfinder begins with 2359K dots for amazing resolution and high contrast ratio for incredible depth. OLED reduces motion blur to a bare minimum. You can also see the results of camera adjustments in real time with superb color and detail
Up to 10 Frames Per Second Shooting

Capture the decisive moment in sports and get the ideal baby photo. Up to 10 fps continuous shooting at full 24.3Mp resolution with exposure and focus fixed at the first frame. Standard continuous shooting at up to 2.5 fps
DSLR-Class APS-C Image Sensor

Sensor size is the key to picture quality. The APS-C class sensor provides gorgeous imaging with 58% more area than Micro Four-Thirds sensors and an amazing 13 times the area of a point & shoot image sensor
Full HD Movies at 60p/60i/24p

Capture HD Movies in your choice of super-smooth 60p, standard 60i or cinematic 24p, all at Full HD 1920 x 1080 resolution. AVCHD codec delivers stunning picture quality. MP4 codec offers smaller files for easier upload to the web
HD Movies with Full Manual Control

Now you don't need to surrender control when you shoot HD movies. Enjoy the full expressive potential of Program, Shutter Priority, Aperture Priority or Manual (P/A/S/M) control in HD movie mode
Tri-Navi Manual Control

Perfect for experienced shooters, Tri-Navi control gives you three separate control dials for direct, hands-on access to three settings at a time. As just one example, the dials can set aperture, exposure compensation and ISO
Built-In Pop-Up Flash

Enjoy the convenience of flash photography everywhere you go. Guide Number 6
Hotshoe for Alpha System Flashes

Take your photography even further with access to the entire range of Sony Alpha system flashes and flash accessories
Accepts A Mount Lenses Via Adapters

Both the LA-EA1 and EA2 adapters (sold separately) allow you to attach the full range of Sony A mount lenses
Phase Detect AF with Adapter

The LA-EA2 lens mount adaptor (sold separately) is the world's first with Sony's award-winning Translucent Mirror Technology. This provides super-fast and accurate Phase Detection AF when used with Sony A mount lenses
Tiltable 3.0″ LCD

Sony's 3.0″ Xtra Fine LCD monitor has 921K dots for superb resolution. The TruBlack screen includes a special resin layer to suppress internal reflections, increasing contrast compared to conventional LCDs. Sunny Weather mode boosts visibility even further. Tilts down 45° and up 80° to frame high- and low-angle shots that would otherwise be hit-or-miss
Object Tracking AF

Locks onto a specified object and maintains focus even as the subject moves. Unpredictable subjects stay in focus even while zooming. You can concentrate on composition without worrying about focus
World's Shortest Release Time Lag

Helps ensure that the image you want is the image you get. Once auto focus occurs, release time lag is the delay between fully pressing the shutter release and when the camera actually starts taking the picture. Long lag makes it harder to capture fast-moving objects. The Sony NEX-7 boasts the shortest release time in the world (as of August 2011) at only 0.02 seconds
Accepts Sony E-Mount Lenses

Compatible with Sony's expanded line of E Mount lenses. These smaller, lighter lenses are specifically designed for Alpha compact interchangeable lens cameras. Opens up a world of creative options
Peaking Function

Manual focus becomes much easier because peaking highlights the edges that are in focus in your choice of three colors (white, red, or yellow). This is especially helpful during macro or portrait photography where your focus setting can make or break your shot
3D Sweep Panorama Mode

Capture vast scenic vistas and 16:9 shots in spectacular 3D. As you sweep across the panorama, the camera records separate right-eye and left-eye images that make landscapes come alive on your 3D television7. Records both JPEG and MPO file formats
Sweep Panorama Mode

Capture expansive landscapes automatically. Press the shutter, sweep vertically or horizontally. The camera does the rest, continuously shooting images and stitching them together
6-Image Layering

Leverages the fast BIONZ processor to capture six images in a fraction of a second, and then combine the data. The result is an incredible single image that controls blur in Anti-Motion Blur mode or gets cleaner, sharper nighttime pictures in Hand-held Twilight mode
Auto HDR

High Dynamic Range (HDR) photography captures more scene contrast than a single exposure can handle by combining the best highlight detail from one shot and the best shadow detail from another for one incredible shot
P/A/S/M Modes for Video and Stills

Enjoy a full range of controls for video and still shooting from the beginner's iAUTO mode to P/A/S/M: Program, Aperture Priority, Shutter Priority and Manual. On-screen prompts help you refine your skills, build your confidence and exercise greater creative control
Intelligent Auto Focus

Pre-focuses as you compose the shot, further reducing focusing time to a bare minimum
iAUTO Mode

Unifies and simplifies Sony intelligent technologies. Takes advantage of Intelligent Scene Recognition, Face Detection technology, and Optical SteadyShot image stabilization without leaving auto mode so you always get the best shot
BIONZ Image Processor

The brain of the camera is a Sony's BIONZ image processor substantially upgraded for the demands of 24.3 megapixel photography. Chroma noise reduction delivers high-resolution, low-noise photos even at ISO 16000 sensitivity. Also enables fast processing for up to 10 fps continuous shooting of data-intensive 24.3Mp images, 2D/3D Sweep Panorama modes and 6-image layering
Dynamic Range Optimizer (DRO)

Improves results with backlit subjects and recovers details hidden in shadows. Settings include Auto, Level with a choice of five operating levels and Off
Accepts Non-Sony Lenses Via Adapter

You can use the camera with a universe of lenses from Canon, Nikon, Leica, Olympus and others. The success of Sony's NEX series, combined with the ultra-short 18mm flange back distance has inspired third-party manufacturers to provide lens adaptors. In addition, Sony has disclosed the E Mount specification to Carl Zeiss, Cosina, Sigma and Tamron
25-Point Auto Focus

25 sensors cover a very wide area of the scene, for accurate focusing even when the subject is far from the center of the frame
HDMI Output

Enjoy HD movies and stunning still images on a compatible HDTV. The camera includes an HDMI output
Stamina Battery Power for Up to 400 Shots

Take up to 400 shots on a single charge with Sony lithium ion Stamina battery power (using LCD monitor). Sony's InfoLITHIUM battery system enables you to see the percent of power remaining, so you can keep shooting in confidence
Sony Exmor CMOS Sensor

Sony Exmor technology uses column-parallel A/D converters for high resolution and high frame rates. Double noise reduction minimizes image noise, even in low light
11 Picture Effect Modes

Discover innovative ways to make your images and videos pop. These include Posterization, Pop Color, Retro Photo, Partial Color, Soft High-key, High Contrast Monochrome, Toy Camera, Soft Focus, HDR Painting, Rich-tone Monochrome, and Miniature
Ultrasonic Anti-Dust System

Dust on the image sensor leads to blemishes in the picture. To protect the sensor, Sony incorporates an advanced ultrasonic system, which effectively shakes dust off the sensor surface
–
The Zeiss 24 at 1.8, OOC JPEG, 1/60s, +.3 EC – Window light in a dark room.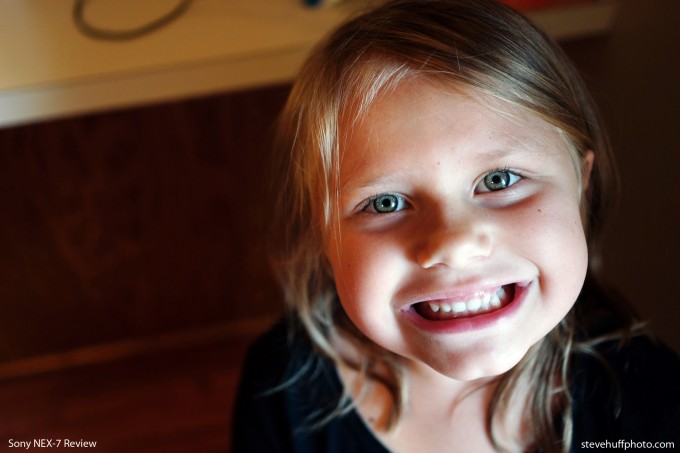 The GREAT things about the NEX-7  – Shooting with the NEX-7 – The build, feel, and usability factor..and best features.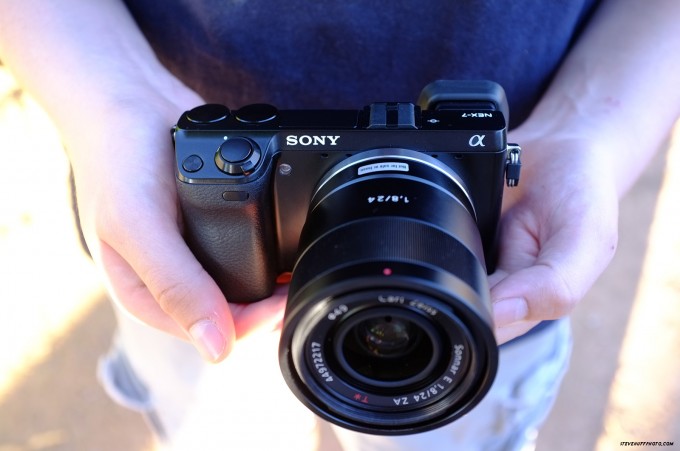 Many of you have been waiting and waiting for the release of this camera because on paper it seems just about perfect for so many of us. The Size, the build, the sensor, etc. On paper I have to say that the NEX-7 and Zeiss 24 1.8 actually is the PERFECT camera for taking with you wherever you go. When I got a hold of it I was crazy excited and I told myself I would be shooting with it every day for two weeks to learn it and to shoot as much as I can with it.
When I hold the camera it feels REALLY good in the hand. The nice grip protrudes perfectly for my hands and the Tri-Navi dials are incredible in real life use. The Tri-Navi system consists of three dials. The top of the camera has two dials and the dial to the left controls my Aperture and the right dial controls the Exposure Compensation (when I am shooting in "A" mode), which you can see the effect of in real time on the LCD of OLED EVF. The control wheel on the rear, which is the 3rd control in the Tri-Navi system controls ISO. Just a quick flick of the wheel at any time and you can change the ISO as easy as you change your socks. Well, even easier actually. The Tri-Navi control system make all the difference in the world and is reason enough to buy the 7 over the 5n if you have the budget. It is that good. There is a demo of this in the video above if you did not watch it yet.
The beautiful EVF!  The OLED masterpiece of an electronic viewfinder that is in this camera is splendid! The clarity, the color, and the contrast is all TOP NOTCH and makes the Olympus VF-3 or Ricoh EVF look like an old 70's TV playing a VHS tape. The OLED in the NEX-7 is more like a modern HDTV and that is a good thing. In fact, it is so good I think I am done with cameras that do not have a built in VF. Shooting the Fuji X100 and now the NEX-7 made me feel that way and there is no excuse for Olympus to NOT have a built in EVF. It just makes shooting so much more natural sometimes AND when there is bright full sun, it makes it MUCH easier to see what you are shooting. This EVF to me is the best I have ever shot with. Period. It is the same as the one in the external EVF they sell for the 5N but feels great being built in to the body. There is no swivel feature like the external but it works well.
The 3″ 920k  swivel LCD on the back is big and looks great. Its swivel mechanism is a bit different than the one on the NEX-5n and is super easy to swivel out and up and down. The shutter button and on off switch is perfectly placed and the shutter SOUND is MUCH better than the old "5". The 7 sounds much like  the new 5n due to it's new Electronic First Curtain Shutter. Only one shutter movement is required now so instead of a click and thunk, we here a smooth and quick "snick". Much improved but if you like the old snick and clunk you can always turn it back on in the camera settings menu, LOL. I demo this in the video at the top of the page.
Also, this camera has the WORLDS SHORTEST SHUTTER LAG, and this is AMAZINGLY cool. When you press the shutter on the NEX-7, it is going to fire instantly and you will not miss your shot. Many cams have longer shutter lag which means if you are shooting something coming into the frame, and it is fast, you may miss it with other cams due to the lag (time difference between when you press the shutter and when the picture is actually taken). The NEX-7 is excellent in this area at only 0.02 seconds!
The weight. Even with the Zeiss 24 1.8 mounted the camera was still pretty light but at the same time it felt solid. The 24 is about the same size as the kit 18-55 zoom lens but maybe a tad lighter. So overall, in the build, handling, and usability department this camera gets a super high score and if I were doing a 1-10 kind of deal, it would get an 9 in this area. Usability and control is MUCH improved over the 5n. So much so, it is like a totally different animal (and it is). Even the HD video is amazing and I found no clicking noises while testing the video recording. If I had to say something I would say that the Zeiss lens..it would have been great if it were a bit smaller but overall it has a nice feel and balance on the camera. Does not feel awkward at all.
[ad#Adsense Blog Sq Embed Image]
The Zeiss 24 wide open (1st pic) and at 2.2 (2nd pic) – from JPEG – May have been set to VIVID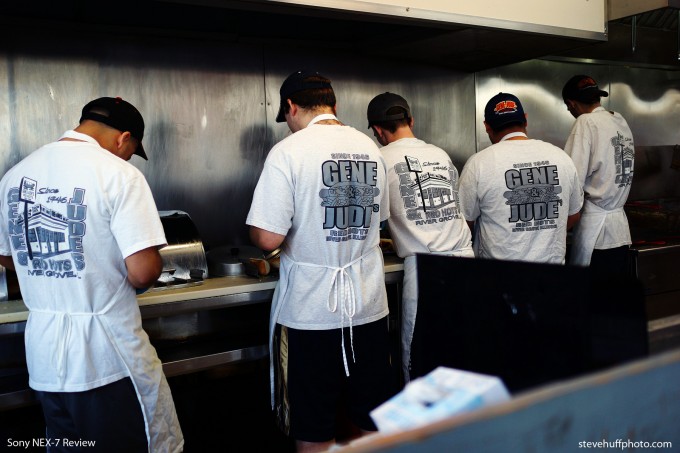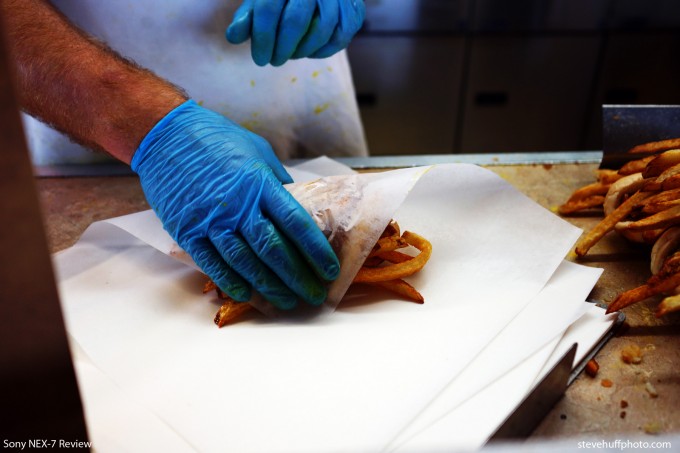 The GOOD things – AF speed & HIGH ISO Noise levels & My thoughts on the color and sensor
HIGH ISO NOISE. The big worry from many of you who were waiting for this camera is the high ISO capabilities and noise. Many feared that with so many megapixels (24) being squeezed on to the sensor that the low light/high ISO noise would be worse than that of the NEX-5n. Well, after shooting at all ISO's with this camera I can say that it is a little worse at high ISO when in low light than the 5n. This is to be expected but at the same time, shooting at up to 1600 in low light is acceptable and ISO 3200 is easily usable. I was using the camera with Noise Reduction set to WEAK as I hate when the NR is high and smears the details. Overall, the 7 is just about what I expected when it came to high ISO noise performance. Still excellent but not as good as the 5n. But  me, I have been happy with the M9 high ISO of 2500 and feel most of us top out at 1600 anyway. In this regard the NEX-7 is great.
Keep in mind that with ANY camera when you shoot at high ISO in LOW light you will get much more noise than if you shot it in decent or good light at the same ISO. The next there samples below were indoors with no lights on in the room and using the 24 1.8 at 1.8 and ISO 1600.
The following two photos were shot indoor in low light at ISO 1600 and shot as JPEGS. Do you see noise? Yes… but remember, there were no lights on and the curtains were closed so you will see noise even with the 5n or most other cameras at 1600.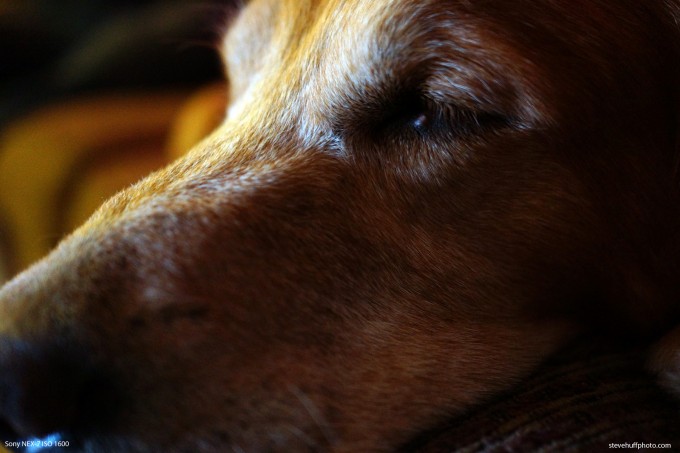 –
Super High ISO – Is it even usable? 
The NEX-7 is a camera that can go as high as ISO 16,000 but for the most part, when cameras include these crazy ISO's they are useless. The only camera I have shot with that had usable ISO past 6400 is the Nikon D3s, and I am still not sure how they did it as no one else has matched them to date. I went out to my front yard one late night and set the NEX-7 to ISO 16,000 and snapped a pic of a tree. You can click the image below to see a larger version with a 100% crop embedded. Now keep in mind, this was NIGHT time and the only light was the two light bulbs on my garage. So, it actually did better than I thought and if you were in a pinch and needed ISO 16,000 you COULD use it if your end result was the web or a small print.
Click the image below to see a larger version and a 100% crop from this ISO 16,000 image…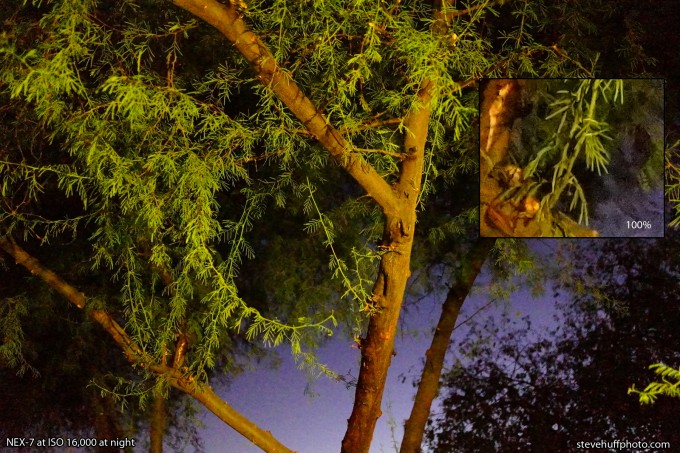 –
…and what review would be complete without some high ISO crops? The 1st image was shot at 1600.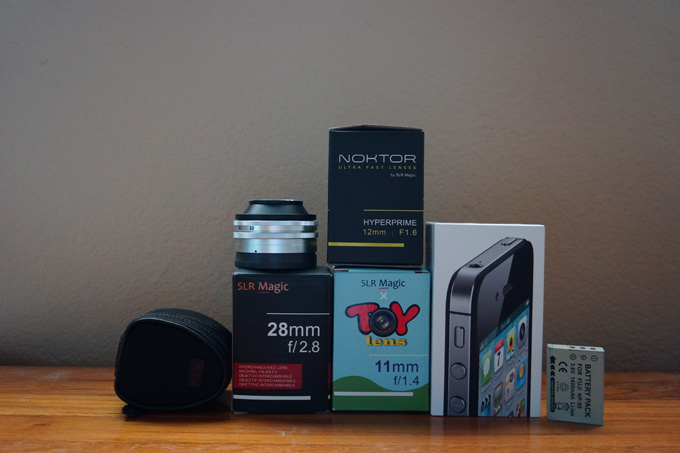 –

–
So the NEX-7 may not be as clean as the NEX-5n at higher ISO (you can see my high ISO 5n tests HERE) but it is still as good as most will ever need. It could have been better if Sony stuck with the 5n sensor, but again, I have no complaints on the high ISO as I rarely go above 1600, and 3200 if needed. Both of which is acceptable for web or print from the NEX-7. See a 6400 ISO shot below resized  to 1200 pixels wide. Not bad, and there was no light source. This was in my office with a window ABOVE the boxes and the blinds were closed. No lights were on in the room.
Here is the ISO 6400 shot resized to 1200 pixels wide, JPEG, NR set to WEAK.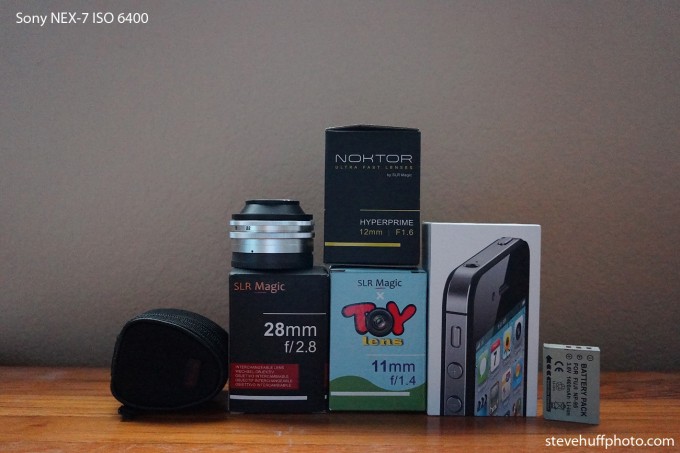 –
More….ISO 3200 processed from RAW using Capture One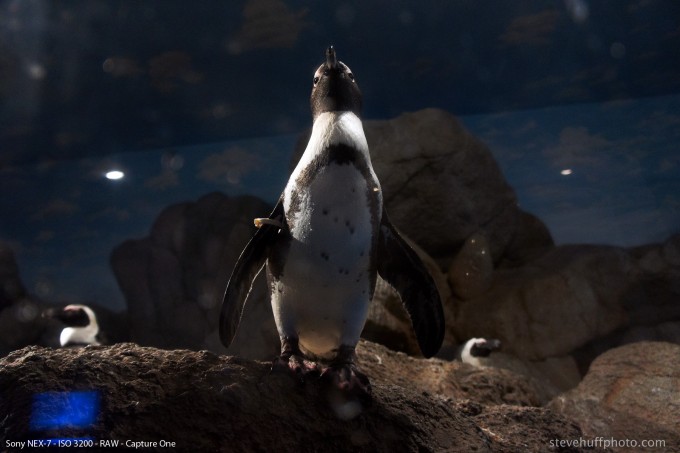 –
And two of the same fish – One with the NEX-7 and Kit Zoom at ISO 1600, the 2nd with the Olympus E-P3 and SLR Magic 12mm at ISO 1600
1st – NEX-7, 18-55 at ISO 1600 – Click for larger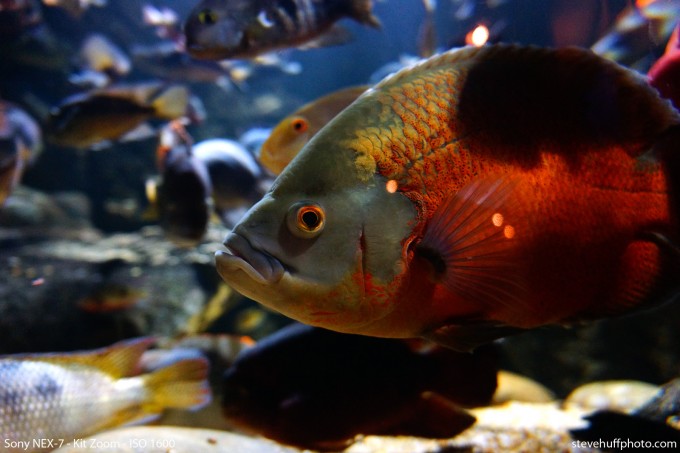 –
and the Olympus E-P3 at ISO 1600 with the 12mm SLR Magic lens…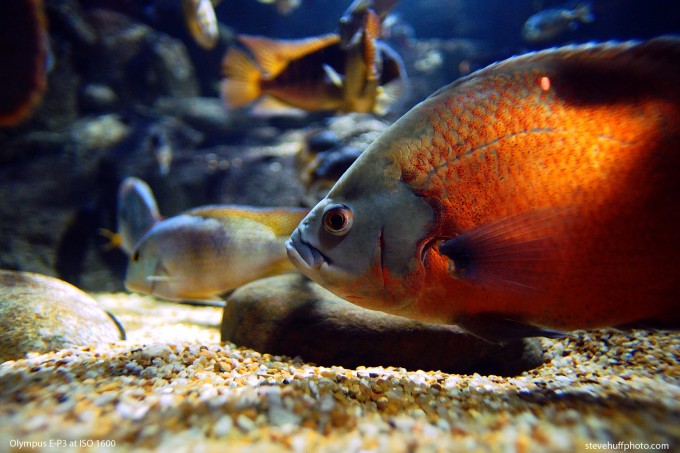 As you can see, when resized to 1800 pixels wide the Oly and NEX-7 seem almost neck and neck at high ISO quality. The Olympus pops more due to the 12mm 1.6 aperture lens. Both cams are very useful at 1600.
–
HIGH ISO – NEX-7 vs the NEX-5n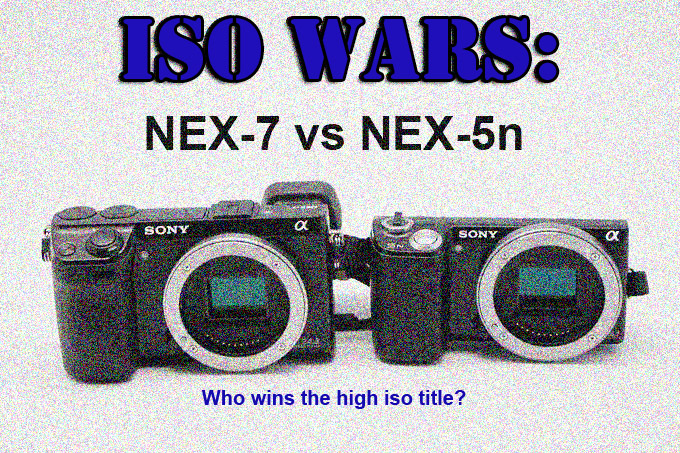 Ok here you go! I had a ton of requests for this so I decided to add this to the review. A high ISO test of the NEX-7 vs the NEX-5n.
DETAILS:
I shot the scene with both cameras using the Zeiss 24 at f/5.6. I shot one at ISO 100, then followed  that with 800, 1600, 3200, 6400, and 12,800. I processed each file from RAW using Capture One which is supporting BOTH cameras. I left everything at default but turned off Noise Reduction so this was at 0 for each file. I wanted to show the RAW performance of each sensor not the JPEG Noise Reduction performance.
ALSO, I did NOT match shutter speeds. I shot these at f/5.6. Same lens as stated above. I did NOT match shutter speeds as I prefer to test a camera for real world use. In other words, if camera "A" chooses one exposure and camera "B" chooses a slightly different exposure then that is what you can expect from each camera. Matching shutter speeds when and if a camera chooses one slightly different is not showing what you will get from the camera when out shooting with it, and to me, this is the ONLY way one should test a camera. REAL WORLD as I have said from day one. Not "Scientific" as "Scientific" is not how we shoot.
I made 100% crops of each at full resolution. 24 megapixels of the 7 and the 16 of the 5n. I then resized  the NEX-7 files to the same size of the 5n files to see how they stacked up in this way. Below are the results, let me know what you think!
First a web resize to 1800 pixels wide (click for that size). The NEX-7 at ISO 3200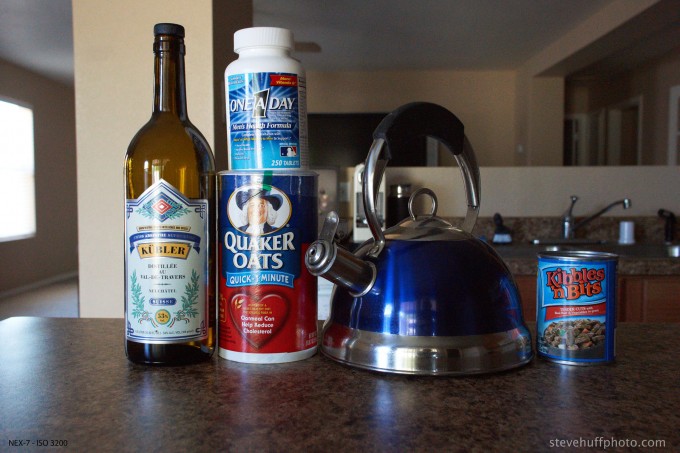 –
and the same image with the 5n, resized to 1800 pixels wide – ISO 3200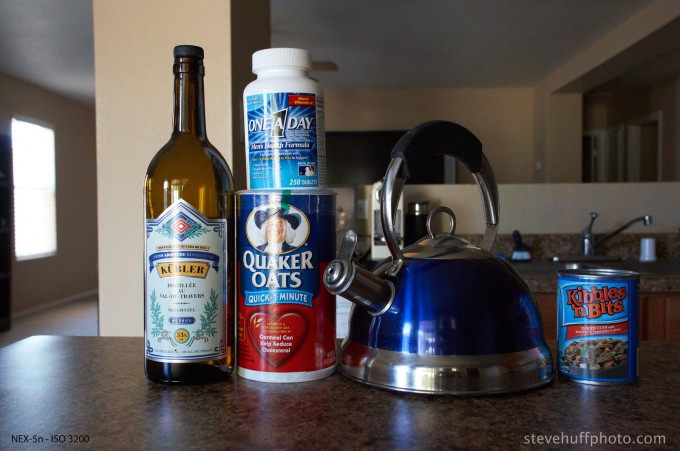 –
and now the 100% crops from the NEX-7 and 5n at all ISO's tested and at the native resolution of each camera

–
and finally, the 100% crops with the NEX-7 files resized to the same size as  the 5n. 

–
It is no question that the 5n does a bit better at high ISO. The NEX-7 is using the same size sensor but crammed way more pixels on to it. This will cause more noise which is why I am a big believer in large sensors and less pixels 🙂 But overall, they are not really THAT far off. Up to you to decide how important higher ISO shooting is. The files above were all straight RAW conversions and again, with ZERO noise reduction. Hope this helped some of you who were looking for this test!
–
AUTO FOCUS SPEED – Not the fastest in the world 🙂
As for Auto Focus speed, I am happy with it but not THRILLED. The Micro 4/3 format Olympus E-P3 beats the NEX-7 for AF speed but it should! Olympus boasts the fastest AF in the world on the E-P3 and their pro E-5. The NEX-7 is good, but not blazing. In low light it hunts a teeny bit but that seems to be an issue with most contrast focus cameras. I also had a few "misses" in low light with the "7" which tells me the AF could have been improved a bit. Now do not get me wrong!! The AF is fast… much faster than the Leica X1 or Fuji X100, but not as fast and accurate as the E-P3's AF. I set the review sample to the center point which is how I ALWAYS shoot with ANY camera and sometimes it still wanted to focus on what was BEHIND my subject. For me, the E-P3 remains the contrast detect focus champion in regards to AF speed and accuracy. The NEX-7 is about the same as the NEX-5n, so it is fast, just not BLAZING.
The NEX-7 and the Sony 50 1.8. At $299 this lens is a must own for any NEX owner. This shot was taken at f/4 but the lens focus quickly and accurately.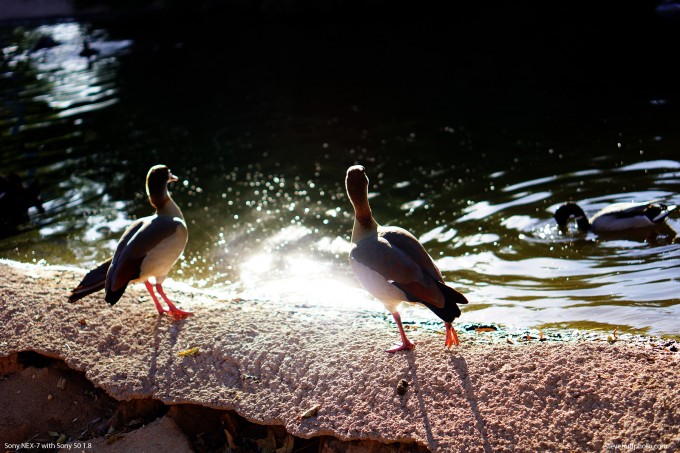 –
Shot with the Zeiss 24 at 1.8 – processed from RAW with Phase One's Capture One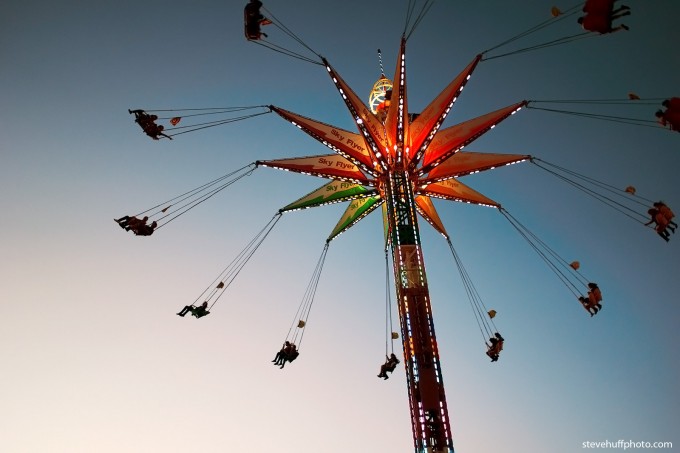 –
and another with the 24 1.8 at 1.8 using the JPEG High Contrast B&W setting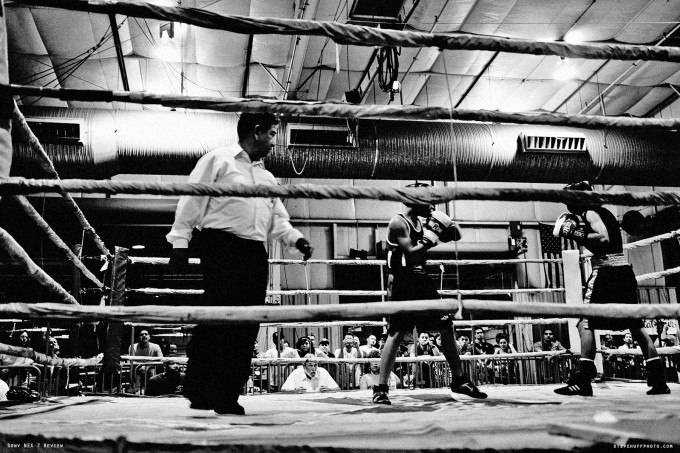 –
THE NEW 24 MP SENSOR – My Thoughts on it and the NEX-7  JPEG output
I am in the camp that says Sony probably should have stayed with the same sensor they used in the NEX-5n. The 5n sensor seems to be a perfect medium of resolution, ISO noise performance and file size. The 24MP sensor in this NEX-7 means more pixels on the same size sensor and this means more noise and sometimes more issues. I know some manufacturers try to wow us with super high Megapixels but it is not needed. I am hoping Leica sticks with under 20MP for their M10 and they concentrate on noise, but I have a feeling they will pull a 30+MP sensor out and wow everyone with super high res stats. For the majority of us, 12MP of resolution is PLENTY! Even the old Nikon D2h had a measly 4MP but those were some GREAT Megapixels! Big and fat which provided super color and a unique feel to the photos. I also printed many 20X30's with that camera that were beautiful. While this sensor is VERY good in its performance, I just feel like my 3 year old iMac is getting bogged down when I process these RAW files. But I guess I can not complain, the sensor puts a good quality image and that is all that matters at the end of the day when it comes to sensor technology. With that said, Canons new pro DSLR, the 1d-x has only 18MP and shoots 14FPS. Seems Canon may know that the MP race was starting to get out of hand. Damn, I remember when 2 Megapixels was a BIG deal and considered "pro".
With that said, the JPEGs out of the NEX-7 are really good but I know it will get even better with fully supported RAW conversions. Most of us will be shooting RAW as soon as Adobe and Apple release compatibility for the 7 but the JPEGS have been great so far. As already mentioned, some of the images in this review were RAW's converted with Capture One which does support the NEX-7 files somewhat. It worked GREAT and better than the Sony software. They have a free demo here if you want to give it a shot with your NEX files.
But with that said, the three shots below are from camera JPEGS!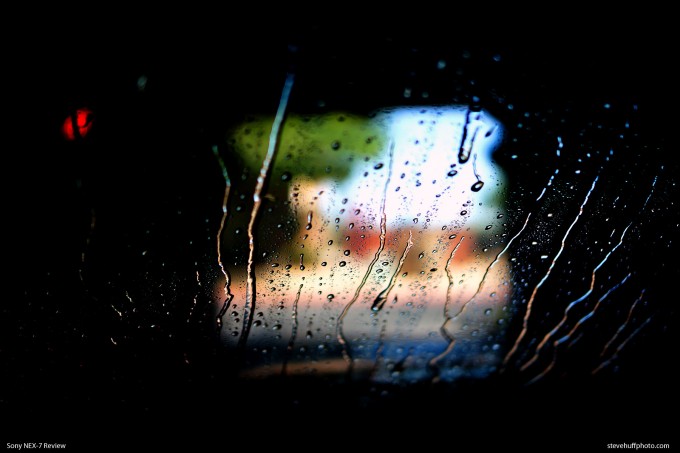 –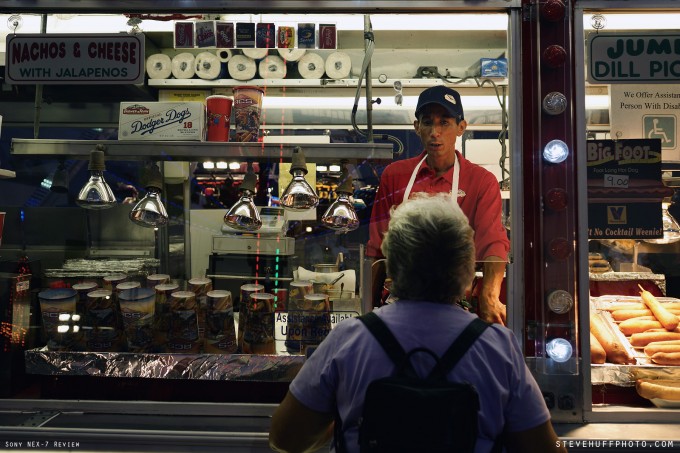 –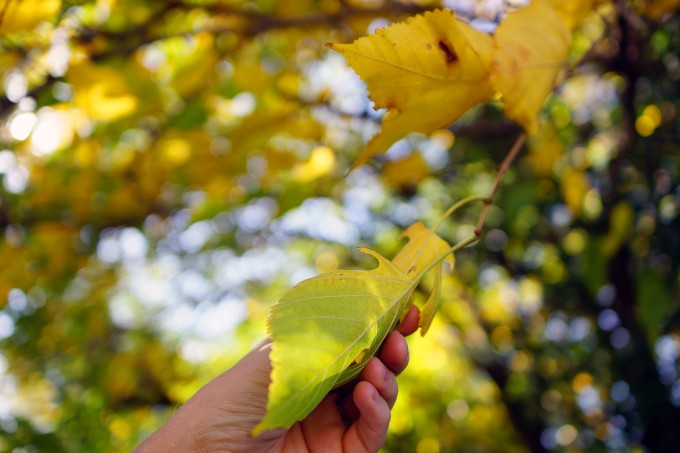 The HD Video Performance of the NEX-7 – Two samples
The HD capabilities of this camera are pretty astonishing. The NEX-7, like the 5n has a plethora of options when it comes to shooting video and you are only limited by your imagination and lens you attach. The NEX-7 provides much better video quality than the Olympus E-P3 mainly because it not suffer from the nasty Jello effect that plagues many other digital cameras and this made me very happy. With the E-P3 you can not even shoot video unless you use a tripod due to the Jello effect where the video gets wavy and unstable. No issues here and the video looks great in low light as well. It's pretty amazing because I used to be big into video and remember the old video cameras would always choke at night with horrible grain and bad color. I remember paying $1600 for a video camera back in 1990 that was AWFUL in low light and just OK in good light. Today we have a camera like the NEX-7 that costs $1200 and provides amazing HD video in any HD format you desire and does amazingly well even at night. Technology is good. No complaints here. Want to shoot at 24P? No problem! 60P? No problem! 60i? Go for it! 1080 resolution? Of course! Sony obviously knows video and it shows in this camera.
The video may not be as rich as what you get from a full frame camera like the Canon 5DII or the upcoming Leica M10 (Hmmmmm) but for the cost and what it is, this makes the NEX-7 worth it just for the video! The 18-55 kit lens and 50 1.8 also have Optical Steady Shot. The Zeiss 24 does not even though the video below was shot 100% hand held with the Zeiss 24 at 1.8.
UPDATE: After obtaining my own NEX-7 I have come to realize that the camera will overheat and shut down after just 3 minutes of continuous video. NOT good. So much for making the NEX-7 the official stevehuffphoto.com youtube video camera 🙂
Sample 1: Hand Held but static shots – Here is a sample video shot at 24p at night, various ISO's from 100-1600
–
Sample 2: Handheld with some movement – LOW light and HIGH ISo, no JELLO effect. All KIT Zoom Lens!

*Shooting Leica Lenses on the NEX-7 – Yea it's GOOD!
The Leica 50 Summitar is one of those classic lenses I just love. I'm shooting only classic Leica glass right now and love it. So does my bank account. The shot below was converted from RAW with Capture One.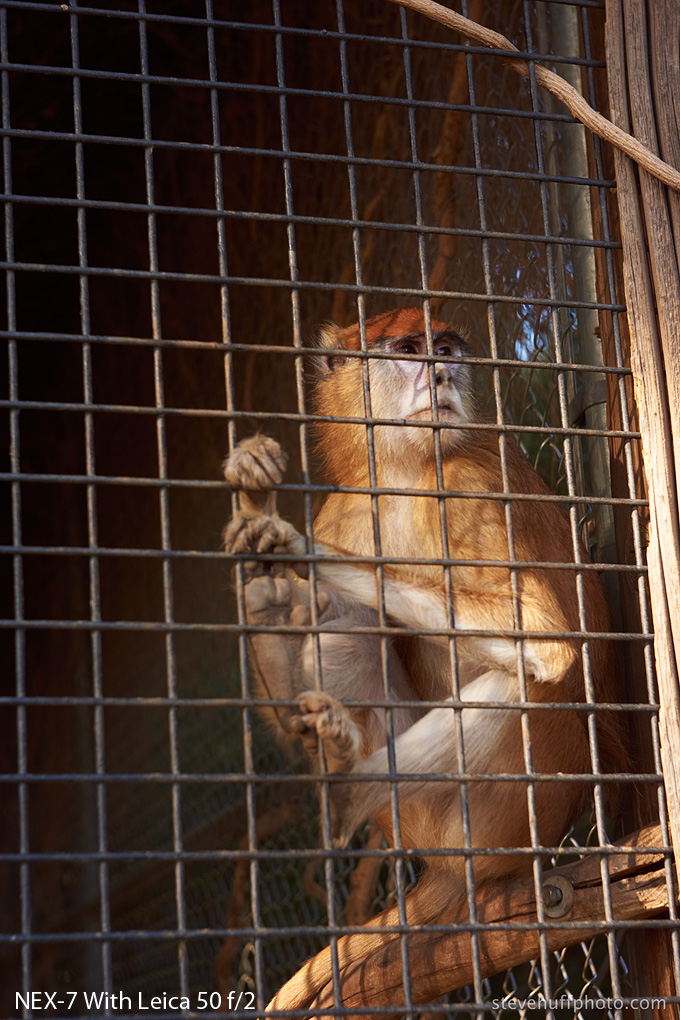 Below: The SLR Magic Hyperprime T0.95 Leica Mount
This review could not be written without at least SOME shots taken with Leica glass. I have had about 50 e-mails asking for requests to shoot the NEX-7 with every Leica lens under the sun. Sadly, I am not rich, I am poor. SO, I do not own any wide angle Leica lenses. 🙂 Contrary to popular belief I do not have a room loaded with Leica cameras and glass. The good news is that LENSRENTALS.COM sent me out a few wide angle Leica lenses at no charge just so I could test them here. SO THANK YOU LENSRENTALS! If you ever need to rent a camera body or lens, you must check out their site.
As most of you have seen I have been shooting with the Ricoh GXR A12 M mount module as well and because of this I was able to decide which camera I liked better for shooting old manual Leica glass with. Read on…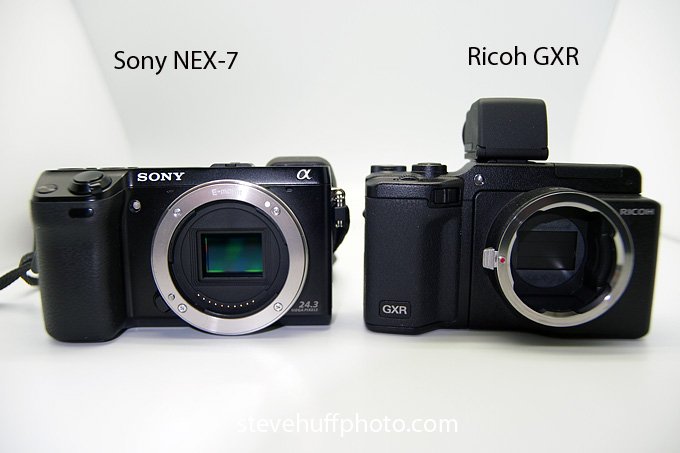 I can say RIGHT NOW with 100% CERTAINTY that the NEX-7 is a DREAM to use with manual focus Leica glass, or any manual focus glass for that matter. The combination of FOCUS PEAKING and the gorgeous built in EVF seals the deal. It just feels amazing with a Leica lens attached. As I have stated, I did compare SIDE BY SIDE with the Ricoh GXR A12 M mount module and I took both of these cameras out on three occasions and each time had the same conclusion. The NEX-7 won every time in the usability department, this was NO CONTEST. Now the NEX did not only win in usability but I also preferred the IQ from the NEX-7 most of the time when shot with a 35mm or longer lens. Check out some shots below as well as a side by side FROM RAW. Some may prefer the output of the GXR but I am telling ya, usability is amazing on the NEX-7.
1st the NEX-7 shot at f/4, then the GXR at f/4 – BOTH from RAW conversions – NO PP – You must click the images for the larger versions and TRUE 100% crops.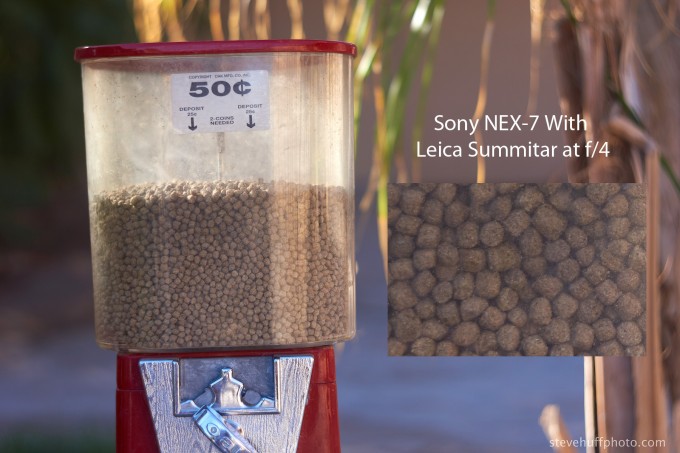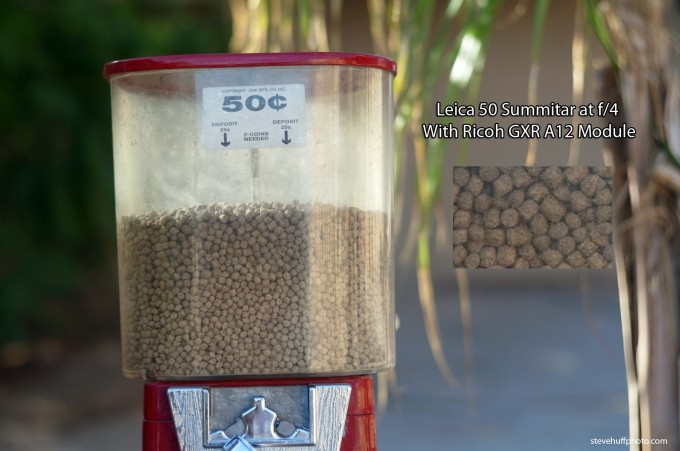 –
I had a blast shooting in this way and the NEX-7 made it so easy and foolproof. Their focus peaking just works, a big thumbs up. BUT all is not perfect! When you shoot a Leica lens 21mm and wider be prepared for the magenta color shift issue. Yep, it is here on the NEX-7 but it is NOT on the GXR (or the 5n)! So if you plan on shooting wide angle Leica glass and are looking for a small body to do so, I would suggest the Ricoh or the Sony NEX-5n. If you want a body for longer than 35mm lenses, the NEX-7 would do the job nicely.
The magenta color shift is here when using Leica mount wide angle lenses 21 and wider. See it here on the 15mm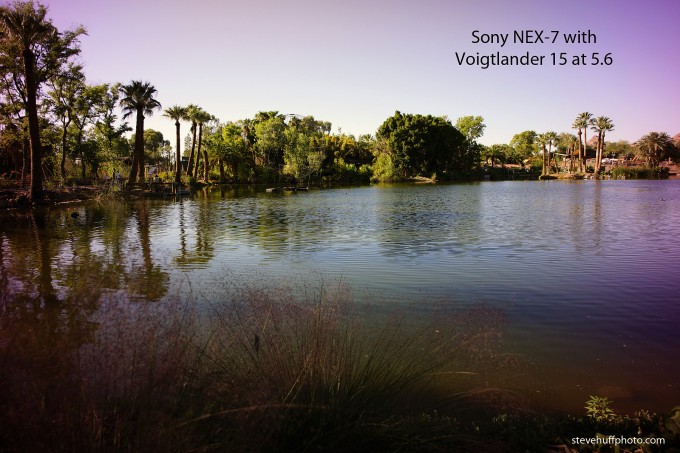 –
NEX-5n with Voigtlander 15 – No color shift.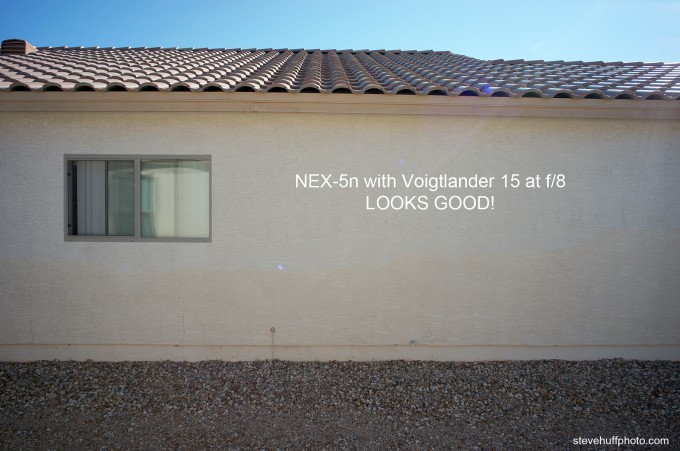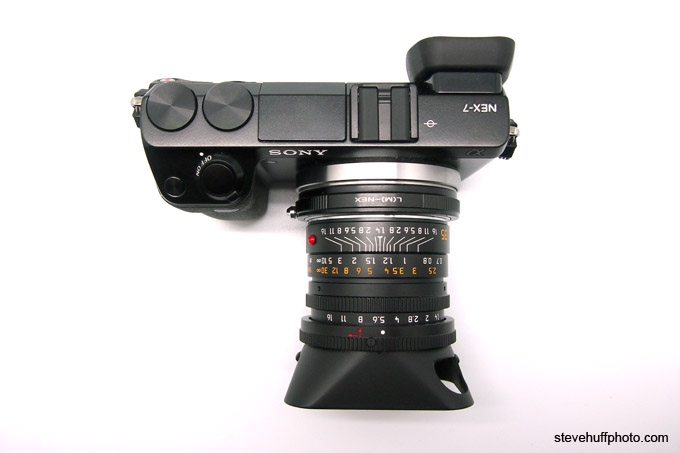 –
Two more shots with the Leica/Nex combo with the 50mm and 35mm Summilux ASPH – more are at the end of this review.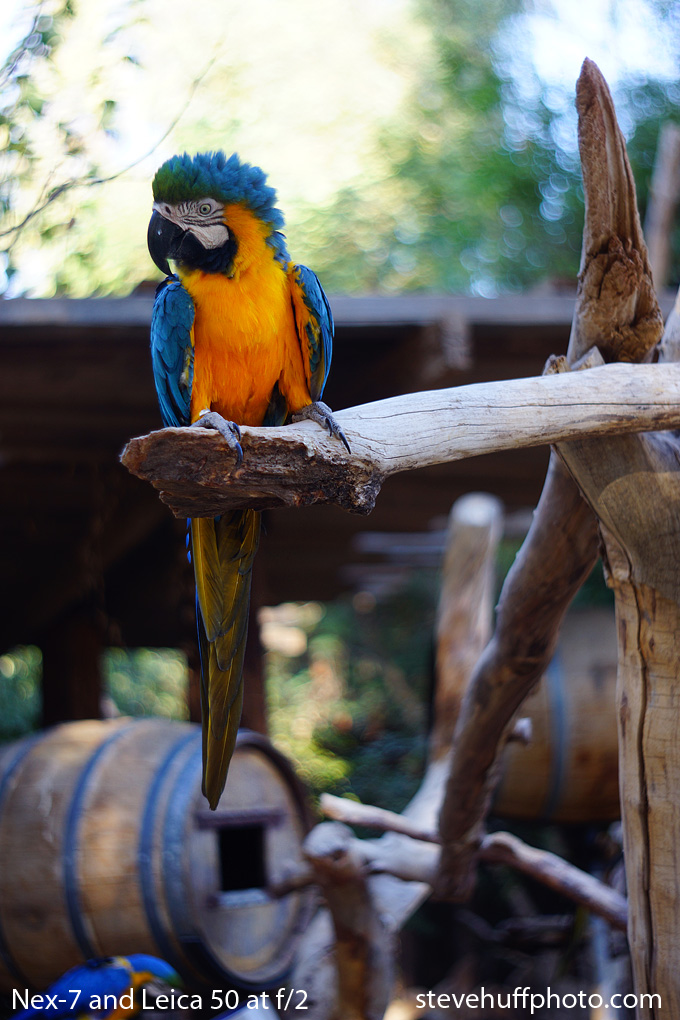 –
with the 35 Summilux ASPH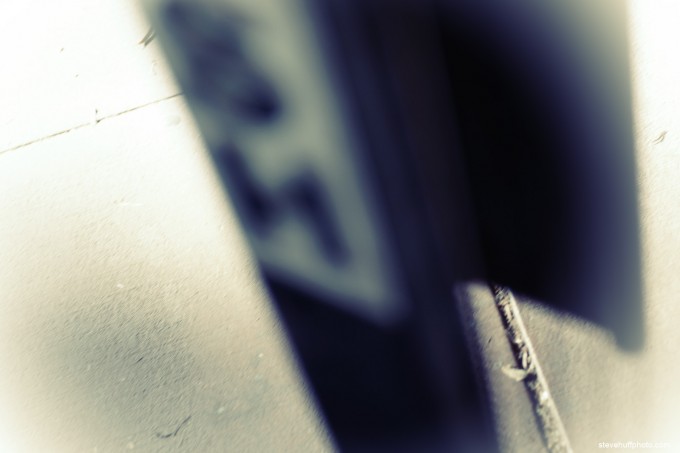 The Sony/Zeiss Lenses – The Zeiss 24 1.8 and Sony 50 1.8
As you can see from all of the photos in this review, I have shot with the Zeiss 24 1.8 quite a bit, and I like the lens a lot. It has a very smooth classic character with good color and contrast. It is not a cheap lens but I feel that anyone who is going to buy a NEX-7, and NOT use it with Leica glass or other manual focus good glass, well, the Zeiss is mandatory. It just goes with the camera so well. It's not perfect and it did not really WOW me at 1st but the more I used it the more I appreciated it. Same with the NEX-7 itself. It is not a beginner camera! It took me about a week or so to really get a feel for what it can do and how to use it properly. But the Zeiss lens is fantastic and from what I am told even comes with snazzy packaging, a lens hood and nice pouch. You can order the lens at B&H Photo or Amazon and the cost is $999. But hey, It's a Zeiss 🙂 I HAVE A FEELING this will be one of those "Very hard to find lenses" for a while. I pre-ordered mine on day one of the Amazon Pre-Orders
 so I hope to get one in December when it is released, just in time for Christmas! Below you will see a wide open 1.8 shot and I will be adding some f/8 and f/11 tripod shots soon to this section.
Wide open indoors at 1.8 – OOC JPEG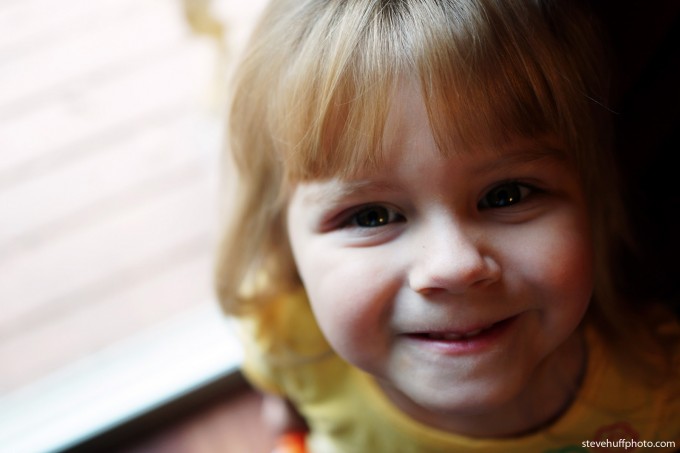 –
The Sony 50 1.8 lens is $299 and IMO a MUST own if you are buying a NEX-5n or NEX-7. It's priced right and puts out gorgeous results with color that pops, contrast that pops and it's sharp even wide open. You can order this lens at B&H Photo. Here are a few more from the 50…
Shot at f/4 with the Sony 50 1.8 during the "Golden Hour" – click for larger – This is an OOC JPEG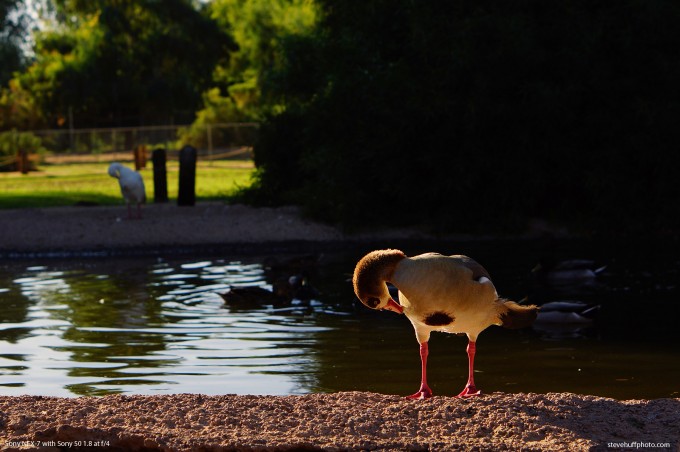 –
This one was shot at 1.8 as I got the stare down from this dog in the street…JPEG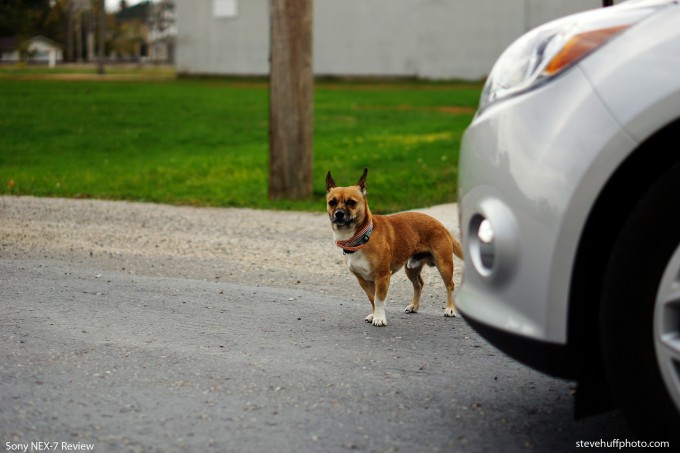 –
and check this one out at f/2.8 with 100% crop – JPEG


Accessories for  the NEX-7
As of this writing there are not many accessories for the NEX-7 but I predict that this camera will be THE MOST POPULAR OF ANY SONY CAMERA MODEL IN 2012. PERIOD. I expect many accessories and I was already sent a prototype tripod bracket by J-Tec who made some awesome cool accessories for the NEX-5 and they are getting ready to launch some cool things for the 7 as well. So keep an eye on their site and this site as when they are released I will write about them. One accessory you will want to buy for the NEX-7 or even the 5n if you plan on shooting Leica glass with it is the BEST Leica lens adapter available. It's not cheap but as I said in my 5n review, I have had three cheapie Leica adapters that I picked up on Amazon and over time they became loose, and that affects performance. The only adapter that has withstood the abuse and test of time has been THIS ONE by Novoflex. If you want a cheapie you can buy this one at Amazon
. My thought on this is that if you are using LEICA glass, you want a good adapter. Makes sense.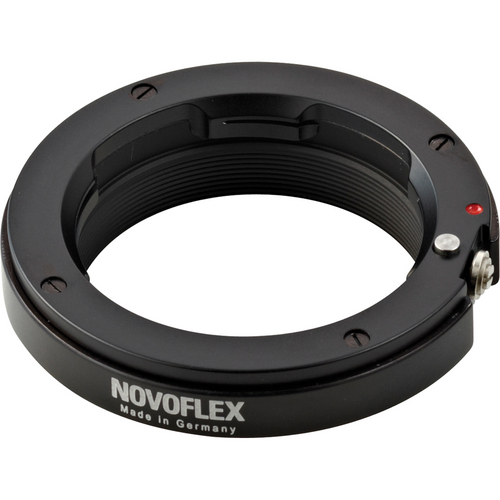 As for other things for  the NEX-7, you will want a good SD card and I recommend THESE LEXAR PRO cards if you do not want to spend a fortune or if you want the super fast bad ass cards, this one is FAST. The NEX-7 puts out some big files when shooting RAW!

Compared to…all the others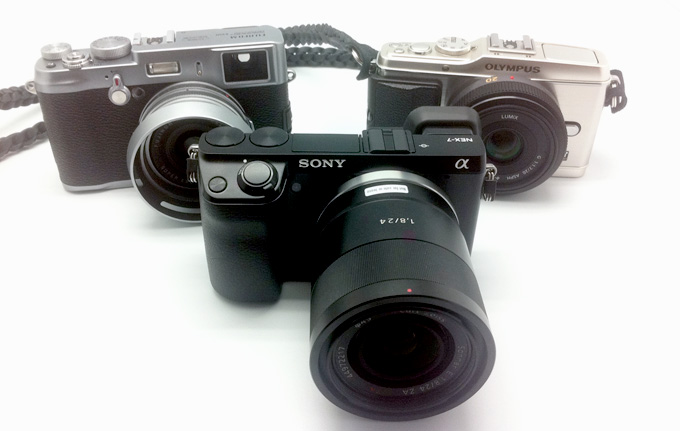 Here we go. I will get the question! I always do. WHICH ONE SHOULD I BUY? Well, as always, I can not answer that question! It is all personal preference. Do you want an interchangeable lens system? Would you prefer smaller? What features do you need? Ask yourself if THIS camera will FILL ALL YOUR NEEDS. If so, then it may be for you. Look at the features, the size and the sample photos above and then decide if the NEX-7 could be the "one" for the long haul. If that doesn't work…
Look below for a QUICK written comparison against the usual suspects.
NEX-7 vs The Olympus E-P3 – The E-P3 focuses faser, has better lenses available, and has a cool retro design. In silver it's simply beautiful. But it still has the same 12 MP sensor as the E-P1. The ISO noise is not far behind the NEX-7 at 1600 but the E-P3 does not have a built in EVF or a tilt able LCD. The 7 has a larger APS-C sensor, the E-P3 has a smaller 4/3 sensor. In all fairness the E-P3 is more fun to shoot and provides results that you just can not complain about. It has a cool factor and some serious mojo even with its limitations and I own it and am keeping it. BUT the NEX-7 is more serious with more potential. NEX has to win this if we are taking body to body. Lenses, Oly wins but then again, Leica glass just works better on bigger sensors, and the NEX-7 has the bigger sensor.
NEX-7 vs Fuji X100 – Totally different cameras. The X100 is a fixed lens 35 mm equivalent. You can not change lenses, it is slow and quirky to operate BUT it's files are gorgeous and I prefer the colors of the Fuji over the NEX-7, NO CONTEST. But usability and versatility go to the NEX-7. Apples and Oranges. Classic vs Modern. If you can live with a 35mm f/2 and slow operation, go for an X100. GREAT camera. If you want versatility, speed and ease of use, go with a NEX.
NEX-7 vs Leica M9 – Again, totally different. The NEX-7 is NOT an M9 killer by any means. You do not get the Leica glow or the feel of a manual rangefinder camera even with the Zeiss lens but mount a good Leica lens to the NEX-7 and you get closer but again, totally different camera, feel, and price point! M9 is full frame and all manual. NEX-7 is APS-C and more like a hand held computer. One is $1199, one is $7-8,000 🙂
NEX-7 vs NEX-5n – This one is important to many readers. The 5n I reviewed was SUPER. BUT….if you are going to invest in the NEX system, and are trying to decide between the two, go for the 7. The body, the controls, the whole package. It IS better in that regard. The high ISO may be a little better on the 5n but that is about it. The built in EVF of the 7 makes all the difference in the world as does the Tri-Navi controls. if you already have a 5n and EVF, you are really only missing the controls and larger body style. In that case, buy yourself the Zeiss 24 and call it a day. 🙂
NEX-7 vs GXR with Leica Mount – If you are looking for a cheaper solution to shoot Leica glass with besides an M9 or are looking for an M9 backup and have been thinking of the NEX-7 or GXR I feel the NEX-7 offers much more in this regard. Ive shot both side by side and the Sony is easier to shoot with and gives just as good results IN MY EXPERIENCE. The OLED EVF in the 7 is large and vibrant and Ricoh's is small and dull looking in comparison. The Sony will switch to the EVF when raised to the eye, the GXR has to be manually changed via button. Focus peaking on the 7 is better and easier to use than on the Ricoh. Picture quality wise I slightly preferred the Sony files. Again, this is just MY opinion after shooting both. I love Ricoh but have to give credit where credit is due.
NEX-7 vs Leica M8 – Now this is an interesting comparison. A used Leica M8 runs anywhere from $2000-$2600. The NEX-7 is $1199. So almost double for an M8. If you buy an M8 you MUST buy the UV/IR filters for each lens you own, and the tops ISO for that camera is around 640 before it starts getting unsightly. It's an M though and a joy to own and use. The M8 has a 1.3 crop and the NEX has a 1.5 crop so the M8 will be using more of your lenses than the NEX-7 will. If you are only shooting in light and want an RF, and M8 may be the way to go. If you want to shoot in all lighting situations and use higher ISO, the NEX is the way to go. Again, all personal preference but the M8 will most likely give better image quality if you have light, plus…it's a Leica!

Pros and Cons of the Sony NEX-7
Pros
SUPER body, Great control and the new Tri-Navi setup  is a godsend
Build is solid but camera is fairly light
OLED EVF is best ever (at the time of this writing). Period!
Swivel LCD is useful, should be on all digital mirror less cameras
Best mirror less body by far (to date) for using Leica lenses (besides a Leica)
Customization is amazing with many programmable buttons (see video)
The NEX-7 and Zeiss 24 make a great pair, could be one lens on body combo
ISO goes up to 16,000, but really usable up to 3200.
24 MP is plenty enough for ANYONE
Camera is fast in operation, not sluggish at all with a fast SD card
Kit Zoom performs great on the camera
Nice presentation box, strap, lens cloth all included.
Sony's new 50 1.8 is exceptional in real world use
I feel the cost of this camera makes it a deal.
HD video capabilities are wonderful and the video does not suffer from the "Jello Effect"
Has a built in sensor dust shaker to keep dust bunnies off your photos
This is Sony's Bionic Camera – Better, Faster, Stronger.
Cons
High ISO is not as good as it is with the cheaper 5n
Sometimes focus hunts in low light and sometimes misses its mark
Auto Focus is not as fast as the Olympus E-P3
Lenses are bigger than they should be
Sometimes the camera would underexpose when using the Zeiss 24
Rear LCD not as gorgeous as the one on the E-P3
Images do not have much 3D "POP" with the Sony lenses. Leica glass cures this.
No in body IS. Boo.
When shooting Leica glass with an adapter, lenses wider than 24mm have some magenta color shift issues while the 5n does NOT.

The Bottom Line Conclusion and my full thoughts on the Camera
Ok, so there you have it. I shot with this camera each and every day that I had it. I shot it with the Zeiss 24 1.8 and the new Sony 50 1.8. I even slapped on a Leica lens and did a side by side with the Ricoh GXR.  Sony did in fact "Grow Some Balls" when they decided to design and release the NEX-7. On paper it appeared to be absolutely PERFECT and I ordered one through Amazon the day they started taking orders. In fact I pre-ordered the 24 1.8 and the NEX-7 kit. I just KNEW it had to be amazing. A small body, great build, EVF, fantastic controls and a 24 MP sensor that has Sony tech behind it. I mean, how could the NEX-7 be anything but absolutely GORGEOUS?
Well, when I first started shooting with this camera I was not that wowed or impressed. But I am jaded. I am used to my Leica glass and the M9 putting out stunning 3 dimensional beautiful files and that is what my brain has gotten used to. There has not been any camera that has come close to the M9 IQ until the little Fuji X100 came along, but as wonderful as the Fuji is, it is still tough to shoot with (at certain times) due to its slow speed and clunky interface. Another favorite of mine that I adore is the Olympus E-P3. The new lenses for Micro 4/3 are nothing short of spectacular and helped  to make the E-P3 a daily shooter for me along with it's super speed and great out of camera color. The one problem I have with the Olympus though is there is no built in EVF or swivel LCD. Once I shot with the Sony for over a week I was spoiled with its best ever OLED EVF and swivel LCD.
So here I am raving on and on about the perfect body of the NEX-7. What about the image quality? Well, judge for  yourself. I posted tons of images in this review with all lenses. I posted out of camera JPEGS, I posted RAW conversions and I posed a couple of comparison shots with a GXR and E-P3. What I noticed with the NEX-7 files during this whole process is that they seem a little bit flat out of the camera, but this is the same look that every NEX camera has had, even the 5n. Nothing that can't be fixed in a RAW conversion or by using a good old fashioned Leica lens. When I attached a $300 Leica 50 Summitar the 3D pop surfaced.
The NEX-7 is not a camera you will open up and shoot on day 1 and get amazing results with. You have to shoot it, learn it, learn the controls, and learn when to apply Exposure Compensation (which is simple with the Tri Navi controls). Once you dig in and set it up to your liking you will be able to shoot just about anything with this camera. In many ways it is like a computer instead of a camera, but that is Sony for you.
Lenses…
Sony now has 7 lenses for  the NEX system. The 16 2.8, the 18-55, Zeiss 24, the 30 Macro, the 50 1.8, 18-200 and the new 55-210 zoom. The ones to buy in my opinion are the Zeiss and the 50 1.8. I hear that Sony has a new Zeiss lens planned for 2012 as well and I am guessing it will be something like a fast portrait prime. So for those of you who are saying there are no lenses for the NEX system, there are plenty. In addition, this camera can mount hundreds of other lenses using adapters. Mount Nikon, Canon, Leica, Zeiss glass….Just buy the adapters and go to town. This is where this camera really shines…as a body for all of your old glass, well, sort of. Just know that if you want to shoot wide angle lenses that you may get some magenta color shift at the edges of your photo. This is a disappointment because the NEX-5n does NOT have this problem, and it is the cheaper NEX body. Makes me REALLY think now that Sony should have stuck with the 16MP sensor of the 5n for the 7.
With that said, using the camera is a breeze and so enjoyable with the focus peaking and huge and super clear EVF. It really is a joy.
Video..
The video on this camera is the best I have shot with in a non full frame camera. The options are a plenty and the quality, even in low light is GREAT. Pop on a lens with IS and you will get smooth and saturated jello free HD video. You can shoot at 24P, 60P, 60i all in 1080 resolution. The video of the stock NEX-7 kit is exceptional and beats most $1000 video cameras.
The things I did not even talk about in this review..
There are a few things I did not even go over in this review mainly because it would have been a rehash of the 5n review. Things like SWEEP PANORAMA and the other cool features built into the NEX-5n are all here in the 7. The way I look at it is that the NEX-7 is an enthusiast camera and most of these gimmicks will not even be used by those who buy this camera. The Sweep Pano is the one I would use but the others not so much. So this camera has everything you can imagine inside. Huge resolution, great HIGH ISO, superb video, amazing body design and usability….the list goes one.
Would I buy one? I already had my pre-order in and am keeping it. It's not perfect (see my con list) but it's REALLY good and the lenses being a little big did not bother me at all in real use. The body is bigger than the 5n so it's a bit more comfortable to shoot with the Sony lenses. Yes, the "7" is here! So as I wind up this 10,000 word review all I can say is that I thoroughly enjoyed my time with the camera and lenses. It doesn't compete with the M9 but not much does in my eyes, and besides…it is $5800 cheaper than an M9 body. 🙂
All in all, this is a killer camera system and the NEX line has now matured into a camera that most of us have been asking for over the past 2-3 years. This will be a big one for Sony. Mark my words!
Where to Order/Buy?
UPDATE MARCH 1st 2012– Appears B&H just listed the NEX-7 as IN STOCK for the body only. 
Amazon was accepting pre-orders but took them down after news of the flood in Thailand that destroyed the Sony factory there. B&H still has it listed but you can not pre-order at this time. I expect it to pop back up soon for pre-order. AMAZON is still taking Pre-Orders for the Zeiss 24
.
UPDATE: I will leave you with a few more images from the NEX-7 and Leica glass, this time with some post processing (which I did not do to any of the images above) – click on them to make them larger and ENJOY!
–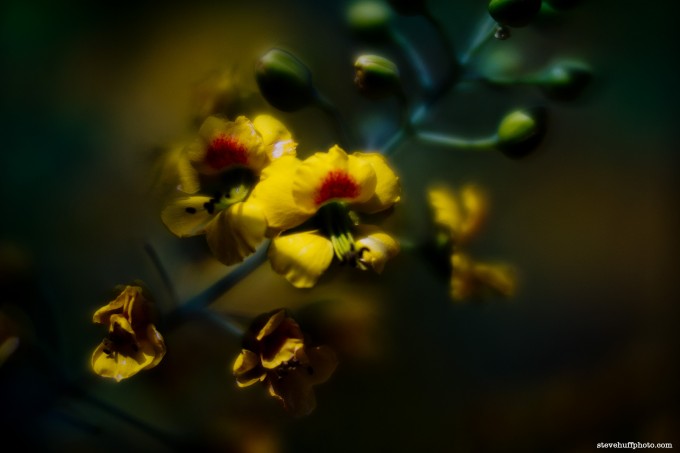 –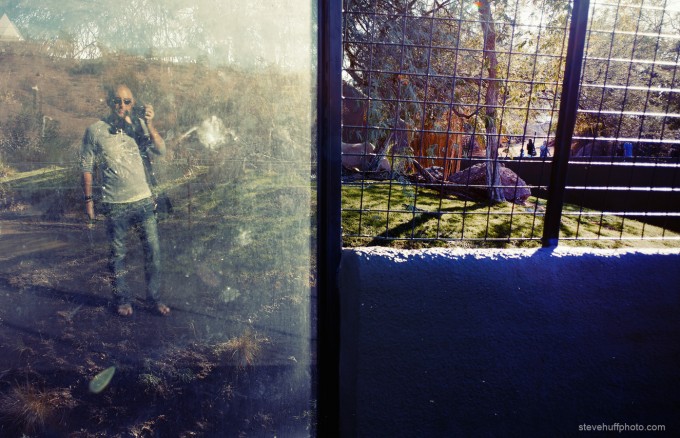 –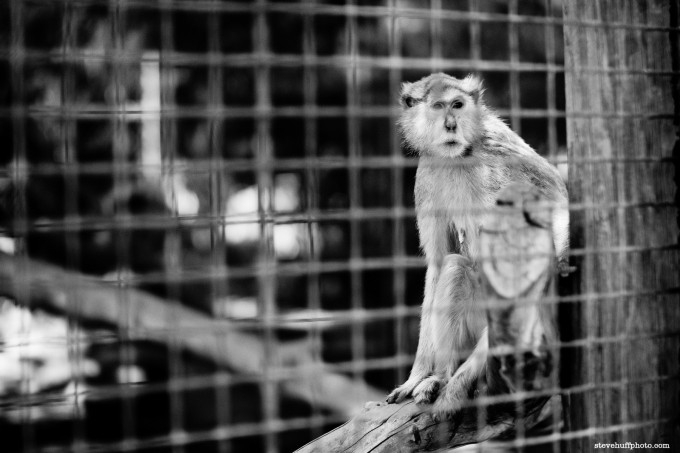 –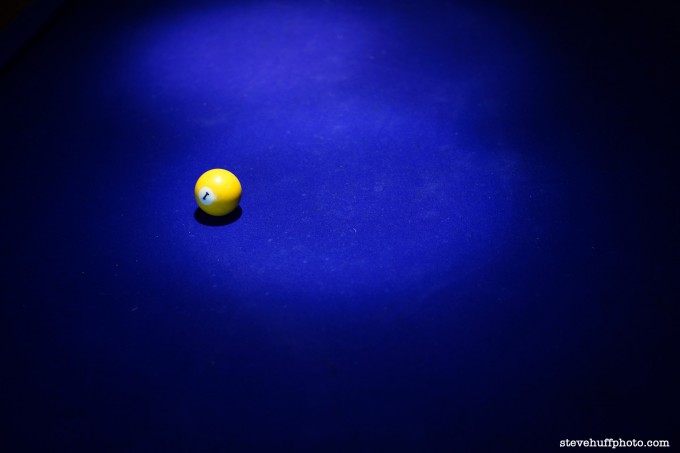 Be sure to follow me on Facebook, Twitter, and now Google +!
–
ALL I ASK! HELP ME TO KEEP THIS SITE GOING AND GROWING!! IT'S EASY TO HELP OUT & I CAN USE ALL THE HELP I CAN GET!
Remember, anytime you follow my links here and buy from B&H or AMAZON,
 this helps to keep my site going. If it was not for these links, there would be no way to fund this site, so I thank you in advance if you visit these links. I thank you more if you make a purchase! I have nifty search bars at the upper right of each page so you easily search for something at either store! I currently spend 10-14 hours a day working on this site and the only way that I can pay for it is with your help, so thank you! Currently my traffic has been increasing but my funds to pay for the site has been decreasing, so any help would be GREATLY appreciated!
Even if  you buy baby food, napkins or toothpicks at amazon it helps this site, and you do not pay anything extra by using the links here. Again, you pay nothing extra by using my links, it is just a way to help support this site, so again, I thank you in advance 

If you enjoyed this article/review, feel free to leave a comment at the bottom of this page and also be sure to join me on twitter or my new facebook fan page and Google +  page! Also, you can subscribe to my feed at my subscribe page HERE and read these posts in your browser or news reader!