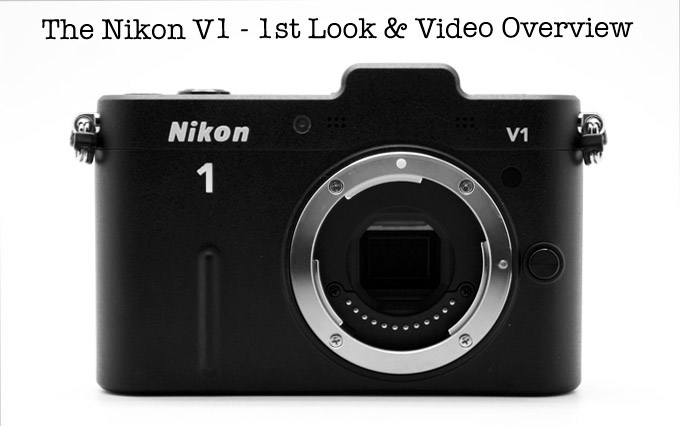 The Nikon V1 1st Look Video and ISO test – Impressive!
By Steve Huff
*NOT – THIS IS NOT MY REVIEW* 
I really have to tip my hat to Nikon. They managed to create this Nikon 1 system with a new and small "CX" 2.7 crop sensor, and they somehow worked some magic (by limiting it to 10MP is my guess) because the camera has some pretty damn impressive image quality for a camera of this type, meaning, with a teeny sensor (especially when shooting RAW). Ignore my rants in the past about this system as well as any rants by other reviewers who have yet to even hold one (this is not another film era APS disaster imo) because even though it is not a typical "photographers camera" and it does not have any fast glass available, Nikon made sure the lenses they do have for this system are small (well, not the 10-100), SHARP, and really damn good even if they are slow as molasses (aperture wise). They also laid out a plan to release more in 2012 including a fast portrait prime.
Yes, Nikon finally entered the mirrorless market and though I really though they would do it with more of a WOW factor camera, the V1 is a highly capable little solid brick of a camera. Logic would tell you that the Nikon V1 and J1 SHOULD be pretty bad in low light. Well, it is not too shabby and easily beat my E-P3 and gave the the NEX-7 a run for its money for higher ISO! See the samples below.
What I have found in my first three days with the camera is that it is VERY FAST in operation and especially it's auto focus. After shooting side by side with the E-P3 I can say it is indeed faster to AF than the E-P3 and it is stone cold accurate every time. The metering is the best I have seen on ANY mirrorless camera to date. Period. The color output is also up with the best. Nikon did seem to know what they were doing in regards to image quality and making the best of that 2.7 crop sensor. The Nikon V1 menu system is also very simple to operate. Fast, smooth and slick. This is a minimalist camera. One that is easy to pick up and shoot AND get in focus shots, great color and overall great well exposed results. The battery is the same one found in the D7000 and is a nice addition which keeps the camera chugging along at 2-3X the stamina of other mirrorless cams. The EVF rocks though it's not as nice as the NEX-7 EVF. Yep, this is a unique camera. A bit odd because I am not sure what market Nikon is really going for with it, but at the same time, it is a joy to shoot with. Everything just works, and works well it seems.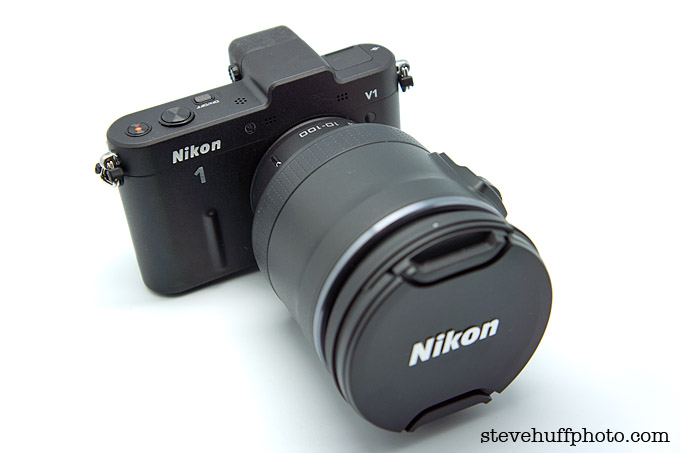 The only negatives I have found so far are that because of the small sensor and lack of fast primes you really can not get shallow depth of field, so a poor mans Leica M9 this is not. I also find that due to the small sensor, there is noise even when shooting at ISO 100. You know, the fine grain stuff you often see with small sensors. BUT you will not notice this in web sized images or even smaller prints.
[ad#Adsense Blog Sq Embed Image]
My full review will be up soon where I will show my results with the V1 along with the 10 2.8, 10-30 and 10-100 Lenses. I will also be shooting some video with the fancy 10-100 (which is beautiful but HUGE) tomorrow. Take a look at the ISO samples below – 1st there is a side by side with the NEX-7 at ISO 640 in my living room. These are full size files from RAW (Latest ACR conversion for both) with NR turned OFF. Color, metering and AWB is exactly as it came out of each camera. What do you think of the NIkon V1? Feel free to comment below!
 –
OK, 1st here is a full NEX-7 file at ISO 640 – shot with the 18-55 kid zoom at 3.5 – some light was peeking through my closed blinds.. – click image for full size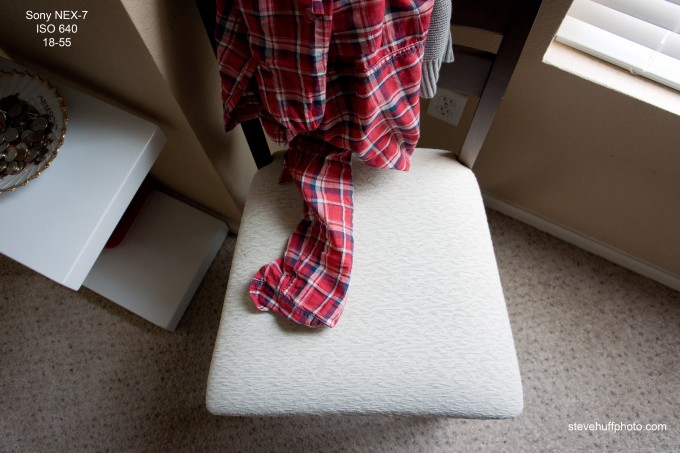 –
and here is the Nikon V1. Only 10mp compared to the NEX-7's 24 but not bad huh? – Click image for full size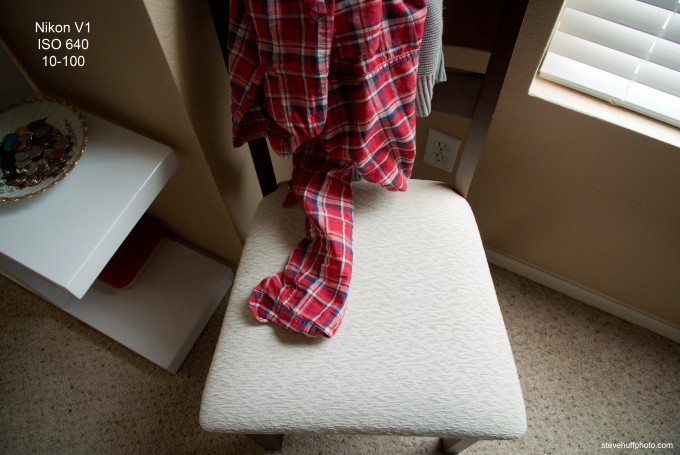 –
and how about a full size ISO 6400 shot from the V1, no NR at all, processed from RAW – click image for full size file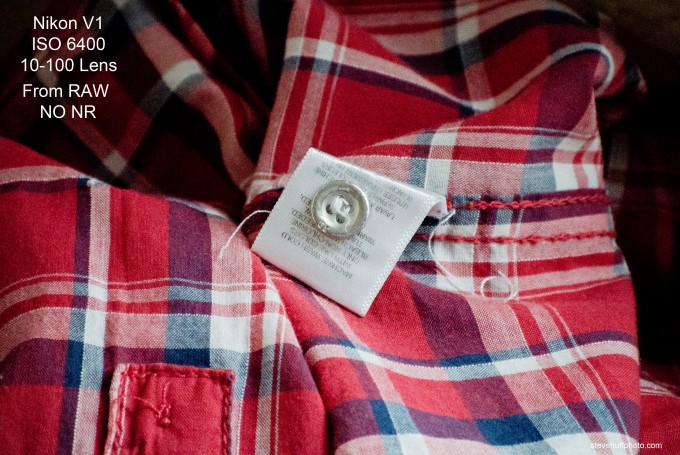 –
Here is a three camera low light ISO test at 1600 – click for larger size. Not scientific or course, and did not resize anything to match. What you see if what came out of each camera at the resolution of each camera (which is why the V1 is smallest, then E-P3, NEX-7) – I used the 10-30 on the Nikon, 14-42 on the E-P3 and 18-55 on the Sony. One thing I see is distortion with the Olympus and Sony kit zooms (this was a crop from the left corner of a shot)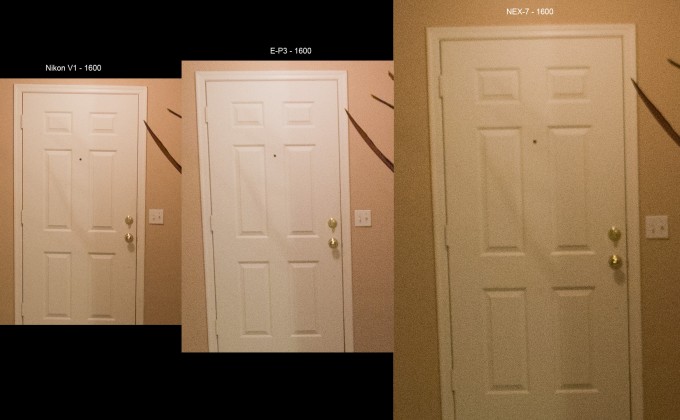 –
and three more "processed" shots, most from RAW and all with the 10-100…click them for larger!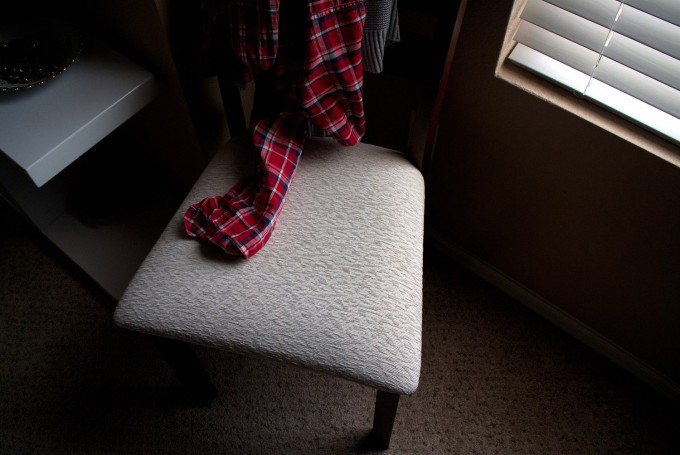 –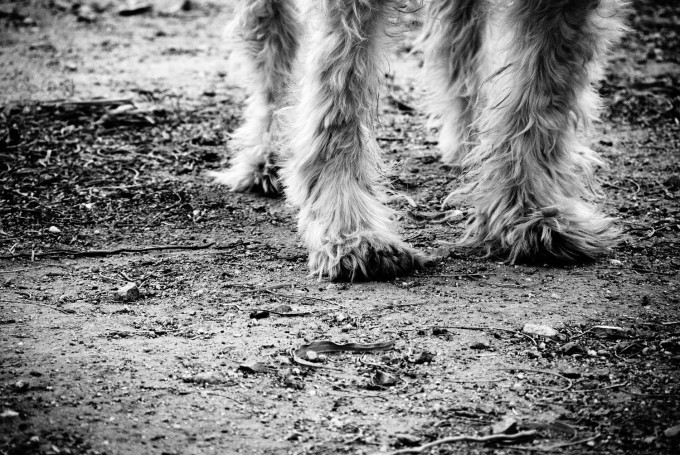 –