Just for fun: Sensor sizes compared for Bokeh – Small, Medium and Large
This is a "just for fun" post. I used to do these kind of things all the time not because they are really extremely useful, but because there are some readers out there who are absolute newbies (been getting lots of e-mail on this lately) and they do not even understand that there are different sensor sizes in digital cameras, and the effects the sensor size has on the final image, so this post is for you guys! I decided to post about this after shooting yesterday with three very different cameras. The Leica M9, Nikon V1, and the Sony NEX-7.
Some quick info for the newbies on depth of field and full frame sensors…
The Leica M9 as most of you know is a full frame digital camera. This means that the sensor size is the same size as a full frame of 35mm film, I will call it LARGE size. When shooting with your 35mm lens it is indeed  a 35mm lens with a 35mm field of view. You use the entire lens with a full frame sensor camera and this is how the 35mm format has always been. Even today full frame cameras are still few and far between when compared to the smaller sensor cameras. They are also the most expensive cameras on the market…well, before heading up to medium format, which is an even larger sensor size. The full frame cameras usually offer the richest and nicest image quality if you know what you are doing.
Other cameras with full frame sensors are the wonderful Canon 5DII, Nikon D700 and the pro body Canon 1ds and Nikon D3 series. Full frame cameras often excel in lower light, dynamic range AND allow you to create images with more shallow depth of field. If you do not know what depth of field is you can read up on it HERE.
In some cases you may want a large depth of field in which everything in your image is in sharp focus. A landscape for example always requires a pretty large depth of field so most of us tend to shoot them at f/8-f/11 (at least I do). Others CRAVE shallow depth of field. This is when you have your subject in sharp focus and the background is out of focus, usually melting away into a creamy beautiful artsy blur. The best fast prime lenses give you the best quality blur, otherwise known as "Bokeh". If you want this blurred out effect you would want to use a "fast" lens. A "fast" lens is not a lens that focuses fast, it is a lens that can open up to a large aperture letting in the most light and at the same  time, giving you the shallow depth of field effect.
A fast lens and a large sensor can create very shallow depth of field – Leica M9 and Voigtlander 35 1.2 II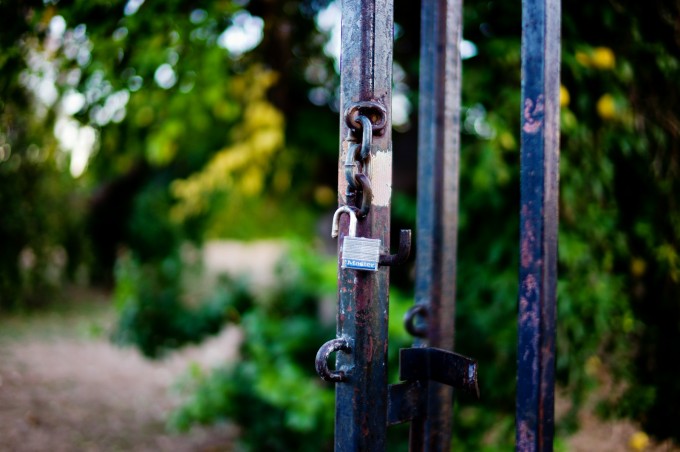 For example, I have a Leica M9 which as I mentioned above is a full frame camera. I have a 35mm f/1.2 lens, which is a VERY larger aperture lens. The lower the number of the aperture, the faster the lens. BTW, the "fastest" lens in production today for the 35mm full frame format is the $10,500 50mm Leica Noctilux ASPH which has a crazy f/0.95 aperture. It is the low light bokeh king of lenses. Gorgeous but insanely expensive. The 35mm f/1.2 Voigtlander lens I am speaking of is $1399. Still expensive but about 1/4 the price of a Leica 35mm Summilux.
With this 35mm lens I can do some creative things. If I open up the lens to f 1.2 on the aperture ring I can shoot in very low light as the lens is now "wide open". If I focus on something semi close I can isolate the subject which will be sharp while the background would then melt away into a blur.
On the other end of the spectrum, If your lens is "slower", say an f/2.8=f/3.5 lens, then it is not really "fast" and it will be harder to get shallow depth of field. If you lens is a wide angle, even harder. Mix a wide angle with a smaller sensor and forget about it! (Nikon V1). But shallow death of field is not something you want in every photo anyway so each type of sensor and lens has its place.
So, to summarize…The best shallow depth of field effects come from "fast" prime lenses of 35mm, 50mm and up.  To get the most depth of field you have to "stop down" your lens (f/8-f/16).
The sensor sizes in the following examples…
As stated, the Leica M9 is full frame and I already spoke about the benefits of a full frame sensor. The other cameras I used for this example are NOT full frame. The Sony NEX-7 still has a nice large sensor but it is the same size that is in most DSLR's these days, and that would be what I call the MEDIUM size, or APS-C with a crop factor of 1.5 (your 24mm lens behaves like a 35mm  lens in the field of view). The Nikon V1 is even smaller, with Nikon calling it "CX". I call it "small".  It has a 2.7 crop factor so a 14mm lens would become a 35mm equivalent. Even HARDER to get shallow depth of field.
When I shot the examples below I wanted them all to be in the 35mm focal length, so with the Leica I used the Voigtlander 35 1.2 ASPH II. With the Sony NEX-7 I used the Zeiss 24mm, which due to the smaller sensor ends up becoming the equivalent of a 35mm field of view. Since the lens is wider, we get less shallow depth of field. With the Nikon V1 I shot the 10-30 zoom set at 14mm which was close to 35mm. You can see the examples below and click on them to see the larger versions.
What these simple samples will show you is the differences in the depth of field you will get with the different sensors sizes. So if your thing is a shallow blur then you may want to find a full frame camera. If you don't care about blur of bokeh then a smaller sensor camera will do the trick! Enjoy!
The M9 and Nokton 35 1.2 – Full Frame "LARGE" 35mm Format Sensor – Most shallow DOF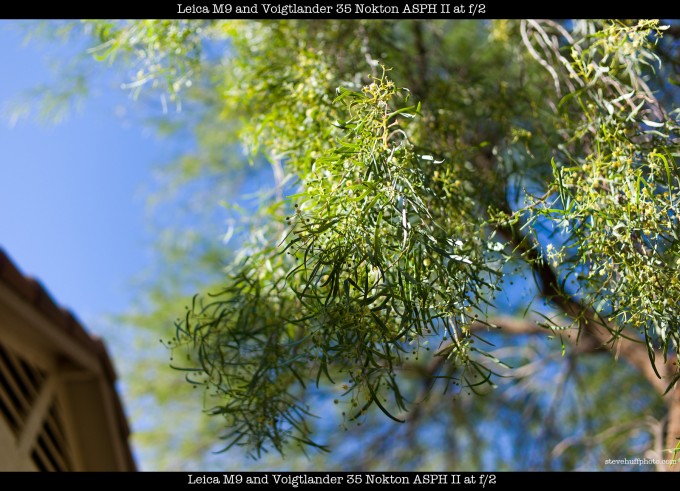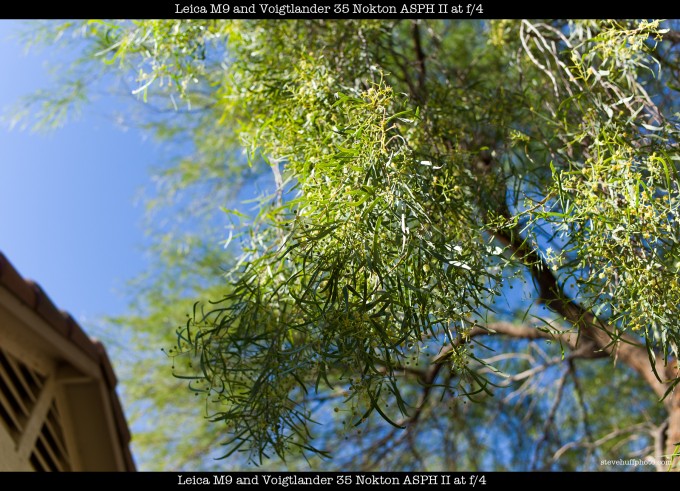 –
The Sony NEX-7 and Zeiss 24 1.8 (35mm equivalent) – "MEDIUM" APS-C Sized Sensor – Less shallow DOF as the lens is wider and sensor smaller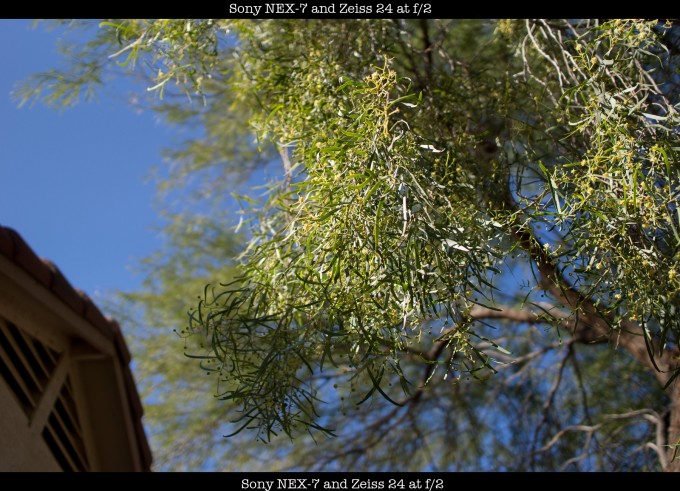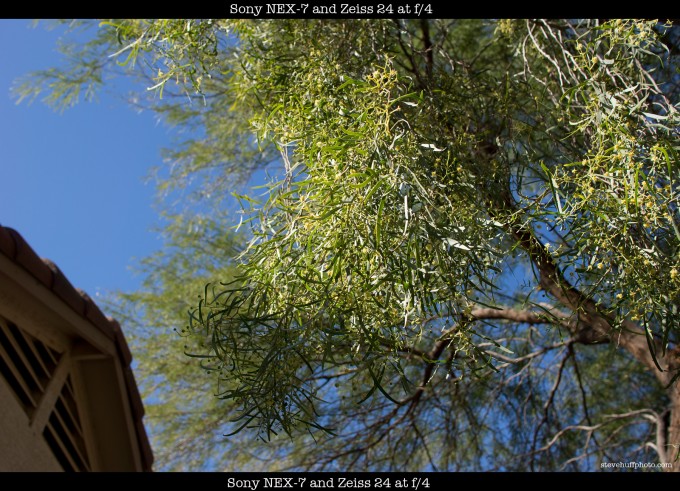 –
The Nikon V1 and the 10-30 at 14mm (35mm equivalent) "SMALL" CX sensor – Largest DOF yet due to super wide lens and much smaller sensor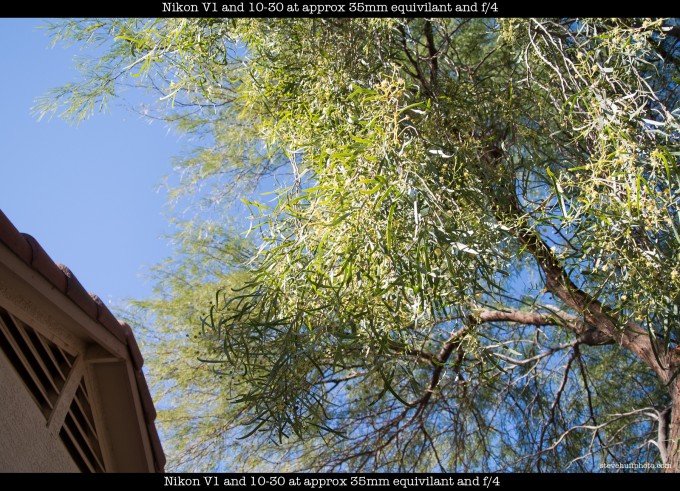 [ad#Adsense Blog Sq Embed Image]