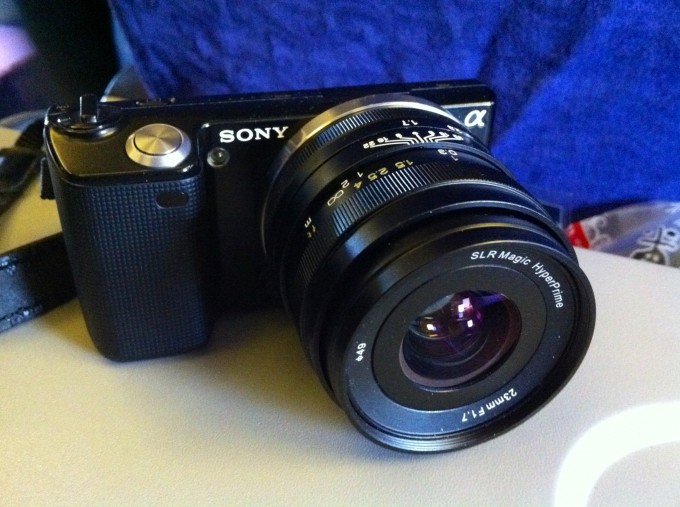 The SLT Magic HyperPrime 23 1.7 for Sony NEX – Coming Dec 2011/Jan 2012
Here you go! I expect this to be a great lens as the latest stuff coming from SLR Magic and their HyperPrime series has been damn good. I will be reviewing this lens soon. It is a 35mm equivalent on any NEX camera and has a fast aperture of 1.7. Many have asked and this is NOT a rebranded CCTV lens. It is a SLR Magic designed lens and it is manual focus. Here are the details:
Estimated introductory price is $379
Our lens is a beautiful design.
SLR Magic HyperPrime 23mm F1.7
8 elements 7 groups
5 x Tantalum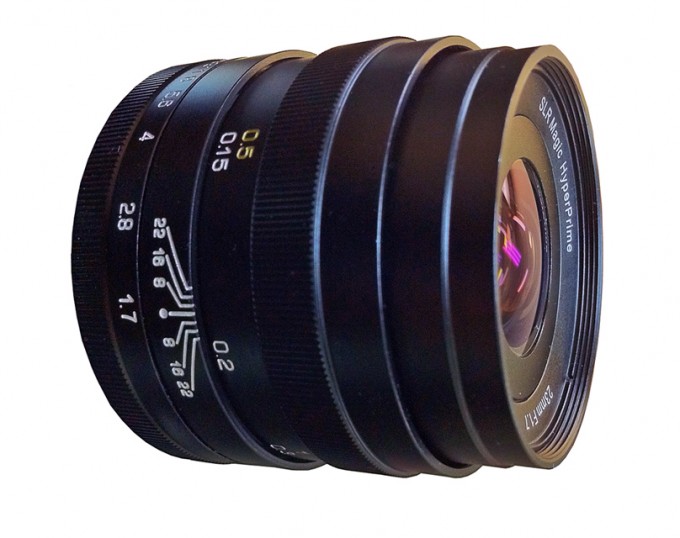 PRESS RELEASE
NEW: THE SLR Magic HyperPrime 23mm F1.7
SLR Magic expands its E-mount lineup with a new wide angle lens
Hong Kong, China (December 8, 2011)  – SLR Magic expands the E-mount lens lineup with the new SLR Magic HyperPrime 23mm F1.7 wide angle lens. With this latest addition, the portfolio of lenses for the E-mount system is now comprised of three focal lengths. The world's fastest interchangeable camera lens with APS-C coverage in this focal length, the SLR Magic HyperPrime 23mm F1.7 will be available in January 2012.
The field of view of this new HyperPrime Lens corresponds to a 35mm lens in 35mm format and this fast wide angle of view opens up many new creative composition opportunities, particularly in the fields of candid, street, and landscape cinematography and photography. A minimum focus distance of 0.15m allows for pleasing defocused backgrounds. Additionally, a fast max aperture of F1.7 makes the SLR Magic HyperPrime 23mm F1.7 ideal for available-light photography.
We place our highest priority in the development of all HyperPrime lenses to fulfill the demands of professional cinematographers and photographers. The design and build of the SLR Magic HyperPrime 23mm F1.7 is solid and reliable.
The SLR Magic HyperPrime 23mm F1.7 will be available from authorized SLR Magic dealers by the end of January 2012.
Technical Data    
SLR Magic HyperPrime 23mm F1.7
Lens Type:
Fast wide-angle lens with five Tantalum glass elements to ensure superior cinematic performance.
Compatible Cameras:
All E-mount cameras
Optical Design:
8 elements in 7 groups
Distance Settings:
Distance range: 0.15m to ∞, combined scale meter/feet
Aperture:
Manually controlled diaphragm, 12 aperture blades (circular), Lowest value 22
Bayonet:
E-mount
Filter Mount:
49mm; filter mount does not rotate.
Surface Finish:
Black anodized
Dimensions:
Length to bayonet mount:
approx. 50mm (approx. 1.97in)
Largest diameter:
approx. 61mm (approx. 2.40in)
Weight:
approx. 240g (approx. 8.47oz)
[ad#Adsense Blog Sq Embed Image]