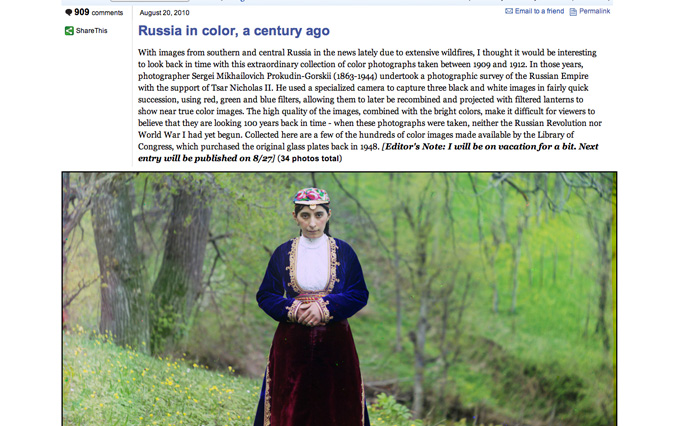 Wow! – Must see photos – Russia in color, a century ago
Someone posted this link to my Facebook wall and after I checked it out I knew I had to share it here. It is a collection of amazing photographs taken between 1909 and 1912 by Sergei Mikhalovic Prokudin-Gorskii (died in 1944). As I viewed the images I was awestruck at not only the content of the photos themselves but the quality of the photos. It appears he used a specialized camera that shot three black and white images in quick succession, using color filters that would later allow viewing in true color.
This is a must check out set of images and to see them click over to the article on boston.com HERE.
What I find amazing is that the quality of most of these images pretty much destroy any camera that is sold today, 100 years later. Almost hard to believe how old these shots are.
—
Worlds first full length feature film shot entirely on a smart phone – AMAZING
Wow…imagine. Shooting a full length QUALITY film on a PHONE and getting that film distributed across the USA to thousands of theaters. Totally independent, no studios involved but take a look at the trailer below. Remember, this was shot entirely on a PHONE.
Impressive. You can check out more details at the official website HERE. This is the kind of stuff I LOVE to see. Creativity and being different.