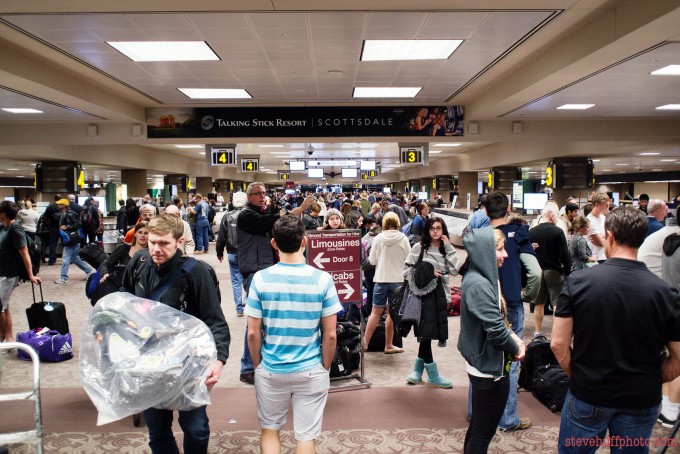 Happy New Year! Updates and cool stuff…SLR Magic, Gizmon, LA Workshop updates and more!
Hello to all! It's Tuesday Jan 3rd and I just arrived home from a 4 day trip to COLD Chicago to spend New Years Eve with my girlfriend. I am now back in Phoenix to the warm sunny weather and my daily routine of waking up to work on the site. The photo above was shot at the Phoenix airport baggage claim last night at 1 in the morning with the Panasonic GX1 and Olympus 17mm 2.8. I was there for 45 minutes waiting for my luggage and then when it did not show up on the belt I decided to take a look for it elsewhere. I ended up finding it 300 feet down and the US Air employee told me "Oh yea, that one came in an hour ago on a different flight". Fun! Came home, got some sleep and here I am now scheduling a few things for the site this week.
At 1:30 AM the airport is pretty empty. The 17 and GX1…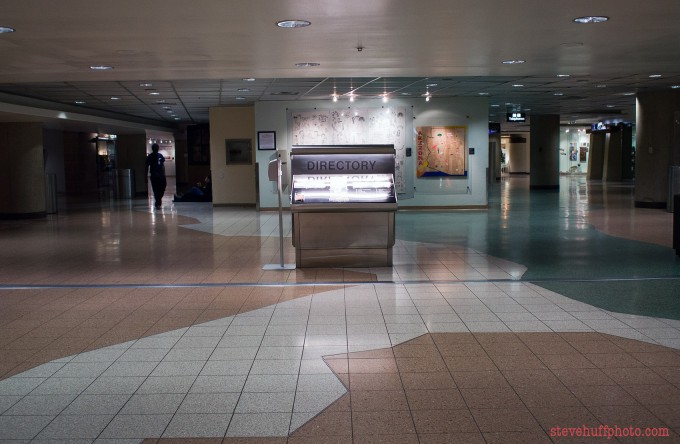 During the last few days I was without a computer and all of the updates and posts were scheduled so if you e-mailed me and did not get a response this is why. I am now back to work and ready to make 2012 a GREAT year. I took the Panasonic GX1 with me to Chicago along with the 25 1.4 Summilux lens, which is a fantastic lens BUT different than the 20mm 1.7 which I also adore.
[ad#Adsense Blog Sq Embed Image]
I am finding that the more I use the 25 1.4 the more I appreciate the qualities of the lens which have a richer feel than the images I get from the 20, which tend to put out flatter images than the 25. This is probably due to the 25 being a bit longer and a bit faster. It's also quite a bit larger but if I were to recommend one of the two lenses, it would be the 25 1.4 for it's richer color and overall character. I must admit though…I enjoyed using this lens on the Olympus E-p3 more so than the GX1. Why? Well, for some reason the E-P3 nailed focus more with the lens and I had about 36% misses with the GX1 and maybe 8% with the E-P3. Why? I have no idea. Also, after shooting both cameras over the weekend I found the E-P3 to focus SLIGHTLY faster than the GX1. Both are super fast for Micro 4/3 though and most would not even notice a difference. 
My lovely Girlfriend Debby just before we went out for New Years Eve, smiling as always! Shot with the E-P3 and 25 1.4 at 1.4. Grain added with Alien Skin Exposure.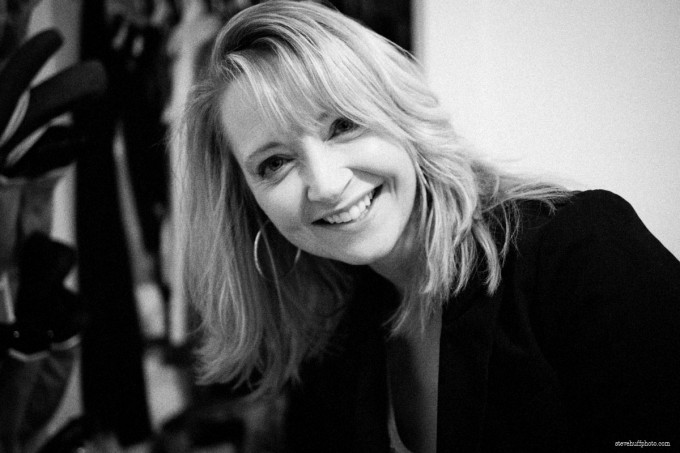 –
I hope you guys enjoyed the three GX1/E-P3 comparisons as well as the David Babsky GX1 piece. I am still gathering my thoughts on the GX1 and have purposely been shooting it alongside the E-P3 to see which one I truly enjoy more since I proclaimed the E-P3 the best M4/3 (for photos) a while back. I am hoping to have my review of the GX1 and 25 1.4 SOON. I can say that I have been enjoying the GX1 with the Olympus 17 2.8 (black version). On the camera the lens seems like a perfect fit and size. Looks like it was meant for the camera and the quality is there as well.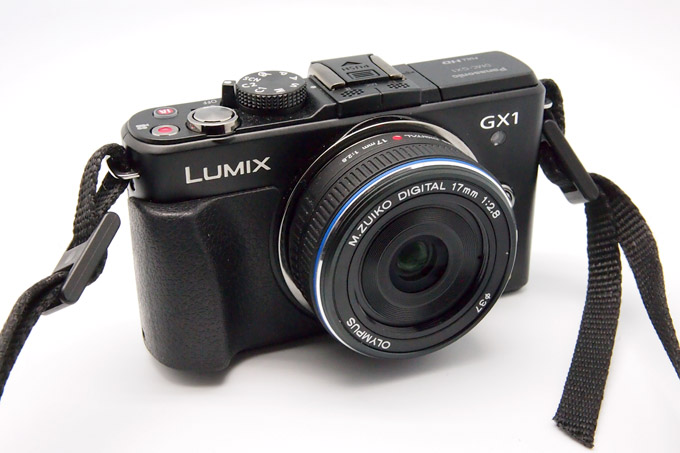 –
So look for the GX1 review soon right here!
Gizmon nICA iPhone 4 Case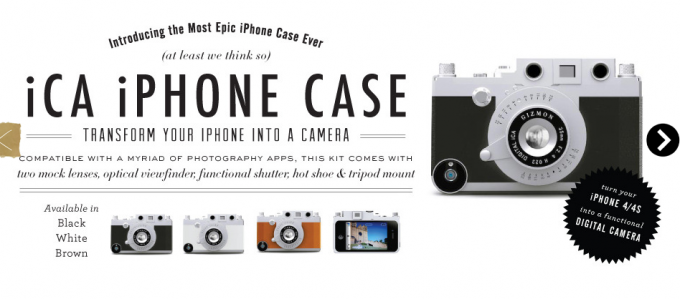 Check this out! I know it has been posted on other sites already but this looks pretty interesting if not impractical. This huge case takes your iPhone 4 and turns it into a retro (Leica) looking camera with strap and all. The only problem with this is that what if you get a phone call while you are out pimping your new case? Seems a bit overkill but it does look cool. You can get attachment lenses such as a macro and fisheye. A case, a lens and strap will set you back around $140 or so. You can read more about it at the official site HERE.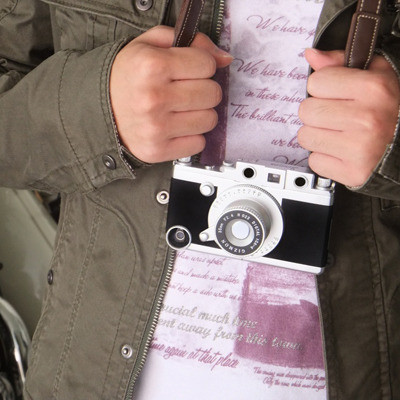 –
Los Angeles Workshop update and SLR Magic f0.95 For Leica M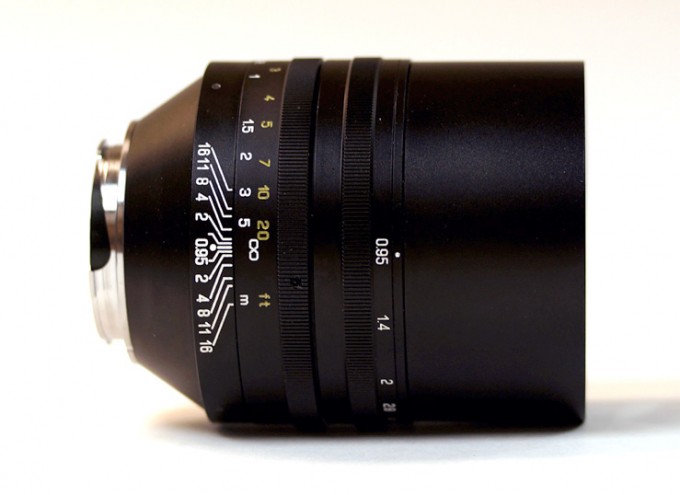 Some of you if not all of you have heard about the all new, designed from the ground up SLR Magic 50 f0.95 for Leica M mount. This is a lens that SLR Magic has been working on for a LONG time and I have been fortunate enough to have been in contact with them over the past several months regarding this new lens and all of the  revisions it has gone through. One thing I do know is that SLR Magic is really working hard and spending tons of money t0 perfect this lens and the construction is solid and HEAVY. It is also larger than the Leica f/0.95 as of right now. I was supposed to get one in December to test out (but not publish) but they are still working on perfecting it.
The GOOD news? THIS lens will make its physical debut at my Los Angeles workshop on Jan 27, 28 and 29th of THIS MONTH. Andrew from SLR Magic is flying in with at least two of these, maybe three. All in attendance with Leica cameras can attach one to their M and  give it a whirl. This lens will not be cheap when it goes up for sale later in this year but it will be MUCH cheaper than the Leica version. How will it compare? We will all have to wait and see but I see a "crazy comparison" coming up between these two low light heavyweights. Think you will be surprised? You just might. 🙂
If this is something you want to see, leave a comment. 
BTW, there are TWO seats left for the LA workshop and then we will have a full house. They are going quick so if you have been thinking of attending, see the workshop page HERE. So far we will have Leica shooters, Micro 4/3 shooters, DSLR shooters, and X100 shooters.
Enjoy and again, HAPPY NEW YEAR TO ALL!