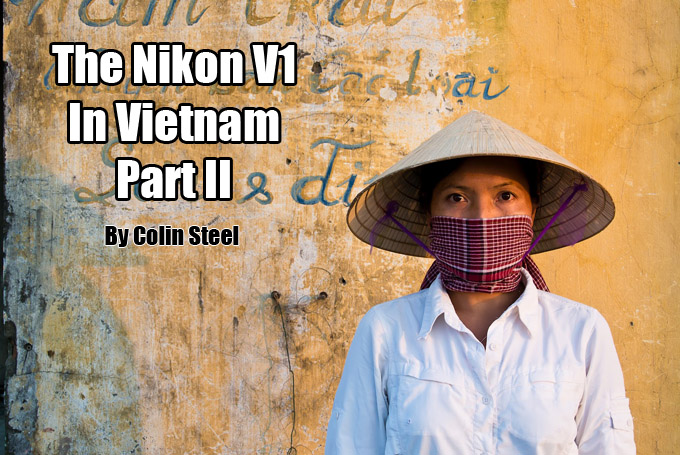 The Nikon V1 in Vietnam Part 2 – By Colin Steel
See Part 1 HERE and see Colin's Blog HERE
The Villages & Fishermen
Hey folks, welcome to part 2 of this series of articles based around a short trip I made to Vietnam with my minimalist Nikon V1 travel kit and a Snapseed loaded Ipad for image editing on the move. I decide to focus part 2 on the villages I passed through and the somewhat unique fishing ports along the Central Vietnam coastline.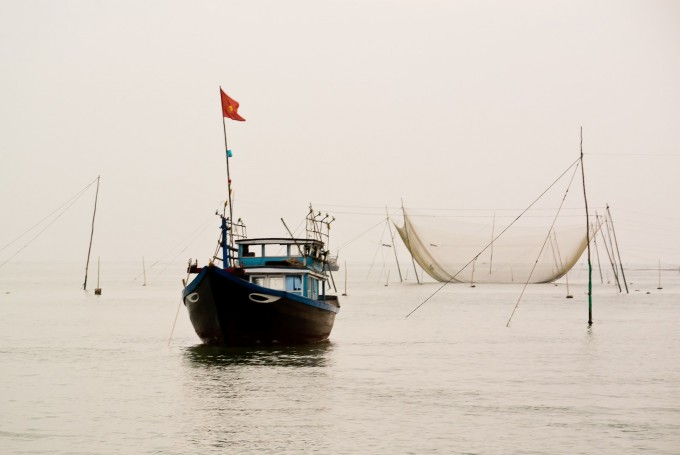 Vietnam, like many Asian countries is very heavily dependent on fishing and every village will have a morning market where the freshly landed catches are on sale. I love prowling these markets just before sunrise as that's when I think the best shots are to be found. People are just setting up for the day, having some breakfast and/or a cigarette and there is a unique ambience that dissipates once the sun comes up and the day's business begins. There is really no excuse for traveling to a location like Vietnam and then not getting up very early, you will get the best shots and the tourists will not even be stirring never mind had their breakfast. The shot below was taken at the market in Hoi An at around 5 a.m. and entailed a 4 a.m. rise. It's also easy at that time to charter a small boat if you want to skiff around the harbor as the ferry's and fishing boats arrive.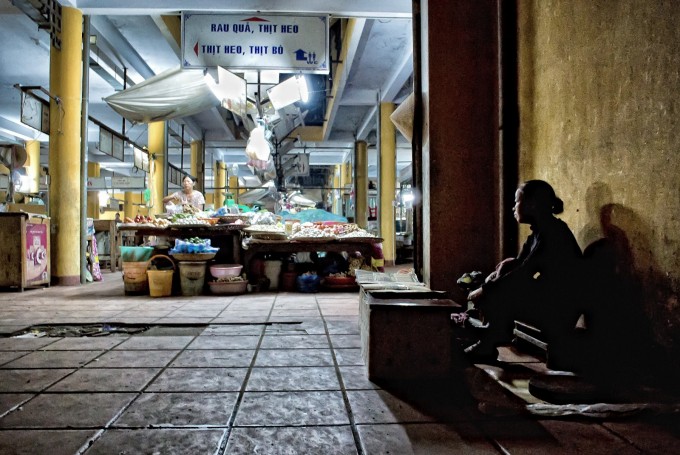 [ad#Adsense Blog Sq Embed Image]
If you are traveling the same route as I did from Hue to Hoi An along the coast just keep your eyes open and you will come across fishing activities at many places along the way. Just stop off, have a coffee, chill for a while and then wander down to the beach. People are usually too busy to bother with you and there are many nice shots to be had of the morning activities.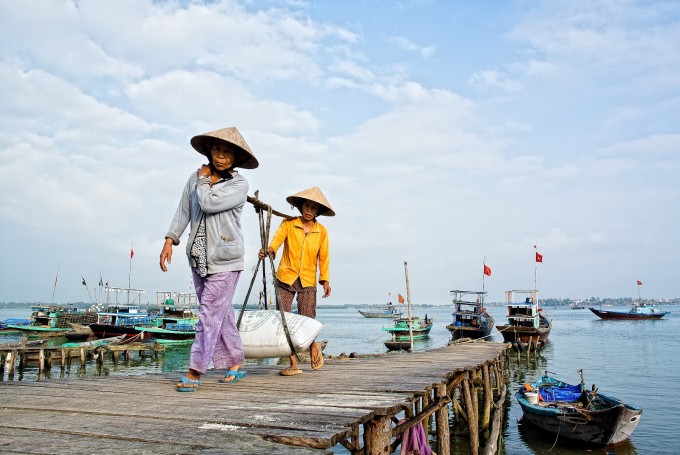 Maybe I have been unlucky but quite often in Vietnam I have encountered flat, grey weather and while this can give problems with many kinds of shots it can also be turned to your advantage and I quite like this kind of high key shot which imparts a feeling of stillness and tranquility.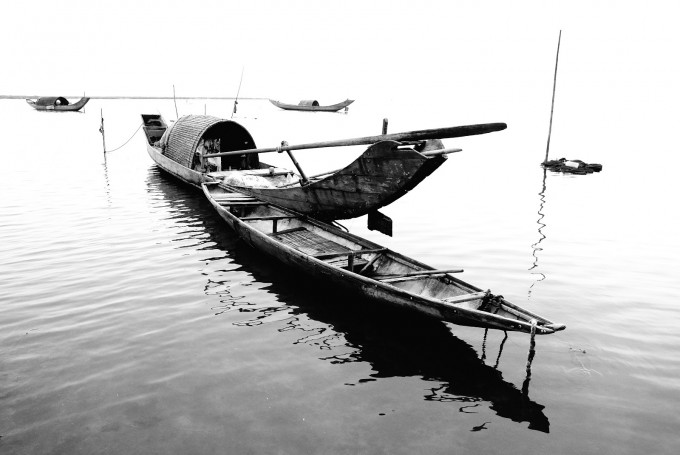 Here's another one taken in the evening but with a similar feel and treatment. It goes without saying that B&W suits these best and to be honest this is one of the weakest tools in the Snapseed suite and I think that much better results could be achieved using silver efex pro or some similar conversion software. The key to these shots for me is nearly always the stillness of the water, this allows you to 'blow out' the light bits and create a very nice contrasty look. In the above shot for example the horizon is lost completely but somehow it doesn't matter to the feel of the shot and the vital pole on the right side holds the frame together. It's impossible to legislate for weather when you travel so you simply have to vary your shooting style to suite what's on offer and I often find that it helps me to 'think & see' in black & white. You may even want to set your camera up in a B&W mode so that you can see right away how the shots look. While this is easy to do with the V1 I generally don't bother as I find it easy to visualize what's going on with the light and shadows. You can see that a fair bit of noise has come into the shadow of the shot below and it wouldn't be that hard to get rid of but I thought the shot gained a kind of grainy film look as a result.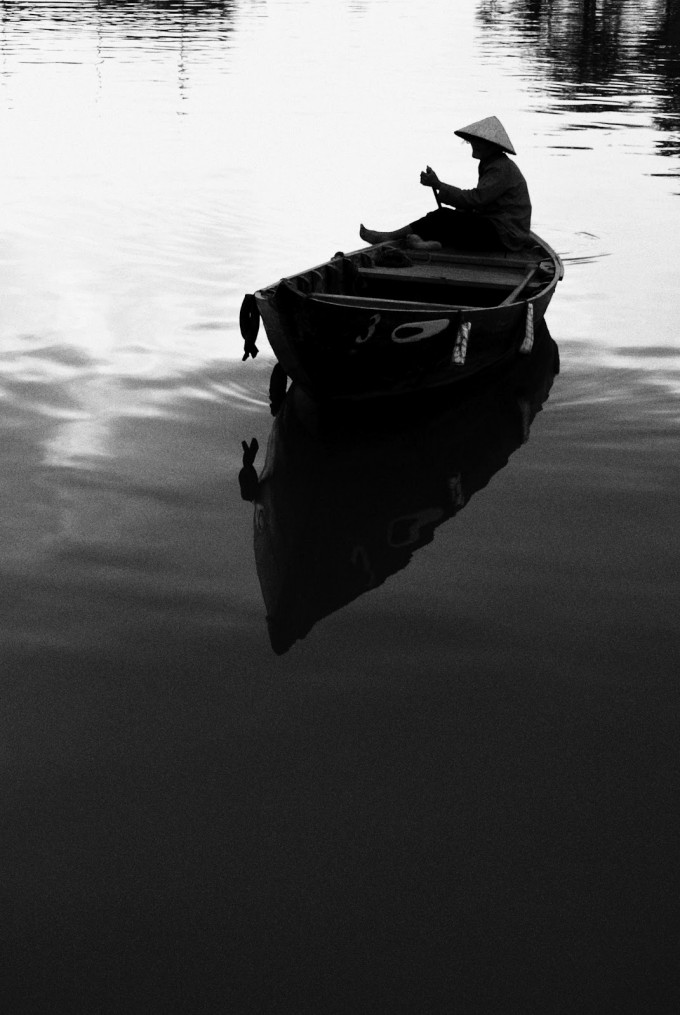 I mentioned a stop off at the very welcoming fishing of Lang Co which much to my surprise turned out to be a Christian village. Lang Co means Egret beach as the birds migrate their in vast numbers at certain times of the year. The people were very welcoming and although no English was spoken its easy to communicate and build rapport with these folks. Unfortunately the beach wasn't active when I got there but again I like the kind of simplicity and feel of the shots that can be got when you have this kind of overcast light. It just needs a dash of color to add interest. You can't see it very well here but the boats are a very interesting curved shape and I am sure if you played about there are some very interesting shots to be had from the hulls.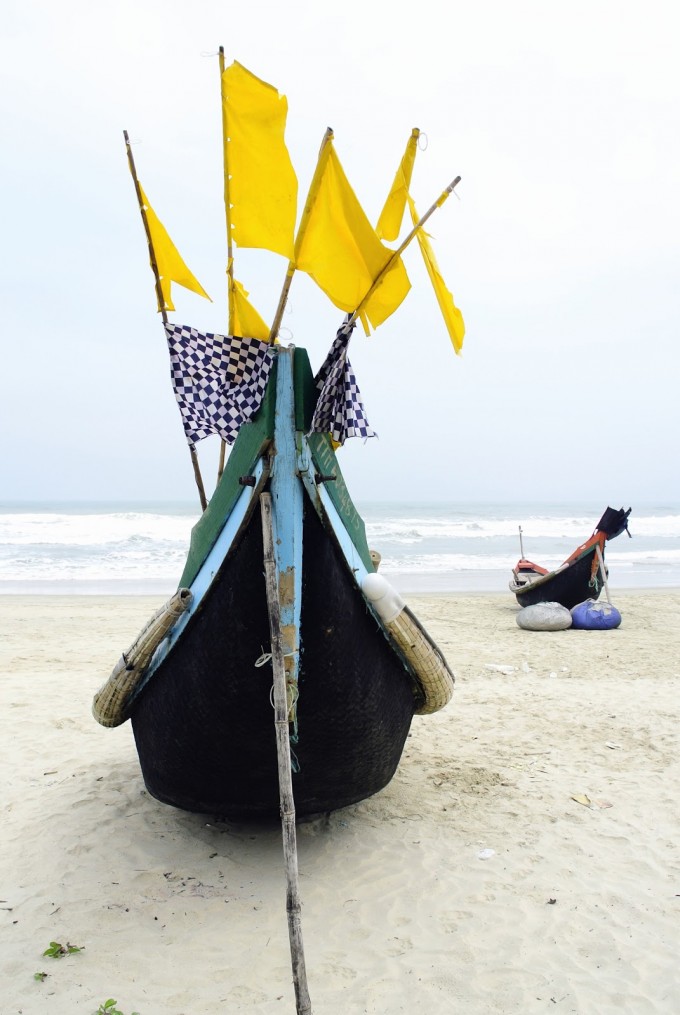 Once in the village its nice to observe the people as they go about their daily lives. As I said, they were very friendly and I even got an invite from a couple with a new baby to share a Vietnamese pancake with them. This is a kind of light omelet type pancake stuffed with either pork or chicken and very tasty it is too 🙂 I mentioned that the village was Christian and I managed to get this very nice shot of this extremely nice old gentleman with his grandkids in what appeared to a be a simple little chapel.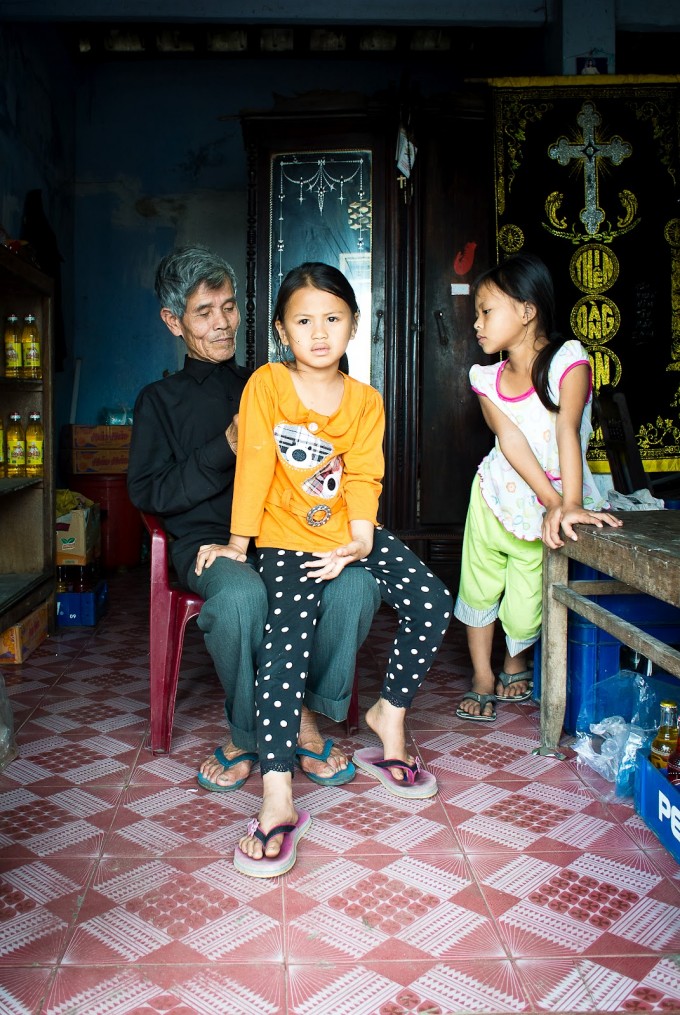 By the way, this is one of the few shots in here that I didn't edit in Snapseed as I just couldn't get it to look how I wanted. Now that I see the nice rim light on the old fellows face I wish I had gone in tighter, never mind, a good reason to go back some day.
Something to watch out for along the coast is the large fishing nets that are set in the evening with a lamp on them to attract fish and then winched in at daybreak.
It's very interesting to watch the fishermen emptying the nets but consequently difficult to shoot and you really have to be in a boat nearby to get the best of these shots. This was the best I could do on this trip and you can see the round, coracle type skiffs that the fishermen use for their mobility. I quite like the abstract nature of this shot through the orange net which has a nice triangular shape adding some interesting pattern.
I also like to hang about the boats as well and try to capture something dynamic as the fishermen come in. Sometimes you have to be pretty nimble to stay out of their way but it can also be rewarding. I shot the one below from an adjacent boat and although it was a very tricky exposure I preferred to forgo the face for some sky to highlight the Vietnamese flag. The V1 can be left on auto area focus for these shots in decent light and it will nail what you want just about every time, this allows you to forget the camera and work the shot (and of course focus on not getting crushed by the boat or trampled by the fishermen !!!)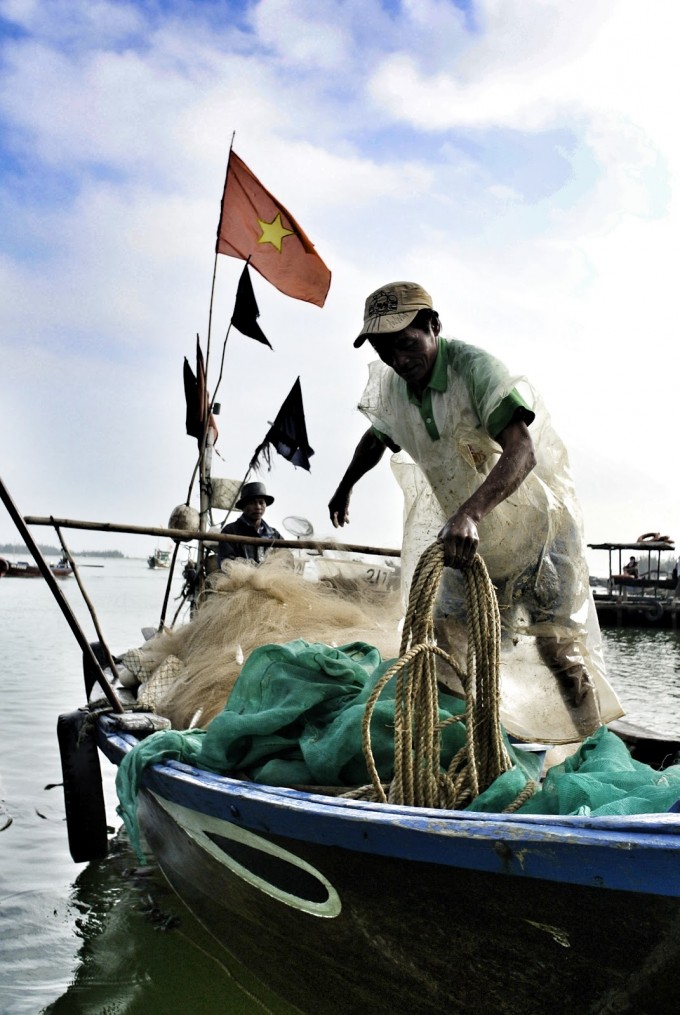 These shots are from beaches along the Thu Bon estuary and, as I mentioned, it's very easy to charter a small boat and have them stop wherever something attracts your interest.
I found the nice old guy below sitting at his net and he was delighted to show me how he winched it up and we helped him check it for fish. Given that I spent a lot of time with him and took loads of shots, I made the mistake of offering him some money and he politely declined. It made me think that maybe I should start carrying some packets of cigarettes or something which I am sure would have been willingly received.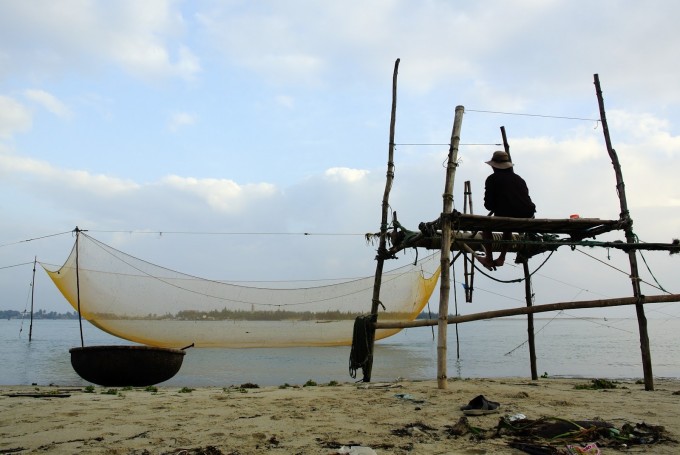 Here is another shot of the next fisherman along which clearly shows the boats that the fishermen use. They can make these small light craft move very quickly and the are extremely maneuverable in and around the nets. The boats are very similar to Welsh coracles that, although used mainly on rivers, are valued for the same ability to turn and have shallow draught.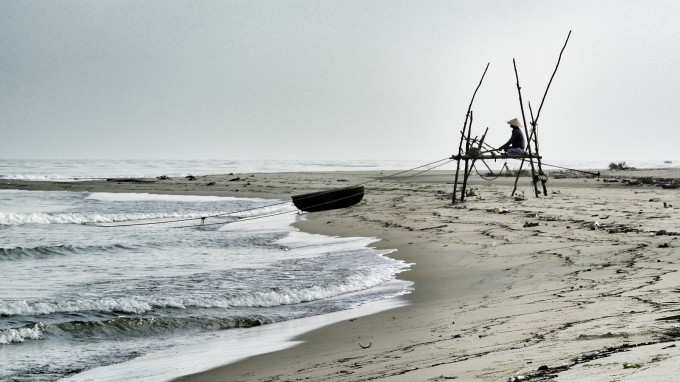 Getting back to the villages, one of the identifying markers of Vietnam is the colorful use of yellow and blue on walls and this of course makes an attractive photographic backdrop.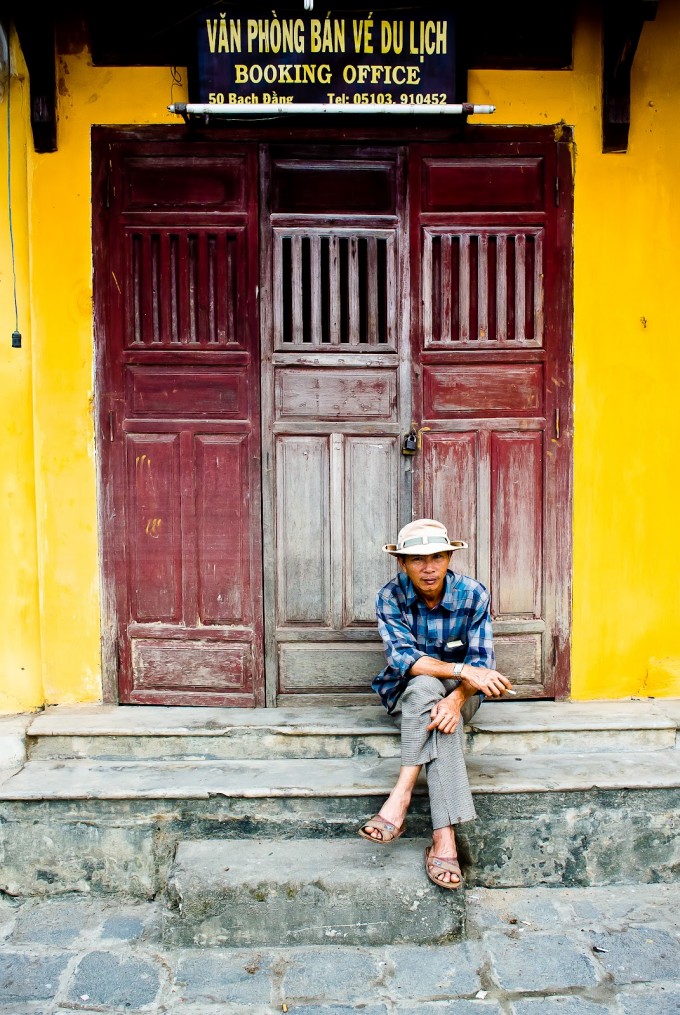 Keep your eyes peeled for the right kind of subject to blend with the color theme and its usually pretty easy to frame them in a door way or something. I got a bit lucky here as nearly everyone in this region wears a hat, either the conical coolie style or this type of soft hat and this can very often obscure the eyes and much of the face. For this reason I like to try to shoot low and its always better if you can engage the subject to get them to look up at you.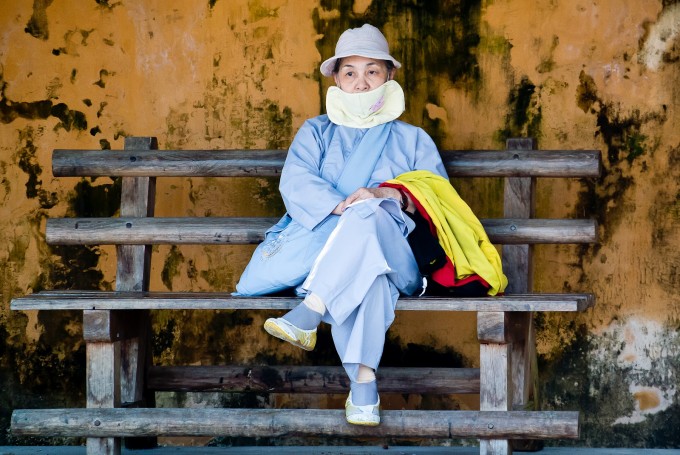 You can also watch for subjects in colors that work and compliment (or contrast) with the yellow backgrounds. I am not going to go into color theory here, just let your eyes tell you what looks right.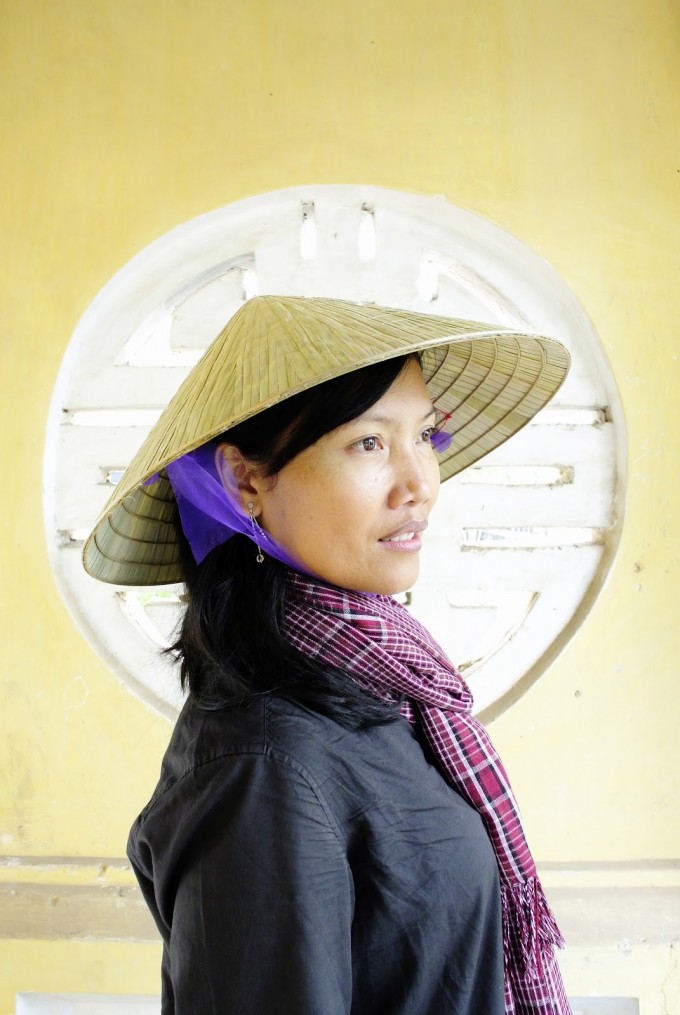 The backdrops also make for nice color and framing opportunities for portraits. Just consider that if you are taking portraits against that kind of background try to get contrast in the clothing and also watch the exposure, the light yellow walls can sometimes trick the meter. I find it's better to stay a bit brighter to create a lighter feel and the yellow goes a very nice creamy color.
Well, while this has been a bit of a ramble I feel like I have hardly scratched the surface of this subject. I have mentioned it before but I still think it gets missed by so many, 'you have to be there to get the shots !!' Drag yourself out of bed and stay until the sun has set.
I think I will wrap it up here for part 2 folks. As most of you know I am an incurable camera junkie and I met some friends last night to discuss a potential trip to Tibet and one of them had a Sony Nex 7 which has just finally arrived in Singapore. He had some Leica glass on it and was showing me the focus peaking at work…..Oh oh ……..
It's a disease !!!!
Anyway, here's a nice portrait of a very lovely traditional Vietnamese musician. I really like traditional Asian music and bought a CD so that I can reminisce while writing these posts 🙂
Cheers, and take care,
Colin
Steve's Nikon V1 Review is HERE