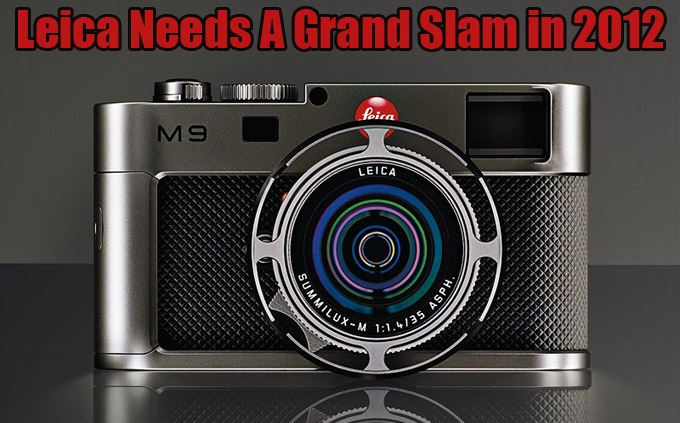 Leica needs a grand slam camera announcement in 2012 – will they deliver?
It has now been just about 2 1/2 years since Leica had their big event to announce the full frame M9. FINALLY we all thought at the time! A full frame digital rangefinder by the masters of RF design, we will never ask for anything more we said. When it hit, those of us who were lucky enough to get a hold of one were immediately in love with the familiar design, and of course, the amazingly creamy sensor made by Kodak. I was so excited to get one of my own at the time, I remember it vividly. When I finally did I couldn't stop shooting it and it never left my side when I left the house! There was an excitement in the air and in my bones when that M9 arrived and it was due to not only the camera itself being my dream machine but the excitement from everyone else who was waiting for this camera. It was Special. Leica actually created a grand slam with the M9/X1/S2 releases and turned their whole business and profit around. Pretty amazing.
Leica succeeded in making 2009 THEIR year and even today they have been enjoying a huge success with M camera sell outs, and lenses that they can not seem to make fast enough. The prices are sky-high but even in this economy (that many say is so bad) Leica continues to sell out $11,000 lenses and $8000 bodies. On the other hand, the little camera that could, the Leica X1, is not doing so well these days. Sales have slumped for the last few months ever since the Fuji X100 release and prices on the used market have dropped quite a bit. Leica will need not only something new in the M line but also the X line. Who knows, maybe they will shock us and release an all new line of camera 🙂
Then again, I am also worried about the $$ situation as they seem to raise prices any chance they get and it is starting to get to the point where I am being priced out of the cameras wether I like it or not, and I know many out there feel the same because I hear it all the time. I am not rich by any stretch of the imagination but I own a Leica M9P and a couple of lenses. Why? Well, mainly because I feel a connection to this brand we call Leica, and I also happen to think the output is still today 2nd to none. Yes, I really do. I have bonded with my M like many of my fellow M shooters who are reading this very article. It has given me the best photos and memories of my life so for me, the M will always be with me but if they release a new M at $10k or $11k, I am out.
[ad#Adsense Blog Sq Embed Image]
THE REALITY OF TODAY
This is 2012 and it is no longer the "year of the Leica", 2009. Cameras have evolved so fast over the past three years that many feel that the Leica M9 is now "old tech". Sure it has a horrible "worst of the worst" LCD and yes it has a painfully slow buffer, and yes it is noisy (but usable) at ISO 2500. BUT what do we get in return when we put up with all of that? We get amazing file quality when using good lenses and that quality on many occasions has rivaled medium format. Slap on a Leica 35mm or 50mm and be amazed at the detail in your images. But then again we have to take a look at costs because we are talking about spending $7000-$8000 on just a camera BODY and spending that kind of cash TODAY, as in RIGHT NOW is tough. Especially when we have all of these new cameras on the way.
Yes! IN 2012 this is getting a bit tricky because we have cameras like the Fuji X-Pro 1, and I have to say that the more I see of it, the more amazing it appears in regards to image quality. The lenses are sharp and the file quality appears to be equaling the M9 in many of the samples I have seen to date. The styling is like an RF, and it even has a modern-day hybrid EVF/VF and a much better LCD. The Fuji IS NOT an RF but you can surely use your Leica glass on it and take advantage of it having no AA filter. The Fuji has even better color than the M9 and at 1/4 the price of an M9, it will be serious competition to those who have not yet gone with a Leica due to cost, but wanted to. Those who bought an M9 and had focus issues or cracked sensors or have become disappointed with the luxury brand for one reason or another  will flock to the Fuji X-Pro 1 (or even the new OM-D which also look phenomenal) in droves. Others simply see the X-Pro 1 as a viable alternative to the M9..those who are not diehard rangefinder shooters.
Many have been saving for an M9 or M9-P and I have heard from quite a few that they will take that savings and invest in the Fuji X-Pro 1 instead. Superb IQ, great styling, great lenses, 1/4 the cost. It makes sense. Even cameras like the NEX-7 are capable of amazing output with Leica glass attached. So what does this mean for Leica in 2012?
IT MEANS THEY BETTER ANNOUNCE SOMETHING SPECIAL, AND DO IT SOON.
Leica has not yet made any new product announcements but I am hoping and guessing they will do so very soon. If not, they will be in some big trouble as I predict their M9 sales will eventually slow down to a halt while everyone enjoys the new stuff from Fuji, Sony, and Olympus. There is a genuine excitement in the air about these new generation photographic machines in the photography world. Again, keep in mind I am not talking about die-hard Leica guys switching to Fuji, because people like me LOVE their M and will always have one. I am referring to that group of new customers Leica has not yet attracted and those who even went with an M to find it frustrating. I feel if Leica does not announce something amazingly special that this will NOT be their year and they may even lose some sales.
Will they announce a new X or M soon? I do not know… but one thing I hope for is that there is still someone at Leica with a creative mind and that they are really looking at what we want in a new model. I am not hoping for massive mega pixels or a new design. I am hoping for a more "mature" digital M. One that can focus accurately, one that has an LCD  that can let you know if you nailed focus when you look back at your image and one that can possibly have less noise at higher ISO. When you think about it..what CAN Leica do to create a HOME RUN camera?
BTW, I will have a review of the new Pentax K01 by the end of the weekend and the Fuji X-Pro 1 should be arriving to me SOON, so stay tuned! Like I said, this is the calm before the storm 🙂
Give me YOUR thoughts on what you are hoping to see from Leica. Leave your comments below!