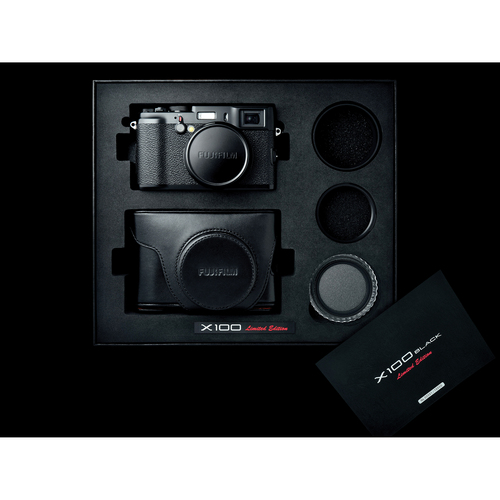 For those of you who have been waiting for this slick looking all black Fuji X100 set, it is NOW IN STOCK at B&H Photo.  Coming in at $1699 (the cost of the X-Pro 1 body alone) this is a limited edition set in all black that comes with a lens hood, black leather case and strap and other goodies. This is how Fuji describes this set, which is limited to 10,000 pieces.
"FUJIFILM Corporation presents a limited release of 10,000 units of the high-end compact digital camera "FUJIFILM X100 BLACK Limited Edition" worldwide. The company has been receiving numerous requests for a black version of the X100 since its original launch in March of 2011.
The package of the X100 BLACK Limited Edition contains the camera unit, a genuine leather ever-ready case, a lens hood, an adapter ring and a protective filter. Each package comes with a message card reading a number as proof that it is one of only 10,000 units produced. The model will end its sales when all 10,000 units are sold out."
So if you want it, go get it now before those 10,000 are all gone 🙂 I think it may take a while to sell 10k of these but you never know. It does look gorgeous!
The cost of this black special edition will be about $180 more US dollars that you would pay for the normal X100 and accessories that the black version includes.