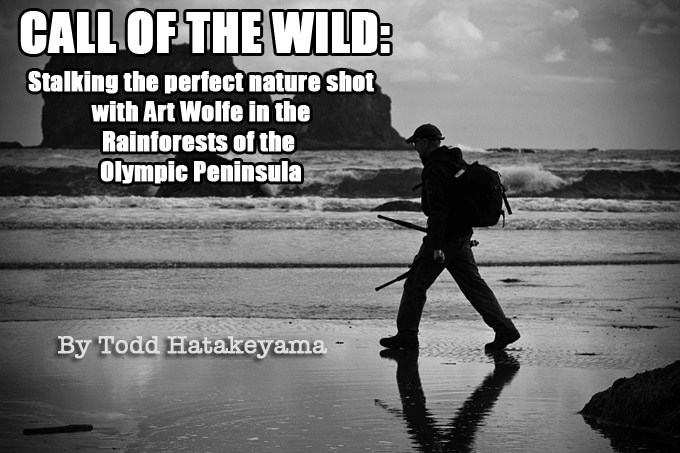 CALL OF THE WILD: Stalking the Perfect Nature Shot with Art Wolfe in the Rainforest
By Todd Hatakeyama – See his blog HERE
As much fun as I've had shooting the concrete jungle with savvy street photographers like Eric Kim and Steve Huff, my first and foremost passion has always been for natural, not man-made, landscapes. Therefore, when I had the opportunity to take a workshop-in-the-wild with the man widely regarded as one of the finest nature photographers since Ansel Adams, I packed up my gear and rain covers in my Naneu Pro U60 backpack and headed to Washington state for a lot of muddy hiking and an unforgettable experience.
For those of you who are unfamiliar with Art Wolfe…shame on you! In a career spanning more than thirty years, Art has roamed every continent on the planet, taking pictures of the wilderness that have appeared in National Geographic and other magazines and in a string of award-winning books. His captivating photos of wildlife, panoramas, and native cultures have garnered such honors as the Alfred Eisenstaedt Magazine Photography Award and the National Audubon Society's first-ever Rachel Carson Award. He has been named Outstanding Nature Photographer of the Year by the North American Nature Photography Association and an Honorary Fellow of the Royal Photographic Society. And his public television series Art Wolfe's Travels to the Edge rocks–I've seen every episode. This was my chance to share in the adventure.
Me and Art – NEX-7 with Leica 90mm Elmarit-M f/5.6 1/100 sec ISO 100 handheld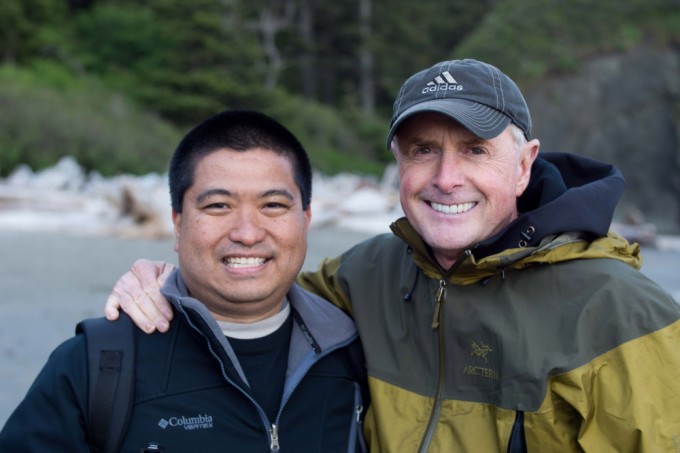 From the outset, Art advised us to carry as much gear as we could lug in order to be prepared for both macro and landscape shooting and the changing light and weather conditions we might encounter. "If you have it, bring it," he said, "because you will probably use it." With this in mind, I stuffed my Naneu Pro bag with the Leica M9, a Sony NEX-7 with a Leica adapter, a Leica 21mm Super Elmar, a 35mm Summilux, a 90mm Elmarit-M, a Hyperprime 50mm f.95, a Sigma 30mm 2.8, a Sony 55-210mm, a Vanguard 225CT carbon fiber tripod, a Feisol CB-30C head, ND filters and graduated ND filters, some polarizing filters, 128gb of SD cards, Micro Lens Pouches to pad my lenses, and a couple of Street Strap camera straps. Any more than that and I would've needed a Sherpa to carry it all into the woods for me.
[ad#Adsense Blog Sq Embed Image]
Naneu Pro bag with the Leica M9, a Sony NEX-7 with a Leica adapter, a Leica 21mm Super Elmar, a 35mm Summilux, a 90mm Elmarit-M, a Hyperprime 50mm f.95, a Sigma 30mm 2.8, a Sony 55-210mm, a Vanguard 225CT carbon fiber tripod, a Feisol CB-30C head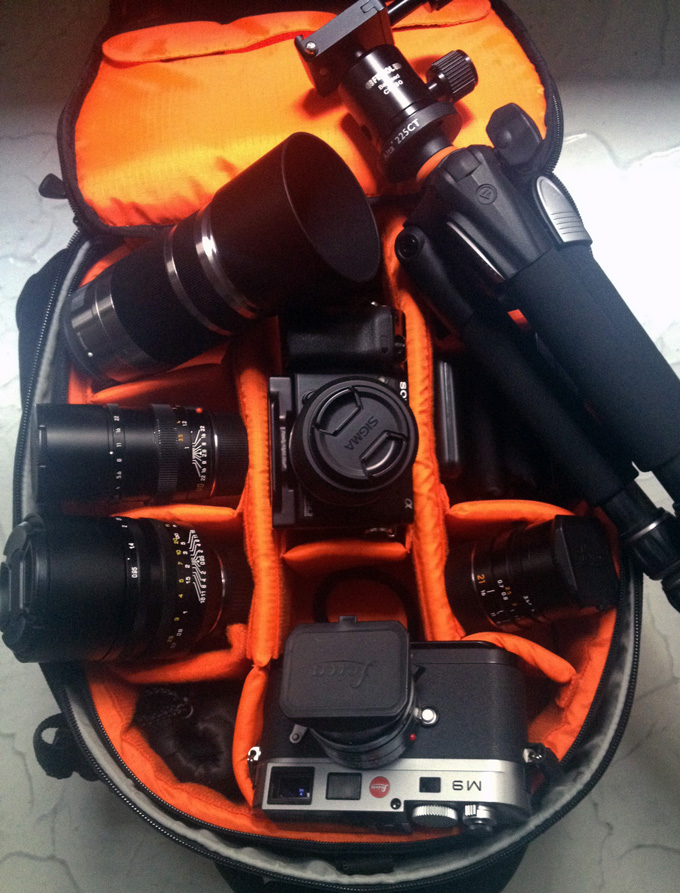 On Thursday night, I flew into SeaTac airport, where I rendezvoused with my friend S.K., a fellow alumnus of the Steve Huff workshops. By the time we made the two-and-a-half-hour drive in our rental car from Seattle to Port Angeles and checked into our hotel, it was 2 a.m., so we missed the initial evening meet-and-greet with Art Wolfe. Although Art encouraged all the students to do a pre-workshop shoot at dawn on Friday morning, S.K. and I needed what little sleep we could catch before the big day ahead.
SK and me – NEX-7 with 55-210 at 94mm f/5.6 1/13 sec ISO 200 handheld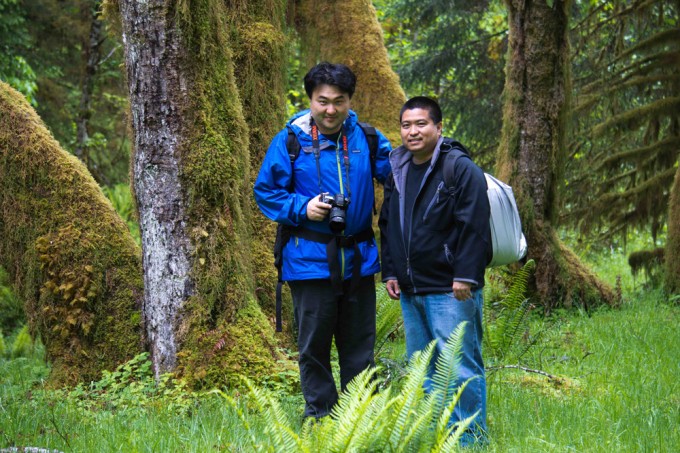 We woke in time to grab a hasty breakfast, then joined our new classmates for Art's two-hour introductory presentation. Illustrating his lecture with stellar examples from his own work, he told us what to watch for out in the field and offered us some tips with regards to composition, camera settings, and tripod techniques, among other topics. There were thirty workshop participants in addition to Art's helpful assistants, Jay Goodrich, Bill Edwards, and Libby Pfeiffer, all of whom are accomplished photographers in their own right. S.K. and I were the only non-DSLR shooters in the group, he with his M9P and Pentax, me with my M9 and Sony NEX-7. I realized that it was going to be difficult to capture any quick-moving wildlife with the manual focusing Leica and without a long zoom lens. Ironically, that challenge was part of what appealed to me about the workshop with Art Wolfe. Having followed his work for years, I knew that he is a Canon DSLR shooter and frequently shoots with 300 to 500mm lenses. I accepted that I wouldn't be able to get anything close to his shots with my Leica gear, but I was eager to see what I could do with the Leica despite its evident disadvantages for this kind of photography.
M9 with 21mm Super Elmar f/11 1/8 sec ISO 800 handheld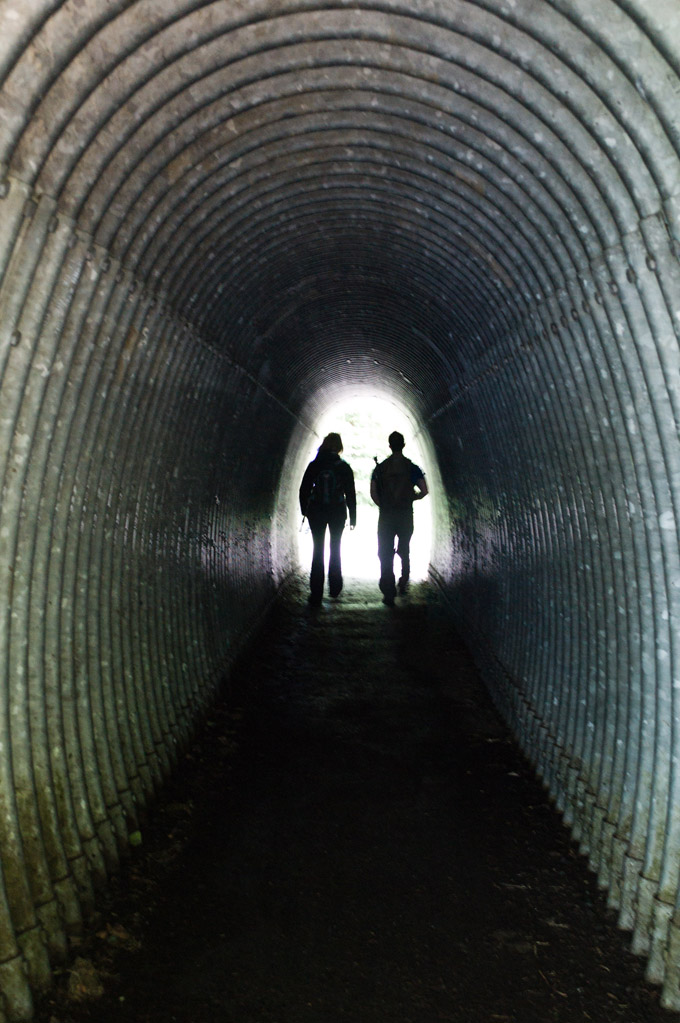 Following the seminar, our entire group picked up some sandwiches at the local grocery store for lunch and set out for our first field shoot. Our goal was the Marymere Falls, located amidst the old-growth trees of the Sol Duc Valley in Olympic National Park. The weather wasn't great– overcast skies with some light rain that turned the ground a bit muddy–but it could have been a lot worse. The most troublesome aspect was probably the wind around the waterfalls, which made them difficult to shoot with the mist blowing right into the camera lens at the closest and best vantage point.
M9 with 90mm Elmarit-M f/14 1.5 sec ISO 160 with tripod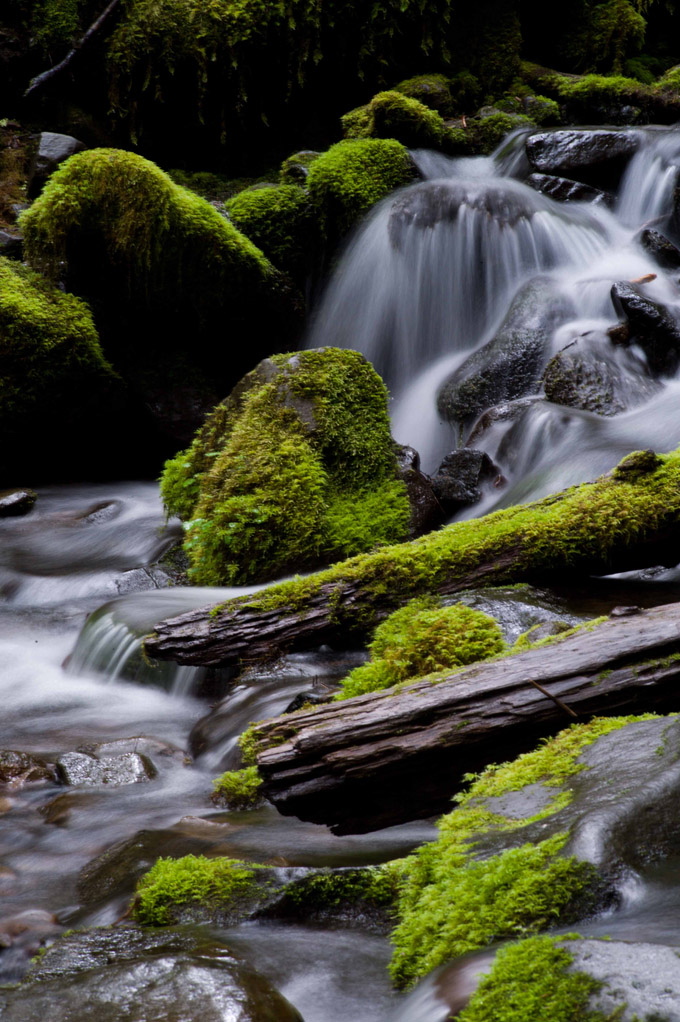 I'd brought along my Vanguard 225CT carbon fiber tripod since Art recommended having one with me, but I rarely shoot with a tripod as my style of photography is more spontaneous and fast-moving. All of the DSLR shooters had their huge tripods and 70-200mm telephoto and wide angle lenses, some of which they set up in the streams to get a perfect shot of the waterfalls. S.K. and I, however, leisurely wandered around shooting the forest and anything we found interesting but without the use of a tripod. Once I reached one of the waterfalls, I set up the Vanguard and alternated between the M9 and NEX-7, experimenting with some long exposures. In addition, I would switch between handheld and tripod shots depending on the situation. It sprinkled intermittently, so I would shoot with the NEX-7 when it was wet and the M9 when the rain let up. The M9 is not weather-sealed, and I did not want to risk any water damage. Truth be told, the NEX-7 isn't weather-sealed either, but at one-sixth the cost of the M9, it seemed less to risk in the rain. To my surprise, some of the shots came out so silky smooth that they are among the best shots of a waterfall I've ever taken.
NEX-7 with Leica 90mm Elmarit-M f/16 1.3 sec ISO 100 with tripod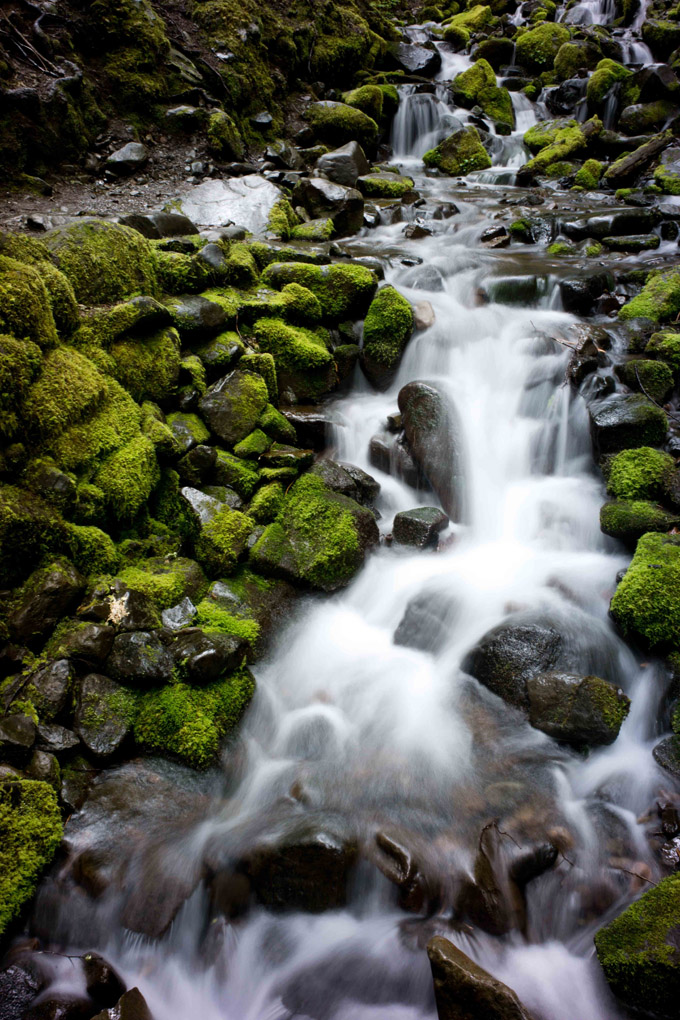 After our excursion, we returned to Port Angeles and enjoyed some down-time with Art at the Downrigger's Waterfront Restaurant which, as its name implies, had a nice view overlooking the coastal waters. We didn't dare stay up too late, however, because Art was determined that we should make the most of the following day's prime light. Although he mercifully scheduled Saturday's field shoot for the afternoon, he encouraged the early birds among us to take pictures in the dawn hours as well.
After breakfast and a quick meeting Saturday morning, our Wolfe pack headed off to the Hoh Rain Forest. Speaking of wolves, the Hoh Valley is perhaps best-known as the location where the Twilight movies were shot. We stopped to pick up lunch in the nearby town of Forks, but I didn't see any brooding, James Dean-wannabe vampires, shirtless-hunk werewolves, or pouty, overrated actresses.
Team Jacob, our rental car in the Twilight forest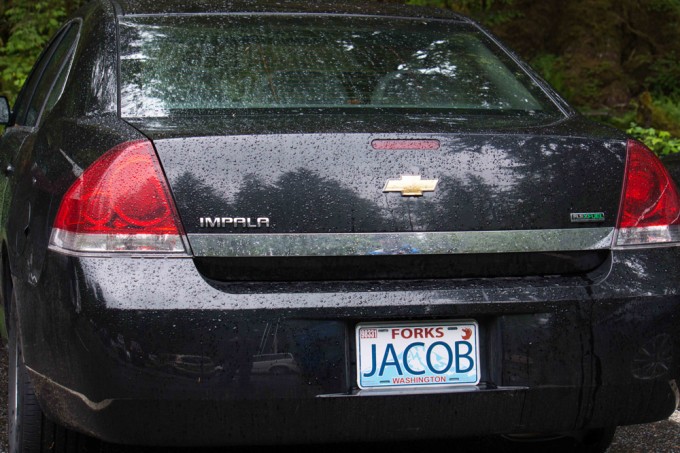 The rain forest is also notorious as the wettest spot in Washington, and it lived up to its reputation. It rained off and on for much of the day we were there–unfortunately, more on than off. We made it to the Hall of Mosses without getting too wet and set up for some shots of the amazing trees, but Art heard the rain coming and told us to take cover under the forest canopy to keep us dry. It rained for a good 45 minutes, and we were all impatient to continue shooting. I had my umbrella with me so I was able to take a few shots in the rain, but after a while S.K. and I decided to head back to the Visitor Center to relax and dry off.
NEX-7 with 55-210 at 144mm f/5.6 1/40 sec ISO 400 handheld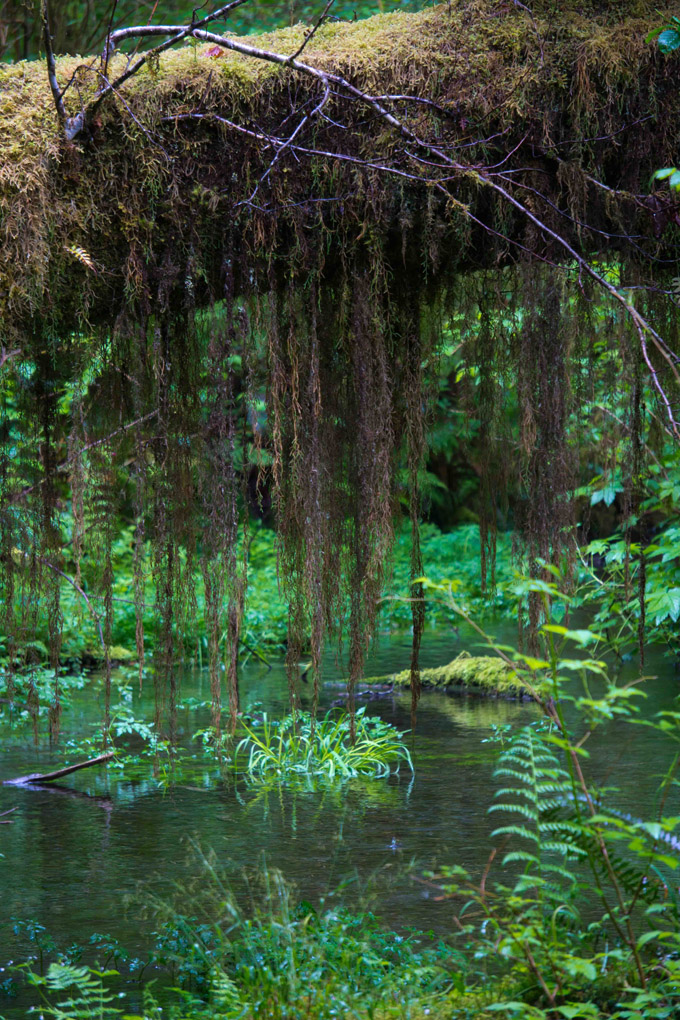 When the rain stopped, we decided to take a different trail, where we ran into some of the other participants, socialized a bit, and continued snapping shots of the forest. We completed the mile-long loop and returned to our car, ready for dinner at a local pizza place, courtesy of Art.
NEX-7 with 55-210 at 55mm f/5.6 1/15 sec ISO 400 with tripod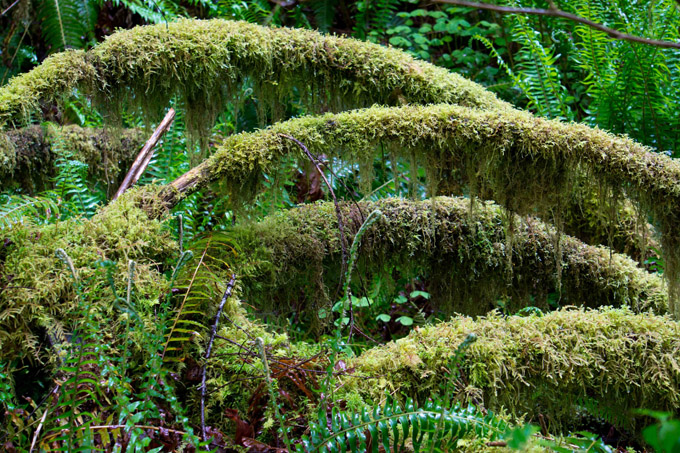 Well-fed, dry, and recharged after our meal, we headed to the outer edge of Washington to Second Beach, so-called because it's one of three beaches along this section of the Olympic Coast. This is an amazing beach with huge, majestic rock formations just offshore, but there's a fairly steep 0.7-mile hike from the parking lot. This keeps the beach uncrowded, making it the ideal spot for a possible sunset shoot. We spent a few hours on the beach, as everyone attempted to capture the rocks against the setting sun, each of us trying to find the perfect camera placement and achieve the best results possible in the not-so-good conditions.
M9 with 21mm Super Elmar f/19 1/60 sec ISO 200 with tripod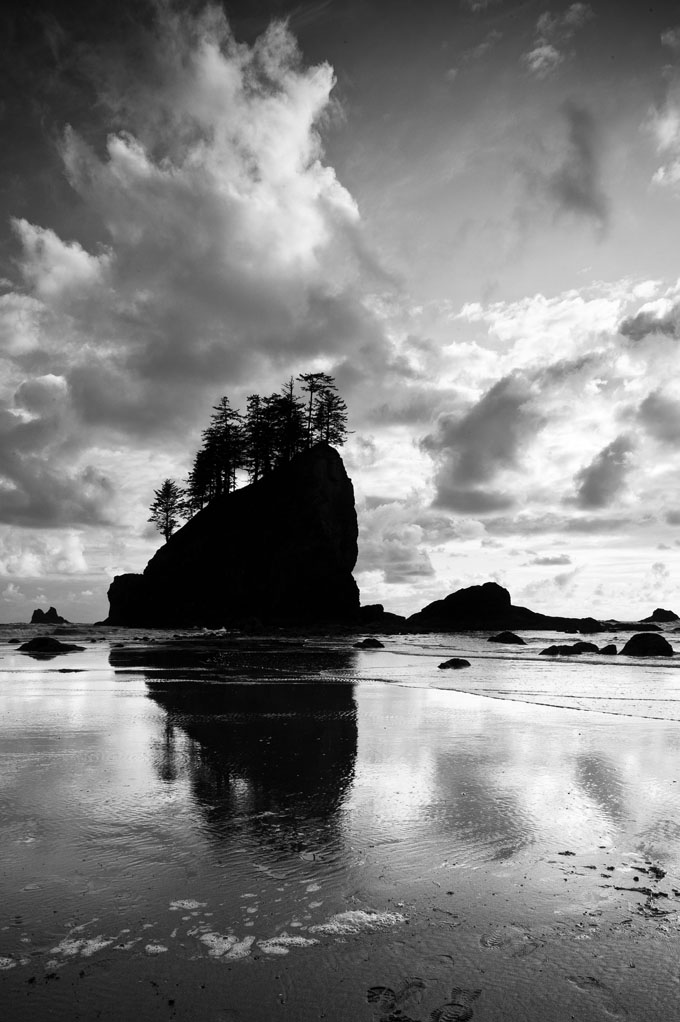 But the waves were coming in and the clouds weren't clearing. For awhile, it seemed we might not have a sunset photo op at all. At the last minute, a ray of light emerged, and we saw person after person scrambling up the beach in search of the ideal vantage point. A row of tripods sprang up along the shore, photographers clicking away, waves soaking their shoes as the tide rose higher and higher. Fearing for my Leica gear, I stayed furthest from the water and did the best I could to get a decent shot, but the photos I ended up with were only so-so. I'm not sure if anyone in the group managed an amazing shot, but I'm anxious to see the results once the gallery is up on Art's blog.
M9 with 21mm Super Elmar f/19 1/4 sec ISO 160 with tripod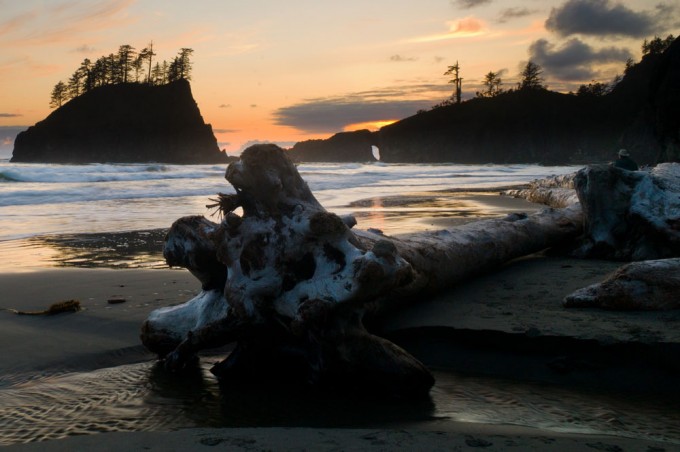 We then had to make the long, tiring hike back to the car in near darkness as night descended. During the two-hour drive back to the hotel, we stopped at McDonalds for a snack to fuel us up, because we needed to burn some midnight oil in order to sort through our photos and select the three best images for Art's critique the next morning.
We woke up early again on Sunday, tired and sore from the past two days of hiking, driving, and shooting. With our three best shots prepared, we "Wolfed" our breakfast before meeting with the group for the critique. Art allowed us to submit previous work as well as pictures taken during the weekend workshop. I couldn't find three new shots that I was really happy with, so I included one shot of a field of wildflowers I'd taken on a past trip to Paso Robles. The photos were loaded in alphabetical order by first name, so S.K. and I were near the end of the list. Art gave each of us an astute evaluation, and Jay Goodrich spruced up the photos with a few adjustments in Lightroom. Although many of the participants submitted good raw photos, Art had good, constructive criticism on how most shots might be improved. I really learned a lot about how to compose certain scenes and how to do the best editing in Lightroom.
M9 with 50mm Noctliux f/4 1/2000 ISO 160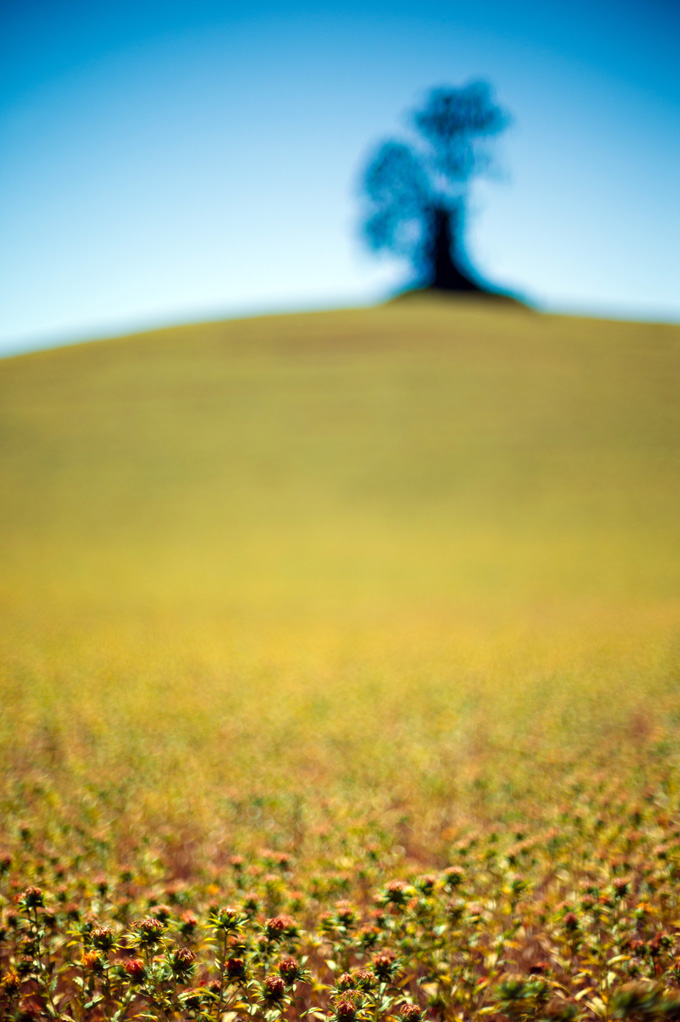 Finally, S.K.'s turn for review came. Art rotated and cropped the first shot, which did make it better. Art really liked S.K.'s second shot and didn't have any suggestions, but the third shot was his least favorite of the bunch. A few people later, I was up. Hoping to make a good first impression, I started off with the field of flowers. Art suggested I shoot lower and nearer to the first row of flowers, simulating the point of view of a bee. For my shot of the people in the tunnel, he suggested cropping closer and a bit off center to increase visual interest. His favorite shot, however, was my final photo, a view of the forest with its drooping moss and bright flowers. Despite my earlier misgivings, I guess some of my pictures from the workshop weekend were pretty good after all!
NEX-7 with 55-210 at 60mm f/5 1/100 sec ISO 800 handheld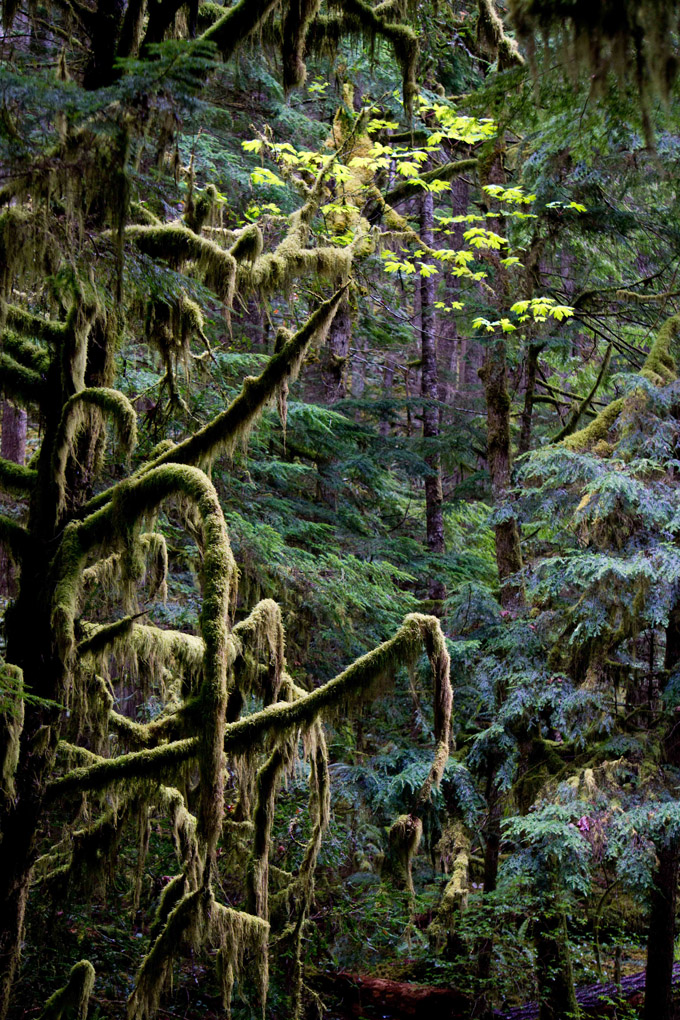 Art commented that he had no idea what to expect from S.K. and me since we seemed to be ambling casually around the forest with our little cameras, eschewing tripods for the most part. But he was pleasantly surprised and impressed with our work, which was the best compliment I could hope for from the weekend. I had accomplished my goal of keeping up with the DSLR crowd. What's more, my backpack was half the weight of everyone else's!
NEX-7 with 55-210 at 89mm f/5 1/250 sec ISO 800 handheld
After reviewing my workshop photos, I found that I was not satisfied with the results of the NEX-7 with the 55-210 lens. The photos lacked contrast, were overexposed, and just didn't come close to the quality of the Leica lenses. I suppose you can't expect much for $350. On the upside, if anything were to get soaked and damaged in the rain, I would rather have it be that low-price combo than anything else I had in my bag. I did switch to the NEX-7 with the Leica 90mm Elmarit-M, which gave much better pictures, as well as the Hyperprime 50mm f/0.95.
M9 with 50mm Hyperprime f/0.95 1/1000 sec ISO 400 handheld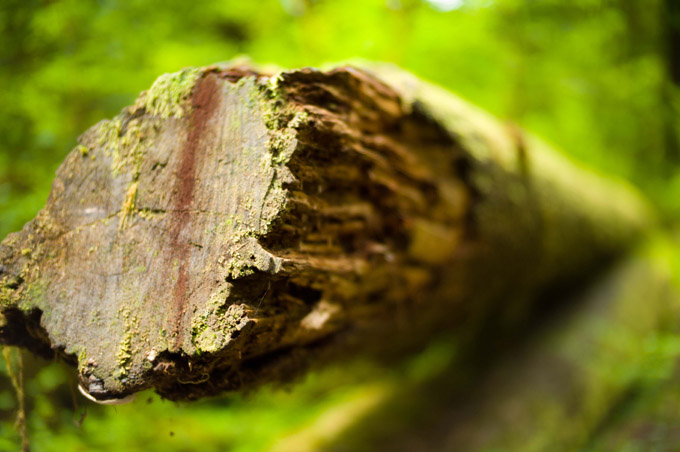 I'm returning the Sony lens and am now seeking something better for a long telephoto option. Possibly the Sony 70-400mm with the Alpha adapter, or back to a Canon L lens with the Metabones adapter. I rarely shoot longer than 50mm so I have time to research the best option before I head out again with Art, perhaps on one of his incredible international photo tours sometime in the next year or two.
It was an amazing weekend of photography, learning, and fun. If you ever have the opportunity to enter the wild with Art Wolfe, I highly recommend doing it, regardless of the expense. I've taken many workshops in the past six or seven years, and I can honestly say I got more out of these three days than any other workshop. I can only imagine how exciting it would be on a 11+ day photo tour with Art in Patagonia, India or Myanmar.
Someday, I hope to do more than imagine…