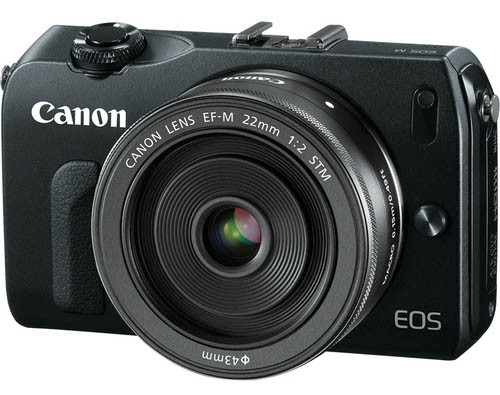 The new Canon EOS M
The internet is all abuzz about the new Canon mirrorless "M" yet I can;t figure out why really. Yet ANOTHER offering in the long line of mirrorless cameras flooding the market, and Canon, late to the game has finally decided to release their camera, probably because they realized that this segment of camera is REALLY taking off and DSLR's are selling less and less these days. From the looks of it the new "M' is small, has no EVF or VF, and has an unsexy design. Yea, it is what is on the inside that matters but I like both – sexy WITH hot performance. Cameras like the Fuji X100, Nikon V1, Sony RX100, Olympus OM-D all have it.
No one knows what this cameras specs will be but it seems to have a 22mm f/2 lens attached in the "leaked" photo, which is a good thing and sure as hell beats Nikon's 1 series lens offerings already with a fast prime. But what will the sensor size be? APS-C would bring this lens into the 35mm territory which would be killer to have a small high quality camera with a 35 f/2 attached. As of today, July 20th it is all a mystery. One thing is for sure, the sensor will be larger than the Nikon 1 series sensor as I highly doubt they would include a 22mm lens that would then equal almost a 70mm equivalent.
[ad#Adsense Blog Sq Embed Image]
With Canon I expect high ISO performance with the best of them, the Canon signature colors and most likely and hopefully SPEED. With the new Sony RX100 Kicking some serious ass
 (my preview of the RX100 and side by side with V1 by Monday) it's gonna take more than the name Canon to make this one a huge success. I see on the top of the camera it says "EOS M" – is this their way of competing with Leica? Lol.
Looking forward to what is to come from this little guy! If anyone has any info on it leave it in the comments or e-mail me! But I am not getting excited as I have no idea what it is or what it can do. Even if it is stellar, there is still so many other cameras  to choose from that may have more of that special secret "MoJo". The one may just be for the Canon fans out there. Not sure yet but time will tell!