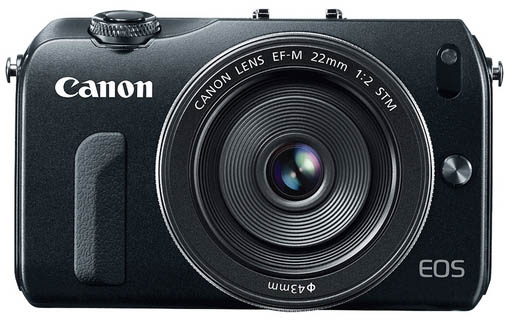 Canon EOS-M full specs and Pre-Order info!
So the info is out. The cat is out of the bag. Canon's new Mirrorless offering is available for pre-order now. If you are a Canon fan you may be thrilled with this offering (Because you can use your Canon glass with it, so makes sense doesn't it)? Looks like the new "EOS – M", which is something you should not confuse with a Leica M (ha ha ha) is going to contain a large APS-C sensor coming it at 18MP. As expected, full HD video and high ISO up to 25,600. The camera will also feature a touch screen and hybrid AF just like the Nikon V1 which should make this a speed demon in the AF arena. The new lens mount is the "M' series and as of now you have two options. The 22mm f/2 or the 18-55 zoom. Two native lenses at launch which is less than the four Nikon released with the 1 series. Canon will also sell an adapter to use all of the Canon EF and EF-S lenses.
[ad#Adsense Blog Sq Embed Image]
With Canon's power behind this guy it should be a success. The price of this EOS-M is $799 with the 22mm kit prime. Oh and no EVF or built in VF of any kind here. Boo. IC cameras…all should have a VF of some kind IMO though preferably not a huge wart that sits on top. This offering from Canon isn't going to make me give up any of my current cameras but for some it may be a perfect entry into a mirrorless system. Why they named it the "M" I have no clue because it is surely NOTHING like a Leica M. (LOL, a reader pointed out the M is probably for "Mirrorless" – a big DUHHHH to me as I should have know that)! Maybe Canon has another trick up their sleeve and will announce a more advanced model at Photokina? If this is it then to me it seems a bit "Blah". Just being honest with MY opinion. Yours may vary.
YOU CAN PRE-ORDER THE EOS-M at B&H Photo HERE.
The new 18-55 Zoom can be pre-ordered at this link.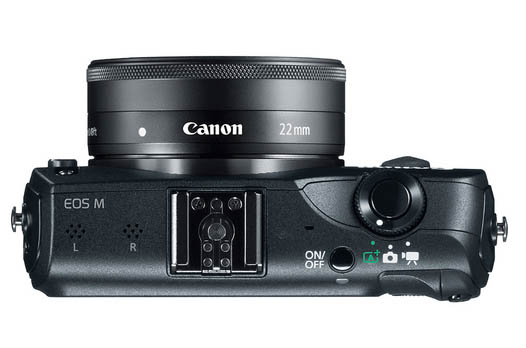 Sensor and Image Processor

High resolution 18.0 MP CMOS APS-C (1.6x crop factor) sensor and high performance DIGIC 5 image processor equal fast functional response, exceptional image quality and sharp detail in both photo and video.
Full HD Movie

The EOS-M offers Full HD Movie mode with Movie Servo AF for continuous focus tracking of moving subjects, manual exposure control, multiple resolution and frame rates, built-in stereo microphone with a wind filter, manual audio level adjustment, and Video Snapshot with editing. Combined with STM lenses, such as the included 22mm f/2 STM lens, the Movie Servo AF provides smooth, silent auto-focus function, a great benefit when shooting video. The camera automatically splits files larger than 4GB for extended, uninterrupted recording and offers a jack for compatible external microphones.
ISO Sensitivity

Normal ISO sensitivity on the EOS-M ranges from 100-12800 but expands in High Sensitivity Mode to 25600 for faster shutter speeds and sharper details in low light.
Hybrid CMOS Auto-focus

Hybrid CMOS AF uses a combination of both Contrast AF, which utilizes the CMOS sensor, and Phase Difference Auto-focus to increase accuracy and auto-focus speed in both photo and video.
Touch Screen LCD with Touch AF

Thanks to a new construction between the its resin-coated cover and the liquid crystal display, the 3.0″ Clear View LCD monitor keeps glare to a minimum and makes it easy to see your images even in bright light. The 1,040,000-dot resolution is ideal for playback and focusing and the smudge-resistant coating on the LCD preserves the luminosity after multiple touches. Numerous camera operations can be handled by the touch screen including Auto-focus control, whereby you touch the LCD screen on the part of the image you want in focus. Two-finger (multi-touch) control allows you to zoom, scroll images and navigate the menus as you would with a smartphone.
Lens Compatibility

At this point, Canon has introduced two M series lenses including the 22mm f/2 STM lens that is included in this kit, but the new EF-M mount on the EOS-M camera is able to use any of the huge family of Canon EF and EF-S lenses. The EF-EOS Mount Adapter will be necessary, but this opens up the EOS-M's range of creative possibilities to… endless!
Noise Reduction

Multi Shot Noise Reduction provides outstanding noise reduction while preserving fine detail in photos at high ISO speeds. With MSNR activated, the camera takes four consecutive shots of the same image, then merges and aligns them, reducing noise and blur.
Advanced Imaging Features

Handheld Night Scene and High Dynamic Range are assistive functions that allow all levels of photographers to take advantage of digital advancements to improve their shooting results. HDR, for example, shoots three images of the exact same image simultaneously in various exposures and combines the three into one perfectly balanced photo. This is ideal when shooting images that have both shadow and bright light and those whose subject is lit from behind. The EOS-M also offers seven Creative Filters to enhance your images, including Toy Camera Effect and Art Bold Effect, which makes your photo look like an oil painting.
Scene Intelligent Auto Mode

Scene Intelligent Auto mode optimizes all of the camera's auto controls to provide the best settings based on the camera's reading of the scene. You compose the shot, the camera does the rest.
Recording

The EOS M Digital Camera uses popular SD, SDHC, SDXC memory cards and is even compatible with the newest Ultra High Speed (UHS-I) memory cards.
Canon EF-M 22mm f/2 STM Lens

The EOS-M kit comes with one of Canon's first M-mount lenses, the 22mm (35mm equiv = 35.2mm) f/2 STM lens. It is a moderate wide-angle prime lens equivalent to a 35mm lens on a full-frame (35mm) camera. It is ultra-slim, befitting the mirrorless camera it is to be attached to and lightweight. The f/2 aperture means lots of light enters your camera and fast shutter speeds are possible even in lower light and the minimum focusing distance of 5.9″ (O.15m). It houses one aspheric lens element and a 7-blade circular aperture which can deliver soft backgrounds and beautiful bokeh. It is an STM lens which stands for stepping motor and this provides a smooth, silent autofocus when used with the EOS-M's Movie Servo AF. Silent auto-focus is all-around great, but particularly useful when shooting video so that the sound of the AF does not interfere with the audio you are recording.