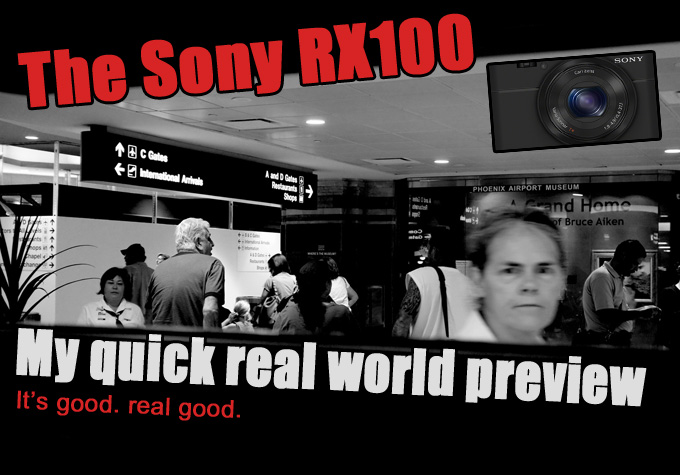 The Sony RX100 – My quick real world preview of this ultra sexy pocket rocket!
UPDATE: My final review of the RX100 is no up and it can be found HERE!
YES! Another X! The X1, X1, X100, X-Pro 1 and now the RX100! X must be the magic number, or at least camera manufacturers think so it seems.  I just took delivery of the "New X", the  Sony RX100. A small pocket rocket powerhouse of a camera that just in a couple days has FAR exceeded my expectations of what can come out of a pocket 1″ sensor camera, all for under $650.
Someone on Google + told me this picture below was taken by an Olympus camera, not the RX100. Well, yes it was! It was a picture taken OF THE RX100 to show how it fits in my jean pocket. Could not have taken it with the RX100 now could I? But yes, it will fit in a front jeans pocket easily. I left it sticking out for illustration purposes 🙂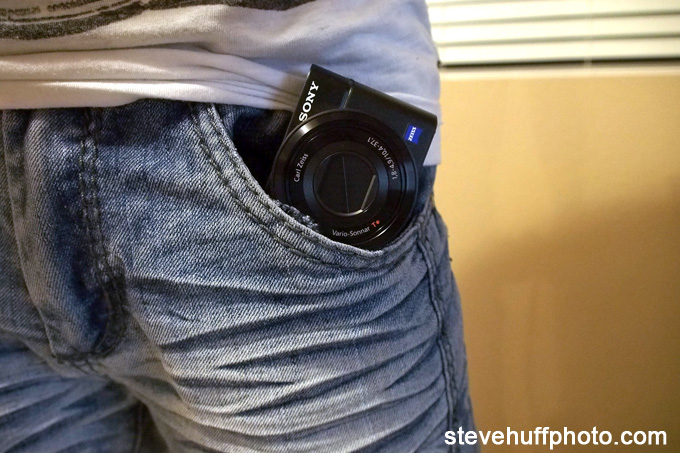 It is funny though as this is a camera that is NOT aimed at me because I am not a huge fan of small pocket cameras because the quality usually suffers. I am one of those who never cared for the Canon S100 as I found the quality good but no where near great, especially low light. Anytime I see these small cameras at a camera shop or even a Best Buy store I walk right by them because before now they all had some serious compromises. Well, not anymore. The days of pocket meaning "lesser quality" are over. The Sony RX100 is here and man… it means business. If Sony grew some balls when they released the NEX-7, they just grew bigger here as they are taking on the likes of the Nikon 1 system and possibly even more serious cameras. What? Yep, this little guy packs a serious punch and is versatile as can be.
ISO 1250, OOC JPEG, B&W, Click image for larger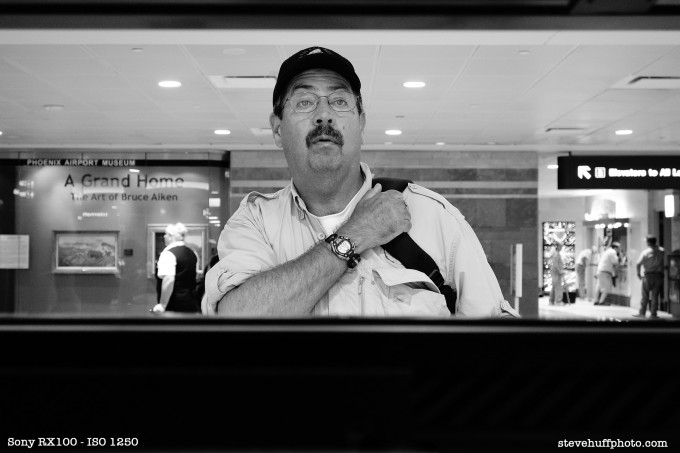 Keep in mind!
This is ONLY my 1st look quick preview (this is NOT the review as the review will be much more detailed) as I have had minimal time with the camera but man, I know when a camera is special right away and when it is not even close to being special, or having magic. The RX100 is a special camera just due to the fact that it is tiny, super fast, has amazing IQ that rivals some DSLR's, has exceptional quality video and a fast 1.8 aperture lens at the wide end. The lens gives you a 28-100 equivalent and the lens seems to be excellent. ISO performance is the best I have seen for this size of camera and the AF is blazing fast.
1st things 1st! My 1st look video  (specs of this camera can be found at the end of this preview)
My 1st day thoughts on the RX100:
Well, can one be in love after two days? Probably not but it feels like it. This camera opens up some great possibilities. It is tiny, silent and even blazing fast AND gives DSLR quality..well, correction… in some cases BETTER than DSLR quality (depending on DSLR and lens used). It fits in my front jeans pocket and is ready to roll at a moments notice. No, there is no EVF but this is a small camera that is meant for REALLY take anywhere pocket use. The LCD screen is easily visible even in the brutal AZ sun (can't say the same for other cameras) as it has Sony's "White Magic" technology that improves visibility in full sun.
It's a fun camera but what is even more fun is when you look at your files and see how nice they are for coming out of such a small camera! Click on the following images to see larger sizes. The 1st one is ISO 3200 and all are OOC JPEGS.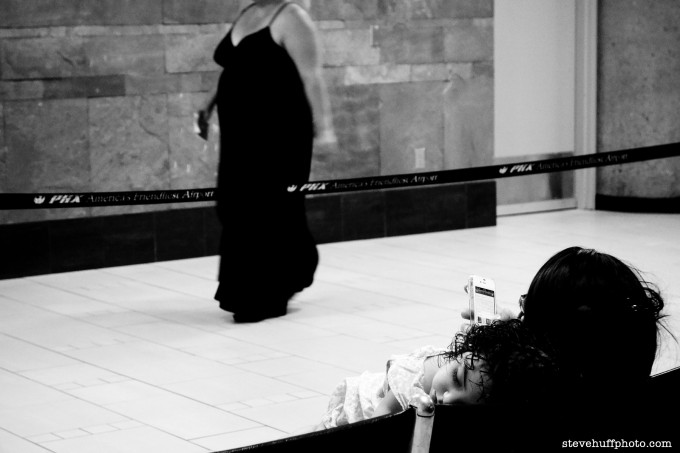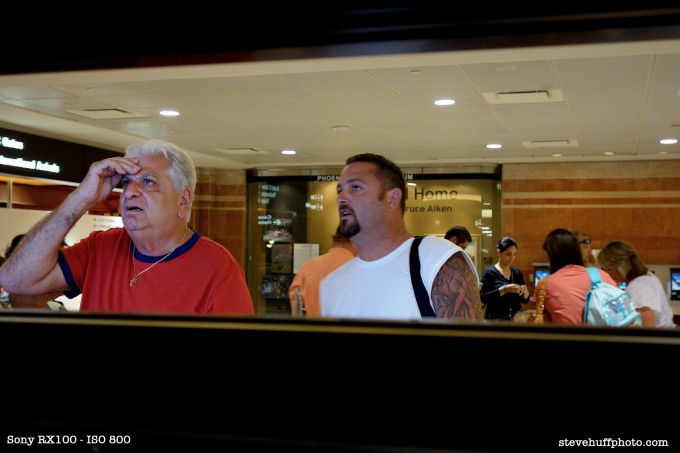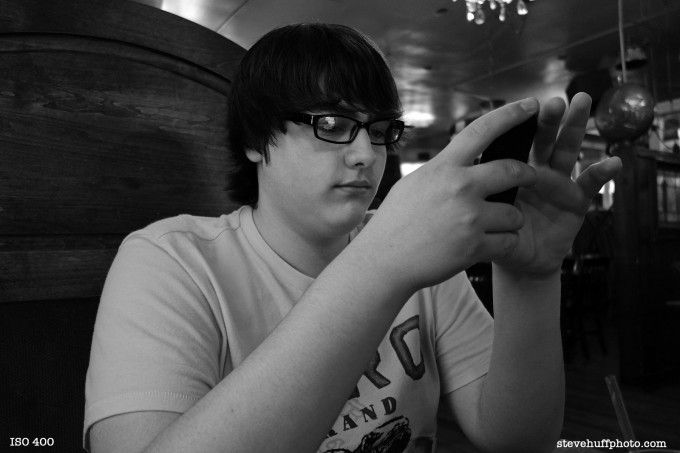 The fast Zeiss lens helps and you can shoot at 28mm at f/1.8 and get nice results and even some decent Bokeh as well. The image below if of my son at ISO 6400. It is an OOC JPEG so you do see the NR but this is 6400, coming out of a pocket camera! I have not shot RAW yet but I will have RAW results when I post my full review of this camera.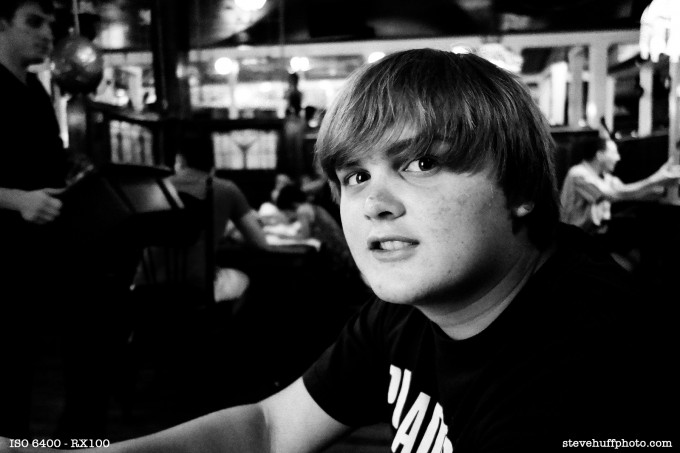 –
So this looks like it will be a hit for Sony. I can not wait to shoot it over the next couple of weeks to really put it through its paces and pit it against the Nikon V1 and just for fun, a Leica X2! Should be fun 🙂  I also was messing around and took some video and it looked beautiful as well. The built-in Steady Shot worked wonders and this Zeiss lens has a Zeiss feel about it, even in the video. I will have full video samples in my full review.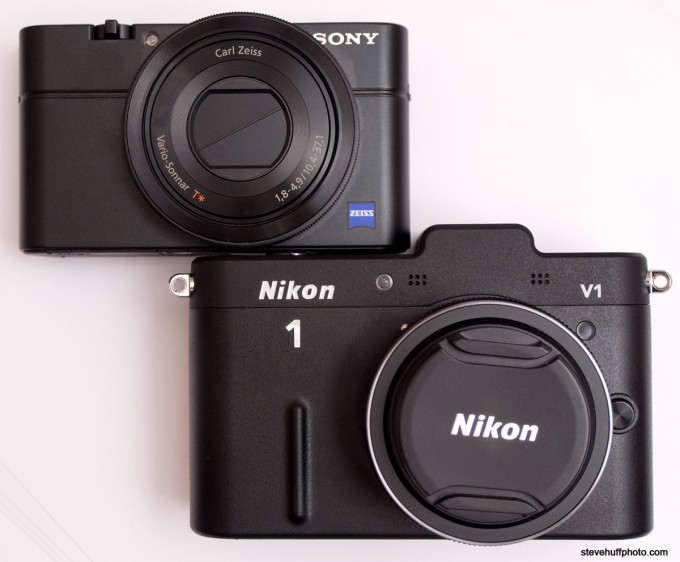 –
In my hand the camera feels small but solid with a nice build. If it did have an EVF it would be flat-out my dream pocket cam. Then again, and EVF would have made it larger and that would have made it appeal to a different group of camera enthusiast, and not fit in my pocket! Me, I see this camera being taken with me anywhere and everywhere. Something  that many other cameras can easily achieve with a bag, but now I have that quality in my pocket it seems. I can not give any final evaluation on it until my review of course but so far so good!
The RX100 is in stock at Amazon
 at the time of this writing and has 14 reviews, all of them 5 star reviews! B&H Photo sold out their 1st shipment in a day but their RX100 page is HERE and you can pre-order from them if you desire. This may be the camera of the summer and I can see many buying it as a 2nd body to a more serious camera or even a camera for the wife, hubby or kids who do not know so much about camera modes, functions and features (because it's easy to pick up and use). Exciting times!
My full review will be coming soon so keep your eyes peeled!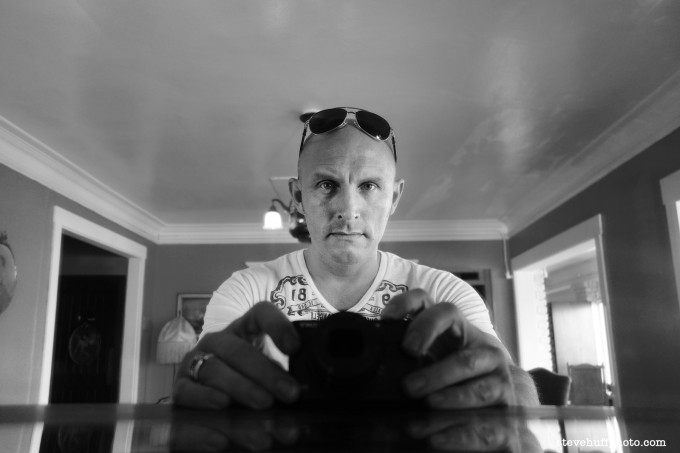 The specs of the RX100
20.2 Megapixel Exmor 1″ CMOS Image Sensor
The massive 20.2MP Exmor 1″ CMOS sensor captures ultra-high definition images that take full advantage of the camera's sharp Carl Zeiss Vario-Sonnar T lens. The sensor enables advanced column A/D processing that reduces noise levels, resulting in astonishing low light images with incredible smooth and clear details
Bright F1.8 Carl Zeiss Vario-Sonnar T Lens with 3.6x Optical Zoom
This large-diameter F1.8 Carl Zeiss Vario-Sonnar T lens delivers refined background defocusing. It also features a premium multi-layered T coating that dramatically reduces ghost and flare caused by light reflection. Focal length (35mm equivalent) – Still 16:9: 29-105mm; Still 4:3: 30-108mm; Still 3:2: 28-100mm; Still 1:1: 36-127mm; Movie 16:9: 29-105mm (Std), 33-120mm (Active); Movie 4:3: 36-128mm (Std), 41-146mm (Active)
P/A/S/M Modes for Video & Stills
Enjoy a full range of controls for video and still shooting from iAUTO mode to P/A/S/M: Program, Aperture Priority, Shutter Priority and Manual. There are even on-screen prompts which help you refine your skills, build your confidence and exercise greater creative control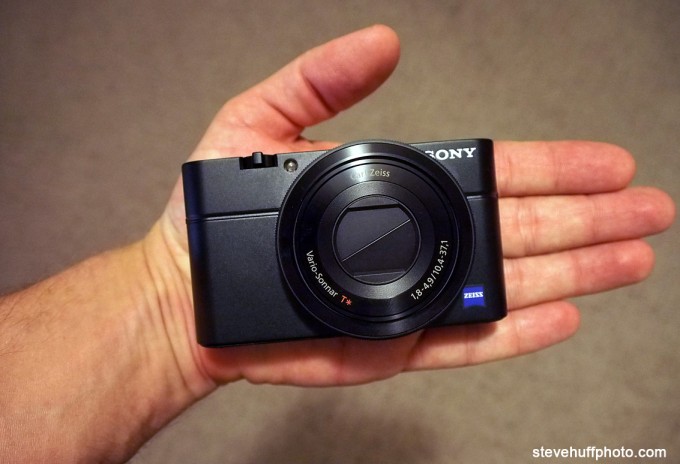 Capture JPEG Files, RAW Files, or Both
The RX100 saves pictures as compact JPEG files and/or ultra-high quality RAW files. RAW files save images prior to de-mosaicing, white balance, sharpness and color enhancement. This retains maximum latitude for enhancing the image on your PC
Full HD 1080/60p Video Capture
Record crystal clear movies in Full HD 1080p at 60 fps. This provides stunning, fast motion video with less distortion for playback on your HDTV. Plus, with dual recording for stills and movies, you can shoot both at the same time
Low-Light ISO 6400 Sensitivity
Capture incredibly clear low-light pictures without sacrificing detail, thanks to the low-noise Exmor CMOS image sensor and refined BIONZ image processor
High-Speed Auto Focus
To improve focusing speed and sensitivity, the Exmor CMOS sensor uses its rapid throughput to deliver high-quality image signals to the camera's BIONZ processor, which provides intelligent response data to a high-speed actuator motor in the lens. The result is fast, DSLR-like focusing speeds even in low light
Up to 10 fps Burst Mode
Capture full 20.2 megapixel resolution images at up to 10 fps, helping to ensure that the decisive moment is captured such as the soccer ball flying into the goal. In addition, a mechanical shutter helps reduce distortion when continuously shooting moving subjects
Large 3″ Xtra Fine LCD Display
The 3″ (1229k dots) Xtra Fine LCD Display makes it easy to scroll through menus and preview pictures. Plus, the large display delivers brilliant-quality still images and movies while enabling easy focusing operation. It also features WhiteMagic technology, which increases visibility in bright daylight
Customizable Function Button
Assign up to seven different functions to the function button, to allow quick access to your most frequently used functions
Optical SteadyShot with Active Mode
Optical SteadyShot with Active Mode enables blur-free movies even while walking. Plus, the camera-shake compensation using Optical SteadyShot/Active Mode has been improved with the addition of electronic image stabilization, which makes it easier to obtain sharp, blur-free movies even when zooming in unsteady situations, such as shooting with one hand while walking
Memory Recall
MR (memory recall) mode can memorize up to three groups of the user's preferred settings. The settings include zoom magnification, white balance, exposure compensation, date and grid lines. This enables quick switching of settings at the right moment
Sophisticated Design with Pop Up Flash
The sophisticated aluminum body is lightweight, slim and strong. There's even an integrated pop up flash, which affords the convenience of flash photography everywhere you go
Auto Portrait Framing
Simply photograph a person and Auto Portrait Framing will save an additional, optimally framed image in portrait or landscape orientation. This mode combines Face Detection and By Pixel Super Resolution technologies with rule of thirds to provide beautifully composed and appealingly balanced full resolution portraits
Auto HDR Mode
Using auto HDR mode allows you to capture more scene dynamic range than a single exposure can handle – and more range than photo film. It combines the best highlight detail from one shot, the best mid-tones from a second shot and the best shadow detail from a third shot for one incredible image (up to 6 EV stops). Plus, it works in a split second (recommended for still subjects)
Face Detection / Face Registration
The camera can automatically detect and register up to eight individual faces and adjust focus, exposure, white balance and flash to help deliver crisp, properly lit images of family and friends. You can even prioritize children or adults
Multi-Aspect Ratio Recording for Still Images
Capture still images in any of four aspect ratios – 1:1, 2:3, 4:3, or 16:9 (vertical to horizontal). This provided the freedom to choose a ratio that matches the scene or the specific shooting purpose
3.6x Optical Zoom & 7.2 Digital Zoom
Most digital zooms use electronic cropping to get closer to the subject, resulting in unsharp images. With Clear Image Zoom the powerful processor compares patterns found in adjacent pixels and creates new pixels to match selected patterns, resulting in more realistic, higher-quality images. Clear Image Zoom digitally doubles optical zoom for closer photos
Four Focusing Modes
This camera has two Autofocus modes: Single-shot AF (AF-S) or Continuous AF (AF-C), which tracks moving objects. It also has Manual Focus for manual focusing freedom, and Direct Manual Focus (DMF), that first uses autofocusing to focus on the subject, and then allows fast and easy switching to manual focusing for even more precise adjustment
MF Assist & Peaking
Manual focus becomes much easier because peaking highlights the edges that are in focus in your choice of three colors (white, red, or yellow). This is especially helpful during macro or portrait photography where your focus setting can make or break your shot
Multi-Frame Noise Reduction
In this mode, the camera automatically shoots multiple images and layers them to produce a single noise-free image. This method provides noise reduction equivalent to a 2-stop lower shutter speed while maintaining the same aperture setting. Since the Multi Frame NR mode can be used in combination with P/A/S/M modes, it expands the user's shooting flexibility
Photo Creativity
The Photo Creativity interface enables you to easily enjoy the creative expression of SLR-quality digital imaging without complex jargon. Changes can be combined, removed and viewed in real time on the LCD display, which makes it a breeze to make adjustments. Choose from several different Photo Creativity functions using the convenient control wheel and center button including: Picture Effect, Background Defocus, Color, Brightness and Vividness
Picture Effect Mode
Picture Effect is a fun and simple way to convert ordinary landscapes and portraits by heightening mood and emphasizing certain attributes. Effects include: Soft Focus, Posterization, Retro Photo, High Contrast Monochrome, Rich-Tone Monochrome, Miniature, Soft High-key, Toy Camera, Pop Color, Partial Color, Watercolor Painting, HDR Painting and Illustration
Creative Style Settings
Control how the camera processes your images with six finishing styles: Standard, Vivid, B&W, Sunset, Portrait and Landscape. You can even fine-tune contrast, saturation and sharpness to your personal taste
Sweep Panorama Mode
Capture expansive landscapes automatically. Press the shutter and sweep vertically or horizontally. The camera does the rest by continuously shooting images and stitching them together
Superior Auto Mode
In order to get cleaner, more dynamic pictures and fewer missed shots, the camera automatically recognizes the correct scene mode, then quickly shoots and combines up to six shots to produce images with greater clarity, optimum dynamic range using Backlight Correction HDR technology, and lower image noise using six shot layering technology. Superior Auto can intelligently detect 33 scenes for still images and movies, making it easy to get the best shot
Intelligent Scene Recognition Mode
Intelligent Scene Recognition (iSCN) automatically detects 33 different types of scenes for photos and 44 scenes for movies, and then selects the appropriate camera settings. In Auto Mode, the camera takes a single shot using the optimal settings. In Advanced Mode, the camera takes a photo with the optimal settings and, if in difficult lighting (low light or back light) immediately takes a second photo with another optimized setting so you can choose which to keep
Digital Level Gauge
The digital level gauge allows for easier leveling of the camera