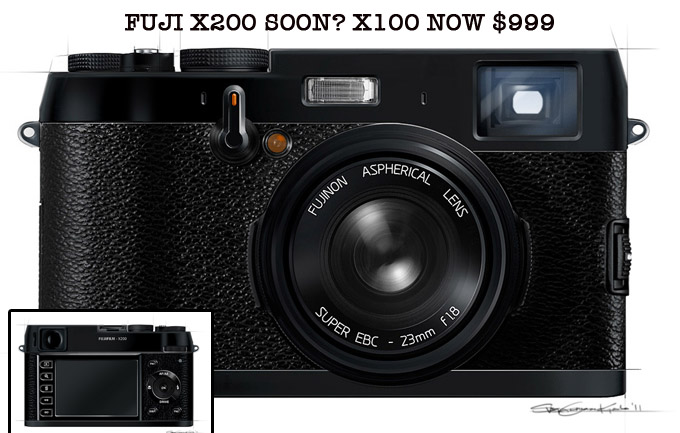 Fuji X200 at Photokina? My guess is yes…X100 now $999
As some of you may know the Fuji X100 has been marked down to $999 for the silver version. $200 off the normal price of $1199. B&H Photo, Amazon and other dealers have marked it down. They could be doing this for a couple of reasons, one of which may be that they are selling less now that there is more competition out there (OM-D) and they want to move inventory…or…they have an X200 in the pipeline ready for a Photokina announcement. This makes more sense as the X100 has now been around for a while and in Analog Years the X100 would be 13 years old.
[ad#Adsense Blog Sq Embed Image]
If Fuji releases an X200 all I can say is I hope they keep the same design and overall feel of the X100. I'd like to see it in black or silver, have an improved hybrid EVF/OVF, much faster AF and operation and improved video functionality and a tillable LCD. If they do this then they will have another sure-fire hit on their hands.
Of course I could be all wrong and they may not have an X200 in the works or ready for announcement in September but it is highly possible. For those who have always wanted an X100, you can now nab one at $999 which is a great buy for this camera. To the Fuji fans, what do YOU want to see in an X200 if indeed there is one coming?
Let me know in the comments below!
BTW, the image above was created right after the X100 release by a reader and it was his rendition of what an X200 should look like!  Mr. Svein Gunnar Kjode at blankscapes.com.