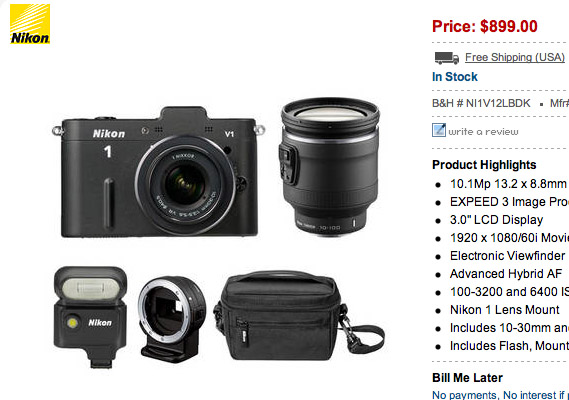 Awesome Deal: Nikon V1 Super Kit with 10-100, SB-N5 Flash, FT1 Adapter, 10-30mm, and bag for $899
You can tell Nikon has a load of V1 cameras on the shelves because all retailers are clearing them out from the $399 option with the 10-30 to the white edition to the two lens kit with 30-110 included for $549.  BUT, at B&H Photo they have a special super kit that goes for $899 (almost the price of one of the lenses included in this kit) and includes all of the good stuff.
First, they are giving the V1 body and  the 10-30mm lens. They are also throwing in a 10-100 Lens ($749 on its own), the SB-N5 flash and even a bag to carry it all. This is a crazy deal for this camera system which many disliked but I personally loved. The V2 is coming in about 24 days so they have to clear out the V1's. I thought this could make a good 2nd body option for those buying the V2 because you get the 10-100 and FT1 adapter included. The V1 is great for taking anywhere, video and it even has a dedicated mic input. Cool little camera and at $399 with a 10-30, it's at bargain basement prices.
At these prices the V1's should go quick. It is a great body that is capable of taking some pretty damn nice shots. My review is HERE.