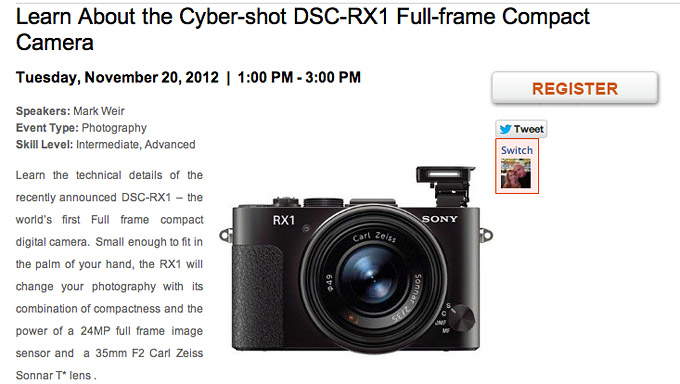 Want hands on with the Sony RX1? You CAN on November 20th!
So you have been reading all about the new Sony RX-1 full frame fixed lens Zeiss 35 f/2 camera and lusting after it. BUT you have been wondering if there is a way to see it..touch it and shoot with it before you plunk down your hard-earned cash for one. Well there is some good news! B&H Photo is hosting Sony in their Event Space on November 20th! There are limited seats so if you want to stop by and play with the RX1 you have to register at B&H Photo by clicking HERE.
Most of you have seen my early thoughts on the RX1 HERE, HERE, HERE and HERE but go see for yourself on November 20th as there is no better way that to see for yourself. They will be showing a dis-assembled model, prints and video all taken with the camera. Should be a great event. I would be there but that day happens to be my Birthday and besides..I should be shooting with a review unit by then anyway 🙂
The few days I was able to shoot the RX1 I was blown away by what it could do. Sure there are things missing that I would have loved to see, like a built-in EVF..BUT the EVF for the camera is actually quite amazing. The best EVF I have ever used to date. The camera is so small and the power it packs is quite astounding. When you stop by that event space and see the size many of you will be quite surprised at just how small it is. To think it has a full frame sensor inside that is capable of full frame DSLR results (in some cases, even better due to the lens matching to the sensor) boggles the mind when you see it in person.
The RX1 is quite the camera. No other company has yet dared to do this. Sure you can complain that it does not have interchangeable lenses but when you see the disassembled model you will see one reason why this is. You will also get to ask questions about the camera of course. I feel that the RX1 will be a superb street shooting tool, day or night. My kit would consist of the camera, EVF and ND filter for daytime shots where I wanted to keep the signature look of the lens at f/2.
But as I have been saying here all along, don't just take my word for it..go register for this event and see for yourself! If anyone from here goes feel free to report back here in the comments when you get back.
B&H Is still taking pre-orders for the RX1 HERE with an expected delivery date of December 14th. Just in time for Christmas 🙂 Great stocking stuffer because it will indeed fit in one!