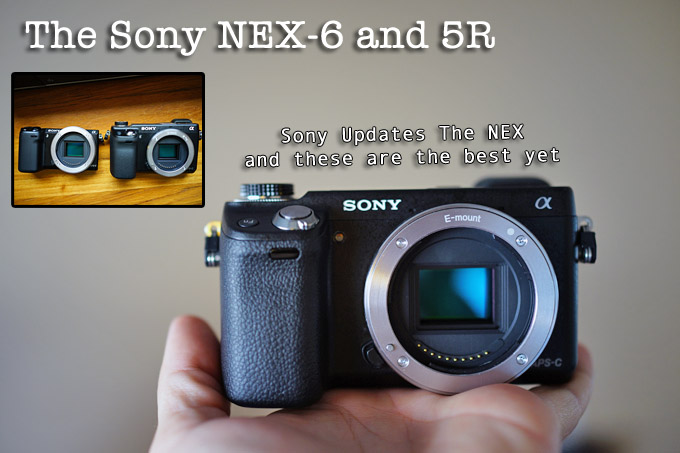 The Sony NEX-6 and 5R Review – The best NEX cameras yet.
This has been a Sony year no question. With their all out assault in the last part of 2012 they have created the buzz and news to propel their camera models and name out to the Photography world in full force. Not only have they been able to do this successfully  this but they have also DELIVERED products shortly after the announcements which is a big deal because most (well, some) companies take months and months just to get their new cameras out to the buying public. For example, take a look at the Leica M. It was announced mid September 2012 and I really do not expect to see a shipping model until March-May 2013.  That is a 6-7 month wait AFTER people have pre-ordered. This not only shafts the Leica dealers but also the buyers who have been waiting months and months for the camera so I am happy Sony delivered on their NEX-5R and NEX-6 weeks after they announced them and the flagship CyberShot RX1 about 2 months after they announced it. If I did not know better it seems like someone lit a fire under Sony's ass these past two years, and this is good!
[ad#Adsense Blog Sq Embed Image]
Sony also seems to be listening to the photography community and delivering more and more of what us enthusiasts want and I respect and applaud them for that.
Video showing the NEX-6 and NEX-5R side by side with my thoughts on the cameras
Anyone who reads this blog knows that I have reviewed just about EVERY Sony NEX camera from the very 1st 3 and 5 to last years NEX-7 and NEX-C3, to the newer F3 and 5n. I enjoyed the 5n and 7 so much that I bought them both and eventually sold the 5 and kept my 7. It has served me well with loads of personal video projects (even though I had the heat issue) and family memories. It wore in great and after a full solid year and few months of use I realized the main weakness of the NEX-7 was the slow and sometimes inaccurate AF and higher than average ISO noise (hopefully both fixed with these new releases). Also, when the NEX-7 was released I felt and wished Sony had put in the 16MP sensor instead of the 24 MP sensor. I felt the images would have been cleaner this way just due to having less MP squeezed on to the sensor so when I found out the NEX-6 would have 16MP I smiled with joy for this very reason. The NEX-5R also has the same 16.1 Megapixel sensor and both cameras are scarily similar in output. In fact, both are basically the same camera but the NEX-6 has the EVF and NEX-7 body (minus tri-navi) for $200 more. To me this is worth the extra cost. Having the EVF built in is a huge plus and for $200 extra, why not?
Both of these cameras also now have WiFi capability as well as "Apps" that you can download to the cameras. So basically these NEX cameras are gaining faster AF ability with some lenses, slightly improved high ISO and now even WiFi capability for those who want to beam their images to their phones or tablets without wires. At the time of this writing the only lenses compatible with the new AF system are the speedy 16-50 Kit Zoom, the Zeiss 24 1.8, the 55-200 and 18-55.
The NEX-5R and 18-55 Kit Zoom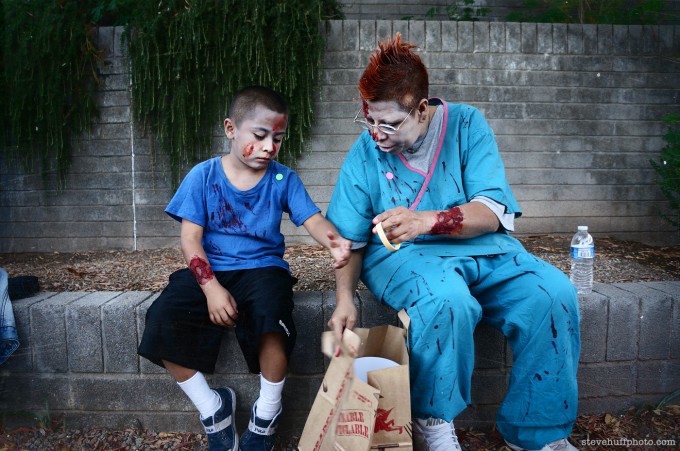 –
Another from the NEX-5R and 18-55 Lens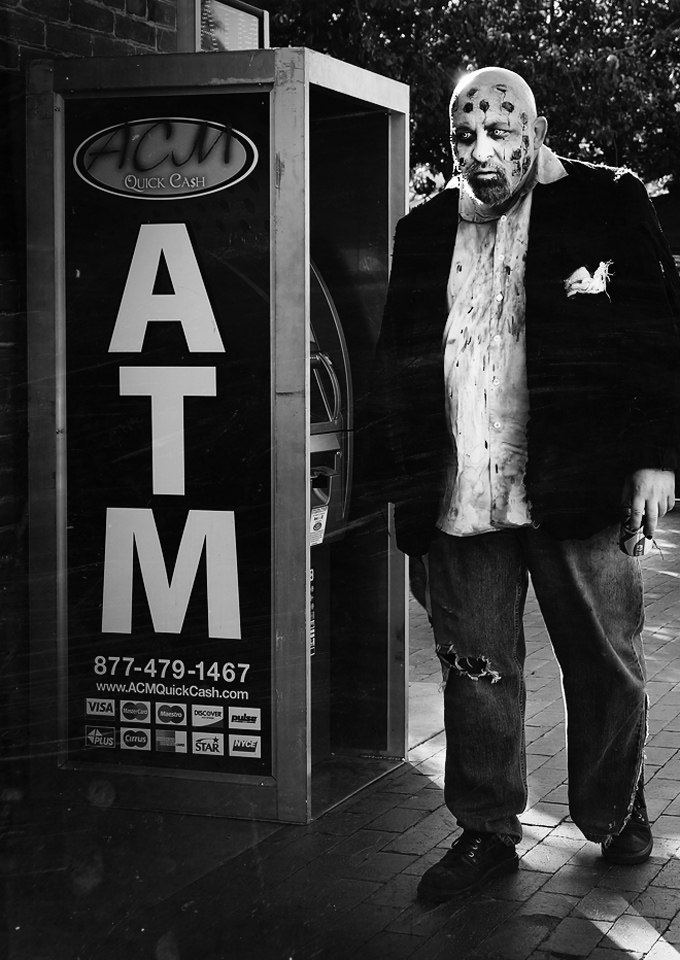 The NEX-5R and NEX-6 Basic Specs
16.1 MP APS-C Size HD Sensor – The latest APS-C from Sony!
Uses Sony E-mount Lenses
Full 1080 HD 60p/60i/24p Movie Capture
3.0″ 180º Tilt-able Touchscreen LCD
Fast Hybrid Autofocus – Phase Detect and Contrast Detect!
PlayMemories Camera and Mobile Apps
Wi-Fi Sharing – New but will you use it?
Intuitive Interface with Control Dial
Low Light Performance up to ISO 25600
Includes 16-50mm Retractable Zoom Lens
The NEX-6 adds the built in EVF over the 5R as well as the mode dial for $200 more. Worth it? I think so. 
Overall the NEX-5R and NEX-6 are refresh updates to the 5 and yes even the NEX-7. While we lose the cool tri-navi control of the NEX-7, the NEX-6 seems like an update as it adds the new faster focus ability and better high ISO performance in the same body style as the 7. This review will go over the new features of the cameras but if you own a NEX-5n or NEX-7 then you will be fine with what you have unless you want WiFi and the new Phase Detect AF feature. The NEX-7 and 5n are fantastic cameras and the new ones will not really gain you any better image quality, just some new features that may or may not be to your liking. Even with that said, these two new NEX cameras are the best NEX's yet because they offer just about everything you can ask for in a small mirrorless camera system.
The Sony NEX-6 with 35 1.8 – love the OOC JPEG color here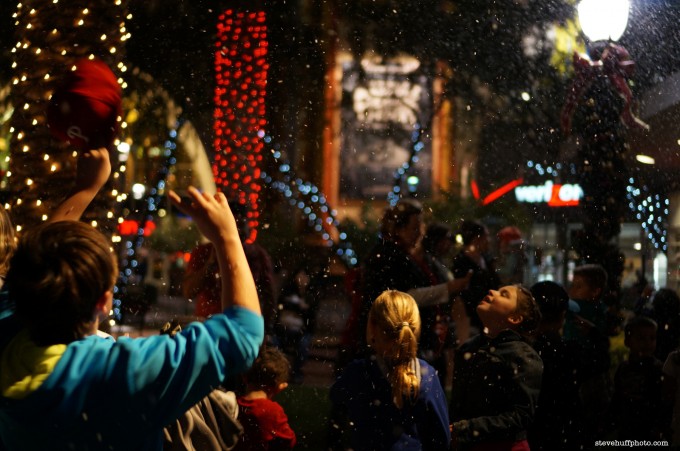 –
A new kind of Auto Focus for Sony – HYBRID AF (Phase Detect & Contrast Detect)
What is really uber cool is that for the 1st time Sony has upgraded the NEX series Auto Focus to be fast. Like Nikon V1 fast. When the Nikon V1 was released it was the first mirrorless to have Contrast Detect and Phase Detect Auto Focus which in everyday terms means the AF was fast and worked in most situations. The issue here is that not all lenses will work with Phase Detect just yet. During my review period I could not get the new 10-18 or the 35 1.8 to work with Phase Detect AF because they are not compatible with it (which defeats the whole purpose – cool new lenses that do not work with the new AF system?). The 16-50 Zoom did work with this new "Hybrid AF" though and it was pretty fast. Here is what Sony says about the new focus feature.
"The NEX-5R/6 is Sony's first E-mount camera with Fast Hybrid AF, utilizing two focusing technologies to provide extremely fast and accurate auto-focusing. Phase detection AF splits incoming images into two and compares them for light intensity in order to focus, and it is a fast system- able to focus in 0.3 seconds, and especially useful when tracking moving subjects. Contrast AF uses the image sensor to measure the contrast differences amongst the pixels, pixels that are "in focus" having higher contrast. It is considered a very accurate focusing system and combined with Phase detection AF, provides the 'Hybrid' system that gives the NEX-5R such a noteworthy DSLR-like auto-focusing capability.
The Hybrid auto-focusing is also utilized when shooting Full HD Video with the NEX-5R and provides continuous auto-focus when shooting video, something very few cameras do. Continuous AF gives your home movies that extra watchable touch that will command attention when you screen them on your HDTV via the provided HDMI output. Able to shoot at 60 frames per second or the more cinematic 24 frames per second, the NEX-5R also shoots with higher quality AVCHD codec and upload-friendly MP4 codec."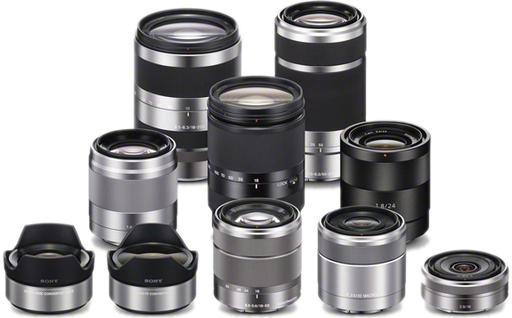 –
NOTE: For me, shooting with the new 35 1.8 was a mixed bag. When shooting with the 35 I had some front focus issues at times but mostly in dark lighting. A few shots would be just a little bit off when shooting wide open at night. For comparison the Sony RX1 was faster for me in AF in every situation over the NEX-6 and 35 1.8 lens. The 10-18 focused nice and fast (but wide angles usually do) and the 16-50 was very fast with Phase Detect enabled. Also seemed more accurate. The 35 1.8 gave me a few misses as the camera does not focus well when it has no contrast to grab on to. But it does focus! Just at times it can be frustrating when it keeps missing (reminded me a little of the Fuji 35 1.4 on the X-Pro 1 but a little faster). The NEX series has a way of guessing where focus should be when it can not find it during low light. When this happens you will see a big green square on the LCD. That is when you know your shot may not be in focus. The NEX-7 did this as well as does most of the Sony digital camera line.
NEX-6: Used the 35 1.8 here at night and while I tried to focus on the woman's face it focused in front of her onto the "Photos" sign.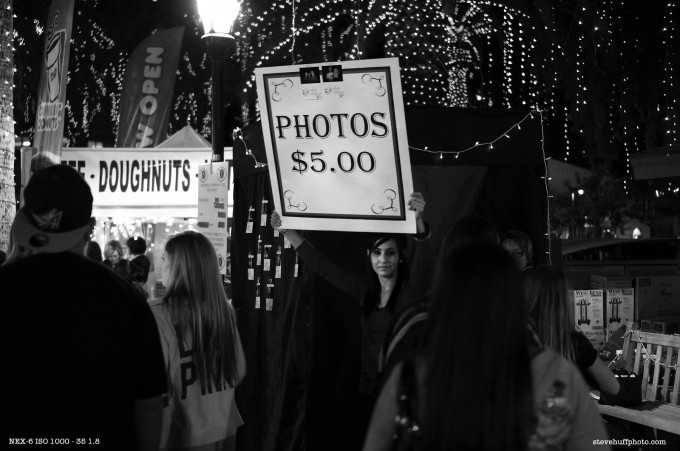 –
NEX 6: Focused OK here in a low light aquarium, wide open – ISO 320 – JPEG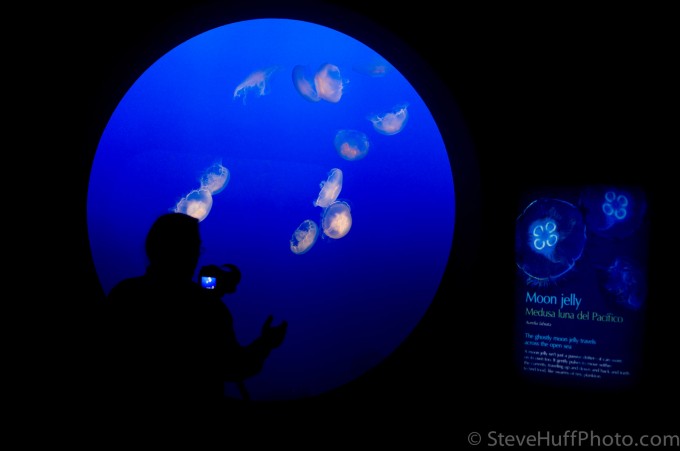 –
NEX 6: The 10-18 at f/4 and ISO 1600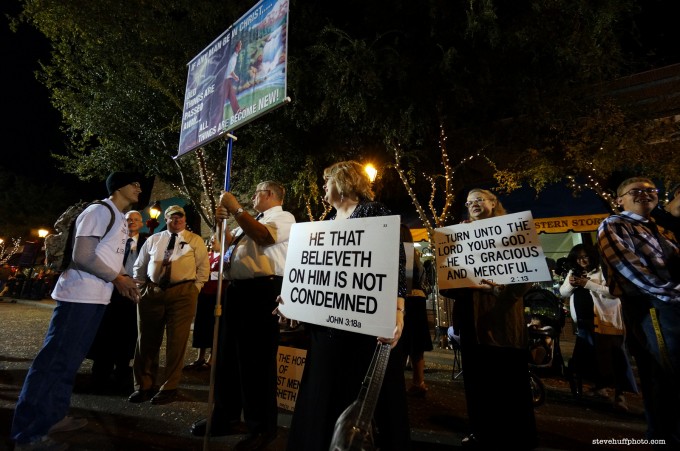 –
WiFi Capability – Shoot your images directly to your smartphone or tablet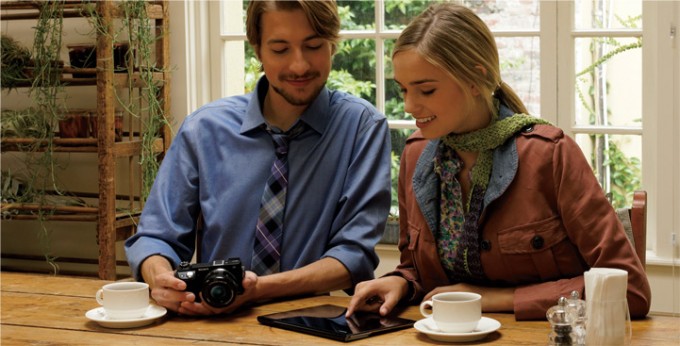 With the new 5R and 6 you can activate the WiFi feature if you want to do anything new and techie. For example, you can send images to your phone or you can frame a shot on your phone if the NEX is far from you. Me, I did not spend much time with this feature as I am not a fan of my cameras being turned into computers or internet hot spots. I will leave that to the phones but I'm sure there are a few of you out there who will want to mess around with WiFi so it is there for you to play with of you like. It does seem that this is the gimmik of the moment so let us see if this turns in to the "3D TV" moment of the camera world.
The new "Play Memories" app store is also new and allows you to download and use apps on the cameras much like you would on a smartphone. Some will cost money, some will be freebies.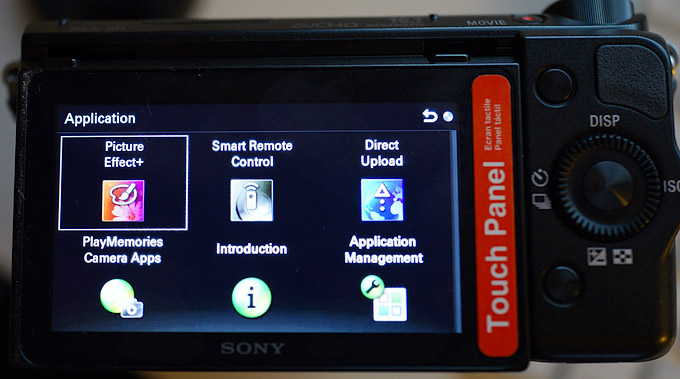 –
HIGH ISO showdown – How do they stack up?
After using the Sony RX1 full frame camera for weeks and then going to the NEX series I was a teeny bit let down. Getting used to superb full frame ISO performance can spoil you but  have to keep it all in perspective as the NEX uses APS-C sensors and they are NOT as good as full frame when it comes to high ISO. Still, the NEX-6 beats the panties off of the NEX-7 when it comes to high ISO. When I shoot any digital camera I turn off Noise Reduction because I can not stand blobby lumpy noise reduction that most cameras apply. It makes your images look awful in most cases.
I was always a little bit disappointed in the NEX-7 high ISO performance and if I did not have a fast lens with me I never took it out at night. The NEX-5R and 6 improve on this thanks to the new 16MP sensor. High ISO and color seem nice as you can see by taking a look at the image below of my early Christmas present to myself 🙂 ISO 3200 with the 16-50 Kit Zoom.
ISO 3200 – from RAW – Zero Noise reduction – 16-50 Kit Zoom indoor low light. X-mas comes early sometimes at the Huff Household.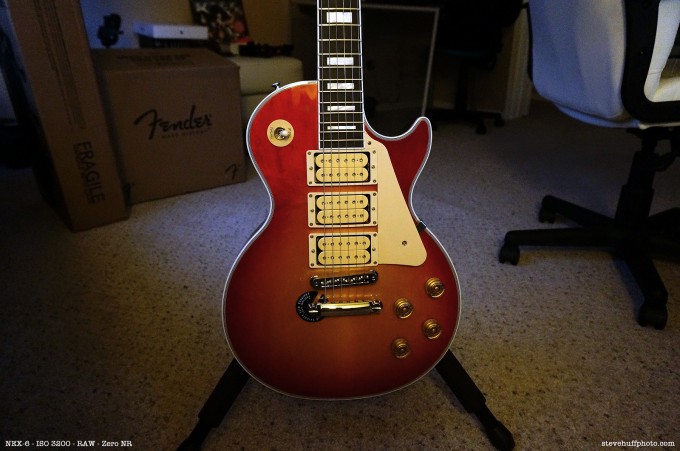 –
I also did a few ISO tests to see just how good the high ISO performance of the NEX-6 and 5R really is. I added in the RX1 and OM-D in the mix as well. Sorry but I did not have a Fuji on hand for this one. Take a look below at the ISO 1600 and 6400 crops from the RX1, NEX-5R, NEX-6, NEX-7 and Olympus OM-D. These are from RAW with ZERO Noise Reduction and no sharpening at all: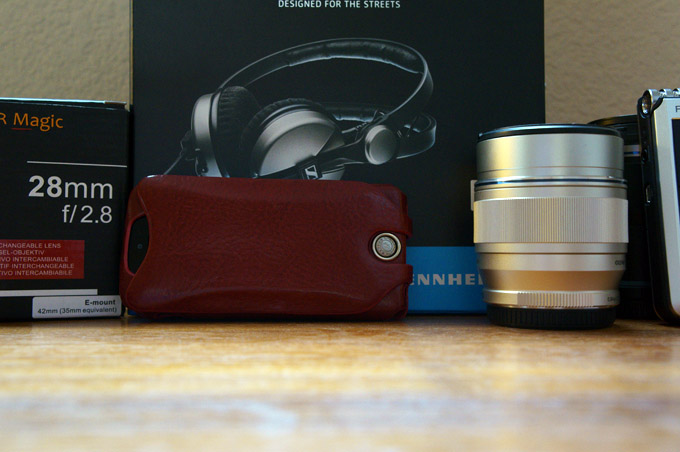 –
and now ISO 6400

The high ISO capability of the new NEX cameras surely beat last years NEX-7, which was the weakest in the NEX line for high ISO shooting. The one that surprises here is the OM-D with the 4/3 sensor. The color is off but the noise control is excellent for being a micro 4/3 camera. As for color, the RX1 came the closest and for noise, the 5R and 5 did pretty good. ISO 1600 on these cameras is very usable. Take a look at the ISO 1250 shot below, from JPEG with the NEX-6 and 16-50 kit zoom when there is some nice light coming in. Gorgeous.
NEX-6 – ISO 1250 with some nice light
–
So are the new NEX's worth an upgrade from the 5n or 7? 
Yes and No. I am a bit mixed with the new NEX line. On one hand, I am happy to see the NEX-6 which looks identical to last years powerhouse NEX-7 in body style as well as build and feel. Also, with a sensor that will not give you any issues with wide angle third party lenses. FYI, The NEX-7 was full of issues when using wide angle Leica glass like a 15mm, 21mm or 28mm. The NEX-6 is good with Leica glass. I do not own anything wider than 35 so I did not test it but my research has shown me it is fine and dandy and a buddy has told me he had no issues using his 24 Lux on the NEX-6. If you are a fan of shooting 3rd party glass on your NEX and own the 7, an upgrade to the 6 could be warranted. You will have the same feel, same body, and while you lose the Tri-Navi control you gain a mode dial and still have all of the control you need. The NEX-6 does not feel like an inferior product at all (to the NEX-7)  and the sensor seems to perform better than the 24MP sensor in the NEX-7. So basically, the NEX-6 is the best NEX yet IMO and feels very "mature".
Image Quality is still superb with these NEX cameras and while it has improved from the very 1st NEX-5 it is not a huge night and day difference and when compared to last years 5n, the new 5r seems about the same in regards to all out picture quality. The body has been improved with more function.
So is it worth an upgrade? Only YOU can answer that by asking yourself what you need in a camera. If you are attracted to the new features such as Phase Detect AF and WiFi/Apps then it is a no brainer. If these things do not tick the boxes for you then stick with what you have. All are capable of delivering images of quality.
The NEX system is growing into quite the system and it has many fans who love it for its no nonsense approach to small size and great quality.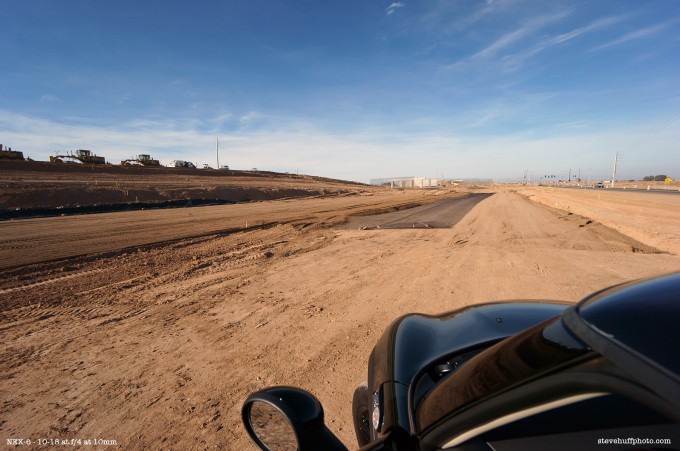 NEX vs The Other Cameras
If you are new to all of this mirrorless camera business then you may be considering cameras like the Fuji X-E1, Sony NEX or Olympus OM-D. Which one is best? Well, they are all good in their own way as they each have their own strengths. For example, the Fuji has the best high ISO performance and its own "Fuji Color Signature" that many love and some hate. Fuji has a great 35 1.4 lens for the X system as well and Leica lenses can be used on ALL of these mirrorless cameras. So the question is, which one is best for you? Well, which model speaks to you? You can see reviews for all of these cameras over in my "Mirrorless Central" section if you want to see them.
Fuji Strengths – Color, IQ and high ISO 
Fuji Weakness – Slow AF, Quirky operation, Video not so hot, limited lenses
OM-D Strengths – Loads of stellar lenses, fast AF, very good high ISO
OM-D Weakness – Smaller sensor, less shallow DOF effects
Sony NEX 5R/6 Strengths – Mature product, speed, Smallest size, Video
Sony NEX 5R/6 Weakness – Can have AF issues in low light, "Sony Colors", Not the best lenses
What I am about to tell you is top secret. I am only telling you this so you do not obsess over which camera to spend your hard earned cash on. The fact is…that…ANY of these cameras can provide you with superb results. Which one you choose will not hamper your ability to take beautiful images but rather any of these cameras will help you grow. They are all capable of delivering astounding results. Go with whatever you feel is for you. Body style, control, etc. The images that come out of the camera are really what is coming out of YOU so with that in mind, go with your gut and then take whatever you choose and learn it..and shoot it. Every day. 🙂
A trio using the 16-50 Kit Zoom. I like this lens better than the 18-55 as it is much smaller and all black and the results are great 🙂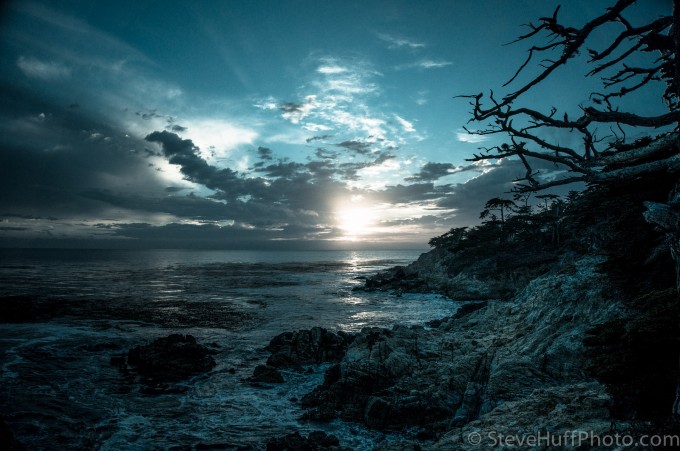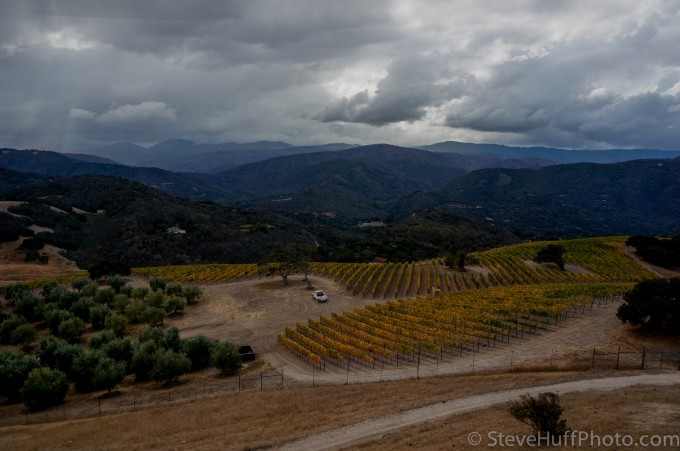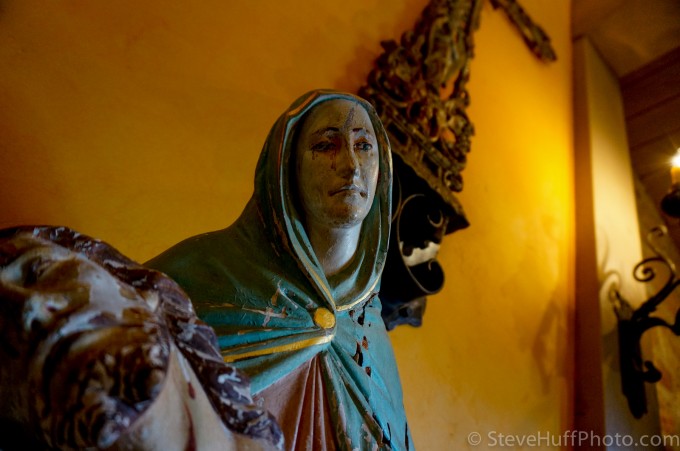 –
The NEX-5R vs the NEX-6 vs the NEX-7 – One test image with crops
I shot one image with each camera to see how the IQ and color would be out of the camera. Same lens, same settings, same everything. Shot RAW and converted with the Sony software with no added anything. Honestly, there is not much difference here.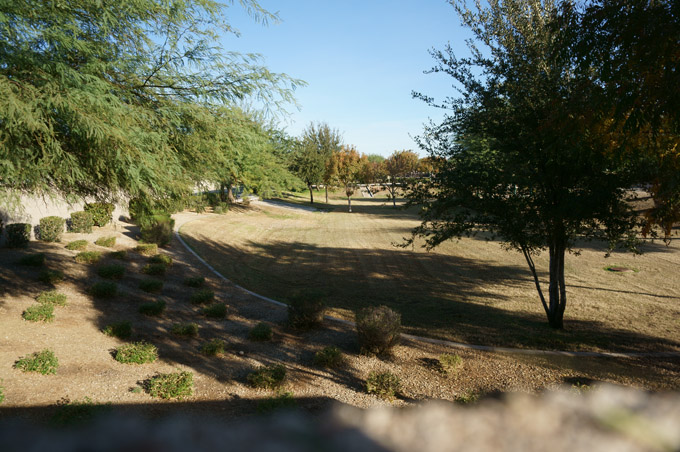 –
and the 100% crops from each – f/5.6 – ISO 100 – 1/400s – No sharpening added.

–
The new 35 1.8 OSS Lens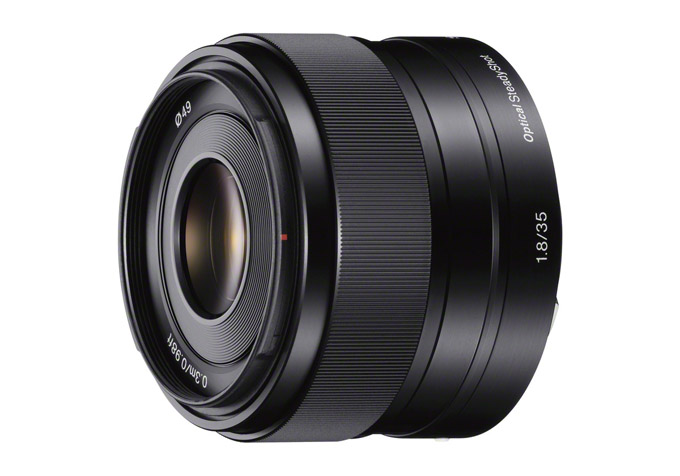 The new 35 1.8 OSS lens is not giving me the luscious and creamy results as the Zeiss 35 f/2 on the RX1 but I did not expect it to. At the price of $450 or so it is a great buy if you want a fast 50 equivilant for your NEX camera. Yes, this is a 35mm lens but on an APS-C NEX camera it is going to act like a 50mm when it comes to field of view (what you see in the EVF and on the LCD). At $45o it is about $100 less expensive than the Fuji 35 1.4 for their own X system but is it a better lens? Well, for starters it is slower with a 1.8 aperture vs 1.4. Build wise, the Sony feels a TAD more solid than the Fuji but both feel like light lenses and nothing like a Leica or Zeiss lens.
As for sharpness, I feel the Fuji 35 1.4 is a sharper lens but it could also be due to their sensor in the X cameras. Overall though, the 35 1.8 OSS is a lens I have been waiting for on the NEX. It has Optical Steady Shot built in and will in fact give you great results, especially if you stop it down to f/2-2.8. At 1.8 wide open I found some softness but nothing horrible. Just not as crisp as I am used to seeing from modern lenses.
My lovely girlfriend Debby. Shot with the NEX-6 and the 35 1.8 OSS at f/2.8 – click for larger!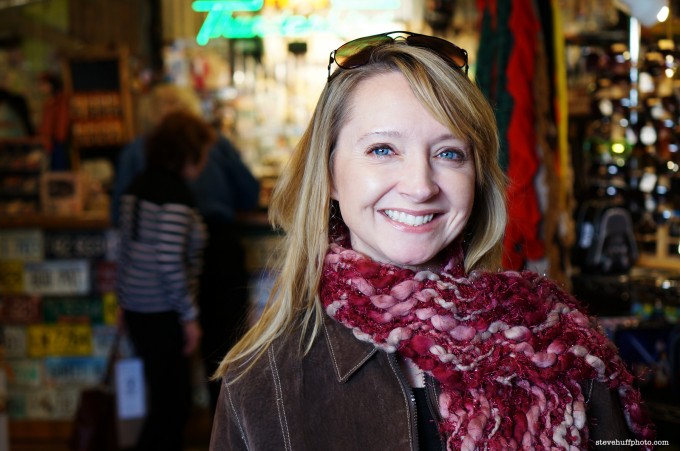 Bokeh Quality of the 35 1.8 OSS
The Bokeh is decent but not buttery smooth. Wide open it can be a little blotchy but not offensive. See the example below in my Bokeh test image.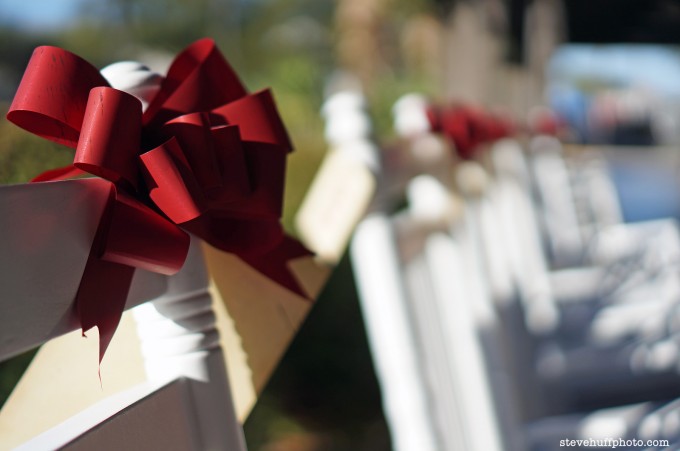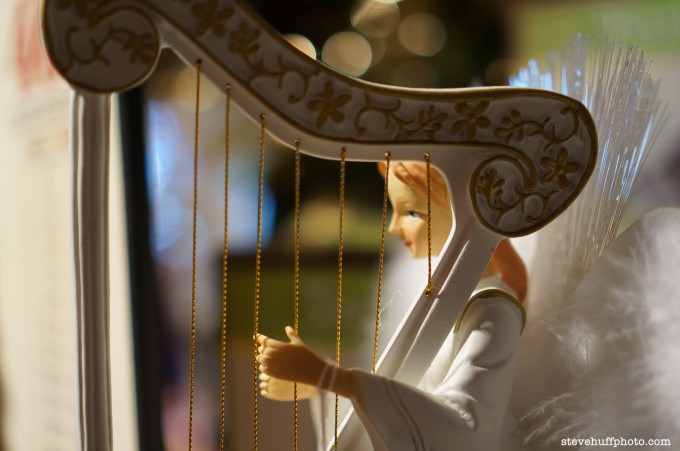 Overall the new 35 1.8 is a great addition to the NEX line. We have been begging for faster glass and now we have a few lenses to choose from. The 35 1.8, 50 1.8 and Zeiss 24 1.8 are all here and available for NEX users. For those wishing for a full frame NEX camera, keep in mind that if this happens none of these lenses will work with the camera as they are not full frame lenses. They would only work in a crop mode which would defeat the whole purpose of having a full frame sensor.
The image below is from RAW with no enhancements. It was shot up close with the 35 1.8 at 1.8. It is the full size file so click on the image to see it in full size.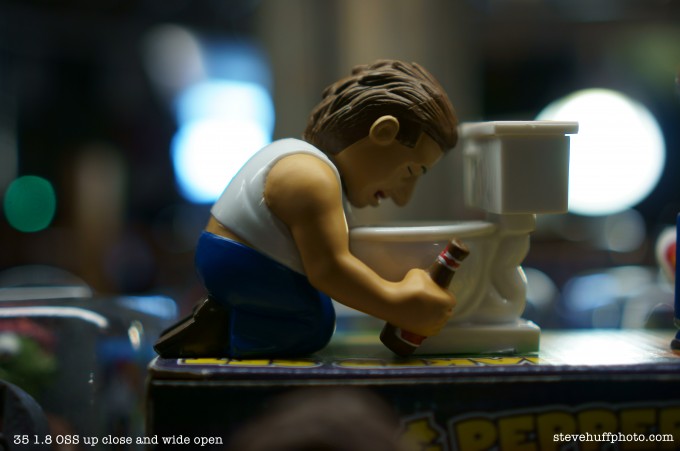 –
The new 10-18 Wide Angle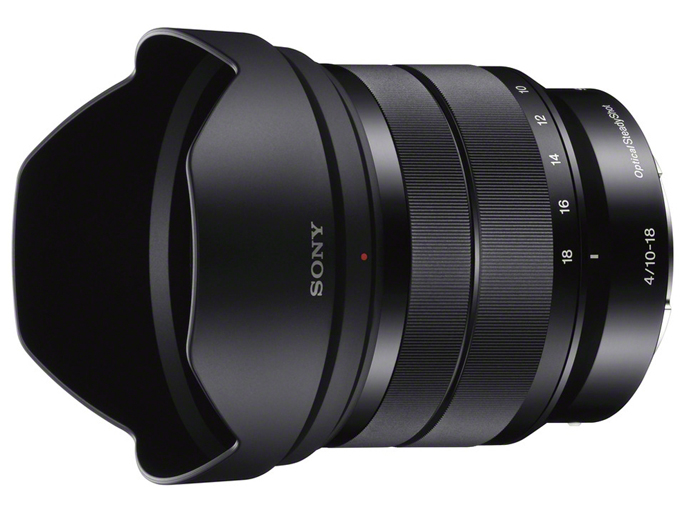 The new 10-18 is a very cool lens, but a bit on the costly side. Wide angles, especially versatile ones such as this usually cost because they are tricky to make. Sometimes wide angles are very soft on the edges or have distortion issues. So how does the Sony 10-18 stack up? Well, just make sure you are using in camera distortion correction and you will be golden.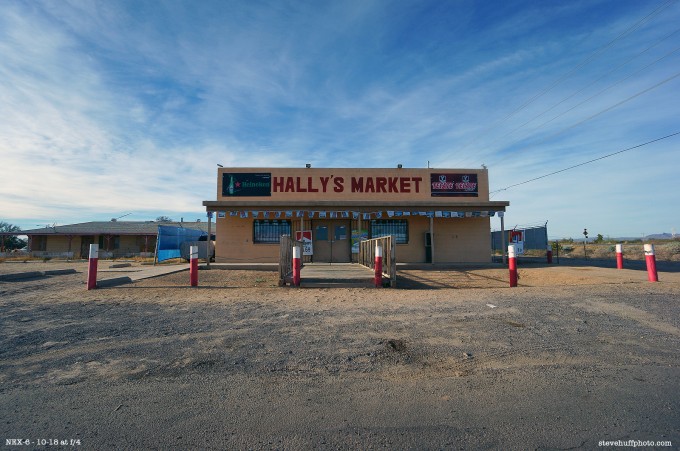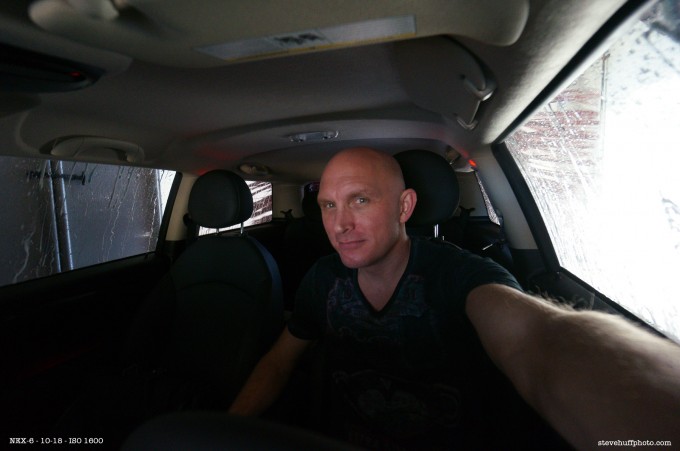 I found the 10-18 to be an excellent lens for the NEX system. I have not had the time to sit down and do any scientific testing but I never do that anyway!  In real world images the lens performs great. For pixel peepers, well, I cant tell you how it performs because I did not pixel peep while using it 🙂 As I have already stated, The 10-18 is a bit on the pricey side at $849.  The overall build is very good and it feels much better made than some of the older Sony lenses like  the 18-55 and 16mm. This is a lens for those who wanted a quality wide angle solution and here it is.
–
Full Size Files
Below is an image you can click on to see the full size out of camera file. It was taken with the NEX-6 and Sigma 30 2.8 lens at 5.6 which is a sharp lens on the cheap.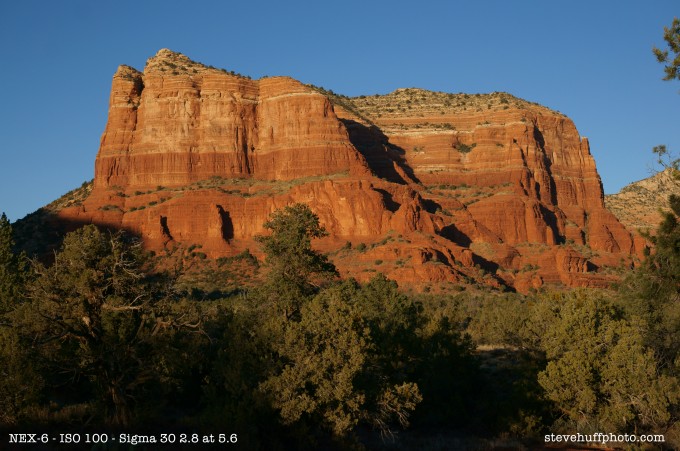 PROS & CONS of the NEX-5R and NEX-6
Pros
Same small size as always
Great image quality in the 16MP sensor
Decent low light performance
Phase Detect AF is fast if using a compatible lens
NEX-6 has it all and takes the place for my fave NEX to date
WiFi feature will appeal to some
Nice tiltable LCD screens as always
Priced Right and 16-50 is an improvement over 18-55 IMO
No problems with Leica wide angle lenses
Sony finally releasing more nice lenses like the 35 1.8 and 10-18
Tilt Screen on 5R allows for self portraits like the F3
5R has touchscreen and new control wheel that is a great addition
CONS
Sony took out the Mic input from the NEX-7
HIGH ISO is not best in class (Fuji wins)
Sometimes cameras can mis-focus in low light
Phase Detect does not work with all lenses
Video noise with 16-50 can be heard when zooming
Using the Apps can slow the camera down to a crawl. Not ready for prime time.
NEX-6 does not have the touchscreen of the 5R
HD video quality a downgrade from the 5n?
–
The Sony NEX-5R and 6 Conclusion
Sony is having a huge 2012 and as we approach 2013 I have a feeling they will be very successful with their latest and greatest camera releases. The RX1 made "Camera of the Year" for me and I stand behind that one 100%. As for the NEX cameras, well, they are NEX's! You know what to expect if you have ever shot with one and these are basically the same as the ones that came before with some refinements, enhancements and new lenses. They are more mature but at the same time they throw in even more features which make them feel like mini computers that also take photos. The menu system is the same as the previous NEX cameras but these days they are as customizable as ever with so many buttons to customize to your liking you will not have any problems or issues finding your favorite settings and controls. If you want a small mirrorless that is responsive and can deliver the image quality you want from an APS-C then your choices come down to either Sony or Fuji. Sony wins on speed and size. Fuji wins on sharpness and color.
In fact, the Sony NEX cameras do indeed have their own "look" much like Fuji has theirs. Which one you like is up to you. But these days, any of the mirrorless choices can deliver the goods. Just go with what feels right for you. The NEX 5R and 6 are once again superb cameras but in all honesty I do feel that Sony will need to create something like this that has a full frame sensor for the next go round. How they will go about it (if at all) is the mystery. Oh and as for the other things I did not go over this time, the App store and WiFi (for me at least) are a miss right now. The App feature slows the camera down to a crawl at times so I just avoided using them. The HD video is good but as I shot some personal family stuff I kept thinking that the NEX-5n gave me better quality video. I will have to do more video to really see what is happening there. It is not horrible, but I remember being wowed by the NEX-5n and 7 video, no so much on the 6.
So if you are a NEX user and fan the 5R and 6 are improvements once again when it comes to photos, but only you can decide if they are worth the upgrade.
–
Where to Buy?
You can buy the Sony NEX-5R and NEX-6 at the links below:
Buy the NEX-5R at B&H Photo HERE
Buy the NEX-6 at B&H Photo HERE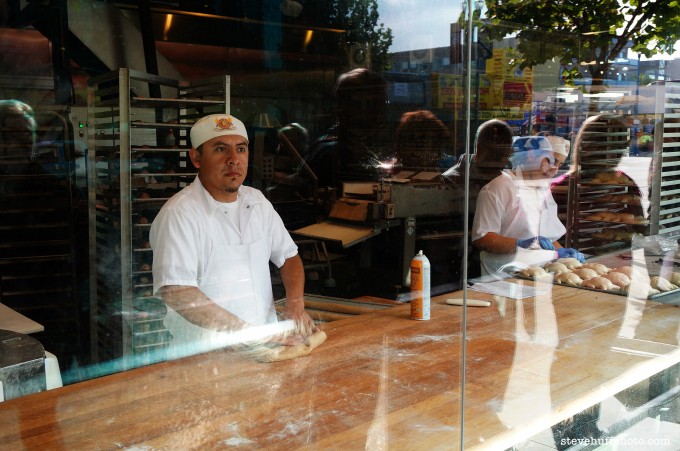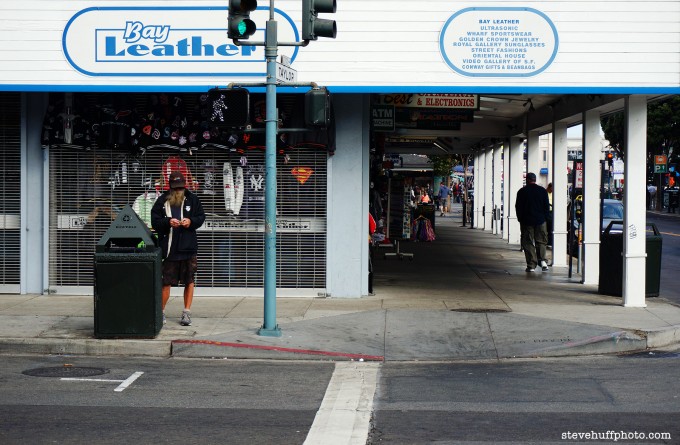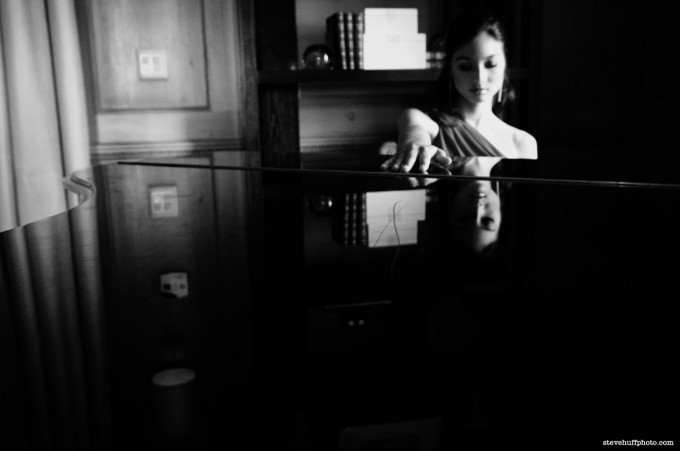 HELP ME TO KEEP THIS SITE GOING AND GROWING!! IT'S EASY TO HELP OUT & I CAN USE ALL THE HELP I CAN GET!
PLEASE Remember, anytime you follow my links here and buy from B&H or AMAZON,
 this helps to keep my site going. If it was not for these links, there would be no way to fund this site (and the cost these days to keep it going is pretty damn high), so I thank you in advance if you visit these links. I thank you more if you make a purchase! I have nifty search bars at the upper right of each page so you easily search for something at either store! I currently spend 10-14 hours a day working on this site and the only way that I can pay for it is with your help, so thank you! Currently my traffic has been increasing but my funds to pay for the site has been decreasing, so any help would be GREATLY appreciated!
Even if  you buy baby food, napkins or toothpicks at Amazon it helps this site, and you do not pay anything extra by using the links here. Again, you pay nothing extra by using my links, it is just a way to help support this site, so again, I thank you in advance 

 More info is here on how you can help even if you are NOT in the USA as I have Amazon links to Germany, United Kingdom and Canada as well!
If you enjoyed this article/review, feel free to leave a comment at the bottom of this page and also be sure to join me on twitter, my facebook fan page and now GOOGLE +!
Also, you can subscribe to my feed at my subscribe page HERE and read these posts in your browser or news reader!