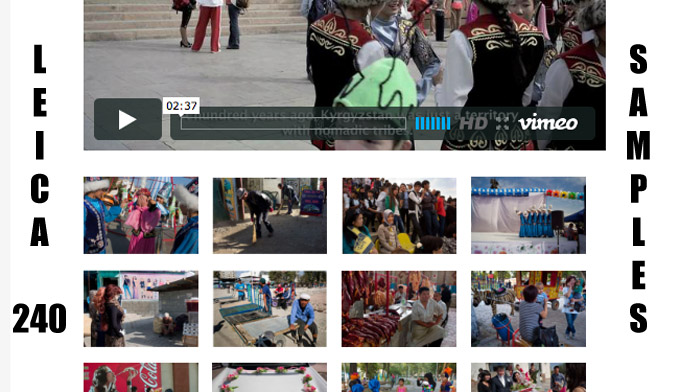 The Official Leica M (240) Image Samples have arrived..sort of
UPDATE: When you click over to the Leica Blog to see these keep in mind that ONLY THE IMAGES in the grey contact sheet box are taken with the new M! The 12 images above those were shot with the M9, which goes to show that even the M9 can look flat and harsh when shot at f/16 and in the full sun like some of these were. Even so, the images below them of the girls in the wedding attire are not much better but those were shot with the new M 240. In my opinion it appears Jean was having an off day as these are honestly awful photos to showcase not only for a new camera that really has no real samples out but also for a Leica blog post in general that is meant to showcase their cameras with a Magnum photographer. 
Well, the "official" samples have landed, if you want to call them that. If you want to take a look at these official Leica M samples that have just surfaced on the official Leica Blog (and yes, Leica confirms these are in fact from the new M) then just click over to the Leica blog for the details and images. You can do that right HERE. Below is a video they posted as well…
I have already been asked in several e-mails what my opinion of these samples were and I hesitate because we all know that results vary wildly and I have no doubt that this new M will produce some astounding quality images in the right hands. Sadly, I feel the images Leica chose to promote the camera are lacking. They were shot by  and amazing Magnum photographer
Jean Gaumy
but for some reason they seem very lackluster to me. Nothing like the M Monochrome samples they published when that camera was released. Those had some power and passion behind them. These samples look like snapshots to me.
I am not speaking of the QUALITY of the camera but the photos themselves. Just seems like there could have been so much better photos published to show off the new M. I mean, if I can be 100% honest, I have seen much better photos from those who attended my workshop in Los Angeles. Leica makes some oddball choices sometimes.
As for the image quality. To me these seem like they have nice color and they do indeed lose that CCD look of the M9, M9-P and M-E.  But I can not judge IQ of any camera unless I shoot it. Like I said, once people get these in their hands and shoot, and process and work with the files we will then see what this camera REALLY has under the hood.
I still have full confidence in the camera and my pre-order is still in. I guess the worst case scenario is that it will lose that special look and feel so many of us were addicted to with the M9, so in that case..back to the M9 or M-E! 🙂 Easily solved. So far it appears the M8, M9 and now M all have different image quality characteristics. My guess is the new M will be the king of all in Dynamic Range and ISO performance but may just lose that crispness of the M9 (if we are to go by these samples) , but we shall see soon enough. I can not wait to slap on a 50 Lux ASPH and give it a test run.
What do YOU think of these new official samples? Again, the link to see  them all is right HERE!