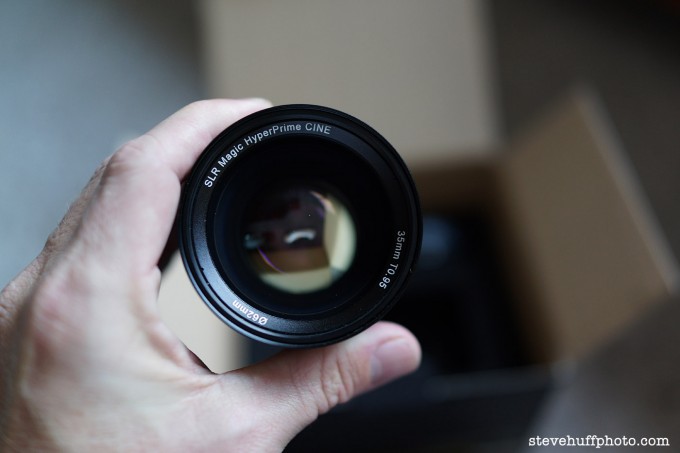 USER REPORT: Seeing Hong Kong in Black & White with SLR Magic Hyperprime 35mm T0.95 Cine Lens with Fujifilm X Pro 1
By Wilson Chong
I would like to take this opportunity to thank Andrew Chan of SLR Magic to lend me the Prototype SLR Magic Hyperprime 35mm T0.95 Cine Lens in M Mount for testing.
I am sure many of you have read what Steve already said about this lens and I won't repeat this here. However, I will tell you what I think about this lens and this time I am using my Fujifilm X Pro 1.
The first thing I find about this lens is that it is huge and quite heavy (however, not as heavy as the Leica version) but still after two hours of shooting your arm and wrist will feel tired. I like the metal feel and the grip for the focus and aperture. As this is a CINE lens, for many of us, the first time I shot with it, I always turn the aperture ring instead of the focusing right (I was thinking… why I am not focusing and why my eyes are failing me?? Or is there anything wrong with my EVF?). Anyway, I think your mind can easily adjust to that after a couple of shots (mostly failed as my brain is slow to learn).
[ad#Adsense Blog Sq Embed Image]
The next thing I notice is due to the design of this lens, if you want to shot it wide open like me during the day, you need an ND filter. However, for a lazy guy like me, I would opt for a Variable ND Fader to adjust how many stops to fade I want for each shot instead of keep changing different filters as the day progresses. If you mount the Variable ND Fader directly, the images will front focus due to the design of the built-in lens hood. At first I thought why I cannot focus to infinity but this problem disappeared when I shot at night without the ND Fader and wah-la, infinity focus has returned….The lens should be used with the optional SLR Magic 62-77 Ring for use with Variable ND faders. If regular 62mm filters or ND faders are used the lens works normally.
As the lens is a pre-production lens the optional parts are not out yet and this was fixed by a simple solution when I met up with Andrew. He gave me a 62-62 double Male -Male coupling Ring Adapter anyone can find from eBay to not restrict the movement of the lens when used with s Variable ND filter.
When I was shooting with the X Pro 1, the experience is definitely better than using the Leica M. Without EVF, Rangefinder coupling is very difficult to see in the darkness. The focusing ring is very fast and smooth so it makes focusing fast without that slow movement you get with huge lenses. I would rank the overall shooting experience up high.
The lens certainly has a very cinematic feel to the photos and also quite stealthy when I shot at night. Shooting with the EVF certainly helps with your focusing and give you the confidence for each shot. I suspect the new M with EVF would give you the same experience as well, especially those who are novice to rangefinder. Although the technological breakthrough makes life easier, you lose something as well. The joy of using a rangefinder, and the skill of focusing. If the new M has a built-in night vision viewfinder for night shot instead of the external EVF, I am sure a lot of old-school/die-hard RF fans would applaud Leica (if Leica did, you know I am the first one who suggested it! Ha!).
I used both Lightroom and Silver Efex Pro 2 for some of the photos I shot and for some, just Lightroom (maybe I over did it in Silver Efex Pro 2?). Anyway, I like the result of both and I find the lens very capable of getting all these details and mind you the X Pro 1 sensor is very good indeed as well. I always think the X Pro 1 is the poor's man Leica but it deserves a place in its own right. The shooting experience with the X Pro 1 using the OVF and EVF is unique and makes you think like you using a Rangefinder but again give you the best of both worlds.
I have no doubt this lens will give you stunning shots, lots of details, virtually no distortion (as far as I can see with my eyes) and a joy to use. It is already in my must buy list for 2013 and I have no intention of returning the prototype to Andrew unless he give me a production version of this lens in return. I hope he can use the improvements on this lens into the second version of the Leica mount HyperPrime 50mm T0.95 (unfortunately, I don't think they will do another RF version again anytime soon).
Compared with other similar lens, this lens certainly stands out from the crowd and the bokeh of this lens is beautiful, unique , and gives the 3 dimensional trip. Of which this unique character I only find that when I shot with the Helios 85mm F1.5 FSU lens but this lens is not soft and sharp all round. This lens is a heavy contender to the must buy fast lens in the ASPH lens category. The glass is well made and solid. The only thing I can think as a fault it is the weight of this thing but this can be easily forgiven with the sharp, 3D and lovely bokeh it creates. If you like fast lens and something unique and special, I would certainly recommend you this lens.
All photos below are shot wide open with ND Fader during the day and without during the night. My Flickr is http://www.flickr.com/photos/wilson888
Click images for LARGE size