More Leica in Asia photos by George Sutton
I recently had an opportunity to travel to Myanmar. It is just opening to tourists after being essentially closed since WWII. The military has governed (using that term charitably) most of that time repressing all opposition and otherwise living apart from the general population and controlling all the wealth. The rest of the nation mostly lives as it always has. Today it is one of the most impoverished nations in Asia but that only means a lack of material wealth, not the kind of desperate living on the street and scavenging in garbage dumps for things to eat and wear found in other places. We didn't see beggars or people crushed by poverty. It is a fully intact society frozen in time in one of the richest Buddhist cultures anywhere (rich in a spiritual, not material sense). For now, taking a tour is unavoidable. The food is excellent but you have to know which restaurants to pick. Paying for anything is very difficult because credit cards are not accepted and US currency can only be exchanged for the local money at some places and they only take crisp new unwrinkled dollars. There are excellent hotels but getting a room can be difficult.
This was a photo tour led by a guy (Karl Grobl) who specializes in photographing Asian people particularly in remote areas or places affected by a disaster. He mostly works for humanitarian organizations but leads a few photo tours to fill his schedule. His style of shooting is interesting. He shoots hundreds of photos then sends them via the internet to clients who select shots to use and do all the post processing. It works best to shoot jpegs. Limited internet access and bandwidth makes it impractical to send raw files. He carries two DSLRs, one with a zoom telephoto and the other with a wide-angle zoom. He clips these cameras on each side of a belt designed to carry cameras. That enables him to quickly grab either camera and get a shot of any scene he may encounter. He currently shoots Nikon D3s because of its high ISO quality and ability to get a rapid sequence of shots. He has adjusted the camera to get the saturation, contrast and sharpening he wants in the jpeg then sends the batch as it comes out of the camera at the end of each day or as soon as he reaches a place with internet access.
I took a DSLR but shot raw. I also took a Leica M9 mostly to try it out and to see if it would work better in some places like walking around a city or village. It worked great in those situations. The DSLR was indispensable in many other places like inside dark temples, when a very wide or long lens was needed, or in rainy weather. I first tried the Leica in a market where I figured it would not be a big loss if the shots were not as good as the DSLR and ended up with some of my favorite shots of the trip. Some of those shots follow.
The first is of a lady who spends hours every day sitting before a statue of Buddha in a monastery. Buddhists don't worship Buddha. They practice good karma because that is what enables them to live a better life in the next reincarnation and with enough good karma one can escape the cycle of birth and rebirth. They revere Buddha for teaching that and revering him is itself good karma.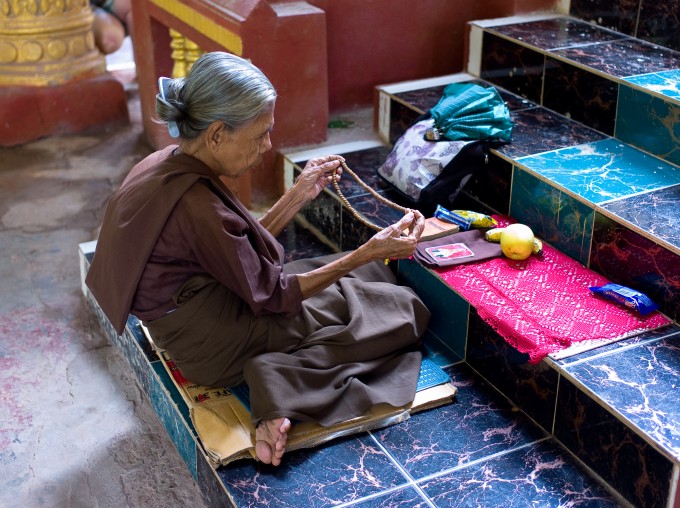 The next shot is of men making the alms bowls that monks carry to collect food. Lacking automation, these guys take lids cut from the top of used oil drums and beat them in the bowl shape with hammers. This is literally the main shop of the biggest bowl maker in Myanmar. Once the bowl is pounded out it is painted with a thick lacquer and fitted with a lid and handle made from bamboo.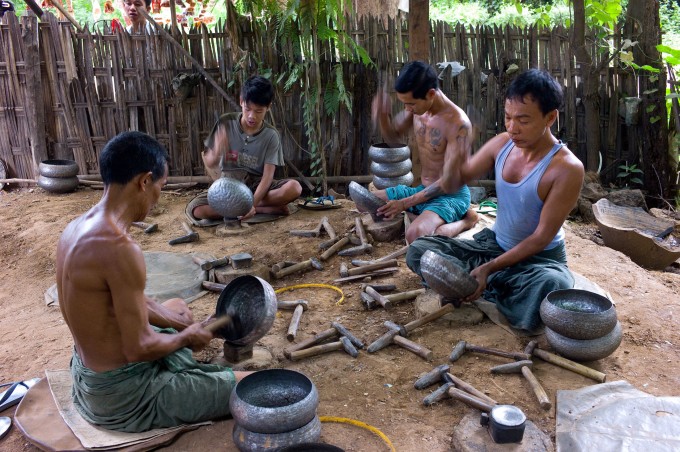 The next shots are scenes from a typical city marketplace. The old guy has just finished his morning soup and is enjoying a cigar watching a soap opera.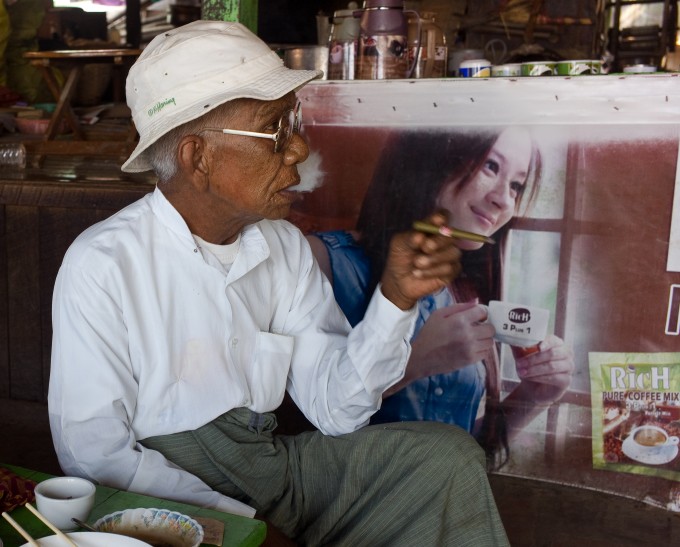 The guy on the large tricycle is a typical delivery man. These are the equivalent of a delivery van in a modern city.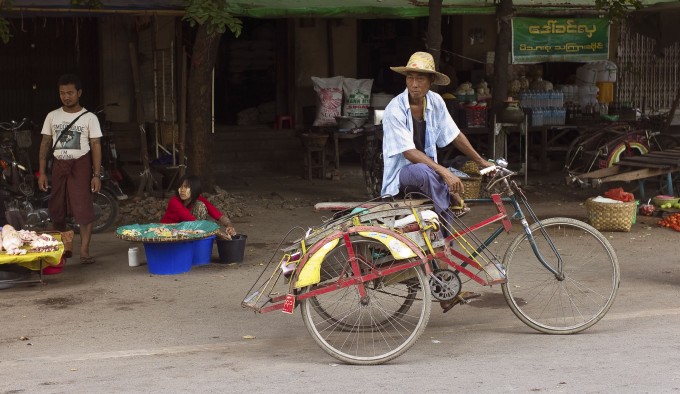 The girl was probably on her way to school. The decoration on her face is a kind of wood dust made into a paste. For her it is makeup but for most people it is a kind of sunburn protection.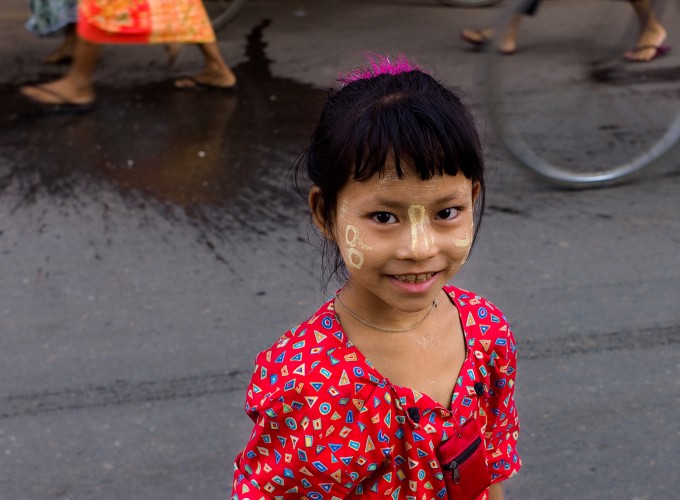 The last shot shows a kind of truck used for just about everything outside the cities. I was told it is made in China. These haul people or other loads. The bed can operate like a small dump truck. This one is delivering people to a monastery in a small town in the center of the country.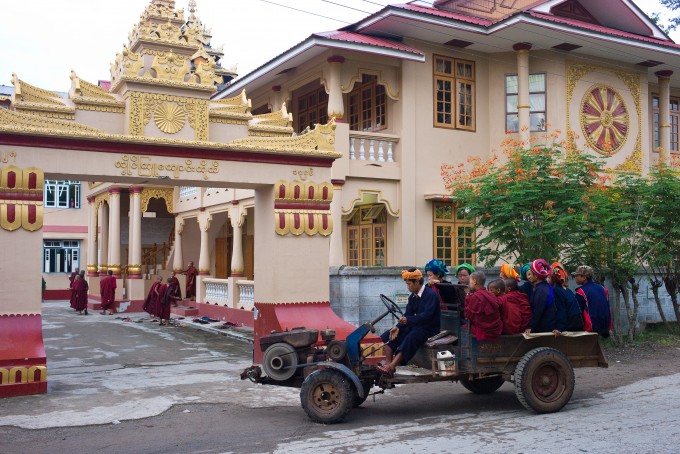 I hope you like them.
George