Win $11,000 plus a Leica Monochrom! B&W contest.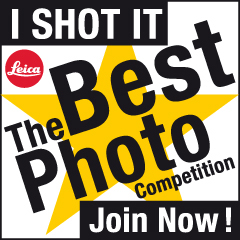 It's that time again but with only TWO days to go before the deadline to submit and image is here. TWO DAYS! The last time I-SHOT-IT had their B&W contest the winner walked away with $25,000 US dollars and a Leica Monochrom camera valued at $7995. The cool part was that the winner came from THIS WEBSITE because I posted about it, he acted, he entered and he won. Amazing.
I would freak out if I won $25k and a Monochrom.
What I am speaking of is a Black & White photo contest over at I-SHOT-IT.COM. They have many contests running at any given time but their B&W contest, to me, is the creme of the crop just due to the beautiful entries and the awesome prizes.
I-SHOT-IT has contests that are free to enter and some are fee based, but one thing is constant…and that is that the quality of entries is superb. If you want to enter I suggest you have a strong contender. If you do, who knows, you may get lucky and win. Of course you may not but that is all part of the fun.
So just wanted to post ad I have not posted about the contest at all this quarter and since the winner came from here last time, maybe it can happen again. Good luck to anyone who enters!
You can enter the B&W Premium contest here to be in the running for the cash and camera prize.
Steve