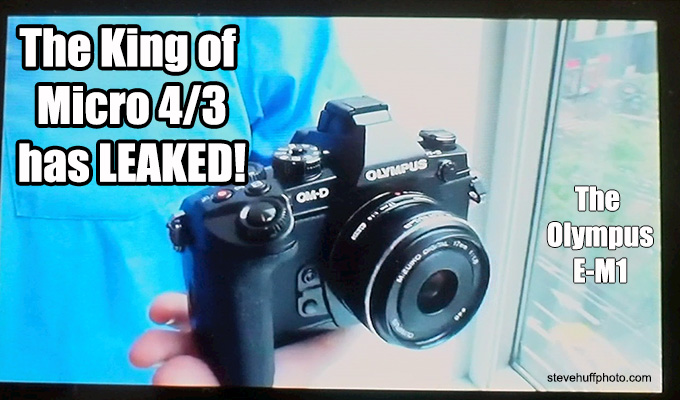 The King of Micro 4/3 has leaked..The Olympus OM-D E-M1 is almost here…
This morning a video leaked from Engadget (which is now gone) showing the new Olympus OM-D E-M1 in full detail. I saw the video at 5AM while laying in bed and even though Engadget took it down once it was picked up by the rumor sites, I still have the video loaded on my iPhone and have watched it a few times. After doing so I am 100% convinved that THIS camera will be the KING of MICRO 4/3!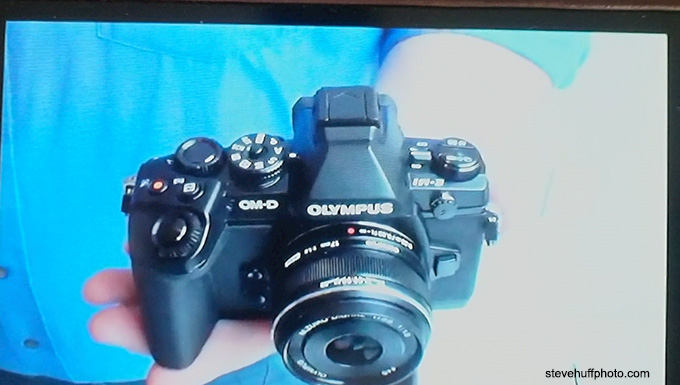 It is a professional build camera, up there in build with cameras like the Nikon D800, etc. It is fully weather and freeze proof. It has the amazing 5-Axis IS and a HUGE LCD screen. Olympus said in the video that they have "listened to their customers" this time. 🙂 The E-M1 now has phase and contrast detect AF and is compatible with normal 4/3 glass, meaning when you use normal 4/3 glass you will get FAST AF, in the video he says it is just as fast using Micro 4/3 glass or 4/3 glass. It appears the VF-4 is built into the camera as well as they are saying the EVF is larger than what is on most full frame cameras. Looks like a VF4, which is amazingly cool because the VF4 is really really great. I have been using it on the E-P5. The guy in the video did say an EVF with 2.83 million pixels so not sure if that was a slip or if he meant 2.36 million, which is what the VF 4 has. He did say 2.83 though, which if true, will beat the VF4.
[ad#Adsense Blog Sq Embed Image]
This is a serious camera folks…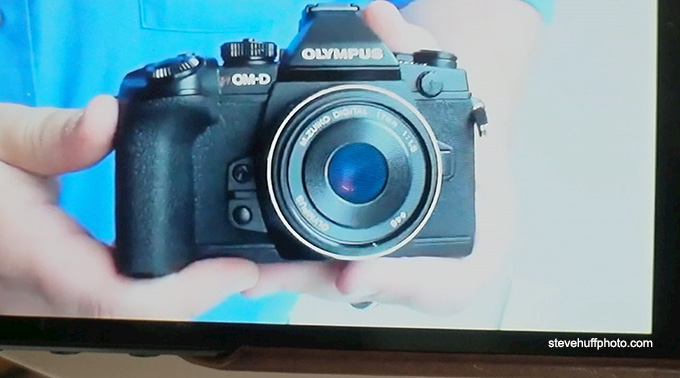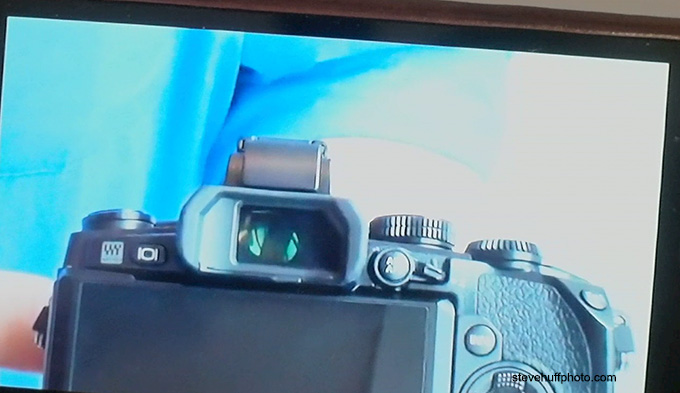 The OM-D E-M1 IS the Pro Micro 4/3 we have been waiting years for. Yes, it is about to land. The camera also has a built-in grip as well as an external battery grip that attached much like a Nikon battery grip does. The top of the camera is beautiful and screams pro build and feel and control. With the amazing quality of the OM-D E-M5 this camera appears to take it up a notch in EVERY area – build, feel, control, amazing WiFi features, etc.
I am guessing we will see an announcement soon because now that all of us in internet land are full aware of the camera due to the leak (which I feel was done on purpose, as always) Olympus should be ready to announce it soon. WHen I reviewed the OM-D E-M5 I said "Micro 4/3 Matured". Well, looking at the video of the E-M1 it tells me not only has it matured, it has excelled into the land of premium pro build cameras.
I feel this video was made to leak because the rep in the video never mentioned details like Megapixel count, size of the LCD, ISO range, etc. If it never leaked, this post would have never been here.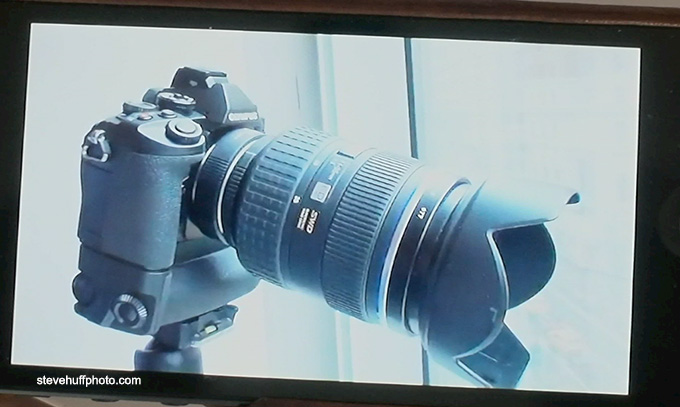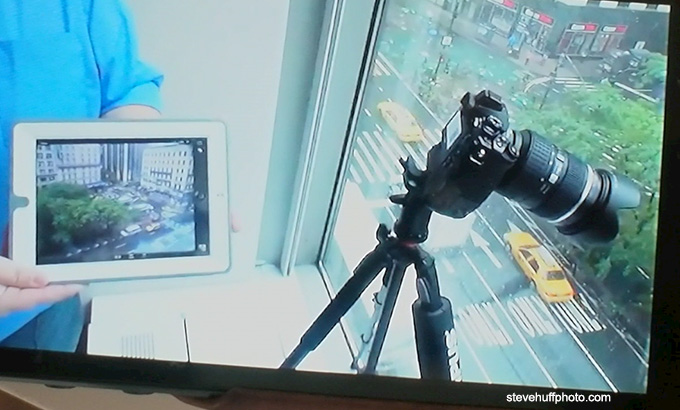 The new Olympus OM-D E-M1 – What we know as fact so far.
2.83 million dot EVF
5-Axis IS
New DSLR type grip
16MP sensor
Built-in Wi-Fi
Shutter speed: 1/8000s-60s
Micro Four Thirds mount
Not only "weather proof" but "FREEZE PROOF"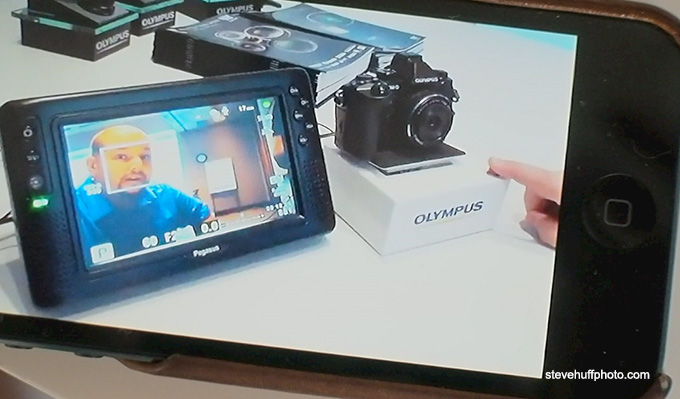 So it is an exciting time for micro 4/3 users. 🙂 Time to stock up on some lenses 🙂 I have no idea what this will cost but I expect it to come in around $1500. It is higher end than the older OM-D E-M5, built to a higher standard with new features so it will not be the same price, I can guarantee that one. To me, at $1500 it would be just about right for a pro built and made and controlled OM-D.
What are YOUR thoughts?

HELP ME TO KEEP THIS SITE GOING AND GROWING!! IT'S EASY TO HELP OUT & I CAN USE ALL THE HELP I CAN GET!
PLEASE Remember, anytime you follow my links here and buy from B&H or AMAZON,
 this helps to keep my site going. If it was not for these links, there would be no way to fund this site (and the cost these days to keep it going is pretty damn high), so I thank you in advance if you visit these links. I thank you more if you make a purchase! I have nifty search bars at the upper right of each page so you easily search for something at either store! I currently spend 10-14 hours a day working on this site and the only way that I can pay for it is with your help, so thank you! Currently my traffic has been increasing but my funds to pay for the site has been decreasing, so any help would be GREATLY appreciated!
Even if  you buy baby food, napkins or toothpicks at Amazon it helps this site, and you do not pay anything extra by using the links here. Again, you pay nothing extra by using my links, it is just a way to help support this site, so again, I thank you in advance 

 More info is here on how you can help even if you are NOT in the USA as I have Amazon links to Germany, United Kingdom and Canada as well!
If you enjoyed this article/review, feel free to leave a comment at the bottom of this page and also be sure to join me on twitter, my facebook fan page and now GOOGLE +!
Also, you can subscribe to my feed at my subscribe page HERE and read these posts in your browser or news reader!