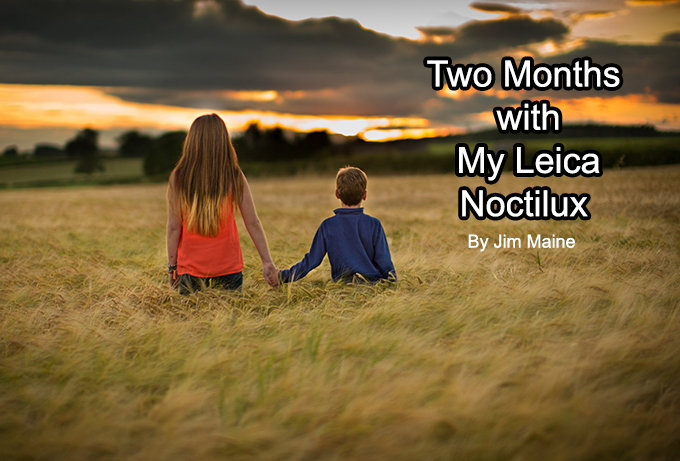 Two months with my Leica Noctilux f/0.95
by Jim Main
Hello again Steve,
A few weeks ago I sent you and email explaining the story of my slightly off the wall buying experience of my beautiful black and glass gem otherwise known as the Leica Noctilux f0.95.
Well I'll start off by saying that despite the risk everything paid off and the lens and seller are both 100% genuine and the lens is now on a Passport under my name, phew! So I did get a genuine £6.5K 'bargain' 🙂
Anyway onto what I've been doing with it. First up I'll say that, if anything, I find it easier to hold and use than the 50 Lux it replaced. Focussing is generally a snap and I use the RF 95% of the time rather than the EVF. I've included one 'action' shot taken with it, admittedly not wide open, but it was still one a series which came out sharp. If you do buy one of these then a decent ND is a must if you want to use the lens to its best open potential in most daylight conditions. I keep a UV protection filter on the front and I've noticed a bit of vignetting when I stick the ND on top of that but it doesn't bother me too much as it usually suits the image and saves me adding one in LR or PS.
Nighttime performance is amazing, no flash on an M, who cares, this thing sucks in light and with the better high ISO performance of the M the only thing I would need flash for is fill in rather than overall illumination.
You can read all the reviews and see lots of sample shots, but it's not until you take your own ones that you really discover the beautiful smooth creamy effect that this lens can bring to even the most mundane of subjects, I've never experienced it with any other bit of kit I've owned over the years, and that includes a lot of fast Nikon lenses. I know that the copious bokeh isn't to everyone's taste but I don't think I'll ever get bored with it.
As you can tell I kinda love this lens and it's been with me recently to Spain and Florida as well as just down the road.
Do I recommend this lens, you betcha, have a garage sale and clear out anything you can to save up for one of these and I doubt you'll regret the purchase.
I've attached eight shots for you and I really couldn't decide which ones to send. There's a few of my favs that I've kept for the time being as I'm going to enter them in my local club competition and they have rules about images not being seen before but hopefully you won't be disappointed by these.
Thanks
Jim