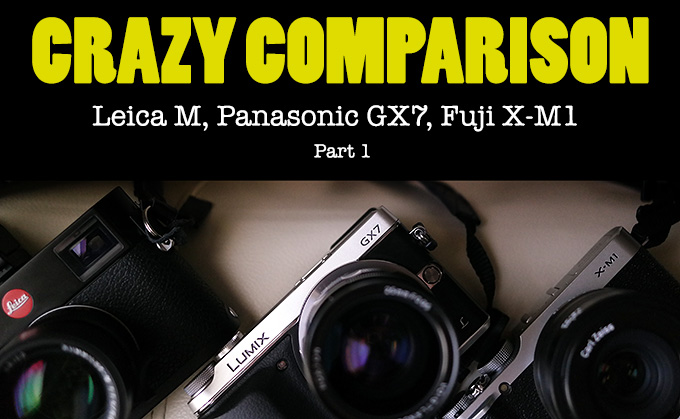 Crazy Comparison! Leica M 240, Fuji X-M1 and Panasonic GX7
Part 1 – static subject
(Part 2 will be up tomorrow. High ISO and Blind Test)
Goes to show..any camera these days will do the trick 🙂 Below are a few sets of images from three cameras and three equivalent lenses.
1. The Leica M 240 and Leica 50 Summilux ASPH 1.4 Lens – Total Value: $11,000 US dollars. – 50mm true FOV
2. The Fuji X-M1 and Zeiss 32 1.8 Touit Lens – Total Value: $1,600 US Dollars – 50mm equivalent
3. The Panasonic GX7 and Voigtlander 25 0.95 Lens – Total Value – $1,900 US Dollars – 50mm equivalent 
I wanted to see if the less expensive options could even get close to the Leica in overall image quality. I believe that most cameras today can give you superb quality with the right lenses. The three cameras listed here all have a different size sensor, which means the depth of field will be different with each result. From the 1st test below I am listing which image was shot with what camera and lens. You can click on any of the images to see the full size file from RAW. I matched the white balance on all to the same settings during the RAW conversion and I let the cameras meter the scene using their base ISO. My favorite rendering  came from the Leica M and 50 Lux at f/2. On image quality alone though, you will not see a $9,000 US difference here.
That difference in price comes from the fact that it is A: A Leica and Leica cameras are always VERY expensive. 2: It is a rangefinder, and the only digital RF available, and 3: Usability is a WHOLE other thing with the Leica. It's a fantastic thing. 
My least favorite of the 1st shots came from the Fuji even though there is no lack of sharpness. Something about them just seem off to me and they seem to fall flat a little. I would choose a GX7 or E-M1 with a Voigtlander prime any day of the week over the Fuji and Zeiss 32 Touit. That's just me, your tastes will vary but shooting the GX7 and Voigtlander was much more enjoyable in all ways to the Fuji set.
All of these were shot on a tripod at base ISO of each camera. You can click each image to download the full size file. These were shot as RAW with white balance adjusted to match (3000). Details are on each image and EXIF has been embedded. I let each camera choose its own exposure metering because that is what you will expect to get from the camera when in real world use. You would not use  the Leica meter in a Fuji camera and vice versa, so what you see is what you get.
1st up, the Leica shots…f/1.4 and then f/2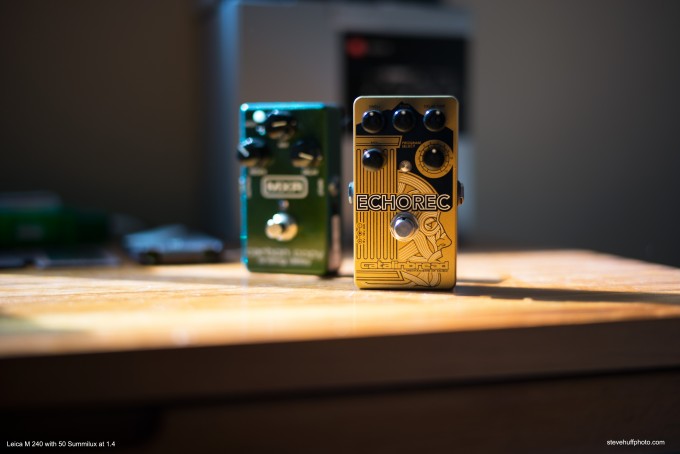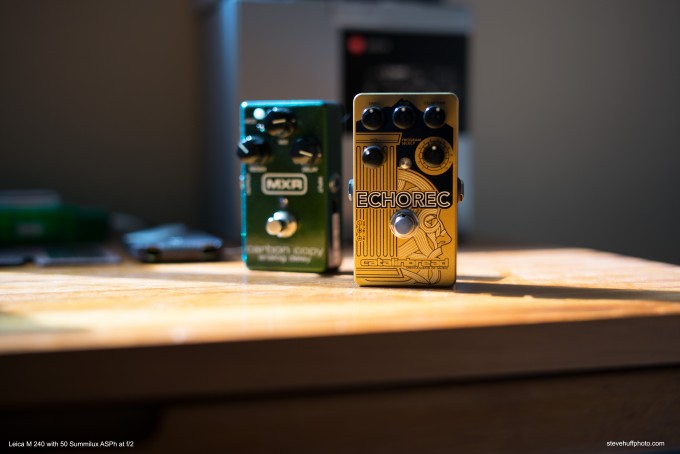 –
Now the Fuji shots..1.8 and then f/2 – Typo on the images, I know the lens is a 32 not a 35.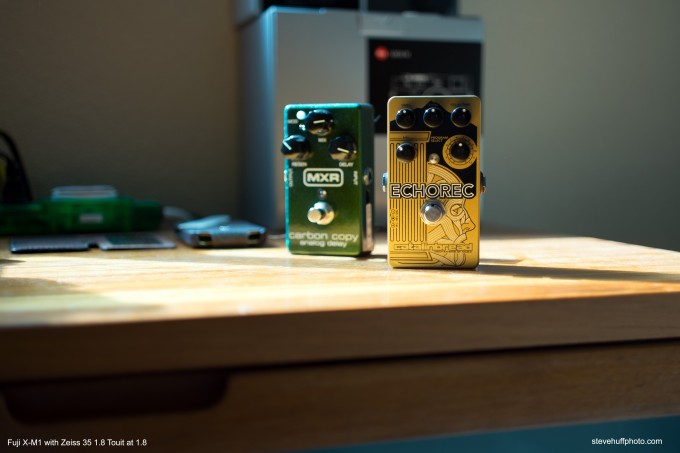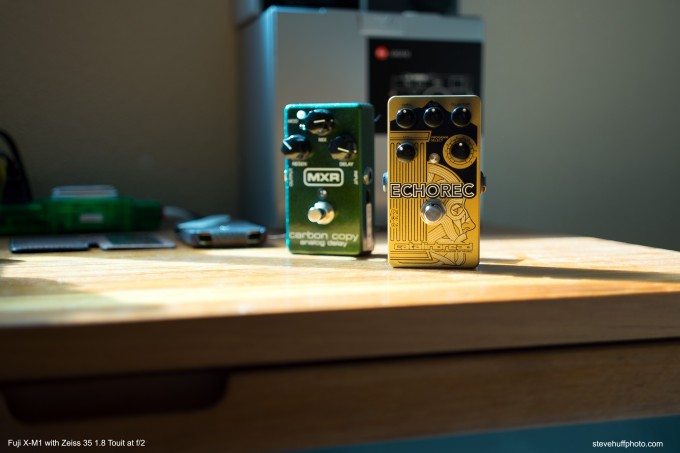 –
and the Panasonic GX7 and Voigtlander set starting at 0.95, then 1.4 and then f/2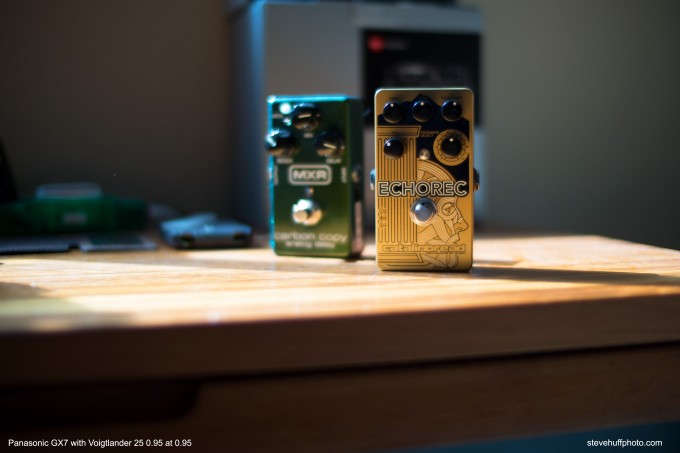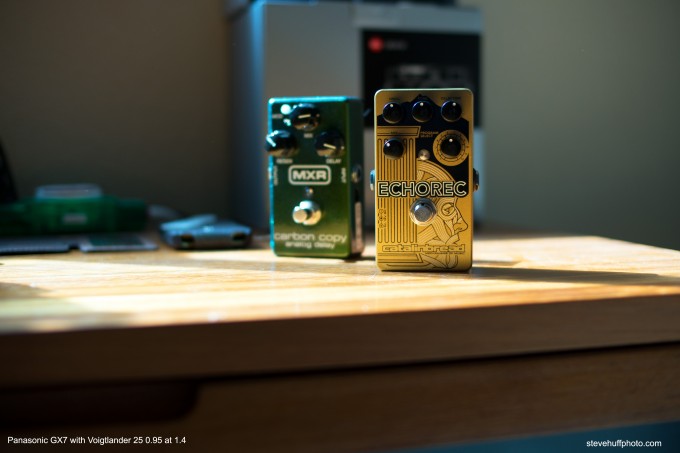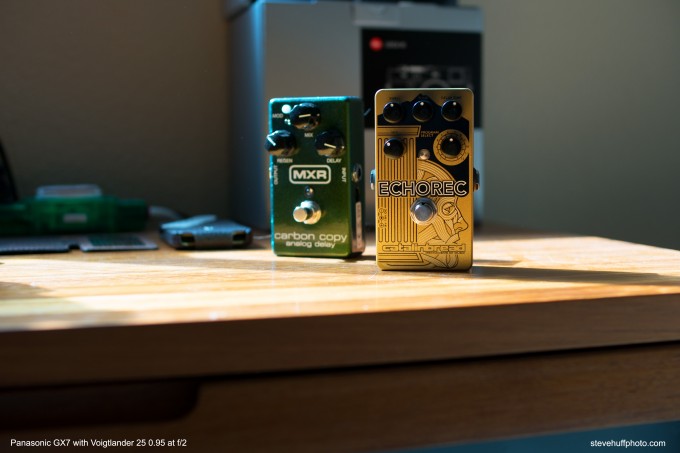 –
And a 100% crop from all three at f/2 – GX7 is sharpest, then Fuji, then Leica. Color? Leica, then GX7 then Fuji. To me, the IQ champ is Leica and GX7 hands down even though Leica is the least sharp. When looking at the entire image and rendering  this is how I judge things.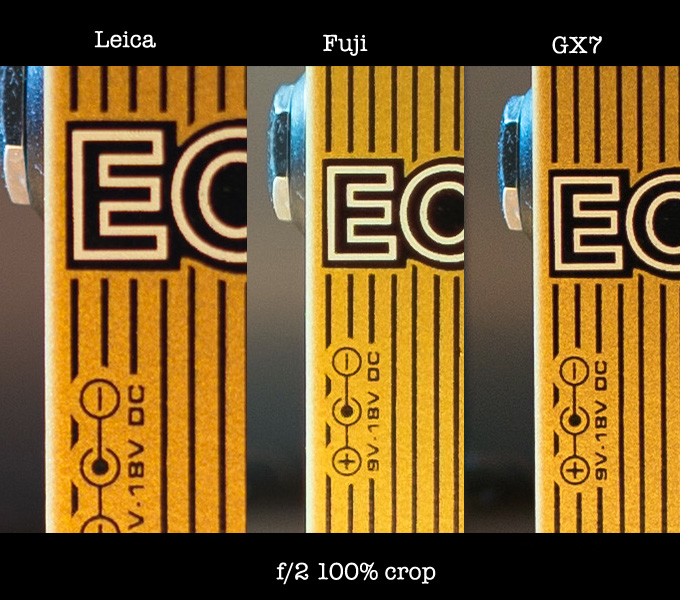 Many say that Fuji is the new Leica but this is actually far from fact. In fact, Micro 4/3 is more like the new Leica. How so?
When Leica started they were all about SMALL size, SMALL fast prime lenses and fantastic usability. The Fuji X-M1 may be small, but the lenses are not and there is no viewfinder. The Fuji is also the worst of these three when it comes to usability (had 4 mis-focused shots during this test due to the camera not locking on to the right spot, and I told it where to AF). Micro 4/3, specifically the new E-M1 and GX7 are superb with usability, AF, speed, build and feel and they specialize in small size WELL MADE bodies and small size well made fast primes. With the right lenses, these cameras are superb in quality and when shooting with one of those Voigtlander 0.95 lenses you feel like you are shooting an old Leica or similar.
So to me, Micro 4/3 is closer to being the new modern day Leica than Fuji. I see the Fuji X IC Bodies as an immature imitation in looks alone. Maybe in 2-3 more years but today? No. (X100s is a different story). The X-M1 is an odd camera. BAD ergonomics with big lenses on a think tiny body with dodgy AF, no EVF, cheap feel, and other odd ball things going on with it. A departure from the X-Pro 1 and X-E1 for sure, and not sure why. Next to the GX7 set, the X-M1 FEELS like a toy made for a child while the GX7 FEELS like a tool made for a photographer. Sounds harsh but I am telling you my honest opinions after shooting and handling all three of these. Of course the Leica is in another league  when it comes to build and feel as it should be. The Fuji also had the worst color as the pedal in the photo is closest to the Leica and Panasonic. The Fuji is quite a bit off so I am hoping Fuji ups their game in 2014 with something that takes it all 3 steps up.
So what about Leica? They are still around so why even talk about "A new Leica"? Well, unfortunately Leica has priced many out of their cameras and lenses as to where only the hardcore Leica fans and hardcore enthusiasts are buying them. $11,000 is a lot of cash to spend on one camera body and one lens, especially when other full frame cameras can meet or exceed its capabilities. We are all waiting for some sort of Sony announcement of course (as per the rumor sites) and if Sony does release the rumored Full Frame IC camera with Olympus's 5-Axis IS built in and a killer EVF with the ability to mount and shoot Leica M glass for half price or less of a Leica M..well, what do you think is going to happen?
Well, then maybe we can say "Sony is the new Leica", and for once, that statement may turn out to be 100% true. We need to wait and see what pans out of these rumors.
I think it is all about vision, creativity and pushing the envelope. Sony is doing this. Olympus is doing this. Leica is not really doing this in 2013. The M is a huge improvement to the M9 of course and I love mine to death but facts are facts, and in 2014 we may be seeing some very huge leaps once again in camera tech and what we get for our money. Of course, it is all about the person behind that camera and in all of this reality, none of these silly tests mean a thing. All of these cameras will create works of art if the person looking through them has the vision to create.
Still, these are always fun to do  and most of you seem to enjoy it 🙂
So a quick breakdown of comparison #1:
My opinions…
Leica M wins this one for me in IQ and camera build, feel, usability.
GX7 comes in 2nd with great usability, decent build and nice IQ with that Voigtlander lens. Plenty of "Bokeh" for my tastes. I highly recommend the 25 0.95. 
Fuji X-M1 comes in last for build (feels cheap) and IQ and usability due to no EVF, slow and sometimes inaccurate AF. 
Look for part 2 tomorrow – HIGH ISO and three shots that will be unmarked for you to tell ME which camera took which image. Should be fun 🙂 I expect the Fuji to win high ISO though I will be testing with zero NR.
My GX7 review should be up next week as well, and then I will be starting to shoot the Olympus E-M1 for 2 weeks before that full review. Stay tuned!